NSMT Loudspeakers The System Two – Clairvoyant Monitor and SUB-DUO active bandpass subwoofer By Terry London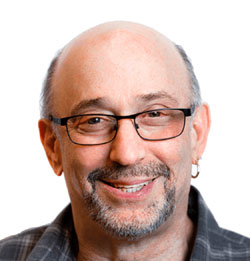 Three years ago, I placed the NSMT Loudspeakers Model 100 floor-standing speaker on The Stereo Times "Most Wanted Components of the Decade List." I originally reviewed the Model 100 for the Six Moons website and was amazed at how easily it outperformed my current reference speaker across all sonic parameters. In my history of reviewing, I have had six different MSMT Loudspeakers models in-house and had concluded that Erol Ricketts, owner of NSMT Loudspeakers, which is located in Research Triangle Park, North Carolina, is one of the most talented designers actively working in the very competitive field of speaker design and manufacturing. His designs all use very simple crossovers, or no crossover, high-quality soft dome tweeters, natural pulp or carbon fiber mid-range, and woofers. I have also become aware that all my favorite speakers exclusively use natural fiber drivers instead of metal or ceramic transducers because, to my ears, they have more natural, truthful timbres and tonality compared to man-made materials. All his creations have a beautiful musicality, by which I mean a high priority on the purity of timbres/tonality,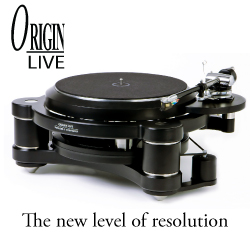 tremendous sound staging with precise layering/location of instruments, and extremely accurate and powerful bass frequencies. This last attribute, the bass foundation, which includes the mid-bass and deeper bass frequencies, is because he is an absolute master at designing transmission line and bandpass active subwoofer designs that offer a different presentation of low frequencies, regarding how they seamlessly blend with the midrange and pressurize the room in a more natural fashion effecting in a positive manner the spatial dimensions of the music more than conventional approaches to bass reproduction. Why don't we see more speakers incorporating transmission lines or active bandpass active subwoofers in their design? First, either design is as much art as it is science. Secondly, since you have to use the internal design of the cabinet to shape the bass frequencies instead of trying to do it with electrical shaping in a crossover, the size and internal complexity of these approaches are more time-consuming and challenging to get right, therefore, more expensive to manufacture.
My reference speaker for the last four and a half years has been the NSMT Loudspeakers Model 100. Regardless of what other speakers I had reviewed in that period, and I have had some terrific speakers in for the reviewing process, or listening to scores of others in high-end shops or shows, did I have a listening experience that would motivate me to replace the Model 100 speakers? Over the years, I would ask Erol if he believed he could design a new model that would qualitatively perform at a higher level than the Model 100. Mr. Ricketts would satirically respond, "I'm working on it." I got a call from Erol three months ago. He informed me that he believed he had finally come up with a two-piece design that surpassed what I had called his "magnum opus," the Model 100. Well, the King is dead; long live the King. In the rest of this review, I will attempt to inform you, to the best of my literary abilities, the reasons why the new Clairvoyant Monitor speaker, which retails for $7,495 a pair, plus the addition of a matching pair of SUB-DUO active subwoofers, which composes the NSMT System Two and brings the total cost to $15,985, you would then have a world-class transducer that will not only compete but outperforms many other uber-expensive speakers on the market today. There is a midway point called the System One, which retails for $11,950, which is the Clairvoyant Monitor with a pair of Bass Foundation bandpass active subwoofers.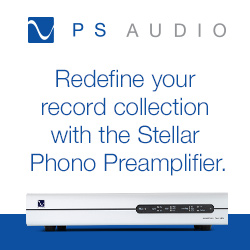 The Clairvoyant Monitor is a three-driver D'-Appolito two-way acoustic suspension design. It uses two eight-inch paper pulp woofers with a one & one/eight-inch ferro-cooled soft dome horn tweeter. Its sensitivity is 94 dB at one watt/meter. The nominal impedance is 4 Ohms. The Clairvoyant is a large monitor (Dimensions: 12" width x 22" height x 15" depth) and a heavy one. Each monitor weighs 48 pounds. The crossover network is based on a film-foil capacitor and perfect lay air core inductor. You will find a pair of high-quality speaker wire terminals on the back of the Clairvoyant Monitor. Like every NSMT Loudspeaker I have ever owned or reviewed, the speaker's physical appearance is understated. Yet, in the case of the Clairvoyant, the type of wood is oak, and the staining makes a striking visual that belies the hand-made artistry applied to all NSMT models. My review pair was stained in black, but other color options are available; go to the NSMT Loudspeakers website for more details. Each pair comes with a five-year warranty.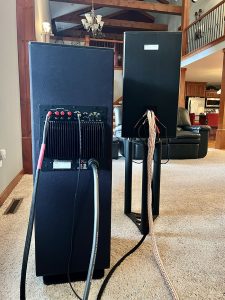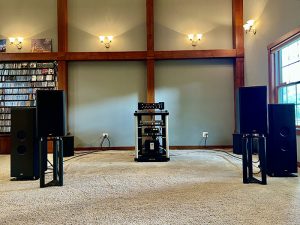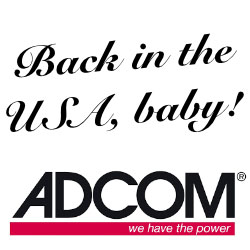 I am very fortunate to live in a large post-and-beam home with a tremendous amount of wood surfaces that make an almost perfect acoustic environment for reflecting or absorbing sound in my listening space. My listening space is 30 ft wide, 24 ft high, and 35 ft deep. As you will see in the accompanying photos, the Clairvoyant Monitors are located where all box enclosure designs in my reference system have been optimally performed. The monitors were nine ft off the front wall, the nearest side wall was five and a half ft away, and the back wall was another fifteen ft behind my listening spot. The Clairvoyant Monitors were spaced eight feet apart and slightly toed-in. My listening position is eight feet off the front of the speakers. Virtually all frequencies that reach my ears first directly come from the loudspeaker, with room reflections arriving much later. This listening space allows the true nature of any speaker to shine or trip over its sonic flaws. Any speaker I have ever had in this system always performs at a higher level (transient speed, clarity, top-end extension, sound-staging, bass control/extension) when mounted on Star Sound Technologies Sistrum Apprentice Speaker Platforms or, Therefore, the Clairvoyant Monitor speakers and both pairs of bandpass active subwoofers were placed on these isolation devices to ensure optimal performance.

THE SOUND OF THE CLAIRVOYANT MONITOR
My first experiment was to listen to the Clairvoyant Monitor alone without the augmentation of active bandpass subwoofers. With my opening selection of trombonist Conrad Herwig's recording of "The Latin Side of Mingus," which offers tremendous dynamics/slam provided by the large Latin percussion section of the big band, I was struck by an electrostatic-like transparency that offered more clarity than any other speaker I have ever had in my reference system. Unlike electrostatic or other very highly resolving designs that can thin out the individual image density or offer hyper-details to the point that it sounds like you are listening to the music through an electron microscope, which I find annoying after a short time of listening. The monitors never become analytical or artificial in presenting the most subtle micro-details. They can flesh out all of the slightest nuances of the individual players, but not at the expense of the overall cohesiveness of the music as a total gestalt. Another sonic dimension that I found superlative was the level of speed/quickness and PRAT (pace, rhythm & timing) that the Clairvoyant Monitor created, which reminded me of the explosive "aliveness" and transient speed that the finest horn-loaded speaker designs create, that resolves the smallest timing shifts in dynamics that fool you into the illusion of listening to live music. However, there were no unpleasant horn colorations or in-your-face directionality that I experience when I listen to horn designs. Finally, the Clairvoyant Monitor speakers produced the most spacious, airy three-dimensional sound stage that transcended my listening space boundaries. Where ever the music was recorded, be it a recording studio, symphonic hall, jazz club, or outdoor stadium, the monitors took you to that location to a degree that made it easy to believe you were in that venue listening to that live performance.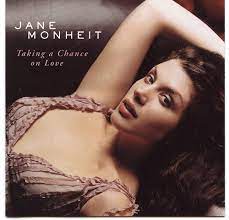 Next up was Jane Monheit's "Taking a Chance on Love," showcasing her beautiful voice and phrasing in a small group setting and being an audiophile grade-level recording. The Clairvoyant Monitor speaker's mid-band presentation revealed all the purity, gorgeous color, and harmonic richness of Ms. Monheit's voice and created an illusion of a holographic life-size image of her standing in the middle of my room performing. I also heard on this recording a crystalline clarity in the treble region that never got aggressive or harsh yet provides all the smallest details and decays.
My all-time favorite tenor saxophonist is Johnny Griffin, affectionately known as the Little Giant, not because of shortness in his physical stature, but his Mount Everest height in creativity and his indomitable skills on his horn. I heard him live on many occasions in Chicago-based jazz clubs. His recording "The Kerry Dancers and other swinging folk" captures his sound better than all the other numerous recordings I have in my collection. The Clairvoyant Monitor speaker, with effortless liquidity, allowed me to hear Griffin's tenor as close as I can remember what he sounded like in his live performances years ago. The timbres and tonality of his unique style, the little breaths and breaks, were on display and were so easily heard; it was the best illusion I have ever had in my system of him playing in the last twenty years. By themselves, the Clairvoyant Monitor speakers are a world-class full-range monitor design. If you have a small acoustic space, you would be enthralled with their performance in the ways described above and would not need the upgrade to System Two. However, you should experiment with System One based on information later in the review.
My dear friend Mike Kay of Audio Archon, located in Libertyville, Illinois, is an NSMT Loudspeakers retail dealer. He got his pair of Clairvoyant Monitor speakers around the same time that I received my demo pair. He set them in one of his smaller listening rooms (13 ft length x 11 ft width x 9ft height). He independently came to the same conclusions regarding their striking and superlative performance as I had experienced. Mike added two more virtuous characteristics to the list of outstanding performance criteria of this monitor. First, the bass frequencies were extended, tuneful, and hard-hitting, requiring no subwoofers to pressurize his smaller acoustic space. Secondly, the Clairvoyant Monitor speakers still displayed their extraordinary "aliveness," speed, and dynamics at relatively low volume levels.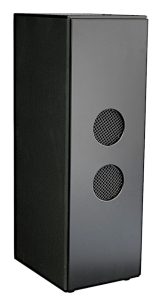 NEXT UP: System Two Clairvoyant Monitor & Sub-Duo Band- Pass Active Subwoofers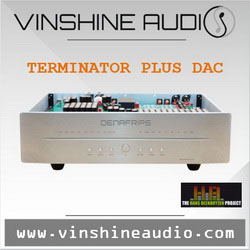 Now that you have the facts regarding the Clairvoyant Monitor speaker's overall performance package let's focus on the SUB-DUO bandpass active subwoofer, which completes what NSMT Loudspeakers calls their reference System Two. This subwoofer platform, which internally contains two 10-inch long-throw paper cone woofers in separate bandpass enclosures, is powered by a modified 250 Watts RMS class A/B amplifier. Its frequency response is variable from 22 Hz to 145 Hz. The dimensions of each unit are 12" Width, 36" height, and 15" depth. Each weighs 85 pounds. There are two ports on the front baffle, with the amplifier controls and speaker wire terminals on the back. The Clairvoyant Monitor sits precisely on top of SUB-DUO subwoofers, and the combination makes a striking visual appearance.
At the beginning of this review, I briefly mentioned some of the unique sonic qualities that a bandpass subwoofer offers that are qualitatively dissimilar to a sealed or ported subwoofer. I asked Erol if he would share the details from an engineering perspective, the how/why these differences are created: A bandpass subwoofer design combines sealed and ported subwoofer designs that highlight the accuracy of sealed designs and efficiency. In a bandpass design, the back of the woofer is mounted to an acoustic suspension (sealed) chamber. The front of the woofer fires into a secondary ported chamber. The port is used to fine-tune the subwoofer's frequency response. Of the three subwoofer designs, the bandpass is the most complex. The designer has to consider the design of the sealed rear chamber, the front-ported chamber's design, and the port's size and tuning.
The essence of a bandpass subwoofer is that the cabinet acts as a low-pass and high-pass filter that shapes its frequency response. The design is called bandpass because the sealed chamber has the typical 12 dB/octave low-frequency roll-off pattern of acoustic suspension designs, and the vented chamber also has a 12 dB/octave high-frequency bandwidth that has a 12 dB roll-off pattern at the lower end and the top end. (Unlike sealed and ported designs, a passive bandpass subwoofer can output a great low-frequency curve without crossovers.)
Although embodying the best traits of sealed and ported subwoofer designs, bandpass subwoofers outperform sealed and ported designs. Bandpass subwoofers have tighter bass and better transient response and power handling than sealed designs (because the air pressure on the acoustic suspension side and the vented side of the woofer's cone reduce cone excursion and allow bandpass subwoofers to produce higher output without distortion.) Bandpass subwoofers are also more efficient than ported designs. They can be several dBs more efficient than ported designs. Bandpass subwoofers excel at extended low bass reproduction. They have more dynamic slams. Their flatter bass response and excellent transient response make it easier to integrate them with main or satellite speakers. One of the hallmarks of bandpass subwoofers is that they pressurize a room better because of their efficiency and low bass prowess. And their flatter frequency response tends not to excite room modes.
Take the extraordinary sonic characteristics of the Clairvoyant Monitor speakers (electrostatic-like transparency/clarity, explosive dynamics, a sense of "aliveness," purity of timbres, revels micro-details without sounding analytical, crystalline high frequencies without harshness – but provides all the smallest details/decays, a holographic immense sound-stage) and add on, with the SUB-DUO subwoofers, the ability to scale-up to the most powerful musical peaks with effortless composure. The SUB-DUO subwoofers have the transient speed and quickness to match the monitors and blend seamlessly into the lower midrange/upper bass frequencies. With the SUB-DUO subwoofers, the foundation of the music was anchored securely, which allowed the midrange and high frequencies even to have a higher degree of purity of tonality and color. Another qualitative shift was in the area of sound staging. The ability of the Clairvoyant Monitor's extraordinary rendering of spatiality to transport you where ever the recording had taken place was exponentially increased. My listening room completely disappeared, and I was transported to the different locations of the original venue. Notice I have not even mentioned bass frequency extension with the SUB-DUO subwoofers. I will address this now. I cued up the Telarc recording of composer Camille Saint-Saens' Symphony No. 3 Organ by the Philadelphia Orchestra conducted by Eugene Ormandy, with the organist Michael Murray which was recorded at the St. Francis de Sales Church. Mr. Murray was playing a famous pipe organ rebuild by Bruce Shultz. This instrument is considered one of the finest-sounding and most powerful pipe organs. This recording is "legendary" for blowing up speakers when the orchestra hits its peak crescendo, and the pipe organ reproduces its lowest bass notes at peak volume. System Two effortlessly, with total control, pressurized my colossal 1,300 square ft listening space to where I viscerally felt the sound pressure hitting my chest and vibrations through my listening couch. No distortion or attenuation at the highest peak volume levels!
When I experimented with System One, which uses the smaller Bass Foundation subwoofers (a single 10" woofer instead of two 10" woofers), the seamlessness between the subwoofer and monitors equaled that of System Two. The effect on the spatiality and sound staging was taken to a higher level, and once again, there was no drop-off compared to System Two. When I finally heard a difference, the Bass Foundation subwoofer could not create, at loud dBs, the same effortless and powerful pressurization as its big brother, the SUB-DUO pair of subwoofers. Remember, my acoustic space is enormous. I would speculate that in smaller or more normal-sized listening spaces, the Bass Foundation subwoofers would give a significant taste of what the SUB-DUO subwoofers provide in my colossal acoustic space.
Over the last twenty years, I have had a few peak experiences as a music lover/professional reviewer. These experiences revolve around getting in a piece of equipment that qualitatively shifts my emotional connection to the music far above my previous baseline enjoyment. Reviewing the NSMT Loudspeakers Clairvoyant Monitor-System Two- System One ranks right up there with some of the most enthralling experiences I have encountered with high-end audio. I believe that Erol Ricketts has created a three-tier approach for music lovers that would allow them to start with a reference level speaker (Clairvoyant Monitor) and then upgrade, based on budget and size of their listening space, to System One or System Two.
The Clairvoyant Monitor speaker is a sonic gem of the highest order. It's the ability with dynamics/speed/"aliveness," purity in tonality and richness in timbres, image solidity/density, transparency that allows all the nuances of the music to be heard, holographic sound-staging, and most importantly, it draws you into the emotionality of the music. If you want to go for the ultimate level of performance, you add on the SUB-DUO subwoofer to formulate the NSMT Loudspeakers System Two. This combo is the most exciting and emotionally satisfying pair of speakers I have ever had in my reference system. If you have a smaller acoustic space, you could always start with the monitor and later add the Bass Foundation subwoofers (System One) to get a large percentage of the more expensive System Two's performance.
These are not inexpensive speakers. However, based on their world-class performance, innovative design, quality in parts and materials, and hand-built by an artesian craftsman, they are reasonably priced at each price tier. Recently, I listened to a German-built loudspeaker and found it outstanding in the areas that fit my taste. It offered many of the virtues of the NSMT Loudspeakers System Two. Did it better System Two's performance? I don't think so, but it was close. Here's the punch line it retails for $72,000! System Two is a total bargain when you compare it to what you would have to spend and not necessarily get a better-performing speaker.
Well, did you get the gist of my using the statement at the beginning of the review: "The King is dead-Long live the King?" After an almost five-year run, my beloved NSMT Loudspeaker Model 100 speakers have been banished to my upstairs system (they sound great in this system). The System Two combo is my new reference speaker and will not be leaving my abode.

Specifications:
Clairvoyant Monitor loudspeaker: $7,495
with SUB-DUO active subwoofers: $15,985
System One: $11,950: (which is the Clairvoyant Monitor with a pair of Bass Foundation bandpass active subwoofers).
TJ's Associated Equipment:
Sources:
Mark Levinson 31.5 transport
Pro-Ject reference CD transport & Linear Tube Audio Power Supply
CEC-3 belt-driven transport
Pass Labs DAC-1
Reimyo TUKO DAC
Amplification:
Coda # 16 amplifier
Coda FET 07x preamplifier
Threshold 550e amplifier
SPL Elector preamplifier
SPL S1200 amplifier
AricAudio SET 300B amplifier
AricAudio Motherlode MKIII preamplifier
Loudspeakers:
NSMT Loudspeaker Model 100
NSMT Loudspeaker System Two
Tekton Design Ulberth
Accessories:
Black Cat Cables-Digit 110 AES/EBU- 3202 XLR ICs
Kirmuss Audio Adrenaline speaker wire
Krolo Design reference rack & footers
Puritan Labs conditioner & circuit grounding system
Audio Archon power cords
Stereo Times Masthead
Publisher/Founder
Clement Perry
Editor
Dave Thomas
Senior Editors
Frank Alles, Mike Girardi, Key Kim, Russell Lichter, Terry London, Moreno Mitchell, Paul Szabady, Bill Wells, Mike Wright, Stephen Yan, and Rob Dockery
Current Contributors
David Abramson, Tim Barrall, Dave Allison, Ron Cook, Lewis Dardick, Dan Secula, Don Shaulis, Greg Simmons, Eric Teh, Greg Voth, Richard Willie, Ed Van Winkle, and Rob Dockery
Music Reviewers:
Carlos Sanchez, John Jonczyk, John Sprung and Russell Lichter
Site Management  Clement Perry
Ad Designer: Martin Perry