Munich High End 2023 key Kim Report
Once again, the High-End Munich 2023, Europe's biggest and most renowned audio trade show from May 18th to 21st, was spectacular! I was like a big kid in a candy store, and I wouldn't have missed it for the world. I missed last year's High End because I couldn't renew my passport on time. This time I arrived on a Wednesday, a day earlier than usual, to relax and prepare for the Thursday press-only part of the High-End show. Thanks to Uber, this time, getting around was more manageable than four years ago. I was hoping to do a show report based on more affordably priced components, but, unfortunately, price-wise, everything has gone up, way, way up.
For those that don't know, the Munich High-End is the biggest and boldest of specialty audio shows. With over 30,000 sq ft of space, nearly 800 brands, and over 500 industry journalists swarming in and out of over 200 showrooms. In the span of four days, audio experts from over 40 different countries fill the halls at the MOC event center. Unfortunately, I could not be in or hear every room available. Not even the ones I had intended on visiting. The show this year was just too crowded and this slowed my pace. However, I was able to capture many different rooms with my camera and no captions. So, why not start there….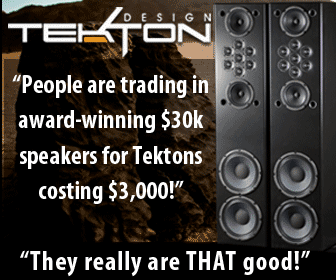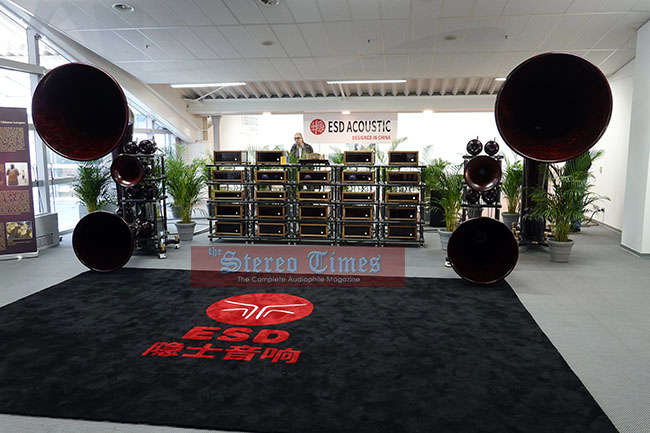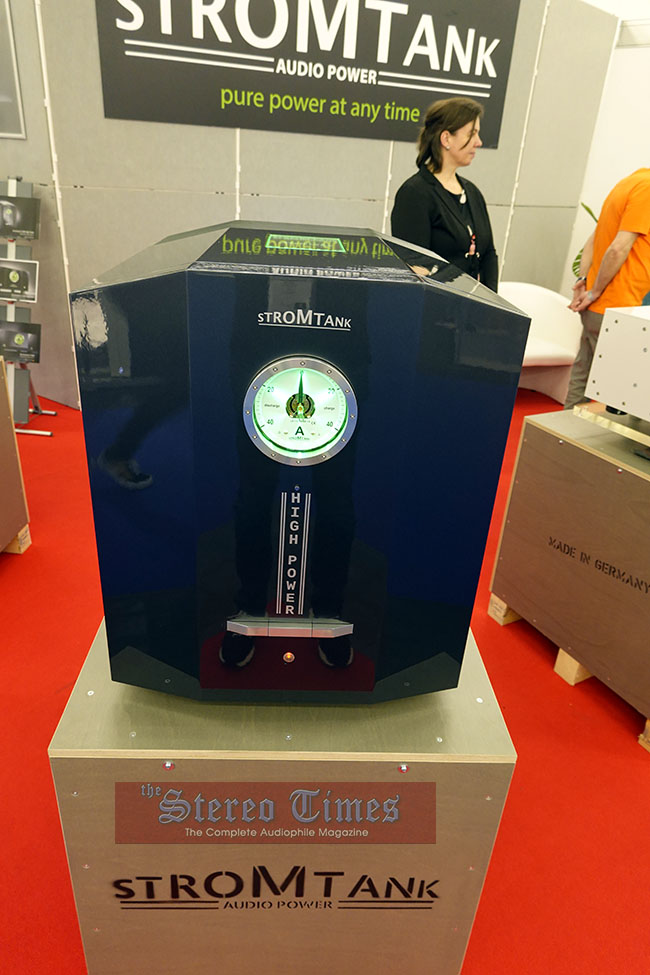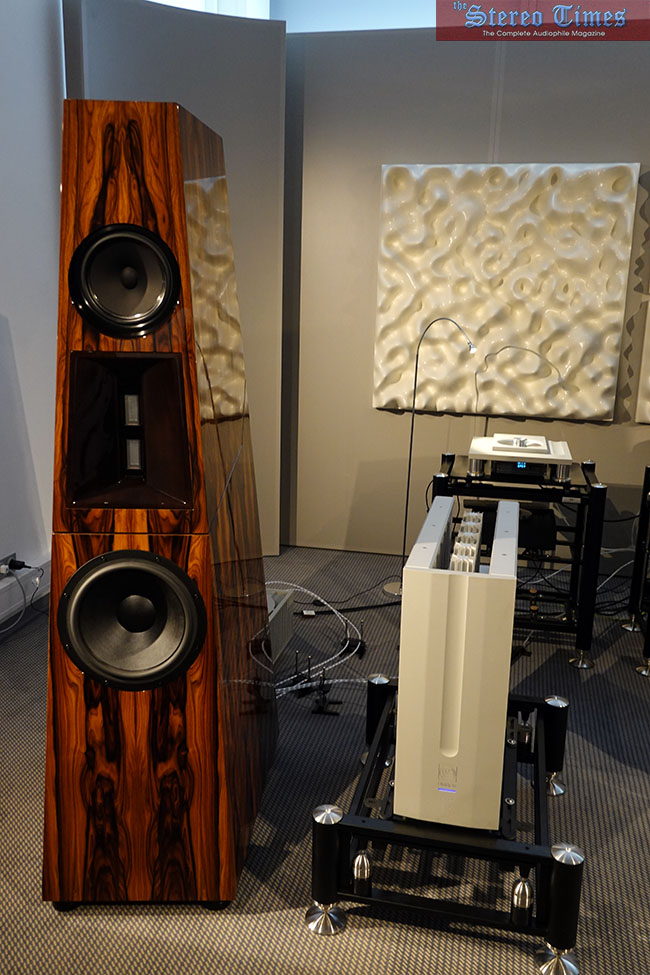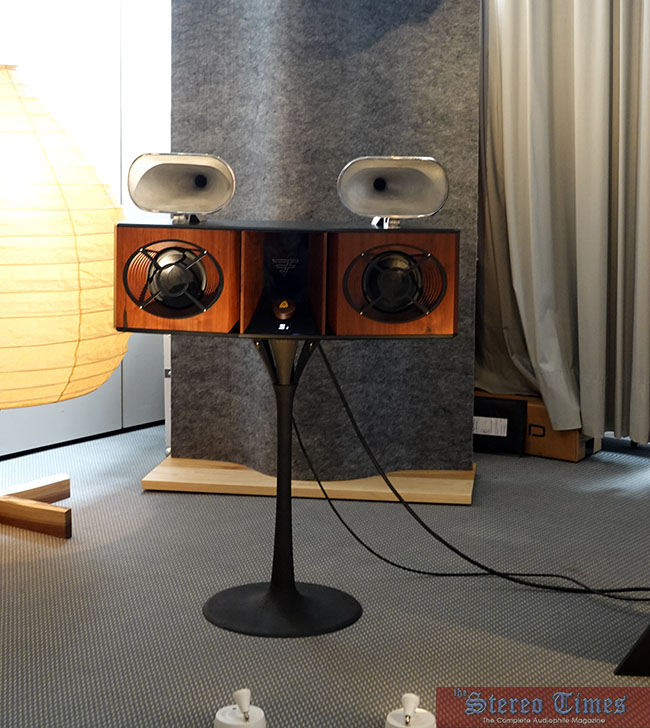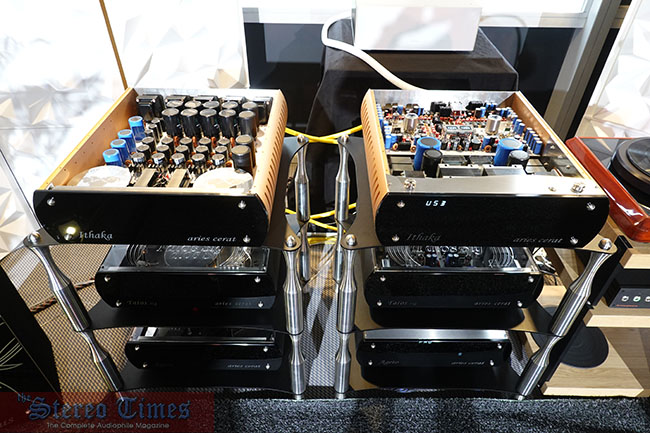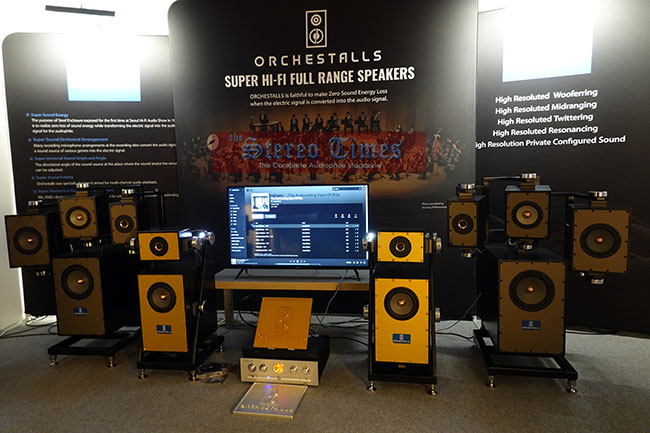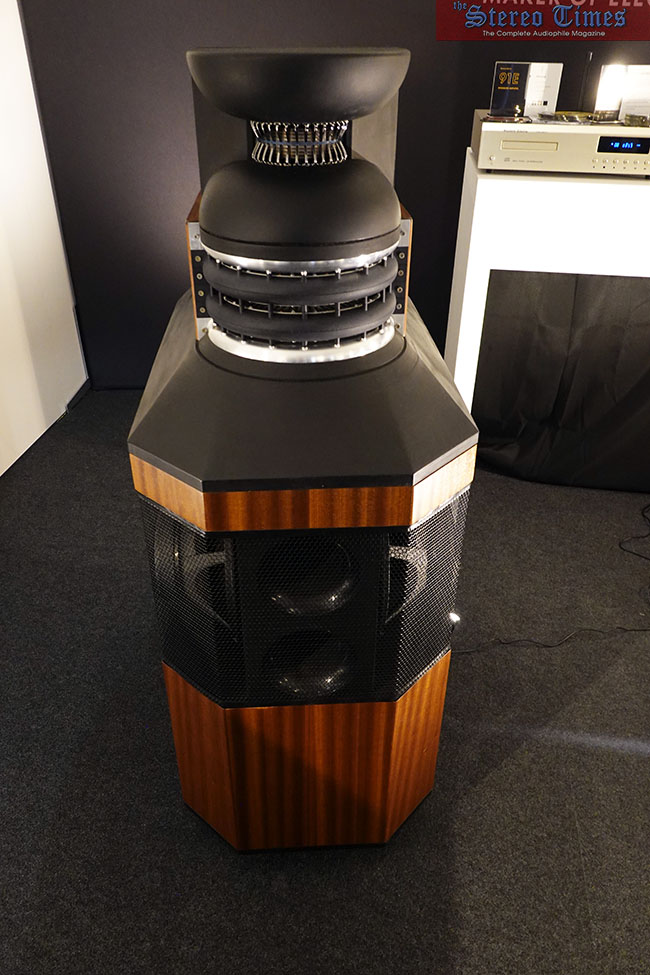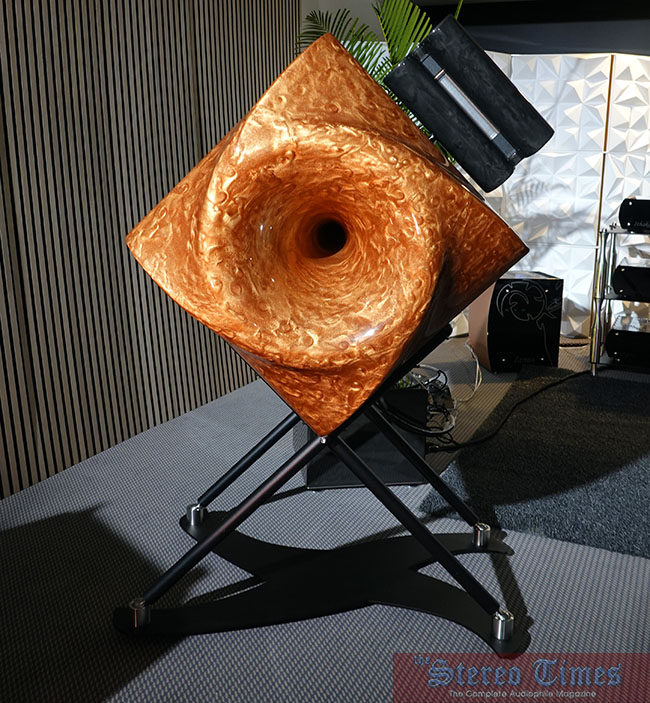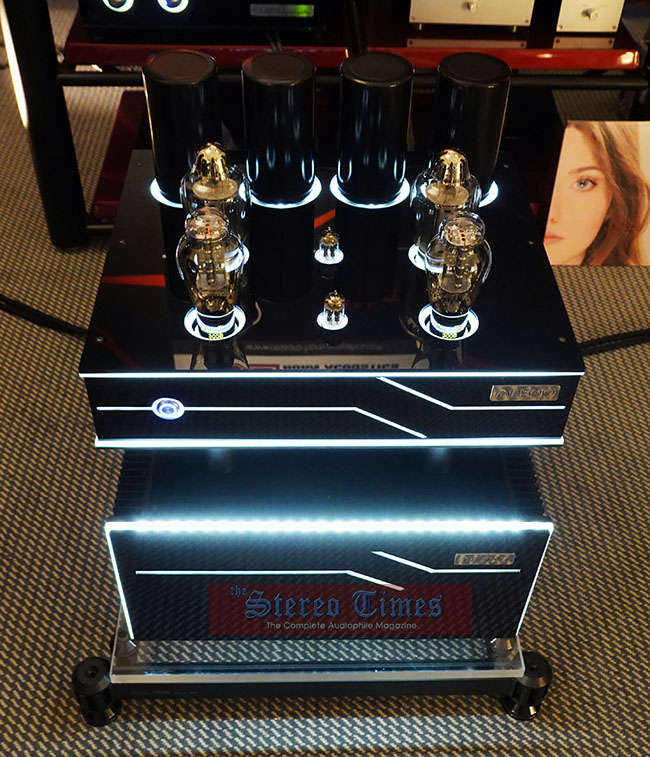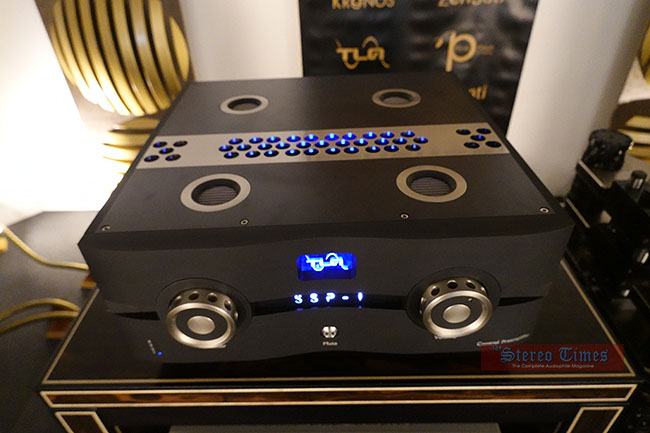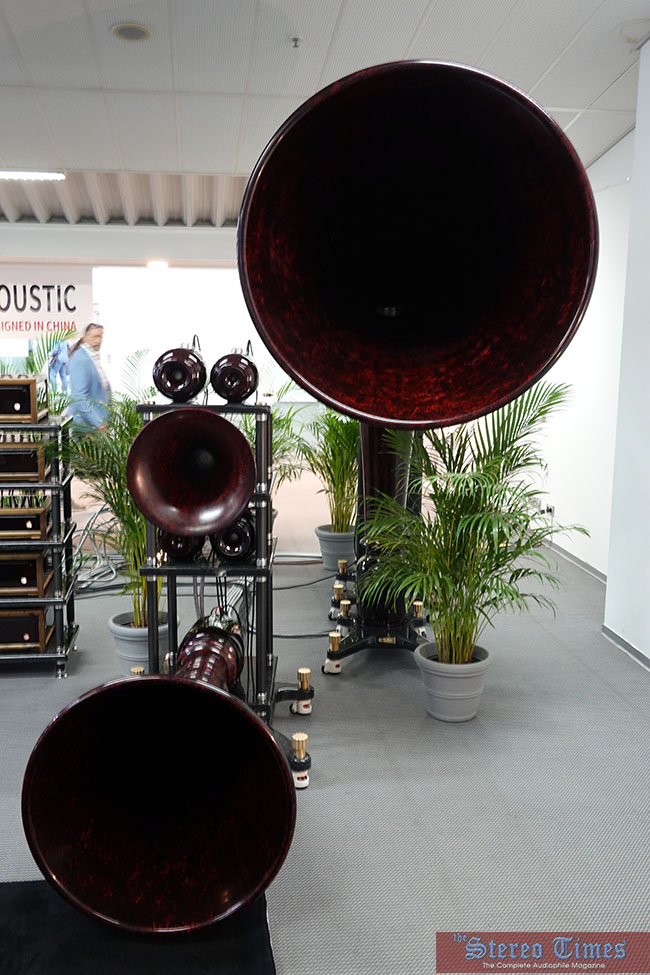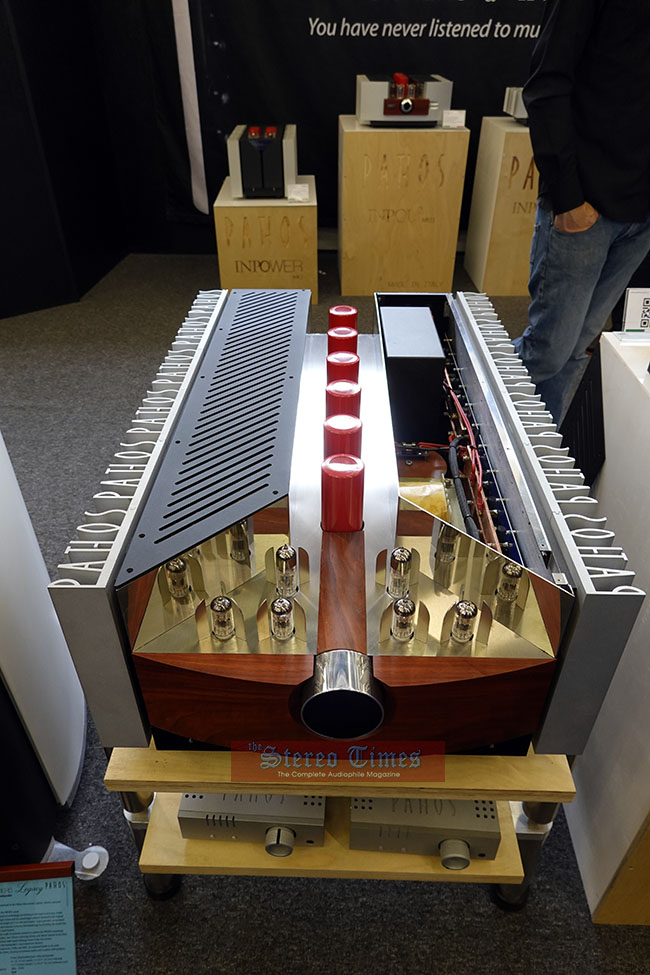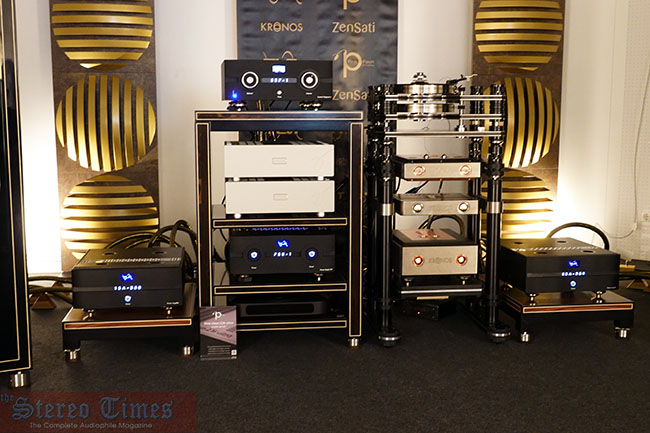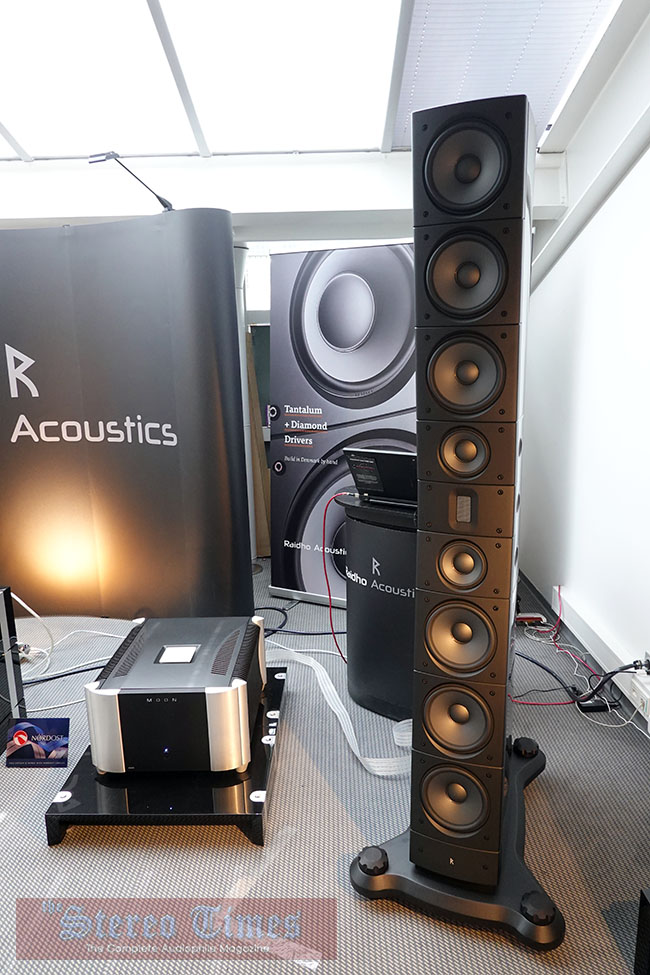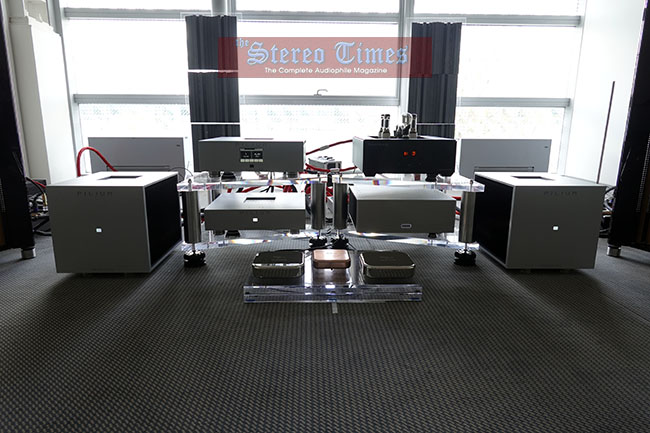 Thrax Audio/Hemingway Audio
The first room I visited was by Rumen Artaski of Thrax Audio. There I was happy to see Mr. Jung of Hemingway Audio. Together they created a fabulous-sounding room. Artaski showcased his new limited-production power amplifier. The Thrax Phoenix amplifier (TBA, approximate 100,000/pair) is a Class A single-ended monoblock amplifier utilizing a rare VFET, with 100 watts of pure power paired with their Libra preamplifier (51,160), a differential balanced 300B tube preamplifier. The Libra employs two 300B tubes per channel in true dual mono differential pure Class A triode operation. The system consisted of a meticulously built pair of Thrax Lyra SE loudspeakers (21,840/pair). It is a two-way stand-mounted loudspeaker. It features a high-frequency driver loaded with a very special horn system, complimented by two magnesium diaphragm mid/bass drivers in aluminum ported enclosures and a matching Hades Subwoofer (14,976/pair), which utilizes a 10" aluminum bass driver. The digital source was a Maximinus Mk2S DAC (32,760), custom R2R DAC Roon ready 32bit/384KHz, and DSD 128. The analog setup was the Thrax Yatrus turntable (14,976) with direct drive, Schroder CB tonearm, and My Sonic Lab Signature Platinum cartridge. There was an Orpheus Mk3 phono stage (23,400), an MC step-up transformer with an LCR RIAA equalizer. Hemingway Audio cables were used throughout the system. I should mention that this was one of Hemingway's brilliant-sounding rooms. The great thing about the Hemingway cables is that you don't necessarily have to use all premium models to make the system sound superb. You can mix and match the cables among different models. The Hemingway Audio Alpha and Beta, Z-Core cables were used in this setup, producing stunning sound with beautiful tone and density. It was detailed and transparent with power and authority, sounding very organic.
Lorenzo Audio Labs/True Life Audio
The Lorenzo Audio Labs room was music to my ears. I'm not a big fan of horn-loaded loudspeakers, but the LM1 changed my mind, and I want one (I better start saving). The majestic Lorenzo Audio Labs LM1 (205,000/pair) loudspeakers incorporate four-way (one 16" woofer, one 11" midrange paper cone with alnico magnets, and 1" treble and 1" super tweeter compression driver with beryllium diaphragms, and full range loudspeakers with phase-optimized crossover.  Sensitivity is 96dB with 8 Ohm, recommended amplifier 20 to 500 watts, and frequency response of 20 Hz to 35 kHz. The midrange and tweeter are sealed, and the woofer is double rear vented.
A massive cabinet (441 lbs) uses 62mm wide, manufactured with phenolic laminated wood and elastomer in constrained layers. The cabinet is made with 5-axis CNC machinery. It is covered with natural wood veneer and is 100% handcrafted by a fourth-generation craftsman whose family has worked since 1888 using legendary artisan techniques. The LM1 uses welded passive crossovers without printed circuit boards and top-notch components from Duelund, Jupiter, Mundorf, and Pathaudio. The internal wiring is made with high-purity copper, silver, and gold wire in various sections. The bass reflex ports are hand-tuned with an exceptional tone wood. The use of the Panzerholz wood pieces, which are designed in-house and used in critical places, dramatically improves the sound. The LM1 was driven by True Life Audio Supreme Series SSA-350 monoblock amplifier (90,000/pair) hybrid design, designed to deliver exceptional sound to difficult loads. It utilizes tube rectification (GZ32 NOS) and a tube input stage (6J5 NOS), driving an ultra-linear and solid-state current amplifier. The SSP-1 tube preamplifier (60,000) is a two-chassis tube preamplifier with a matching external power supply. It is a pure Class A design, transformer couples, and a single-ended circuit built around two NOS 6J5 tubes. It utilizes a tube rectifier NOS GZ32 tubes and uses 48-stepped attenuator volume with remote control. The Pink Faun 2.16 ultra streamer and MSB DAC were used as the digital source. Everything was connected with excellent-sounding ZenSati cabling throughout the system.
Gobel/CH Precision


Oliver Gobel put up an outstanding-sounding demo. The Gobel Divin Marquis loudspeakers (89,000/pair) and the Gobel Divin Sovereign subs (29,500/each) were driven effortlessly by the CH Precision M10 power amplifier. The Marquis is the "baby" of the Divin series loudspeakers, with a 330-pound enclosure, three-way (one 12" long-throw woofer, one unique Gobel 8" carbon/paper midrange driver with bending wave technology, and one AMT tweeter with massive aluminum waveguide.)  Everything was connected with excellent-sounding Goble Lacorde Statement cabling throughout the system. The magnificent-looking system sounded fabulous; it produced a massive soundstage with powerful dynamics and was musically engaging. Gobel invited me to celebrate their 20th anniversary at a beautiful gathering in their new facility. All had a good time. Congrats! Gobel's new company headquarters was beautifully designed and had two stunningly treated listening rooms. The first room featured the Divin Nobless loudspeakers (229,000/pair) coupled with two Divin Sovereign subwoofers (29,500 each) driven by the Riviera Audio Laboratories AFM-100SE monoblock amplifiers; a pure Class-A, zero feedback hybrid design and an APL-10, an all-tube preamplifier in Class-A with no feedback design; a CH Precision C1.2 DAC and in a larger room the Divin Majestic loudspeakers (549,000/pair) were featured with a pair of the CH Precision M10 power amplifiers and L10 dual monaural twin-chassis line preamplifier and Wadax Atlantis reference DAC and the Wadax Atlantis reference server along with Kronos Audio Pro turntable. The Gobel Lacorde Statement cables were used throughout the system.
Aries- Cerat
I heard about this wonderful-sounding Aries Cerat system at the Munich High-end in 2019. Once again, the Aries Cerat system impressed me immensely. It was very natural sounding, with great ease and very dynamic sound. Aries Cerat demoed their new Aurora horn speakers (118,000/pair). Their newest hybrid open baffle/aperiodic bass loading design with trickled-down technology from their top model Contendo horn speaker – features a bespoke compression midrange driver and a modified Raal ribbon tweeter. The Aurora was driven effortlessly by their Quintessence Ianus Series, 60 watts triodeFet amplifiers (75,000/pair). It's a single-ended design with a single stage; incredibly, there is no driver and input stage. This breakthrough technology is an extremely clever design. It uses an Aries Cerat Ianus Series Ageto preamplifier (61,000), a dual chassis design with a separate power supply. It features a transformer volume control. The digital source was the Aries Cerat Ianus Series Ithaka DAC (81,000), a TriodeFet output ladder DAC with no less than 24 R2R converters per channel. The Ithaka is a parallel switched resistor ladder converter and Taiko Extreme music server (30,000). The Signal Projects cables were used throughout the system.   
Alsyvox/Pilium Audio/Taiko Audio/Lampizator/Omega cables
One of the most crowded rooms at the show. Guess why! They were remarkable. The Alysvox Rafaello loudspeakers (280,000/pair) sounded fabulous, driven by the Pilium Hercules mono amplifiers (89,000/pair) and the Pilium Alexander preamplifier (49,000) from Greece. The digital source was the Lampizator Horizon DAC (46,000) and the Taiko Audio Extreme server (30,000 with optional switch and router at 6,900 each). The full loom of Omega Elements cables was used effectively. The Pilium amplifier has an uncanny ability to let the Alysvox Rafaello sing like a canary with unmatched resolution and detail, and it projects a huge soundstage and powerful dynamics with great ease effortlessly in all frequencies. Listening to the vocals was exceptionally engaging.
DarTZell/Stenheim/Hemingway Audio

Francois Saint-Gerand of Ana Mighty Sound put up a stellar-sounding room. The darTZeel NHB-468 monoblock and an NHB-18NS preamplifier stunningly drove the Stenheim Reference Ultime Two loudspeakers (148,000/pair). Two CSPORT turntables from Japan were used as the analog source. The CSPORT LFT1M2 with the Schroder LT tonearm and the CSPORT TAT2M2 with a Reed 3P tonearm is equipped with DartZeel NHB-Red cartridges. Hemingway Audio cables were used throughout the system. This mixture of Hemingway Audio Z-Core Series Beta cables, the Hemingway Z-Core Omega interconnects, and the Hemingway Creation S interconnects for the turntables produced an excellent sound.
Absolare/Rockport Technologies/Metronome Kalista/Nagra
The Absolare room sounded very striking. It was always crowded. The Rockport Orion speakers were singing driven by the Absolare Hybrid Altius mono amplifiers (120,000/pair), plus the Absolare Eternum preamplifier (85,000) uses a separate power supply and an Absolare Altius phonostage (52,000). The gorgeous Metronome Kalista CD transport, the Nagra HD DAC X, and the Aurender N30Sa streamer server made up the digital source. The analog source was the Kuzma Stabi R turntable, a Kuzma Safir tonearm, and a ZYX Optimum cartridge. The complete loom of Absolare Echole infinity cables was used.
Grandinote
Massimiliano Magri of Grandinote debuted his new Solo (19,000) 60-watt Class-A integrated amplifier. The Solo's equipped with a huge 9" multi-function touchscreen display. Cleverly it has a VU meter and a spectrum analyzer, and the color can be changed or dimmed. The internal expansion board is upgradeable to a Celio phonostage and Volta DAC streamer.
The Solo powered the Grandinote Mach 8XL loudspeakers (30,000/pair). It was transparent and detailed, with lots of resolution and great musicality.
Kroma Atelier/VAC/APL Hi-FI
The Kroma Atelier Mercedes loudspeakers (100,000/pair) were marvelously paired with the VAC Master 300 monoblock amplifiers and the VAC Master preamplifier with phonostage. The superb-sounding APL Hi-Fi DSD-GR DAC and the APL DNP-SE streamer were the digital sources—the TechDas Airforce V with the Wand tonearm and the Ayabusa cartridge performed with great finesse.
Peak Consult/AudioNet
Peak Consult loudspeakers debuted their Dragon Legacy loudspeakers (200,000/pair). It is impeccably built, weighing 500 pounds each, three-way ported in MTM configuration paired to massive AudioNet Heisenberg monoblock amplifiers (100,000/pair) and an AudioNet Stern preamplifier. The Bergmann Galder Signature air-bearing turntable with twin Odin linear tracking arm was equally impressive.
Kondo Audio Note
Kondo Audio Note unveiled their latest creations, the G-700 preamplifier (TBA, about 75% of the G-1000) and the GE-7 phonostage (TBA, about 75% of the GE-10). The Kagura2i monoblock amplifiers and a G-700 preamplifier powered the rare Jensen speakers. The gorgeous-looking Ginga turntable and the GE-7 phonostage with a 10-XP cartridge were used as an analog setup. All Kondo silver cables were used throughout the system.
Audia Flight/Alare Labs
The Italian Audia Flight and the Alare Labs sounded outstanding. There was an excellent synergy between them. The Alare Remiga 1 loudspeakers (45,000/pair) were driven by the Audia Flight Strumento N0.8 monoblock amplifiers (50,000/pair), an Audia Flight Strumento N0.1 preamplifier (20,000). The Audia Flight FLS 20 SACD player (17,000) was the digital source.
Gershman Audio/Truelifeaudio
The Gershman Audio 30th Anniversary Grand Avant Garde speakers (18,000/pair) sounded fabulous, powered by the True Life Audio TLA TSI-300 integrated amplifier (32,000). The Grand Avant Garde incorporates Eli Gershman's new Patent Pending design, the BCT (Back-wave control technology). The MSB and the Pink Faun server were used as digital sources.
Albedo Audio/Soulnote Audio
The Albedo Agadia 2.5-way floor standing loudspeakers (23,000/pair) utilize a traditional Albedo transmission line system and ceramic drivers. They are handmade point-to-point crossovers. The Soulnote Audio M-3 monoblock amplifiers (40,000/pair) and a Soulnote P-3 preamplifier (20,000) powered the Albedo Agadia delightfully. I got to listen to the Soulnote Audio for the first time and liked it a lot. It was transparent and detailed, with excellent tonality and music.
TAD
The TAD CE-1TX loudspeakers were exceptionally engaging. It's one of the best-sounding stand-mounted loudspeakers I've heard at the show. The TAD 1000-series Evolution line was paired with the CE-1TX. The system consisted of M1000 monoblock amplifiers. A TAD-C1000 preamplifier was premiered in this show. A DA1000TX DAC and a D1000TX transport made up the digital source.
Tektron/Cube Audio
This room was a moderately priced system compared to most other rooms I covered. The Tekton Jupiter tube amplifier (15,000), with single-ended 211 output tubes, and the Tektron Venus tube preamplifier powered the Cube Audio Lotus loudspeakers (24,000/pair) effortlessly. Listening to chamber music was enchanting and natural sounding.
Stereo Times Masthead
Publisher/Founder
Clement Perry
Editor
Dave Thomas
Senior Editors
Frank Alles, Mike Girardi, Key Kim, Russell Lichter, Terry London, Moreno Mitchell, Paul Szabady, Bill Wells, Mike Wright, Stephen Yan, and Rob Dockery
Current Contributors
David Abramson, Tim Barrall, Dave Allison, Ron Cook, Lewis Dardick, Dan Secula, Don Shaulis, Greg Simmons, Eric Teh, Greg Voth, Richard Willie, Ed Van Winkle, and Rob Dockery
Music Reviewers:
Carlos Sanchez, John Jonczyk, John Sprung and Russell Lichter
Site Management  Clement Perry
Ad Designer: Martin Perry