Marigo Audio Lab Orpheus E3 Isolation Feet and SD-41/SD-31 SuperDots by Mike Girardi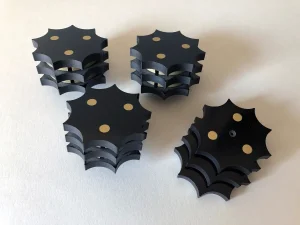 My first experience with a Marigo Audio Lab was their CD mat in 2005 when I had the TacT Audio electronics, Escalante Design Pinyon loudspeakers, and a pair of Uinta subwoofers. The Marigo Audio Lab's CD mat was a trendy accessory then. I later became aware that Marigo Audio Lab offered window damping disks, which, when applied to the three windows in my listening room, was a very effective tweak for damping window resonances. I suspected that the proximity of speakers to windows was generating some unwanted resonances; I thought I could detect a bit of upper midrange "ringing," especially on solo piano and small-ensemble jazz, and the Marigo Audio Lab window tuning dots eliminated the issue with them still in use today.
With the success of the window tuning dots, I later added the Marigo Audio Lab VTS damping disks to my loudspeaker cabinet sides, which tamed the speaker enclosure resonances on the mains and subwoofers. At that time, the Marigo Audio Lab damping disks effectively tightened the bass, improving the midrange clarity and sense of openness. In discussions with Ron at that time, Ron indicated he had been working on component footers and would begin offering them a standard product. Given I already had Still Points Risers and Cones in my system, I decided to pass on Ron's offer. Nearly fourteen years later, I came full circle in my interest in Ron's current iteration of the Isolation Feet and his damping dots for component isolation.
My interest in footers topped out at a few hundred dollars (for a set of three) a few years ago, and I have yet to venture to test any of the high-priced varieties that have emerged since that time. I suspected the weakest link in my system lay elsewhere. I recently decided to settle with the gear I have now & try to isolate everything to the point of extracting the most from it with the added help of decoupling it from vibration & dispersing the energy from the component. Typical isolation products come in many varieties that include equipment racks, component platforms, damping disks, component footers, etc. I will evaluate the new Marigo Audio Lab Orpheus E3 Isolation Feet and ZSD-31/ZSD-41 SuperDots in this review. In a future review, I will evaluate the new Marigo Audio Lab Orpheus L3 Isolation Platform and LRCB composite bases.
Orpheus E3 Isolation Feet are designed for use under my tube and solid state amplifiers, DACs, preamplifiers, turntables, tunable motor controllers, speakers, CD/SACD players, DVD/Siu-ray players, digital transports, servers, and computers. The E3 Isolation Feet is an upgrade from the outgoing E2 model Mystery Feet, which applied trickle-down technology based on the top model, Orpheus H2 Isolation Feet. Marigo Audio Lab Isolation Feet is designed from the ground up to be configurable to interface with any equipment's unique and specific vibrational and resonance characteristics and consist of 96 individual components (total part count in a set of three). Orpheus E3 Isolation Feet are complex structures requiring precise CNC machining equipment, used in Marigo Audio Lab's facility instead of using a milling machine to fabricate typical component footers.
Enhanced performance of the Orpheus E3 Isolation Feet can be achieved by adding one Marigo Audio Lab ZSD-41 SuperDot or composite bases (LRCB) under each E3. E3 Isolation Feet are 1.5 inches tall and are available with an optional threaded stud for attachment to speakers, stands, and equipment racks. They are best placed in a triangle formation, typically with one front center and two in the back, where most components' weight is most significant, and it's recommended that one experiment with the placement and rotational position of each foot to achieve maximum performance. 
The combination or singly utilized sets of 1" diameter Marigo Audio Lab ZSD-31 and 1.75" diameter ZSD-41 SuperDots (both ¼" thick) is a cost-effective option to the E3 Isolation Feet and are best suited for small component footprint applications such as internet routers, Grounding Boxes, NAS drives, and linear power supplies. Like the Marigo Audio Lab E3 Isolation Feet, Marigo Audio Lab ZSD-31 and ZSD-41 SuperDots are comprised of custom-produced composite materials stacked in a proprietary layer stack and are a result of refinement based on numerous iterations and dedicated listening tests. Ron's products are a labor of love. In my discussions with Ron, I've learned that he is constantly experimenting with different materials and the geometries of those materials (on some products, Ron has built over 100 prototypes) until he is satisfied that he has achieved the best performance of the components.
This review will explore the current Marigo Audio Lab component isolation feet offering known as the Orpheus E3 Isolation Feet. It will build upon it by incorporating stacked sets of ZSD-31 and ZSD-41 Super Dots on supporting components installed in my system.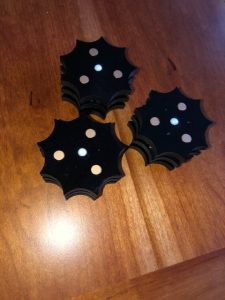 Component Isolation/Resonance Control Translates to Musical Involvement
My reviewing system includes the QNAP NAS drive, AfterDark Double Emperor Crown Master Clock for the EtherRegen, Ayon Audio S-5 Network Player/Preamplifier/DAC, Uptone JS-2 Linear Power Supply for NAS drive and EtherRegen, Ayon Audio Odin III Build 4 amplifier fitted Siemens signal tubes, First Watt SIT-1 mono blocks, Cube Audio Nenuphar loudspeakers, Wireworld Platinum Starlight 8 Twinax Ethernet cables, Synergistic Research Galileo UEF speaker cables, Galileo SX interconnects, and Galileo SX AC power cables, Revelation Audio Labs Precept II A/C Mains, SR PowerCell SX, SR UEF Black outlets, SR Wide Angle HFTs, SR Active Grounding Block SE and UDG cables, SR Black Box, SR MiG 2.0 isolation footers, Stillpoints Apertures, and PerfectPath Technologies Eden Gates. My listening area is 14ft and 10″ wide with a 9′ ceiling and has a nearly open back wall to 1500 sq ft of first-floor living area.
I started with installing the Marigo Audio Lab Orpheus E3 Isolation Feet under my First Watt SIT-1 monoblocks that were originally isolated with spiked butcher block platforms and my reference isolation footer with resonators. The E3 Isolation Feet excelled at accurately portraying the interrelationship of space between instruments and the image depth of each instrument. Compared to before, there was a completeness to the sound such that all frequencies within the response output were treated and improved equally. As I added additional E3 Isolation Feet under each component in my system, the weight of each instrument increased significantly while exposing more of the air of the recording venue.
Before installing the E3 Isolation Feet, I never realized how much the combination of my reference isolation cones and butcher block maple platforms rung and ultimately colored the sound. With my baseline isolation, the bass was borderline bloated, and the high frequencies were fatiguing. I replaced my reference isolation footers with precision-made E3 Isolation Feet under the remaining components of my digital front end (AfterDark Roon Server and both chassis of the Ayon Audio S-5 Network Player/Preamplifier/DAC) as installed in my two-shelf maple butcher block rack, the sound becomes more accurate in frequency response, less mechanical or hard sounding, and better focused with individual instruments precisely located within the soundstage.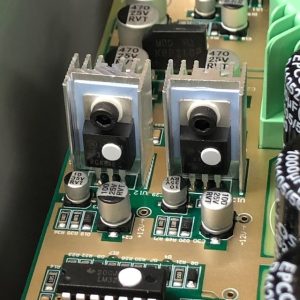 Later, with some additional experimentation that included placing a stacked arrangement of ZSD-41 and ZSD-31 SuperDots under the stock feet of my UpTone Audio JS-2 linear power supply (power supply to the QNAP NAS drive and UpTone EtherRegen Reclocker Switch) and QNAP NAS drive as installed in my two-shelf, butcher-block maple rack, I confirmed the negative impact of butcher block maple and stock component feet was imparting to the sound in terms of signal compression and coloration. I was shocked and had never considered that my audio rack's contribution to the internal component resonances would compress and color the audio signal to that extent. Later, I replaced the brass cones on my Google Fiber router and SR Grounding Block, which was directly sitting on my hardwood floor, with the combination of stacked sets of Marigo Audio Lab ZSD-31 and ZSD-41 SuperDots. Again, I was shocked by the improvement in sound. Essentially, the combination of stacked SuperDots eliminated the mechanical vibration imparted by the loudspeakers, which was the opposite effect of the brass cones, which directly coupled the supporting components to the floor, transferring the mechanical resonance back into the components. The net effect of properly isolating all supporting components with the ZSD-31 and ZSD-41 SuperDots resulted in a more natural and coherent sound, complete with holographic imaging and added layering. In comparison, brass cones imparted an unnaturally hard and brassy colored sound that became fatiguing over time. Given these results and those presented above, I evaluated the combination of E3 Isolation Feet on my main components and the ZSD-31 and ZSD-41 SuperDots on supporting components as a mechanical isolation/component resonance control system for the remainder of the review.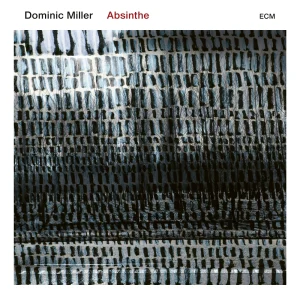 I recently discovered some of the many contemporary jazz composers offered by ECM record label, as presented in my review of the AfterDark Giesmann OCXO 10m Hz Reference Master Clock. Dominic Miller, the guitarist and composer of the album "Absinthe," has caught my ear lately. With "Absinthe," his second release for ECM, Miller has created an album colored by a distinct atmosphere. "The first thing that came to me before I wrote any tunes was the title," he says. "Living in the South of France, I am fascinated by Impressionism. Sharp light and witchy mistrals, combined with strong alcohol and intense hangovers, must have driven some of these artists toward insanity. Skies that are green, faces blue, perspective distorted." While Miller's ECM debut, "Silent Light," emphasized intimacy in solo and duo settings, Absinthe finds the guitarist fronting a quintet that brings his ever-lyrical compositions to textured life. Switching between nylon- and steel-string acoustic guitars, Miller has an essential harmonic melodic foil in the bandoneon of Santiago Arias. The vivid presence at the drum kit is Manu Katche, an ECM veteran and, for years, a colleague with Miller in the band Sting (whom the guitarist has accompanied now for three decades). Mike Lind up's keyboard tones add a ghostly air to such highlights as the title track, while bassist Nicholas Fiszman roots the sound. As for Miller, JazzTimes described him as a guitarist who "milks every note, thriving on the pauses between them and whispery effects of fingers sliding across strings," while Stereophile agreed, declaring that "his ability to express emotion through a guitar is amazing to hear."
With the Marigo Audio Lab Orpheus E3 Isolation Feet swapped on my system on all my main components (both chassis of the Ayon Audio S-5 and First Watt SIT-1 monoblocks) and the combination of stacked ZSD-31 and ZSD-41 SuperDots on all supporting components (router, SR Grounding Block, UpTone Audio power supply, and NAS drive) the depth and three-dimensional imaging of each instrument took a significant step toward musical neutrality and reality. The accuracy of the placement of Miller's guitar, Arias's bandoneon, Lindup's keyboard, and Fiszman's bass as they occupy their own space within the soundstage was greatly enhanced. The ringing and slurring of the music that was present before was completely removed now, resulting in a large boost in clarity and the flesh out of hidden microdynamics. As played by Fiszman, bass frequencies became deeper and tighter, while high frequencies were more open and extended. The most impressive aspect provided by the Marigo Audio Lab products was the improved detail resolution from top to bottom. More information was there, which became mesmerizing even during extended listening sessions.
Conclusion
"Everything matters," as the saying goes, and like almost everything else in life today, somebody is always looking to stretch the envelope of what's possible. Ron Hedrich of Marigo Audio Lab has achieved this with excellent component isolation and resonance control products. I highly recommend it and my new reference.
Specifications:
Marigo Audio Lab Orpheus E3 Isolation Feet (set of 3), $1199
Marigo Audio Lab ZSD-31 SuperDots (set of 2), $59
Marigo Audio Lab ZSD-41 SuperDots (set of 2), $89
Manufacturer's Website: www.MarigoAudio.com
Mike's Associated Equipment
Digital Front End
Ayon Audio S-5 Network Player/Preamplifier
Qnap TS-251+8GB NAS drive
Uptone Audio JS-2 Power Supply
Uptone Audio EtherRegen
Amplification
Ayon Audio Odin SET stereo amplifier III Build 4
First Watt SIT-1 monoblock amplifiers   
Loudspeakers
Cube Audio Nenuphar loudspeakers
Cabling 
Revelation Audio Labs Precept II CryoSilver Reference A/C Mains x 3
Synergistic Research Galileo UEF speaker cables with Blue Fuse treatment
Synergistic Research Galileo SX interconnect
Synergistic Research Galileo SX AC power cords, digital and analog
Synergistic Research Atmosphere High Definition Grounding cables x 14
Wireworld Platinum Starlight 8 Twinax Ethernet x 3
Accessories
Synergistic Research PowerCell SX
Synergistic Research HFTs on loudspeakers, Wide Angle HFTs on wall
Synergistic Research Active Grounding Block SE
Synergistic Research Black Box
Perfect Path Technologies Eden Gates
LessLoss Blackbody ambient field conditioner x 2
Custom built maple wood rack with stainless steel support rod, sleeves, and cones
Marigo Audio Lab Window Tuning Dots
Herbie's Audio Lab Preamp Ultrasonic tube dampers
Synergistic Research UEF Black duplexes
Synergistic Research Blue fuses
Stilpoints Apertures x 6
Townshend Audio Seismic Podiums x 2 on Nenuphars
Furutech NCF Booster x 4
Furutech NCF Booster-Signal x 10
Oyaide WPC-Z aluminum mounting frame and carbon fiber faceplates
Two dedicated 20 amp AC lines using cryo treated Romex 
Stereo Times Masthead
Publisher/Founder
Clement Perry
Editor
Dave Thomas
Senior Editors
Frank Alles, Mike Girardi, Key Kim, Russell Lichter, Terry London, Moreno Mitchell, Paul Szabady, Bill Wells, Mike Wright, Stephen Yan, and Rob Dockery
Current Contributors
David Abramson, Tim Barrall, Dave Allison, Ron Cook, Lewis Dardick, Dan Secula, Don Shaulis, Greg Simmons, Eric Teh, Greg Voth, Richard Willie, Ed Van Winkle, and Rob Dockery
Music Reviewers:
Carlos Sanchez, John Jonczyk, John Sprung and Russell Lichter
Site Management  Clement Perry
Ad Designer: Martin Perry