Audio Mirror Tubadour IV SE R2R Tube DAC by Greg Voth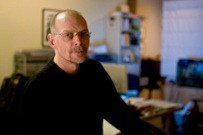 For the past couple of years, my DAC of choice has been the Denafrips Pontus II, a lovely R2R digital converter I reviewed in 2021 and subsequently purchased the review sample. With R2R DACs somewhat a rarity, I didn't expect to review another so soon, but when the opportunity knocks, open that door!
Enter the Audio Mirror Tubadour IV SE R2R Non-oversampling Tube DAC with USB reclocker, an R2R digital converter based on Analog Devices best sounding and most musical chip, according to Vladimir Bazelkov, the man behind Audio Mirror and designer of its products, the Tubadour IV is based on Analog devices AD1865N-K flagship DAC chip, Quoting Bazelkov, "This is the best and most analog and musical sounding DAC chip ever made. The Tubadour IV DAC has a built in USB reclocker., which reclocks all signals coming from a USB source. which improves a lot the resolution, tonality, balance, separation and dynamics and lowers jitter significantly."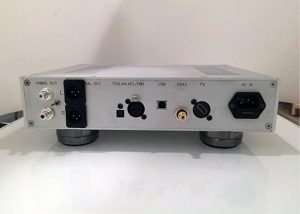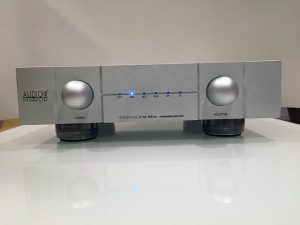 Looks and Features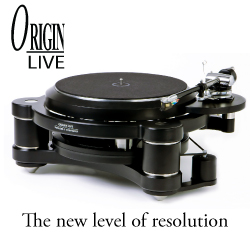 The Tubadour IV SE is both handsome and heavy. Its silver finish is accented with two LEDs on its face, one blue, which indicates source selection, and the other white, indicating when the DAC has locked onto the source. The LED(s) emits a soft blue glow through the chassis's top vent. The unit's two front knobs are each hemisphere, one for power on/off and the other for source selection. The Tubadour IV SE is a Non – oversampling DAC based on Analog Devices' best-sounding and most musical chip. It is an all-format DAC with a tube IV conversion stage. It employs AES, Coax, Optical, USB, and I2S input. 16-32 bit up to 384kHz. It natively plays PCM, and DSD can be played by using the option "convert on the fly" on most music players (Audirvana, Amarra, Foobar, Roon, Euphony, and many others can do this "on the fly"). The Tubadour IV SE DAC's dimensions are approximately 12.5 inches in width, 11.5 inches in depth, and 3.75 inches in height (including its GAIA feet).

Quoting Bazelkov, "The blue LED light from inside is the biasing for the tube stage. I spent a lot of time fine tuning and mostly listening to tonality, clarity, and resolution while trying different biasing scenarios, and blue LED sounded best to my taste. I want to clarify this because a friend of mine asked me once – why do you have this blue LEDs inside? They will look better outside. He thought this is just for beauty."
Bazelkovhe added that this review sample has a stock 6H23P Russian tube and that the NOS Tesla (not new JJ Tesla) ECC88 or E88CC gold pins sound better.
A bit of Background and Audio Mirror Vladimir Bazelkov, a music lover, caught the audio bug early in his hometown of Sofia, Bulgaria. A few years later, after graduating 
as an electronics engineer, he patented an audio circuit-tone control with no phase shift. Over the years, Bazelkov has designed and built many audio circuits and components, gaining a reputation for excellent-sounding equipment. In October 1999, he moved to the US and founded Audio Mirror Audio. Audio Mirror Audio specializes in high-end audio equipment (for the most part, tube-based). Bazelkov's tube monoblocks feature point-to-point hand wiring; the company's products emphasize performance and appearance and follow a minimalist philosophy, with simple circuits and builds with only high-quality parts.
The Tubadour IV SE R2R Non-oversampling Tube DAC
While re-reading Terry London's review of the Tubadour III SE here (above photo), I surmised that the upgrades in an SE version of this venerable DAC are the previous model's available options (for an added price). I wrote Bazelkov to confirm this and asked him to speak on the IV SE's specific upgrades. He replied, "Yes, the Tubadour IV SE has a new analog/ tube section. Yes – no caps. It uses output transformers instead. It took me a while to perfect the design for minimal distortion and linearity. You probably heard the saying, "The best cap is a no cap." Also loading capabilities are improved a lot and can drive very difficult loads. Another essential improvement is it needs only one tube (dual triode). You get better resolution, details, and very liquid effortless sound with output transformers. It is more refined, and the low end has improved as deeper and textured. also, tonality became better and not just being there but distinguished for different instruments.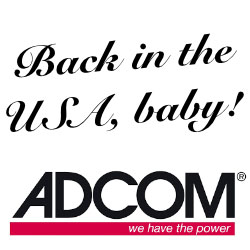 "New Tubadour [IV SE] uses better linear low noise power supply for the USB reclocker. The rest is same as previous Tubadour III SE model. BTW price difference between III SE and IV SE barely covers the cost of the parts used.[!]" As noted above, there are NO caps in the signal path. Quoting the site's product description, "the IV SE "uses output transformers and [features a] totally redesigned tube stage. Transformers are Lundahl, considered one of the best transformers. It also allows for both balanced and unbalanced outputs with the best performance. The sound is more natural and rich—much more resolution and tonality. The sound flows so easily with no artifacts [nor] fatigue. The other significant upgrade is the USB reclocker built-in. It reclocks all the signals coming from the USB source. 
The IV SE now includes a Furutech-Gold IEC power inlet and IsoAcoustics "GAIA" vibration absorbing/isolation feet (which can improve the clarity and focus of the sound) as standard equipment. This new model also includes silver RCA and XLR for balanced and unbalanced outputs. Says Bazelkov, "After a long journey for many years, trying the ESS Sabre dac chips, Delta sigma DACs over and non-oversampling DACs, single bit and multibit DACs, we are back to the best-sounding chip – the Analog Devices multibit R2R DAC. This is the most analog non-artificial sounding DAC.  
Paraphrasing the Audio Mirror site regarding some of the features of this DAC, the Tubadour IV SE has a built-in delay when turned ON, and it requires just 15 minutes or so for DAC tube bias and warm-up. Bazelkov interjected, "[The delay function] is around 1 minute, to avoid any noises coming out while the tube heaters are warming. The tubes need about 15 min like [all] tube equipment to start sounding better. Those two things are not connected. One is – delay during heaters warming up. The other is – sound getting better within first 15 min."
Those accustomed to unfolding MQA files should note that the IV SE DAC does not have MQA capability. DSD files can be played if the player/streamer converts DSD to PCM. Most players, like Foobar, Audirvana, Amarra, etc., can do this on the fly.
The Tubadour IV SE at Play
I just ended my past few months with a streaming service, so I'm playing files from my Memory Player Mini and iMac drives. My Memory Player Mini uses JRiver MediaCenter 23 in Windows 10 for audio file play and organization. I convert imports of CD res, 24-96 kHz and up, including DSD, DFS, and DFF, to Sony WAV 64 files for use in that library. I'm not such a purist as to dive deeply into the depths of digital file playing, and I remain quite impressed with the quality of sound I'm getting from my current rig.
The Tubadour IV SE R2R Non-oversampling Tube DAC doesn't do MQA, which is fine, since I don't have any MQA file unfolding hardware on hand. The Tubadour IV SE does support i2S (as does my PS Audio Gain Cell DAC), but I have no digital sources that support the i2S protocol.
Playing optically was a snap, and playing through USB just required selecting the Audio Mirror driver, which came right up in my iMac's Sound Preferences in the Monterey OS. Granted, I still have to adapt two lengths of Transparent Performance USB cables together to reach my rack from so far away, but the USBe Perfect made this distance easy to bridge by preserving the voltage needed to extend past the USB maximum cable length.
I began this listening session with "So We Meet Again My Heartache" from Melody Gardot's 2012 release, The Absence (Verve), with a 24-96 home rip from the vinyl. I hadn't heard this song in some time and was taken with Gardot's warm, closely miked vocal and the breadth and punch of the string accompaniment. The Tubadour IV SE presented these and other delicate details, reaching deep into the song and extracting a density that surprised me. Delicate tones from the piano and percussion held an ephemeral lightness now more easily heard. "Impossible Love" was closely miked but broad in its rendering of dimensional imaging, reaching deeply into instrumental tone and resonance. I appreciate the Tubadour's tube stage for this added resolution.
Aaron Goldberg's trio recordings often highlight percussive details. With "Poinciana," the opening track on Goldberg's At the Edge of the World (2018 Sunnyside Communications), he continued this bent. This uplifting track was driven by Parker's unique vocal and body percussion brought added interest to this well-known melody. The Tubadour IV SE dug in, rendering these delights with speed and added focus.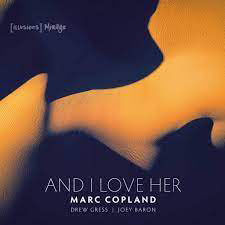 On And I Love Her (2019 Illusions Mirage), Marc Copland's trio opened with a languishing cover of "Afro Blue," loose and interesting as it wound toward the song's recognizable melody. Even then, it took melodic diversions, which piqued my interest in the song's restructure. The stage was full, with notable depth and deft imaging, as these musicians were closely mic'd, resulting in well-rendered piano, bass, and drum body and tone. The trio continued its travels through a more focused interpretation of Hancock's "Cantaloupe Island," where Joey Baron's drumming was stellar. The Tubadour IV SE very well rendered this recording's instrumental richness, dynamic interest, and transient speed.
After a few months of nothing but the Tubadour IV SE in the rig, I returned my reference Denafrips Pontus II R2R Oversampling DAC to its place in the main rig (reviewed here). I began running music throughout to warm it up for comparison. The Pontus II is also an R2R ladder DAC, which can be used for oversampling (or not).
Comparisons
Comparing the Tubadour IV SE directly to my Pontus II DAC was a given since they are both of the R2R variety – there should be similarities. I turned off oversampling on the Pontus II, since the Tubadour doesn't do that, and made a playlist of the same demo tracks on the iMac and the Laufer Teknik Memory Player Mini. I listened again, first to the iMac via USB to the Pontus II and the MP Mini via optical to the same. The MP Mini has a lovely internal DAC, but I run optically due to the distance between the MP Mini and monitor (running a 25+ foot run of quality ICs would be too costly). Also note, I did also try the iMac via USB, but its sound was surprisingly hard and metallic, lacking the warmth and immersive quality brought by the Tubadour IV SE.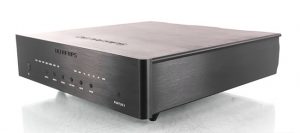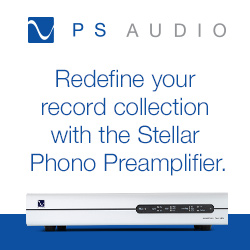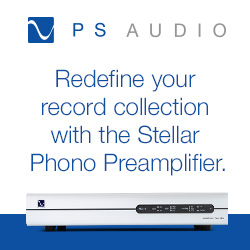 With the MP Mini as the music source for both the Tubadour and Pontus II, using the same playlist, the Tubadour renders far better overall warmth and resolve. Gardot's two songs and "Poinciana" sounded more fleshy, tactile, and lush. "Afro Blue" was more bombastic and exciting, similar in tone and pacing to the Tubadour's presentation. "Cantaloupe Island" felt more relaxed and delivered nice punchy bass (again compared to USB). The Ravel piece felt more passionate, more involving, and heart felt like the Tubadour. Rachmaninoff's "Isle" was more cohesive and organic and offered a better tone (again, like that of the Tubadour). Finally, Nik Bärtsch's "Module 41_14" felt more fleshy, relaxed, deeper, and immersive.
The Audio Mirror Tubadour IV SE bested my reference Pontus II, effortlessly delivering warm and involving music. Well-recorded songs breathed with depth and a relaxed cohesiveness and alive with fleshy, detailed nuance.
The Wrap
I've used the Tubadour IV as my primary digital player for everyday listening and reviewing. Over these past few months, the Tubadour IV SE proved a dependable and musical companion. The Audio Mirror Tubadour IV SE R2R Non-oversampling Tube DAC with USB reclocker is highly recommended!

greg voth          
– – –
Specifications:
Product reviewed:
Audio Mirror Tubadour IV SE R2R Non oversampling Tube DAC
Price: $3500
The base price is $3500.
DAC comes with option to order it with SR Orange (+$120) or SR Purple fuse (+$160).
Power cord is not supplied. Customers can view all the options on the website.
Contact:
Email: contact@audiomirror.com
website: https://www.audiomirror.com
Mailing address:
13315 York Ave S
Burnsville MN 55337
Product Info:
Sample rates:  
S/PDIF, AES 44.1 – 192kHz
Optical/Toslink 44.1 – 96kHz
USB, I2S, PCM 44.1 – 384kHz
DSD – converted by player to PCM "on the fly"
Bit depth:
Up to 24 bit over S/PDIF, AES, Toslink
Up to 32 bit over USB and I2S
Dimensions: 13 x 12 x 3 inches
Stereo Times Masthead
Publisher/Founder
Clement Perry
Editor
Dave Thomas
Senior Editors
Frank Alles, Mike Girardi, Key Kim, Russell Lichter, Terry London, Moreno Mitchell, Paul Szabady, Bill Wells, Mike Wright, Stephen Yan, and Rob Dockery
Current Contributors
David Abramson, Tim Barrall, Dave Allison, Ron Cook, Lewis Dardick, Dan Secula, Don Shaulis, Greg Simmons, Eric Teh, Greg Voth, Richard Willie, Ed Van Winkle, and Rob Dockery
Music Reviewers:
Carlos Sanchez, John Jonczyk, John Sprung and Russell Lichter
Site Management  Clement Perry
Ad Designer: Martin Perry