ArgentPur 13) speaker cables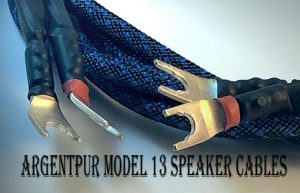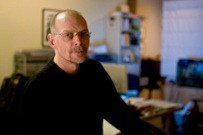 If you're looking for speaker cables, the market is up to its proverbial neck with silver-plated offerings. I know, having searched plenty for cables of all sorts and returned red-eyed and exhausted. That's where ArgentPur enters the picture. Quoting their site, "ArgentPur started as a minimalist assault on the requirements of audio signal transmission." Their pure silver (Ag) cables deliver 106% conductivity, a conductivity even copper with .9999 purity can't claim.
For this review, I installed this pair of custom ordered 6-foot ArgentPur 13 (13AWG/2.4MM2) speaker cables with my spade-friendly Opera Consonance M100SE integrated amplifier. It took a few hours of constant play for the ArgentPur 13 cables to open up. Still, after about 15 hours of listening, the 13's began a rather astounding transformation, sounding very good as they presented impressive dynamics, delivering solid weight with a directness to the music (brushes sounded quite sweet). Those qualities don't come cheap—the ArgentPur 13's clock in at $5000 for a comparable length 2.5-meter pair.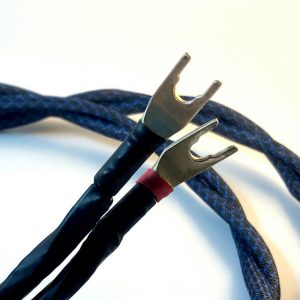 ArgentPur 13 (13AWG/2.4MM2) speaker cable
From the jump, it's clear that ArgentPur's cables are unique – they are non-directional AND use NO lower-conductivity rhodium, gold, nickel, or copper surfaces in their signal paths, only 105.9995% transmission pure silver. Each strand of silver is manually threaded through its 5-10x larger fluorocarbon tube to minimize surface contact and thus reduce dielectric effects, as well as capacitance and inductance. This results in no destructive "signal hopping" interference across the audio spectrum. A read of the ArgentPur site reveals "AgPur13 adds more fine Ag strands (compared to smaller AgPur 14 and Ag16) to provide exquisite top octave air and clarity for high sensitivity speakers at even long runs, as well average loads at short-to-moderate lengths. It's perfect for highest res jumpers for all loads too, or close-sitting monoblocks."
ArgentPur's 13 speaker cables are terminated with silver-plated spades and banana plugs for complete continuity of silver conductance. Their higher grade interconnects designs use WBT0152AG (or a low mass silver) RCA and an AG/Teflon XLR for balanced designs and locking Neutriks for pro audio use. A buyer's choice comes down to the load sensitivity required and cable lengths needed, from 0.25 meters and up to 4 meters, terminated with premium bananas AND spades. Standard constructions may be returned within a 30-day demo period for a full refund, less shipping costs. Custom orders are available, though All orders for other lengths or non-standard terminations (all bananas, spades, or others' connectors, for example) are considered custom-made orders and not refundable. I like the idea of a mix of bananas and spades on the standard 13s. While my Double Impacts and Warp I amp have 5-way binding posts, the SBS S2 Pro amp and CIAudio r3 loudspeakers only accept bananas. The ArgentPur 13's, being non-directional, would offer a welcomed connectivity option and keep spade/banana adapters out of the mix.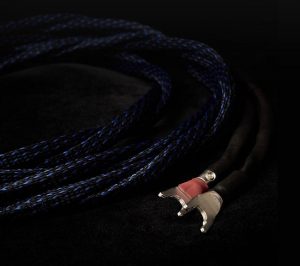 Core Technologies and Cable Geometry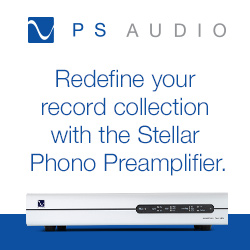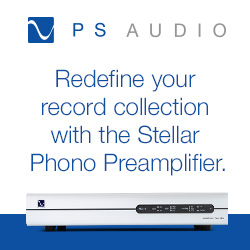 Quoting the Argent site, "ArgentPur's solid Ag strand cores are initially arranged as twisted pairs, followed by aggregation of spirals and star-quads to lower mutual inductance and capacitance. The final exterior geometry of these groups consists of twisted pairs (AgPur Speaker) or tri-braids (Interconnects). AgPur single-ended (RCA) ICs follow this noise-cancelling tri-braid external geometry to reduce noise in an unshielded design, which results in a purer musical performance than shielded constructions. Remote outer shields may be added for especially noisy environments by the end user, only as absolutely necessary."
A bit about Ernest Meunier, ArgentPur CEO
I asked Ernest (Ernie) Meunier if he would share a bit about himself. He responded with an entertaining tale covering his life, family, and challenges that I'd love to post in its entirety, but with space limited, here's a chunk of what Meunier shared, "I grew up in a northern Rhode Island French-Canadian ghetto in the '50s, quickly becoming a Baroque organist prodigy and ham-radio nerd. That started me on the road to tweaking amps and building weird speakers (tri-axial omnidirectional behemoths in clay sewer pipes!) while touring the great Casavant Freres huge (4 rank, 4k+ pipe) organs playing wedding and funeral masses.
"At home, I progressed through a trio of ever-larger Hammond Organs, learning a lot about tonal harmonic structures and special effects. I chose Brown for engineering instead of Julliard, becoming a recreational-drug devotee and metrologist [.] While mimicking Wendy Carlos on the electronic keyboards, the Band was my touchpoint as well Dylan and the Stones.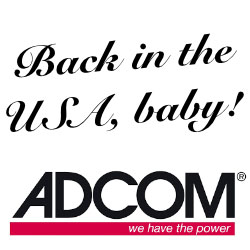 "I escaped to Boston and started a first career as "The Pipeman," eventually writing ASTM and ISO standards in laboratory equipment testing metrology. That and a quarter got me a pretty bad cuppa Joe [but] I did land an old Steinway in my abode, so I got serious about classical pianism…and a bit of the American Songbook.
"A life change found me reentering Boston's indie TheSubaruGuru from which I finally retired in 2021. By then, I'd cobbled together systems for friends and family, preferring Pass Alephs for my Verity Audio Parsifal Encores and Electrocompaniet EMC-1 UP CD player ref system 20 years ago. I had walked up the Nordost ladder after we hosted Joe Reynolds at the Boston Audio Society.
"I decided to listen to music less at home and buy subscriptions to the BSO (Symphony Hall), especially The Cantata Singers, where I nestled into seat 104C at the exquisite Jordan Hall at NEC. Here's where I learned what the human voice and bowed strings in a gorgeous acoustic sound like. We learned a lot from an old friend Tom Horrall, an esteemed acoustician and recording engineer, and Michael Rudd, an old student of Peter Walker.
"Knowing that uber-quality components (primarily amps and speakers) used solid silver wiring in their best iterations, I compared many variations of short cables linking my amps' output boards directly to my speakers. They all sounded the same until I tried DIY pure solid Ag. GONE was all the silver/copper bimetallic treble artifacts of the Nordost (and clones).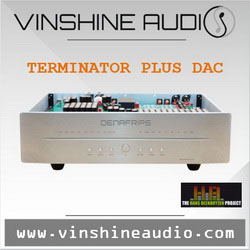 Vinshine Audio (53)"Next, I made similar jumpers and then balanced ICs. My jaw continued to drop. Friends and golden-eared listeners then asked me to make longer speaker cables for themselves. The first results were surprising: they made smaller monitors like baby Spendors and Harbeth P2's "explode" out of their boxes, with BOTH extended bottoms and more-fleshed transparent stages up top. Interesting. Cable industry veterans mentioned the utter transparency but especially complete coherence across all octaves.
"I was thus cajoled into making a biz out of this, went through two major deltas in formulae last summer, and attended a couple of shows while getting samples out for evaluation and review. Traction has been very slow, as I'd been warned. I had much trepidation after learning that the snake pit cable industry is filled with mystical voodoo. Many reviewers won't touch cables because [of] the negative feedback. Hmmm.
"I still come across a wide swath of pro and amateur listeners who categorized "silver cables" as always flawed. Yet subsequent listening of ArgentPur dispelled all such biases. I incorporated a few technical nuggets from Cardas (Golden Ratio construction), Kimber (self-shielding), and Siltech (metallurgy) while wondering why no one was using solid pure silver except at really enormous pricing. I soon learned that the cost of materials was daunting to the industry, but also that hand-built cables take much time: 3-4 hrs for ICs and 4-7hrs for my speaker cables!
Of course, these restrictions are anathema to the larger players, so maybe there's room for me?"
Listening
Lisa Hilton's Paradise Cove (2022 Lisa Hilton Music®), a discovery for me, sounded wonderful, with the 13's delivering a surprisingly solid piano tone and body, rendering a liveliness and punch that surprised me. Bass and low-level transients had excellent speed and punch. The brushes sounded very textural, while the trumpet had more air. This album felt far more alive with the 13s than my Dynamique Audio Tempest II speaker cables – both are silver constructed, but the ArgentPur 13s have more magic. That's unsurprising since the 13s ring in at a notably higher price.
It's the piano tone I returned to throughout Hilton's excellent album. – such a thrilling rendering of that instrument's girth. The 13's also presented a nice picture of Cole's attitude – her warmth and her Band's buoyancy were elevated, coming through clearly with both heart and soul. As the ArgentPur 13 cables woke up further during burn-in, the percussion snap improved, along with depth and speed. The bass had not only body but a 3-dimensional character with overtones and accents newly discovered. I've repeatedly returned to Cole's latest album over the past two months.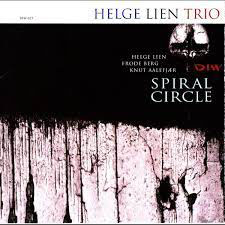 Eventually, the ArgentPur 13s made it to my main rig. After 30 or so hours of listening, a patient listener will be greeted with an even more impressive presentation – a brilliant musicality and habit-forming aliveness, with physicality and instrumental depth and breath that's downright thrilling.
I love running across projects from jazz artists I've followed for years but never knew existed. Case in point, the Helge Lien Trio's 2002 outing, Spiral Circle (diskunion). Their cover of Brubeck's "Take Five" is simply fantastic! Sadly, my reference cables don't hold up compared to how the ArgentPur 13 cables rendered this material – dynamics are more instantaneous, instruments more lively, with a fleshy emotional connection to the music that arrived both more intense and purposeful.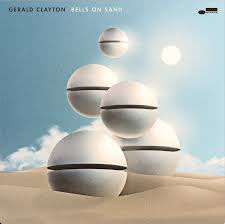 Gerald Clayton's 2022 Bells On Sand (Blue Note Records) presented a contemplative mood that rendered continued depth, breath, and cohesiveness in sound. A beautifully recorded work and standout from the past year, this trio project, with guest instrumentation, has the power to grab and hold one's attention longer than most. Cymbals were complete, gorgeous, and never splashy, and both piano body and bass were grounded and solid. The vocal on "Damunt de tu Només les Flors" flowed with a beautiful warmth over Gerald Clayton's piano. "Peace Invocation" featured Charles Lloyd playing his softened, lyrical tenor sax over Clayton's pensive, flowing pianissimo. The solidity of image, effortless dynamics, and cohesiveness through the frequencies make the ArgentPur 13's cables a must-hear.
I've always been a Mick Goodrick fan from the early ECM Recording days and was saddened to hear of his passing in mid-November of last year – Goodrick brought excellent phrasing to guitar playing. While not a prolific recording artist, I dug into what I could stream and ran across a project with Goodrick as a featured player, Charlie Mariano and Carlo Mombelli's Somewhere, Out There (2005 Jazzwerkstatt gUG), that has become a near-daily spinner. This work has that unique sound that I gravitated to in the early 1970s when I first discovered the ECM label.
On the title track, the ArgentPur 13 cables shined as depth, dynamics, and drive was effortlessly delivered, with full-throated bass, punchy percussive interplay, and Goodrick's guitar lines weaving around the horn-delivered melody. "Me The Tango Picker," said it all, with its stellar storytelling approach and the drive the players developed. The ArgentPur 13's delivered its rhythmic complexity with PRAT and a smile; well done! Through the ArgentPur 13's cables, this album's presentation has been thrilling with each listen.
A Short Conversation with Ernest Meunier of ArgentPur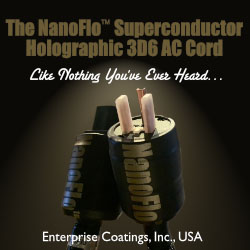 I wrote Ernest Meunier of ArgentPur and asked a few questions, which included carrying what the company considers a standard vs. a custom order, among other things. Though short, I thought Meunier's comments were worth quoting.
GV: From the sites verbiage, I would assume that lengths under 2.5 meters and over 4 meters are considered custom and not considered returnable, and the following info you provide the info for a customer to get an idea of your pricing structure only – it's not a list of lengths you consider standard (see info below for theses lengths and prices).
EM: "THAT'S CORRECT; I stock only 2.5M Speaker and 1M ICs, but have a couple 1.5M and 2M ICs already in stock for returnable demo."
GV: Are your interconnects made the same way as speaker cables, with the only difference being their termination? That would explain the shorter 1.0m, 1.5m, and 2.0m lengths [noted in your price list].
EM: "IN THAT ALL ArgentPur comprise various 9995 solid Ag strands individually threaded through their own roomy fluorocarbon tubes (aka "air tubes"). They're similar in construction. I list shorter lengths of Speaker Cables to suggest their employment both to reduce cost AND because longer ICs are preferable to longer speaker cables…
…Connectors include a choice of either Neutrik Pro (Ag) XLR or fully Teflon/Ag "silver ones"; RCAs can be either locking WBTs for pro/permanent use or the standard low-mass Ag/Delrin plugs."
Meunier added, "The AgPur13 shares ALL the array of finer Ag strands used in the larger AgPur12 and AgPur11. With appropriate loads they sound identical, the big dogs add only larger strands for added current-handling use…and thus additional bass slam and effortless dynamics. Correspondingly the smaller AgPur14 and AgPur16 are recommended for high efficiency loads and/or short lengths."
The Wrap
I've not heard of such low-frequency weight and power in this system for some time. The resolution brought to bear by the ArgentPur 13 speaker cables is simply stellar. The phantom imaging is spooky solid, gleefully intact, and musically delightful. Without reservation, I recommend any interested reader take advantage of ArgentPur's demo/return policy. I doubt they'll be returning cables once heard. I'll be sad to see them go, but go they must.


greg voth           
– – –
Specifications:
Product reviewed: ArgentPur 13 (13AWG/2.4MM2) speaker cable
Price: $5000 (2.5 meter pair) as a standard demo/returnable order
Less than 0.25 meter: $1850
1 meter: $2900
1.5 meter: $3600
2 meter: $4300
2.5 meter: $5000
3 meter: $5700
4 meter: $7100s
Specs/features:
AGPUR13 (13AWG/2.4MM2)
AgPur13 adds more fine Ag strands (13AWG/2.4mm2) to provide exquisite top octave air and clarity for high sensitivity speakers at even long runs, as well average loads at short-to-moderate lengths. It's perfect for highest res jumpers for all loads too, or close-sitting monoblocks.
CUSTOM ORDERS, RETURNS, DEMO POLICY
Standard ArgentPur constructions for Speaker Cables are 2.5M length, terminated with premium bananas AND spades. Standard Interconnects are 1M length.
These standard constructions may be returned within a 30 day demo period for full refund less shipping costs.
All orders for other lengths or non-standard terminations (all bananas or all spades, or others' connectors, for example), are considered custom-made orders, so are not refundable.
Speaker Cables returned for exchanging terminations after delivery will incur a modest charge for new connectors and remanufacturing labor.
AgPur Flyovers are also 2.5M standard length, but terminated with all bananas. Standard constructions may be exchanged for full credit toward AgPur Speaker Cables within one year! Custom lengths and terminations are not returnable.
We reserve the right to make minor cosmetic and aesthetic changes on the fly without notice. However, any technological changes will always be announced. Enjoy the music!
Dealer enquiries welcome.
Until a comprehensive dealer network is built, early adopters can enjoy a special discount buying directly. Note also that we have a very few cosmetically-different prototypes available for half price.
Contact:
Ernest A. Meunier
781-526-3860
Website: https://argentpur.audio
Email: ernest_meunier@msn.com
Stereo Times Masthead
Publisher/Founder
Clement Perry
Editor
Dave Thomas
Senior Editors
Frank Alles, Mike Girardi, Key Kim, Russell Lichter, Terry London, Moreno Mitchell, Paul Szabady, Bill Wells, Mike Wright, Stephen Yan, and Rob Dockery
Current Contributors
David Abramson, Tim Barrall, Dave Allison, Ron Cook, Lewis Dardick, Dan Secula, Don Shaulis, Greg Simmons, Eric Teh, Greg Voth, Richard Willie, Ed Van Winkle, and Rob Dockery
Music Reviewers:
Carlos Sanchez, John Jonczyk, John Sprung and Russell Lichter
Site Management  Clement Perry
Ad Designer: Martin Perry