The QSA Lanedri Gamma AC cord by Rob Dockery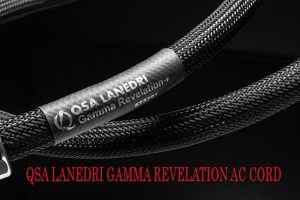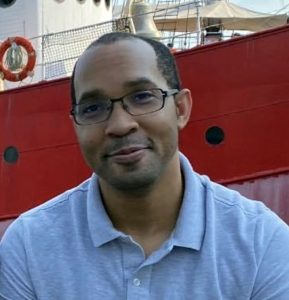 If you're reading this on ST, you've probably heard about QSA products. If you're a hobbyist who frequents audiophile forums, you may have stumbled upon spirited discussions of the QSA fuses. I will not go too deep into what QSA is since none of us know what the treatment consists of, but today I am writing about the QSA Lanedri Gamma Revelation AC powercord. Yes, a QSA AC cord!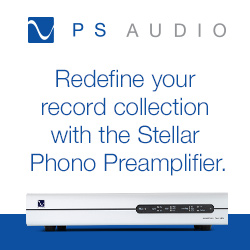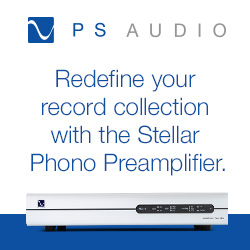 Mine arrived in a nicely adorned cloth pouch with the company logo showing itself off proudly. A little background on Anas Lanedri, founder of Lanedri Cables. Here's an astute businessman and audiophile from Belgium who, after hearing the QSA fuses, decided to take it further and experiment with the QSA treatment on cables and AC cords. The results were so impressive Anas Lanedri decided to invest in QSA technology, concentrating on newly developed cables and AC powercords. Lanedri is the first company I know that uses the QSA treatment on their cables.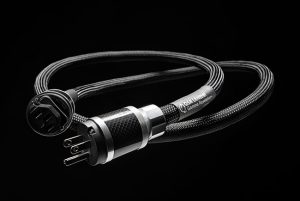 More about the Gamma Revelation:
1. It sits at the more affordable end of QSA Lanedri's product line, but don't let that fool you. More on that later.
2. It is up against stiff competition in the $2500 price range.
3. It looks exactly like an ordinary high-quality cable, so if looks are what you're after, you must step up to the Spectra line.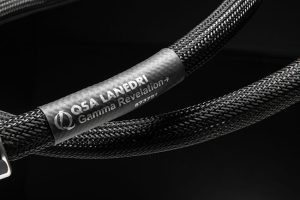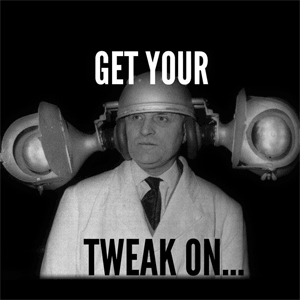 The Gamma line represents the QSA Lanedri "entry level" products. Think of them as "gateway" products to give you a taste of the QSA Lanedri experience to determine if the impact is worthwhile in your system. There are two levels within the Gamma product line. These are the Revelation and Infinity lines, Infinity being the higher-end iteration. Today, I will discuss my exhilarating experience with the Gamma Revelation PC cable and the various places I tried it in my system.
So where did I begin? I had to try it everywhere feasible until it clicked into place.
1. Swapping the VH Audio Flavor 4 PC with Parts Connexxion Rhodium plugs on my server LPS.
2. The Viborg vp1501 with Wooden bodied/rhodium plated plugs from Aliexpress feeding the DC4 powering my JCAT USB XE.
3. Replacing the Furutech DPS 4.1 with Parts Connexion Rhodium plugs I use on my Ygdrasil Lim Dac.
4. Replacing the Furutech DPS 4.1 with Fi-50 NCF connectors at the wall feeding my power conditioner.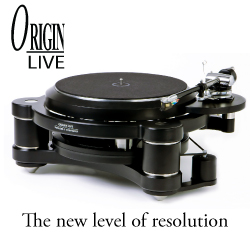 During the first swap, I noticed an immediate drop in the noise floor and a notable improvement in subtle detail expression. This noise drop proved terrific, but it did immediately impress me. The cable needed more rop break-in. I decided to try my luck on the Sean Jacobs DC4 powering my JCAT USB XE card, which resulted in an impressive sound quality gain. I could not believe the improvement in dynamics, openness, reduced noise floor, and slam. It was like a huge veil had been lifted but sonically seemed imbalanced/exaggerated. The above tests were conducted several days into my journey, and these cables take at least 200 hours to settle in fully. Over several days, the sound quality became more natural and refined, with even more resolution than I ever thought possible with a system composed of mostly mid-tier gear. I moved the Gamma Revelation AC cord  closer to my DAC (which used a QSA Violet fuse then), and this swap did not go as planned. I had no patience to leave the Gamma Revelation there, so I re-installed the Furutech DPS 4.1 at my DAC and moved the Gamma Revelation to the wall, feeding the power conditioner.
The moment the Gamma Revelation was installed at the wall, this was the moment I finally got a taste of what these cables claim to provide. The sound was dynamic, transparent, natural, and pleasing to this listener. Without sounding farfetched, I can't wrap my finger around the words to describe how positively impactful this swap was. I was unprepared for this positive impact, and I am now trying to figure out how to purchase the Gamma Infinity to experience how much of a step up that would be. The soundstage is big, open, and unveiled—nothing syrupy or warm about this Gamma Infinity. This cable is a breath of fresh air. The Gamma Revelation increased upper midrange articulation in my system and added heft and authority to the lower frequencies. It did not accentuate the midrange, but the frequency range is more open and articulate. There is a slight tilt to the higher frequencies, which will settle down with break-in. There were moments earlier when strings were a bit too "stringy" sounding, almost as if there was too much texture.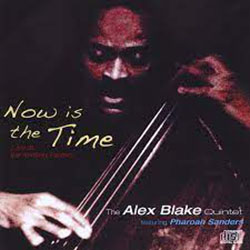 These early observations disappeared with appropriate break-in time (200 plus hours), leaving you with glorious resolution and heft. I have since installed a Sablon Elite cable at the wall (a much lower gauge), and the Gamma Revelation has found its final resting position on my preamp, where the sound of this cable injects itself in the most balanced way. As of late, I am a huge Earl Klugh and Fourplay fan, and this cable helped me fall in love with guitar and piano all over again. Vocals are also so visceral now; I am amazed by the female vocals in Rob Wasserman's – Angel Eyes. There is a great sense of impact with drum solos and more significant variation in quiet and loud passages, as experienced in the Alex Blake Quintet Live at the Knitting Factory, particularly the song The Chief or "Now is the Time." [Publisher's note: I sat in the audience during this live recording. Thanks to the great Pharoah Sanders, It is still one of my all-time favorites!]
I own a mid-level system, although I have spent thousands on power supplies, conditioners, and cables. The Gamma Revelation costs $2500, and not for a single moment did I question the value proposition. I had considered an amp and DAC upgrade, but after adding the Gamma Revelation to my system, I do not need to upgrade those components.
In conclusion, I highly recommend the QSA Lanedri Gamma Revelation power cable as it presents a high ROI investment for the entry cost. There are many other more costly and less impactful tweaks in this hobby.
Happy Listening!

Stereo Times Masthead
Publisher/Founder
Clement Perry
Editor
Dave Thomas
Senior Editors
Frank Alles, Mike Girardi, Key Kim, Russell Lichter, Terry London, Moreno Mitchell, Paul Szabady, Bill Wells, Mike Wright, Stephen Yan, and Rob Dockery
Current Contributors
David Abramson, Tim Barrall, Dave Allison, Ron Cook, Lewis Dardick, Dan Secula, Don Shaulis, Greg Simmons, Eric Teh, Greg Voth, Richard Willie, Ed Van Winkle, and Rob Dockery
Music Reviewers:
Carlos Sanchez, John Jonczyk, John Sprung and Russell Lichter
Site Management  Clement Perry
Ad Designer: Martin Perry