The Acoustic Signature Final Tool Turntable
Paul Szabady
11 April 2001
ThreadĖdrive, 2 speed, high mass aluminum alloy turntable with out board power supply, outboard mounting of motor, and spike support of chassis/platter. Weight (boxed 85 lbs.)
Special Introductory Price $1999
Available from:
Exclusive Distributor:
North America, UK and Australia
Jerry Raskinís Needle Doctor
419 14th Avenue SE
Minneapolis, MN 55414
800 229 0644
Website: www.needledoctor.com
Email: info@needledoctor.com

Manufacturer:
Peak High End
Weinbergstr. 27 D 71229
Leonberg Germany
Website: www.acoustic-signature.com
Email: info@acoustic-signature.com
"Hereís a massive table that delivers both deep bass power and control, and yet also reveals rhythm equally well. My immediate perception was of power and ease, as if the Final Tool was completely unstressed and unflustered by its record-playing duties."
Thereís an intriguing new turntable line in town. The Acoustic Signature turntables are manufactured by Peak High End in Germany, and distributed exclusively by Jerry Raskinís Needle Doctor, a long-time retail fixture in the University of Minnesotaís Dinkytown neighborhood and a firm presence on the Internet for sales of analogue products.
The Acoustic Signature turntables (there are 4 in the line, the Final Tool being the least expensive) are exquisitely CNC manufactured with the kind of precision, solidity and attention to engineering detail that is associated with the best of German products. The Final Tool weighs in at just less than 75 pounds and evokes bank vault solidity. A heavy aluminum cylinder encases an AC synchronous, outboard motor and drives the 24 lb. damped aluminum platter by a thread belt. Suction-cup feet immobilize the motor cylinder. The platterís bearing shaft rides on a tungsten carbide ball in sintered bronze bushes and bears on Tidorfolon, a unique combination of ferrite, vanadium, Teflon and titanium. Requiring no lubrication and claimed to be wear-free, the bearing is guaranteed for ten years. The outboard Alpha power supply generates its own internal reference frequency (and is thus immune from the vagaries of AC main line irregularities) and powers and controls the motoró33 1/3 RPM and 45 RPM speeds are available. The round main chassis is constructed of solid aluminum and rests on 3 spikes, which rest in cups. A rigid outrigger arm mount is bolted to the underside of the chassis and supports a rotate-able aluminum disc to which 3 tall thin cylinders are attached. The aluminum arm Ďboardí is attached to the top of these 3 cylinders: a collar allows arm-height adjustment. The all-aluminum turntable is constructed of a soft alloy to place fundamental resonance at a planned, and thus, controlled frequency. The surface is anodized to a brushed appearance.
Platter, bearing, motor, and power supply are shared by all the tables in the Acoustic Signature line, which vary in plinth weight, shape, and type (granite is one option), suspension, and in the number of motors (3 motors can be used, all running from just one Alpha power supply.) The Final Tool offers the option of running up to 3 arms simultaneously. A felt mat supplies record support on all the tables.
Although I generally find audio gear aesthetics to be an oxymoron, the Final Toolís mix of rounded forms and masses is a very pleasing exception. The cylindrical form of the motor, the solid round mass of the platter and chassis, and the outrigger arm mounting platform invoke a solidity, a power, and a precision that is nicely balanced by the gossamer-like thread that unites the two main structures. The effect is a delicate overall sense of strength and finesseóan exquisite example of Bauhaus-rooted design aesthetics. Form reveals function: you glance at the Final Tool and you readily glean its inner workings. The build quality is exceptional; how Acoustic Signature achieves it at such a reasonable price is a wonder.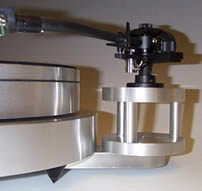 Because of the turntableís weight and the unusual mounting footprint (roughly 19 inches wide by 14 inches deep), I did not try my Townshend Seismic Sink nor did I experiment with Aurios bearing isolation. I used the Ringmat in lieu of the supplied felt mat. The Final Tool was placed on an Archetype rack on a concrete floor. Set-up and assembly is easy and glitch-free, though some muscle and finesse is necessary when fitting the heavy platter to the bearing well and chassis (not to mention muscling the huge 85-lb. shipping box around). I used an Origin-Live Rega RB300 tonearm and a Goldring Eroica LX MC cartridge for most of my critical listening. Musical Surroundingís Phonomena performed most of the phono preamplification.
Having been in a reggae mood recently, I ran through the Wailers catalogue, and was immediately astounded by the deep, concussive and powerful bass of Family Man Barrett. "Get Up, Stand Up" and "Lively Up Yourself" achieved their goals, revealing deep bass power and drive, the gently swinging rhythms, and the almost delicate lyricism that make reggae so mesmerizing. Bass that goes as deep as the center of the Earth is only mildly hyperbole. One could almost feel the heat shimmers rising from the bass lines. I then ran through the Ron Carter Quartet recordings and reveled in the articulate, powerful and subtle renditions of Carterís piccolo bass playing. The live 2-LP set Piccolo (Milestone M-55004) is an especially wonderful tool to wring out a componentís bass articulation.
Iíve had less than happy musical experiences with high-mass turntables in the past, particularly with those that attempt to clamp the record to a high-mass platter. Many strike me as sluggish in articulating rhythmsóbass rhythms in particular sounding slow and often leaden. They simply canít dance. Itís like Fred Astaire wearing lead-filled combat boots or tethering Rudolf Nureyev to the earth with boat anchors. However, the weight and mass of the individual components of the Final Tool were acutely and intelligently chosen. Hereís a massive table that delivers both deep bass power and control, and yet also reveals rhythm equally well. My immediate perception was of power and ease, as if the Final Tool was completely unstressed and unflustered by its record-playing duties.
I use the Academy of St. Martin in-the-Fieldsí recording of Vivaldiís The Four Seasons (Argo ZRG 654) as an auditioning tool for a variety of reasons. This piece has been "Muzaked" to the point where making it sound fresh is almost impossible. Neville Marrinerís rendering, however, ignites the power, passion, and savagery of the piece along with its lyrical and singing tone, in a performance that is rousing. Well-recorded in a deftly defined acoustic space, the intensity of the playing can sometimes go over-the-top and turn harsh on the more impassioned violin parts. The Final Tool revealed all the savagery, power and lyricism, and controlled the tendency of the recording to go bright. And oh, did it get the singing quality of Alan Lovedayís violin parts right! Not only can the Final Tool dance, it can sing too.
The singing lyrical quality of the violin continued with Vaughan Williamsí "The Lark Ascending," The Pastoral (3rd) Symphony, and the Fantasia on a Theme from Thomas Tallis. (Boult: Angel S-36469; Boult: Angel S-36532; and Gould: RCA LSC-2719, respectively). Vaughan Williamsí delicate, almost ephemeral scoring in certain sections was clearly rendered and revealed the inherent mysticism of the music. The soaring violin of Hugh Bean on The Lark Ascending created the peace and unutterable beauty of transcendence.
Jimi Hendrix connected with some primal electric cosmic power (Dionysian in Nietzscheís famous classification) on his first 3 albums this is hard to capture on many turntables and is a most unreasonable facsimile on CD. The Final Tool caught and communicated the intense emotional and physical energy when Hendrix proclaims, "I stand up next to a mountain and I chop it down with the edge of my hand," you believe it!
The polyrhythmic West African music of Olantunjiís Drums of Passion (Columbia CS 8210) was clearly revealed. Following 6 simultaneous rhythms was a snap and a joy. And yes, the talking drums talked.
The sonic presentation of the Final Tool is very neutral and balanced and almost self-effacing; nothing is shoved in your face, unless the performance and recording direct it. Fine low-level detail and dynamic tracking allows easy grasp of performance technique and meaning. This ability also transfers directly into generating a soundstage that is wide, clear, uncongested, and obliterative of the physical dimensions of the speaker-end of my room. While I have heard greater depth-of-field from other set-ups, deciding how much depth is accurate and how much is exaggeration is extremely tricky. Iíve always been willing to trade-off ultimate soundstaging ability for performance and rhythmic detail, and Iím supremely pleased not to have to make that compromise with the Final Tool. Iím having my cake and eating it too. The tableís ability to do justice to subtle and delicate music, and to also excel in dynamics, bass, and high energy should be strongly noted. Itís both Apollonian AND Dionysian. An iron fist in a velvet glove? Yes, and also a velvet hand in an iron gloveóa very rare achievement. Reggae, blues, rock and roll, chamber music, full symphonies, small combo jazz, acoustic folk, and world musicóall are handled with equal aplomb. Since my tastes in music are eclectic and catholic, I particularly welcome this ability to serve all types of music. Too often audiophiles are forced, unconsciously or consciously, to play the music their system handles well.
Record noise was very low and the transients of pops and ticks were also well controlled. The Ringmat improved the noise level further. While record wears and damage was perceptible, it was easy to ignore and still access the music. Variations in record pressing quality and details of recording engineering were transparent. While not analytical in the artificial, bright, and etched sense, you can hear the seams in poorly executed engineering. Fake echo, inept multi-miking, reverb, excessive compression, and other ersatz studio gimmicks were punctured and revealed. Well-recorded and well-engineered material emerged as natural and believable. Soundstaging was well laid-out, and the ultimate focus and depth varied with the phono cartridge used.
An often-recommended test of a componentís resolution is the ability to reveal the differences in recordings. A component that homogenizes every record to an overall sameness, while potentially euphonic, can dull the edge of discrimination between superior performances and recordings and those that are the run-of-the-mill. The Final Tool reveals each variation of recording technique and engineering but does not spotlight them to the exclusion of the recordingís musical content. It softly suggests them and offers them to consciousness, but doesnít hit you over the head with them. Critical listening to 5 different recordings of Beethovenís Violin Concerto was both edifying and aesthetically rewarding: recording technique, LP pressing quality and condition, and, most importantly, the artistic value of each interpretation were readily accessible.
I herded a gaggle of cartridges through the Final Tool/Origin Live RB300/ Phonomena set-up. Never were their sonic signatures and limitations as easily discerned, nor their positive virtues more clearly revealed. A particularly revelatory re-discovery was the Goldring Eroica LX. Iíve owned had 2 iterations of this low-output MC cartridge over the years and while pleasing in very many respects it was never totally satisfactory. The critical consensus in the UK is that of a nice harmonically rich midrange, good but somewhat congested bass and mid-bass, and an "untidy" top-end: altogether somewhat polite and compressed with a contradictory touch of coarseness. Until listening on the Final Tool, I would have agreed with that erroneous consensus. Compression? Gone - itís open, fast, dynamic, and rousing. Congestion and bass murk? Nope. (listen to Stanley Clarke, Family Man Barrett and Ron Carter.) Untidy top-end? Listen to it sing on violins, and track cymbals, triangles and percussion with definition and ease! Iíd always suspected that there was a great cartridge inside the Eroica trying to get out: the Final Tool liberated it.
All of which points to the need to use a phono cartridge that can match the Final Toolís abilities and resolution. Iím happy to say that the very reasonable price of the Final Tool makes an expensive reference-quality cartridge a more financially accessible possibility. And listening to the budget-priced Audio Technica AT OC 9ML convincingly mimic the overall sonic signature of the Lyra Helikon shatters pricing structure mind-sets: you can buy the OC9, the Final Tool and a Rega RB250 for close to the price of the Lyra cartridge alone. I love it!
The Acoustic Signature Final Tool is a very welcome arrival to the US market and is strong contender not only in its price range, but also compared to far more expensive tables. Combining the bass power and soundstaging capacities of popular high-end "audiophile" tables with the dancing and singing rhythmic abilities of the "musicophile" UK tables, the Final Tool will appeal to those who want it all. Taking advantage of the Needle Doctorís special web-site turntable packages with arms and cartridges makes the Final Tool a bargain that dedicated music-lovers should find very appealing.