The Von Schweikert Audio VR-4 Generation III Special Edition
The Soul of a New Machine
Greg Weaver
11 October 2002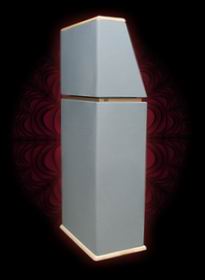 Specifications
System Type: Dynamic-driver four-way
Woofer Tuning: Triple-chambered hybrid transmission line
Driver Complement: 2-9" woven carbon-filament woofers
1-6" Audax composite cone midrange driver
1-Scan-Speak Dual-ring radiator tweeter
1-1" rear firing, fabric-dome ambience tweeter
Crossover: Acoustic fourth order, at 150 Hz and 2.6 kHz
Frequency Response: 16 Hz to 40 kHz, +/- 3 dB; +/- 1 dB in midband
Sensitivity & Impedance: 89 dB/1w/1m at 6 ohms nominal, 3 ohms @ 20 Hz
Power Handling: 2,000 watts RMS peak, 300 Wpc continuous music
Warranty: Ten years Parts and Labor
Dimensions: 46" tall, 6" wide at the top, flaring down to 11" wide at 15" down from the top, and continuing to the floor. Both units are 20" deep.
Weight: Woofer module: 91 lbs.; M/T module: 44 lbs.
Price: $5995

Address:
Von Schweikert Audio
204 Greenfield Drive, Unit F
El Cajon, California 92020

Telephone: (619) 444-7136
Fax: (619) 444-2847
Email: albertvonn@aol.com
Website: www.vonschweikert.com
…The Man Behind The Curtain
I've said it before: The Von Schweikert VR-4 may be the most written about speaker in the history of the audiophile press. Hell, I've written four articles about them since 1997, this will make five. Initially the Vortex Screen, in 1995 Albert changed the name to the VR-4, for Virtual Reality in 4 Dimensions-amplitude, phase, time and space. Well, I'm hear to tell you (pun intended) that this iteration, the SE, which replaces the stock VR-4 Gen III, is going to set the audiophile world on its collective ear.

I've known Albert for over 4 years now, and I respectfully refer to him as the Maestro. And if you knew what I do about him, you would too. He is first and foremost a Scientist. He has designed more than 100 speakers over the years for other manufacturers. His latest credits include the $7,000 FPS F1 speakers, utilizing the new Multi-Cell Micro-Transducer Array driver technology, for start-up company FPS and both the $39,900 Savoy and $18,900 Andra II for highly lauded EggelstonWorks. The Andra II will be receiving some remarkably high praise for both its measurements and sonics in the November 2002 issue of Stereophile.

So many people have used the VR-4 in its various incarnations to master music it is remarkable. Take for instance Alan Menken, winner of 7 Academy Awards for his movie scores, including one for "Colors of the Wind," from the Disney film Pocahontas. I'm sure you've heard of Sheffield Lab and Mobile Fidelity. That's right, they mastered with the original Vortex Screens, reviewed in Stereophile by Robert Harley in July 1989. Ever heard of A&M Records or its owner, Herb Alpert, the great jazz-pop trumpeter? Yes, he owns VR-4's. How about the venerable Harry Pearson of the abso!ute sound, who used VR-6's and VR-8's for over 2 years? As a matter of fact, three reviewers at the abso!ute sound use Albert's speakers as reference. One of those writers actually sold his $15,000 Goldman models in favor of the VR-4. John Ulrich, co-founder of Infinity, and now the principal at Spectron, who could use the $75,000 IRS towers to voice his amps if he desired, uses the VR-4 Gen III SE. The list goes on, but I'm sure you get the picture.

Albert's products have received 5 "Product Of The Year" awards since 1995, and 2 "Best Sounds of Show" at the annual Stereophile event. Some twenty-six manufacturers have ordered and used the VR-4 to develop and/or demonstrate their own products. The point I am belaboring here is that it isn't just one zany reviewer who thinks the life's work of this gifted designer is significant; it is the collective opinion of a whole community of professionals.

When Albert Von Schweikert told me, at HE2002 in New York, that he had a special treat for me, I was understandably eager. During the last five or six years, I have had many speakers through my home listening environment and have heard many hundreds of others at shows or retailers, but none has ever been able to unseat whatever version of the VR-4 that was gracing my system at the time. When he started explaining what he was doing with the Special Edition of the now venerate VR-4 model, I found myself counting the days and calling repeatedly to see if mine had shipped yet. Here is the story.
I, Robot
Looking physically indistinguishable from the stock Gen III, save for the distinctive gray wrap and gorgeous light maple trim and top caps, the Special Edition occupies the same footprint as its predecessor. If you aren't familiar with the VR-4, it is a two-piece, stackable system. The upper module houses a new Vifä/Scan-Speak tweeter, a new Audax aerogel midrange and a rear mounted soft dome ambiance tweeter and is shaped like a truncated right pyramid. It is 6" wide at the very top, tapers out to 11" wide at its base, is 15" tall and 20" deep. The M/T module seats inside a maple frame atop the woofer cabinet. The woofer cabinet contains two 9" woven carbon fiber woofers mounted in a transmission line, vented by an enormous Venturi Principal port and is 11" wide, 32" tall and 20" deep. Both units are fitted with Cardas gold plated rhodium five-way binding posts, necessitating biwiring, biamping or the use of 30" jumpers between the modules to single wire. However, where the VR-4 Gen III Special Edition really differs from its predecessor is the driver complement and crossover.

A look at the new Vifä/Scan-Speak tweeter employed in the Special Edition shows that this is not your father's tweeter. It utilizes a new dual-ring radiator technology from Denmark, and operates from 500 Hz to 40,000 Hz. How special is this tweeter? In testing, it doesn't start to show phase shift distortions until above 20 kHz! Most soft domes start to show breakup and shift at around 5 kHz, so you can begin to get an idea just how clear and detailed this tweeter is. In fact, to date, the only other commercially available speaker to use this superb tweeter is the $37,500 Krell LAT-1!

Nearly as remarkable is the new 6" Audax Aerogel midrange. Aerogel is by-product of space program research and is a silicon-based solid 1,000 times less dense than glass with a porous, sponge-like structure in which 99.8 percent of the volume is empty space. The aerogel cone is an amalgam of carbon powder, Kevlar threads, cellulose acetate pulp and a liquid binder with similarities to ceramic material when dry. This cone is both extremely light and remarkable rigid. Since this cone material is internally damped with a fibrous tangle, the harsh ringing common to ceramic or metal midrange cones is greatly diminished. Oh, and Albert, and his assistant Kevin, work some of their own magic on this driver before installing it. The rear, dipolar ambiance tweeter is 1" soft dome with its own wave-guide and transmission-line loading. It has a volume control to allow complete attenuation, or variable degrees of activation to match room acoustics and boundary proximity.

The woofer system is identical to the now discontinued stock VR-4 Gen III, and is comprised of two 9" woven carbon fiber drivers, house in a triple-chamber transmission line cabinet and vented with an enormous 7" Venturi Principal port. You may see my review of the original VR-4 Gen III for more specifics there.

The crossover for the Special Edition is an acoustic fourth-order, with flex points at 150 Hz and 2.6 kHz and still incorporates his proprietary Ambience Retrieval System™ and Global Axis Integration Network™. What makes this trademarked crossover so unique is all of the thought and engineering that has gone into it. When Albert wrote his original thesis back at Cal Tech in the Seventies, he hit upon an idea that no one else had dealt with. Since recordings don't capture music, but rather, the microphones encoding of the music, he theorized that a speaker should decode the music accordingly, in essence, it should be a microphone-in reverse. Part of what the GAIN system does, through impulse response matching, electrical damping and servo control, is to help match all the drivers' impulse response to within 3 milliseconds! Based on the psychoacoustic work first published by Eberhard Zwicker in his 1991 book, "Acoustics and Psychoacoustics," it is accepted that the human ear cannot resolve group delay errors below 5 milliseconds. The result is a coherency and seamless integration of drivers that is hard to describe.

The SE crossover, besides being one of the most innovative out there, is wired with Acoustic Zen mono-crystal speaker wire throughout and uses only the highest-grade components, like Solen and Hovland capacitors and custom inductors that can handle some 1500 watts before saturating. In addition to the crossover, the cabinet remains extremely well built and rigid, with 2" MDF baffle surfaces and extremely comprehensive cross bracing.
Sing Child, Sing
So, what does all this new technology and attention to detail mean to the average music lover? It should be obvious that, thought this product carries the VR-4 designation, the new driver complement and reworked crossover make it more of a new speaker product than a mere revamping of an old standard. Though the cabinet looks familiar, beneath the now well-known and distinctive exterior beats the heart and soul of a new machine.

It also means that the new VR-4 Generation III Special Edition may just be the best loudspeaker available anywhere for under $20,000-PERIOD! This speaker has wow'ed so many listeners to my South Bend listening room that I've lost count. When fellow Stereo Times member Jon Gale visited to audition them for the first time, he was left scratching his head asking how a speaker so detailed, so revealing, could be so devastatingly transparent and informative without getting "in your face" and remaining so musical. He was so taken with their ease and transparency that he requested a set that evening with a call to VSA. He sold his previous $8,000 references within weeks of the arrival of his own VR-4 Gen III SEs.

One of the first things to strike listeners upon hearing the SE is their effortless detail with no glare or bite. Most audiophiles know that when a speaker is lauded as being "revealing," that usually means it has some aggressive and bright tendencies as well. This is most definitely NOT the case with the Special Edition VR-4. The degree of transparency and detail is unlike anything I have ever heard from any speaker at remotely near this cost and, honestly, perhaps at any price. They simply recreate the most detail and fidelity I've yet heard from any loudspeaker-yet there is absolutely no vestige of aggressiveness, glare or grain unless it is upstream or in the recording.

In essence, a newfound degree of clarity, detail, focus, resolve and dynamic involvement leaves the previous Gen III, and most every other dynamic loudspeaker in my experience, in the dust. While I was absolutely enthralled with the clarity and ease presented by the modified Vifä tweeter (dubbed the Aual) that Kevin Blair uses in the Buggtussel Lemniscus, what VSA has been able to achieve with this new Vifä/Scan-Speak design is nothing short of miraculous.

The heightened detail afforded with this tweeter enhances and focuses imaging and staging beyond anything I've heard, save only a handful of the very best ESL offerings. Listening to the complex mix of numerous percussion instruments throughout the foreground, and the vocal arrangements more to the center rear of the stage, on one of my long-time standards, "Fair Game," from Crosby, Stills & Nash's 1977 CSN [Atlantic SD 19104], proves revelatory. Not only is each distinct note reconstructed with its own singular individuality, but also their separate location is unraveled and recreated with more of the sense of the air around them and with greater specificity than I've ever noted.

The Audax midrange has a neutrality and a clarity that has surpassed that from any ESL in my experience. Hard to believe, you say? You have to hear them to believe it. The superb definition and clarity achieved by the use of both of these world-class drivers combines to provide a transparency and articulation of instruments that has no match in my experience.

The twin 9" woofers in this alignment deliver deep, lucid, tuneful and hard-hitting bass filled with drama. The Q-Sound Genii's voice from "Three Wishes" on Roger Water's Amused To Death [Sony/Columbia CK 64426] washes past my chair with a corporal and visceral reality, causing the door to a closet on the right side of the room to resonate and rattle in its frame. The deepest synthesizer tones, some at 18 Hz, from Bachbusters [Telarc CD-80123] pressurize and excite the whole room. The full presence and vast spaciousness of the Church of the Holy Trinity in Toronto, Canada, is sensed and not just heard from the Cowboy Junkies The Trinity Sessions [RCA 8568-2-R] thanks to their depth and accuracy.

With organ pieces like the Saint-Saëns Symphony No. 3 by the Boston Symphony under the direction of Charles Munch [RCA 09026-61500-2], when Berj Zamkochain hits the lowest note on the great Symphony Hall organ, designed by G. Donald Harrison, built by Aeolian-Skinner Company and installed in 1949, my listening room pressurizes with the 16 Hz wave. You almost feel as if you are walking up hill while seated in your listening position!

The pitch definition afforded double bass (upright string bass) or bass guitar runs is so clearly articulated and detailed you can almost hear the loop and swirl patterns of the artist's fingerprints. Think I'm joking? Try "Old Dog's Day" from the Red Rose Sampler [RRM 01] with Kim Cattrall reciting the poem and Mark Levinson playing an antique Italian double bass made about 1680. Just exquisite. Or the wickedly depressing "She's Already Made Up Her Mind" or "Baltimore" from Lyle Lovett's 1992 remarkable Joshua Judges Ruth. The latter tune has some outrageously deep stuff, reputedly down to 13 Hz!

Bass performance in my 15.5'W × 23' × 8.5' wood-framed, wooden floored room is deep, powerful and quite fast. However, due to some room loss, I felt sure that I was not able to achieve everything the SE can offer. To be certain, I traveled to Dearborn, MI, taking along my amplification and cabling, in order to hear the SE in Jon Gale's similar sized and shaped room, with as few variables as possible. Jon's room is a basement and is fabricated of much less lossy cinder block and concrete. The difference in bass reinforcement was significant!

One of the Maestro's long-standing fortés with all of his products, which, by the way, are all essentially the same design as the VR-4, just employing different drivers in larger or smaller containers, has been his incredibly effective and seamless integration of the drivers: you hear contiguous sound-not several discontinuous launch waves assaulting you. Now, factor in the reduced distortion, greater articulation and effortless ease of presentation afforded by the new drivers and extraordinary crossover to this already ample attribute, and you have just taken a huge step into the future. This speaker is a true reference and a serious force to be reckoned with.

Doubled instruments or voices are so clearly defined and delineated that you may be shocked to hear how clearly you can discern them, both their individual musical contribution and their physical location within the recording. The naturalness of the envelope of sound they produce is so striking, yet there is so much information and finesse wrung from the source material, that you will be overwhelmed with the resultant alchemy. Everyone I know who has heard them has been equally moved. In all honesty, these are the most natural, most resolute, most coherent, most accurate, most rewarding, most musical speakers I've ever had the good fortune to hear.
History In the Making
Measuring like a test instrument and recreating music like the music itself, the latest iteration of the now time-honored VR-4 line, the Generation III Special Edition, is more than merely another milestone of musical reproduction from the mind of Albert Von Schweikert. This speaker has redefined a level of performance for speakers under $20,000 a pair. While it is no secret that I have long been impressed by the sonic results achieved by Albert Von Schweikert's products at any price point, I've never been so taken with any speaker, at any price point, as I have by the VR-4 Gen III Special Edition. It is my contention that this product will redefine what other manufacturers will have to beat at $20,000 and lower. And it retails for $6,000!
Years from now, people will be saying, "Where were you when you heard your first pair of VR-4 SEs"- it is that significant a product. Not only do they earn the Most Wanted Component status, they come with my highest recommendation to date. You owe it to yourself to hear them, properly setup and matched with equipment that can live up to their lofty standards. They will change the way you think about transparency, detail, coherence, dynamic interpretation and clarity for some time to come.