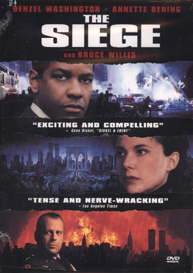 A special agent of the FBI, a case officer of the CIA, and a general in the U.S. Army have all taken the same oath- "to support and defend the Constitution" -but when a bus blows up in Brooklyn and a campaign of terror begins to make its bloody mark on a city under siege, the men and women who have sworn to protect the country must now reckon with the many implications of their oath.
Anthony "Hub" Hubbard (Denzel Washington), the head of the joint FBI/NYPD terrorism task force, is the man charged with keeping New York City safe from an array of threats that seem to grow more terrifying with every headline. Elise Kraft (Annette Bening) is a CIA operative, now undercover, with important sources in the Arab-American community and ambiguous ties to the suspects. Her agenda, like that of her government's foreign policy, is more complex than Hub's. And yet these two are forced to work together, forging an uneasy alliance, as the incidents of terror threaten to paralyze the city.
But before they can accomplish their mission, the public's clamor for safety forces the hand of the President of the United States - whose only recourse is to declare a State of Emergency and ask help from the military. General William Devereaux (Bruce Willis) is a thoughtful, cautious warrior who well knows the dangers of bringing the army onto the streets of an American city. Although he argues against it, when he's given the unenviable task of imposing military order he responds as a soldier must, with unquestioning obedience and purpose.

| | |
| --- | --- |
| Special Features | Theatrical trailer. |
| Studio | 20th Century Fox |
| Release Date | 4/20/99 |
| Year | 1998 |
| Retail Price | 29.98 |
| Rating | R |
| Starring | Bruce Willis, Denzel Washington, Annette Bening, Chip Zien, Sami Bouajila |
| Director | Edward Zwick |
| Sound | DD5.1 |
| Category | Action Adventure |
| Running Time | 115 Minutes |
| Color/BW | Color |
| Widescreen Format | Yes |
| Standard Format | Yes |
| Aspect Ratio | 2.35:1 |
| Regionally Coded | Yes |
| Closed Caption | Yes |
| Languages | English/French |
| Sub-Titles | English/Spanish |
| THX Certified | Yes |
| Multi-Audio | Yes |
| Interactive Menus | Yes |
| Scene Access | Yes |
| Production Notes | Yes |
| 16:9 Enhanced | Yes |
| Movie on one side | Yes |
| Title Released | Yes |