The StereoTimes Most Wanted Components - 2001
Mike Silverton
1 July 2001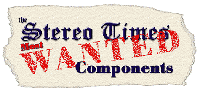 Mike Silverton's recommended components correspond precisely to those of his home sound system.

Speakers:
Wilson WATT / Puppy Sixes $19,000.
Reviewed 3/6/00. Superb resolution, transparency, soundstaging, dynamic detail, timbral accuracy. Elegant fit and finish and, yes, expensive.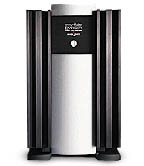 Amplification
Mark Levinson No.33H mono amplifiers $20,000.
Reviewed 4/14/99. If it's character you want, seek elsewhere. These amps are close to invisible – sonically, that is. As sculpture, they dominate their space.
Publisher's Choice 2001 Award!
Digital
Mark Levinson No.39 CD player $6,000 feeding into a Ortho Spectrum AR-2000 Analogue Reconstructor $1,500. AR2000 Reviewed 9/19/00 Between the No. 39 and AR-2000, life in the Sweet Spot flourishes.
Publisher's Choice 2001 Award!
Cabling
Acoustic Zen power cords $700, interconnects $900 and speaker cables $1200. Reviewed 11/6/00. The fastest, least colored (i.e., harmonically correct), most open-sounding wires I've ever used.
Power Conditioning
Richard Gray's Power Company (two trios of 400S's $400, one 1200S $2000); two Quantum Symphony pods, one Quantum Symphony Pro pod. (The Pro at $600 a pop, is a more powerful version of the original Quantum Symphony $400.) RGPC's Reviewed 3/31/00 and 4/19/00. Quantums reviewed 8/30/99, 8/17/99 and 3/8/01. RGPCs and Quantums together achieve a remarkable synergy. Power conditioning here in grimy, grungy Brooklyn makes a world of difference to one's canned world.
Acoustic Isolation
five Bright Star Audio Big Rocks, one Air Mass and one Little Rock: Prices vary Reviewed 7/1/99. Big Rocks under speakers, amplifiers and CD player; the Air Mass resides under the CD player, the Little Rock atop. (Big Rocks are boxes of various sizes filled with consumer-provided sand. An Air Mass consists of a sandwiched air bladder. The Little Rock is a weighted slab. Effective and cost-effective acoustic isolation, and, in a dappled gray finish, attractive to the eye.