The StereoTimes Most Wanted Components
Adnan Arduman
1 July 2001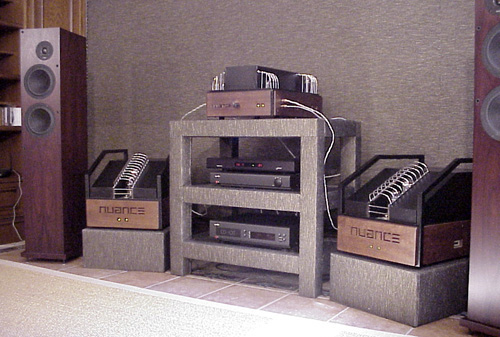 The vital components of my system are the Nuance 845 Single Ended monoblock power amps (25W) and Fluence 5687 WOT ("With Output Transformer") preamp, as I happen to be their designer and builder. I voiced them to my own taste: timber accuracy, fluency, delicacy and inner details being my first priorities.
Although not very sensitive (88 dB/W/m), ProAc Response 3.8's are ideal partners of SE amps as their impedance is 8 ohm and the curve is relatively flat. I also think that ProAc Response 3.8's sound is very natural, with big and deep soundstage and truly extended low frequencies. The mids have good body and detail. I really like their synergy with my amps.
Marantz SA-1 CD/SACD player is my most recent component. I bought it only three months ago not because of its SACD feature but mainly because it is an excellent CD player. It is very natural, detailed, musical (or should I say analog-like), and has a very crisp bass. SACD, which is a totally different league, comes as a bonus. A real great component indeed!
You may read my review about Kimber Select KS-1030 interconnects.
I'm also very pleased with Kimber Bi-Focal XL speaker cables that I'm currently testing. A review is in order.