Loudspeakers
Publisher's Choice! THE ASCENDO SYSTEM M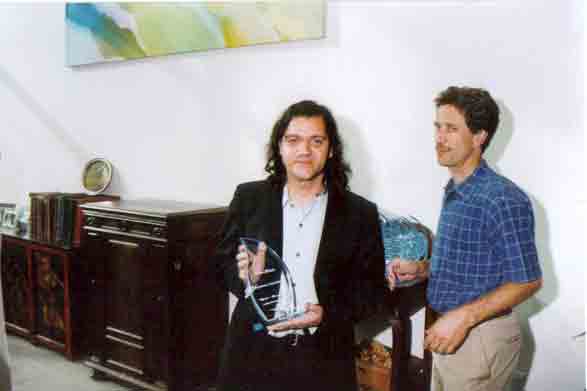 ($45,000 with Chrome stand). [photo right- Jurgen Scheuring smiling next to Todd Mitchell at awards ceremony] A most musical transducer that reminds this listener of live music more than hi-fi. Reminiscent of planar greats like the Maggie 3.3's, and Infinity IRS 1B's in seamlessness and tonality…with plenty of midbass (the Achilles Heel of the Maggies and 1B's). Reviewers Key Kim and Nelson Brill both heard its musical merits and purchased the $25,500 System Z. [See review.]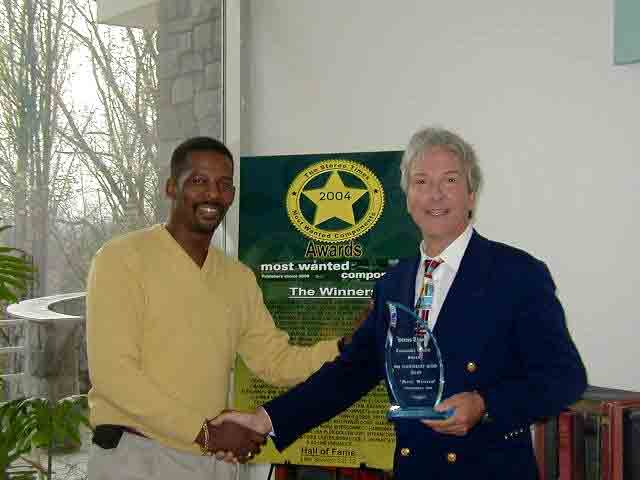 Publisher's Choice! VON SCHWEIKERT AUDIO dB-99 MKII ($9,995): Albert Von Schweikert (on the right) has hit a home run with his dB99 MkII loudspeaker, just released for public consumption after a very impressive "Best Sound at Show" at CES 2004, which also featured his VR11. It was the overwhelming success of that new design that sparked a MKII upgrade to the dB99, which includes a ribbon tweeter similar to the one used in the VR11. With a 99 dB efficiency rating, I am able to play these sweethearts through amplifiers ranging from the tiny Flying Mole to the ultra smooth Uniwave Anaco 1 (rated at a whopping 500 watts per channel at 4 Ohms). This is one loudspeaker that takes hold of the music like very few have in my experience. I was particularly surprised by its performance when strapped to a pair of De Havilland 845 monos: this is what makes single-ended amplifiers and high-efficiency loudspeakers so very addictive.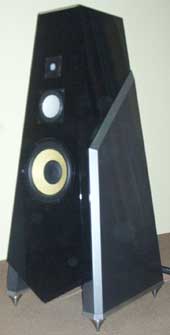 TALON FIREBIRD LOUDSPEAKER ($32,000/pair): For those that read my review of the Talon Audio Firebird loudspeaker, it should come as no surprise that it would top the list as my Most Wanted Component of 2004. Capable of state-of-the-art performance in every area that defines greatness in a loudspeaker, the Firebird makes listening to music a visceral as well as emotional and often times spiritual event. Compact for such a huge musical impression, the Firebird will travel where larger, more complex state-of-the-art speakers will fail to gain entrance. Though tethered to a rather hefty price tag, the Firebird's performance pays off in musical spades. (Petan)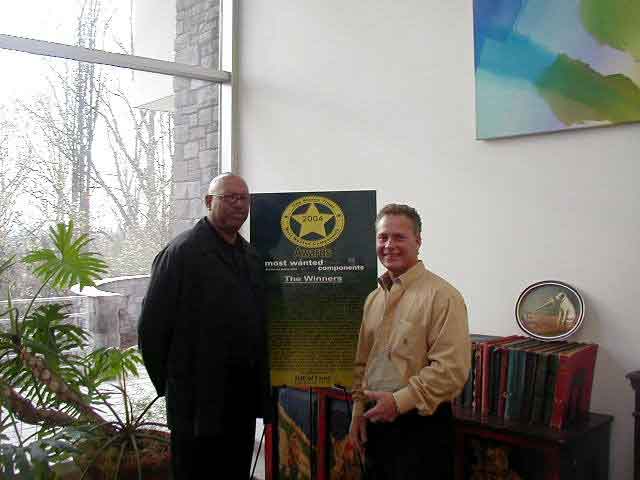 USHER AUDIO AC10 LOUDSPEAKERS ($8,400): [photo left Dave Thomas presenting award to Usher Audio's US rep Stan Tracht] Thank God I don't listen to the gossip going on in audiophile chat rooms because the initial word on these wonderful Taiwanese speakers was that they were simply Sonus Faber knock-offs and that their sound was less than spectacular. WRONG! While the Ushers undoubtedly and, quite frankly, purposely bear a strong resemblance to the Sonus Fabers (Usher founder Mr. Tsai is an admirer of the SF aesthetic) the Usher Audio AC10 is a true high-end loudspeaker. They use parts of the highest quality (including ceramic drivers), a very attractive and thoughtful cabinet design, and most importantly, they were designed and voiced by none other than legendary speaker designer Dr. Joseph D'Appolito. Like me, these speakers are big, beautiful, well made, and great to listen to. (Thomas)

ISOPHON EUROPA II LOUDSPEAKERS ($10,540-$13,020/pair): This German made design is a well engineered and nicely finished product. Throws a nicely imaged and deep soundstage. Equally compatible with moderate to high-powered tube and solid-state amps, the Europa simply gets the music right. (Thomas/Perry)

PENAUDIO CHARISMA/CHARA LOUDSPEAKER SYSTEM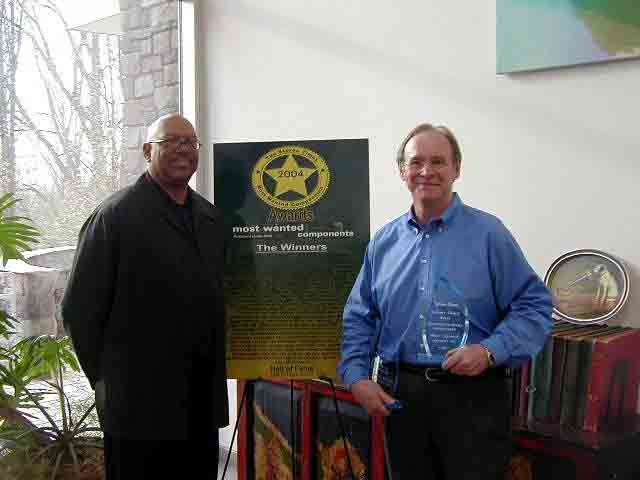 ($2,995/$2,900): [Dave and Pen Audio's rep Joe Abrams take a pause for the cause] Styled to add to a home's décor, the Charisma mini-monitor and Chara subwoofer combine to give the listener an immensely enjoyable music listening experience. Their slight dimensions mean that they virtually disappear in your listening room. Charisma works very well as an independent monitor but with the Chara they are a formidable full-range system. (Thomas)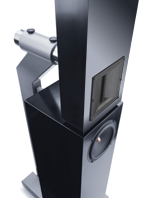 ASCENDO SYSTEM Z LOUDSPEAKER ($25,500.00): The Ascendo System Z's innovative design and build quality is second to none, in my opinion. This is the most musical loudspeaker I've heard to date. It isn't just good, it is something special. In fact, I found it so emotionally compelling that I bought the review sample. (Kim)



Cables and Cords
ANALYSIS PLUS GOLDEN OVAL Interconnects ($2,000.00/m), Speaker cables ($6,320.00/8' pair): It was immediately obvious that the Golden Oval cables were a true reference and something special. They had a natural, open, airy sound and brought me closer to the live music than any other cables I've experienced. It's true that Analysis Plus Golden Oval cables are very expensive, but in my opinion they are worth every penny. I bought the review cables for myself! (Kim)


Publisher's Choice! ARGENT AUDIO PURSANG SIGNATURE CABLES ($2500 per 8/ft. $900 per/meter): A cable that has this listener gasping for air. Super smooth in all extremes and incredibly liquid in its midrange. It comes very close my reference Analysis Plus Gold. For the money, and they ain't cheap, this has to be the best cables I've heard.


SILVERSMITH PALLADIUM INTERCONNECTS and SPEAKER WIRE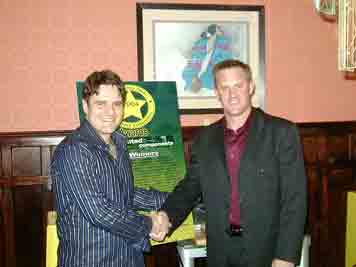 (Speaker cables $9,800/6ft pair, Balanced (XLR) interconnects $4,900/3ft pair, RCA interconnects $4,000/3ft pair): Utilizing a palladium alloy conductor, Jeffery Smith has produced interconnects and speaker wire that redefine, and not by a small margin, what can expected from a state of the art wire system. Transforming the performance of my system on every level, The Palladium series is more of a component than an accessory. Start saving now, such performance does not come cheap. But if you are in this game for the long haul, the Palladium will get you closer to the music faster than any other wire I have heard. (Petan)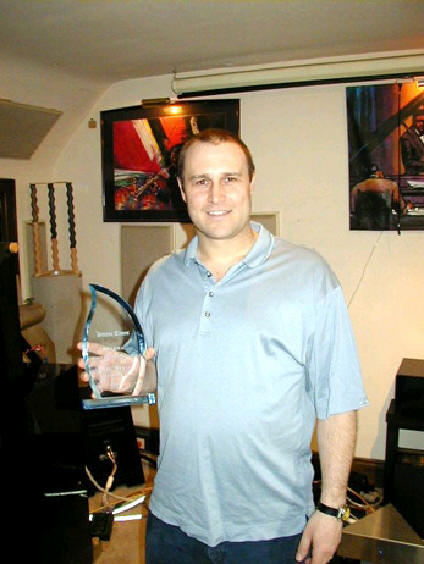 KHARMA GRAND REFERENCE CABLES (KLC-GR-1a Loudspeaker cable $5,500/2m pair, KIC-GR-1b Interconnect $3,500/1m pair, KDC-GR-1a Digital cable $1,650/1meter, KPC-GR-1a Power cable $2,400/2m): OK, you've got bass and dynamics, and maybe the treble is without stridency. You've covered the basics and have achieved a reasonably good sound. But, honestly, how realistic is the presentation?

If you can relate to that question, you've reached the point at which you must explore finer, more elusive subtleties, like the quality of the dynamics—does it progress smoothly or have ratchet-like steps, etc. You're ready to appreciate the special kind of presence, air, and natural dynamics that the Kharma Grand Reference cables offer. These cables have the most unforced, unrestrained and open dynamics I've encountered. The vast quantity of air, combined with excellent instrumental timbre, promotes that feeling that the musicians are in your room. The GR wires seem to breathe with the music. In many ways, they are to cables what SETs are to amplifiers. Given a suitably full-bodied system, the Kharma Grand Reference cables can work magic. I put them in a class of their own: nothing else I've heard sounds like them. (Nack)
SOUNDSTRING CABLE TECHNOLOGIES CABLES (power cord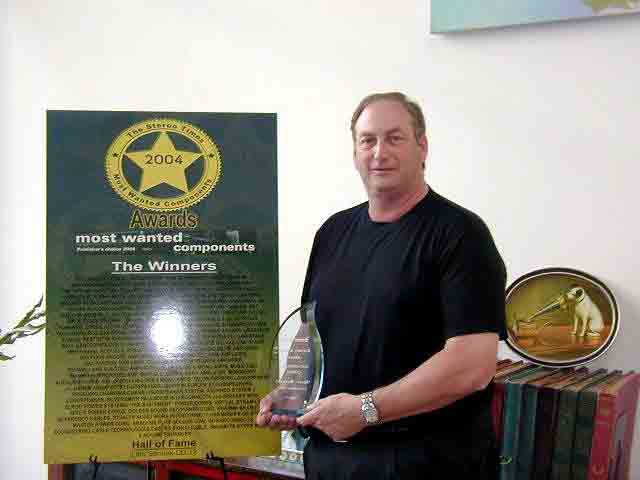 $475/6ft, interconnect $419/1m pair, speaker cable $575/6ft pair): After spending several months with some other heavy-duty designs, I went into my listening sessions with the significantly less expensive Soundstring cables expecting their performance would be commensurate with their price. It wasn't long before I was comparing them directly and price no longer mattered. They were bested by the more expensive designs in some respects but were top performers in others. By the end of the listening sessions they had definitely earned a spot among the big boys. These highly flexible cables gave my solid-state system almost tube-like warmth and provide a nicely layered and well-defined placement of instruments and vocals within the soundstage. These cables will appeal to the largest segment of audiophiles: those who value design, functionality, affordability, as well as sonics. This is the system upgrade that you can actually buy. (Thomas)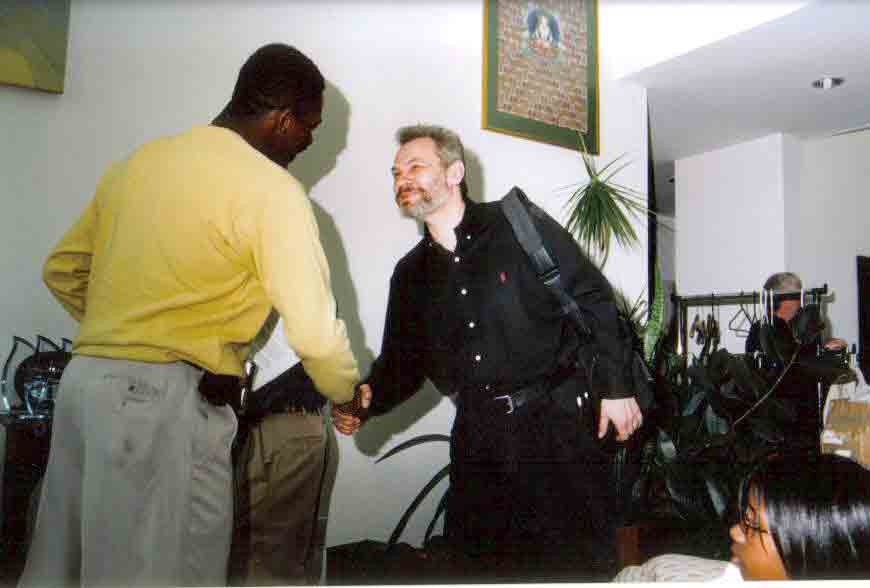 STEALTH AUDIO INDRA INTERCONNECT ($5,750/meter RCA): [Stealth Audio's Serguei Timachev being presented award] Long before the Stealth Audio Indra interconnect arrived there was high-volume buzz in the airways about this new super wire. Apart from the praise of its sound, there was the lure of limited availability and pricing for the carriage set. With hype of this magnitude, the cable had a very heavy burden to prove itself worthy.

On first hearing, even without break-in, I knew it was a contender. Timbral truthfulness was simply stunning. The degree to which the Indra reproduced the essence of each instrument's 'soul' was unprecedented. Two of the best interconnects I've heard lately, the Harmonix HS-101GP and the Kharma KIC-GR-1b, have the ability to enhance and beautify the sound of a system in different ways. The Indra, of course, has a signature too, but it seems to do less editorializing than any cable I've auditioned. The Indra reproduces sound you often hear in the real world; there simply is no hype. If you want to impress people with beautified sonics, the Stealth Audio Indra interconnect may not be for you. It will not enhance the sound of your system; it will simply disappear into it. (Nack)
SIGNALCABLE (Analog Two Interconnects $49.00/2' pair, Double Run Single-Wire Speaker Cables $109/6' pair, MagicPower – Power AC Cord $59.00/3'): SignalCable has proven to me that top-performing cables can also be affordable. I evaluated their complete cable line in two separate and altogether different systems with surprisingly consistent results. SignalCables are remarkably truthful, detailed, and above all, musical. They blend very synergistically when used throughout a system and their digital, high current, 12-gauge AC cord performed exceptionally well in both of my systems. (Alles)

ELROD POWER SYSTEMS "THE STATEMENT" POWER CORDS ($2,700/6ft): This one just snuck under the bar onto my list. The Statement power chord is one of those "performance first" products on which the high-end ideology was built. Utilizing a ribbon conductor, the Statement is enormously difficult to fit into place due to its huge and unyielding rectangular shape. A complete rearrangement of your components may be necessary to accommodate them. Suffering for your art aside, the Statement will reward you with a totally natural rendition of timbre from top to bottom, reduction of high frequency hash, and exemplary large- and small-scale dynamics. In the end it is performance that wins out, making the extra effort worth your while. (Petan)

GOLDEN SOUND RED POWER CORD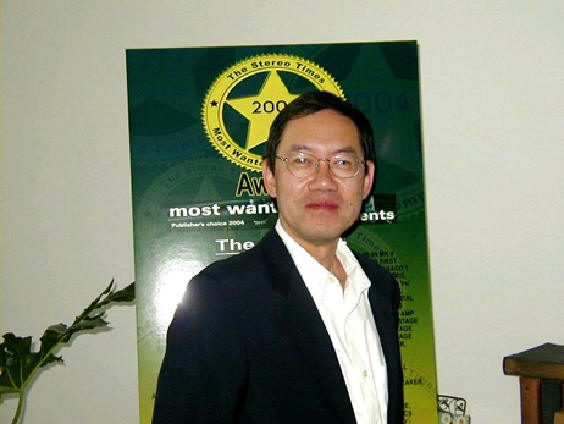 ($1,000/5 ft): [Alan Chang, right poses for our cameras] In my review of the Golden Sound power cords I said I would put them up against any other power cord, regardless of price. That still holds true especially in the case of the GS Red model. Lean and accurate they're not. What they are is musical and wholesomely full-bodied, with a little bloom in the treble and bass. The Reds flesh out these areas in a way that makes solid-state amps sound a bit closer to tubes. You won't want for treble extension, and the bass doesn't get loose, out of control and soft; it does spread a bit as the sound descends, just like naturally produced low notes. And it gets more dynamic. More often than not the addition of a Golden Sound Red increased listener involvement and enjoyment in the music. Practically every time I've loaned one out to my buddies, I never saw it return. I have sampled lot of power cords in all price categories. I keep going back to the GS Reds. I now use them throughout the system, from front-end to amps.

Late breaking news: Golden Sound has come out with a high current PC designed for power amps. It's a beefier version of the Red, and boy, it's a winner! More on this new model power cord to come. (Nack)


HARMONIX X-DC STUDIO MASTER POWER CORD ($1,305): Power cords do make a difference and this one has made more of a beneficial difference than any of the large number of cords that I have tried. I am still convinced that due to the number of variables in a music system, we use cables (power cords, interconnects, speaker cables, etc.), to "fine tune" the sound. These superbly made power cords are the most neutral and organic I have heard. They remove that annoying mid-bass bloat while giviing deeper, more tuneful and articulate bass response. The Studio Masters are also more linear, less congested and have a lower noise floor than any of the contenders I've heard. They have an ease of presentation and "rightness" that allows your equipment to bare its soul and give you musical truth. At $1305 with the upgraded WattGate connectors, they are, relatively speaking, a true bargain. (Peraino)
VIRTUAL DYNAMICS NITE II POWER CORDS ($1,100/5' PAIR): When I installed these power cords, speaker cables, and interconnects into my system, it transformed it from really good sounding to WOW! But I'm singling out the power cords here because of the dramatic and immediate impact they had on my reference Electrocompaniet Nemo amplifiers. The way they provided current to my components seemed to boost the entire system's level of power. The interconnects and speaker cables are top-notch performers as well, but it is the power cords that anchor the performance of the system. They are quiet, powerful, quick, transparent, and my reference. (Thomas)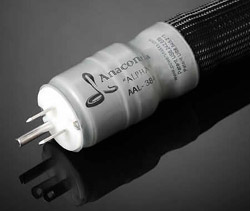 Publisher's Choice! SHUNYATA RESEARCH ANACONDA Vx AC cord: The Shunyata Vx A/C cord and the new Hydra conditioners go together like Batman and Robin and though work well independent of one another, their paired benefits are something unique in the AC Power Cord/Line Conditioning competition. In my setup, there's really nothing else that comes close. Review coming soon.



Accessories
Publisher's Choice! ACOUSTIC SYSTEM RESONATORS ($380.00 to $1800):[Designer Franck Tchang took time out for a photo] Okay, I know this one's going to be tough getting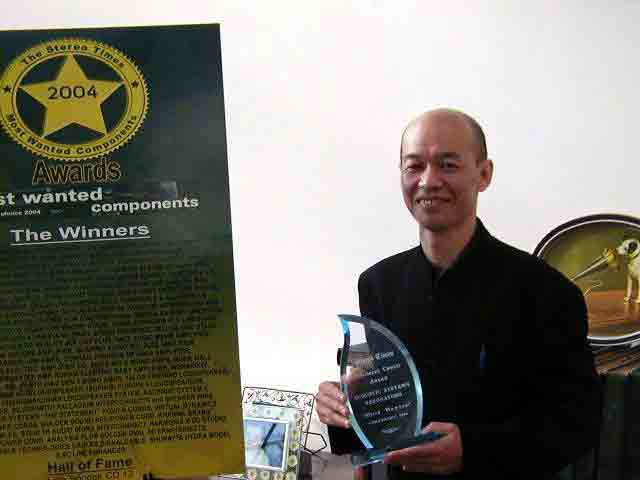 through to all you non-tweakers. If ever there was a device that has changed the sonic landscape of my listening room WITHOUT having to be plugged in or used in-between components, this is it! Harmonics are restored to your listening room in a way that has to be heard to be believed. The only thing I can say about this tweak is that I was one of the last to believe it could change the sound of my room for the better. But it did, and so much so, I've asked Marshall Nack, Key Kim and Lew Lanese to offer their comments in an upcoming review. Thus far both Nack and Kim own these fascinating devices. Stay tuned.

Publisher's Choice! WALKER AUDIO SST: ($75.00): Super Silver Treatment is a contact enhancer that actually works. A product that offers this listener the ability to really hear what a cable is doing! The closest thing to soldering ones wires right to the inputs or speaker terminals. Considering the cost of this product versus its impact on my system I would have to also qualify SST as great bang for the buck.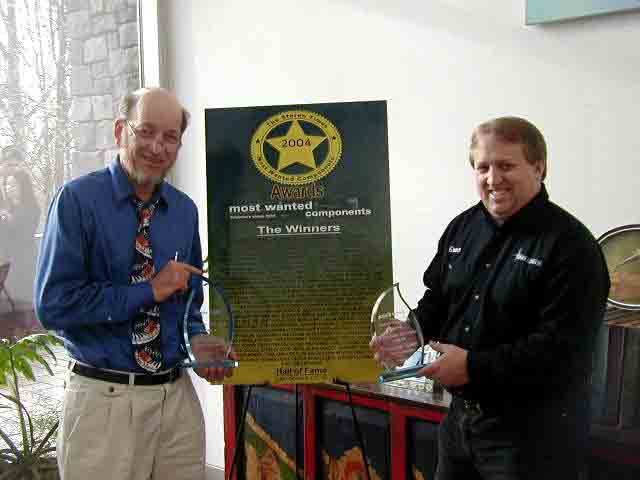 Publisher's Choice! SHUNYATA HYDRA MODEL 8/6/2 AC LINE ENHANCER ($399 - $2,000): [Shunyata's Grant Samuleson, right, smiles with award and buddy]The original Hydra was an excellent and effective power line distribution center, stripping away what I perceived as a film of obstruction, allowing me to see more clearly into the musical event. The continued refinement of the Hydra in the Model 8 has raised the sonic bar to new heights of purity of sound, heightened dynamics and a marked improvement in immediacy without background texture, especially in the heart of the midrange and treble. Bass has also been cleaned up, with a new definition in its depth and its focus. The Hydra 8 (along with a new system offering protection from power spikes and surges) is my favorite usher, graciously seating me in the midst of the auditory action where the emotion of the players is on full, transparent display. If your system is due for a tune-up to the next level of sonic purity, the Hydra 8 is your first pit stop.

Clement adds… Gabriel has done the near impossible this time. He's replaced the original Hydra, my long time reference, with a newer less-costlier version. Scrapping the handsome exterior of the original for a more utilitarian look that performs significantly better at a lower price not only deserves accolades, but makes one wish it were a more common practice throughout the industry.
(Brill/Perry).


Contributors: Clement Perry, Greg Petan, Frank Alles, Dave Thomas, Marshall Nack, Frank Peraino, Ron Nagel, Paul Szabady, Bill Wells, Mike Wright, Nelson Brill, Kihong Kim

PARTY/Back To Most Wanted PAGE