Loudspeakers

DALI Megalines ($50k)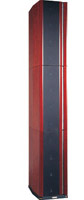 My first reality check on these high fidelity twin towers was at DALI's manufacturing plant in Denmark back in the spring of '03. I knew right then this nearly 8' foot tall dipole ribbon transducer was indeed special. When the opportunity came to review it I obviously became intensely interested and intimidated at the same time. One gaze and a properly set-up listening session could easily explain my mixed feelings. These babies are huge but are capable of doing things I've not encountered elsewhere - not even in others boasting this size. I think this loudspeaker's magic lies in its ribbon tweeter which easily explains my absolute affinity for its high frequency extension. Very reminiscent of the bigger Magneplaners except they play louder and easier and are much more dynamic. A reference standard by any measure.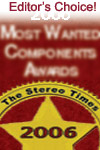 Von schweikert Audio VR7 ($36,000-40,000 depending on finish).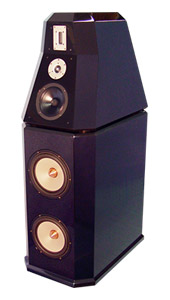 Finally comes the recipient of all the Karan had to offer, the Von Schweikert Audio VR7SE speaker system. Introduced as the next step in the Von Schweikert design evolution, the VR7 takes all the attributes Albert has engineered into his reference VR11 and packed them into a 350 lb two tiered cabinet that can only be described as un- abashedly massive. Despite this mass, their presence is magnetic and elegant in its excess. Once broken in, the VR7 creates a tidal wave of sound were most other speakers resemble a leaky faucet. It's ability to replicate an orchestral crescendo or aggressive drum solo for instance is unparalleled in my experience as is the low bass power and extension. This composer does not in any way come at the expense of subtlety, nuance or tonal accuracy. No, the VR7 really is the complete package and will force me to stretch my capacity over the coming months to identify its limitations, however slight they might be [Grep Petan].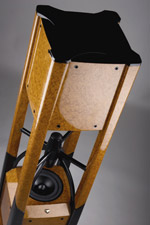 Bolzano Villetri Campanile Series Torre ($11,500 with powered sub)
Don't quite know what else to say about this loudspeaker except it sounds and looks like a lot more than its asking price. Designed to emit sound in a 360-degree radiation, ala the Deuvel Jupiter or MBLs, this loudspeaker won't please your hardnosed audiophile whose looking for the last word in pinpoint imaging. That said, if you're an depth or soundstage freak, then look no further. Most importantly is how well this loudspeaker grabs you into attention and doesn't want to let you go. Wonderfully built and beautifully finished, this is a loudspeaker that I bet will make heads turn.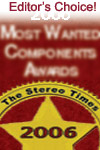 Focus Audio Master II Loudspeaker ($) Next up is the Focus Audio Master II loudspeaker I reviewed a few months ago. Much was said in the review but to sum it up? Musical, great bass, warm without obfuscation, a detailed though pleasantly laid back treble and first rate build quality makes the Master II, within it's price point, a must audition.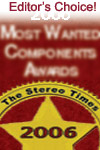 Escalante Design Fremont ($14,995/pr).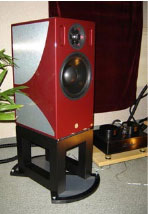 Last year, I was really taken with the excellent sonics and flexibility of the Pinyon monitor and Uinta subwoofer combination offered by the brilliant Tierry Budge and the folks over at Escalante Design. This year they've combined the strengths of both into one "Mega-Monitor" called the Fremont. The Freemont uses the excellent Ring Radiator tweeter and a pair of "direct-coupled" 12-inch woofers to produce a truly full-range sound that is quick, detailed, highly musical and authoritative. At just under $15K it's a friggin' bargain compared to its mortgage-busting competition. Also, the cabinets are made from a gorgeous and extremely dense bamboo that ads rigidity and elegance. The Freemont has quickly become the foundation of my reference system [Dave Thomas].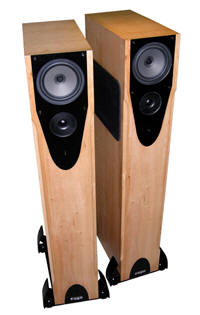 The Rega R7 Loudspeaker
The transmission-line woofer-loading of Rega's $2500 a pair R7 speakers produces standard-setting bass coherency, rhythm, and articulation. Transparent mids and highs are seamlessly integrated with the terrific bass and coupled to a 3-D stereo image limited only by the associated components and recording. Musical communication is superb and audiophiles can groove on its sonic and stereo thrills. A completely successful music-making product that's easy to drive, easy to integrate into the listening room and easy to afford [Paul Szabady].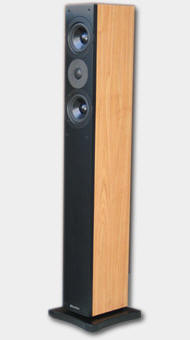 Silverline Audio Prelude Loudspeaker ($1200) I discovered these little gems at CES 2006. Frankly I can't say enough good things about these slender 40" tower speakers, which, at only $1200 per pair is Silverline's new entry-level model. Using only two 3.5" woofers and a 1-inch aluminum/magnesium dome tweeter, the Preludes manage to span the range of 35Hz to 28kHz with authority, and boast a sensitivity of 91dB/W to boot. I'm currently driving them with the new Dignity Audio 300B, 8-watt mono amps and can't get over how dynamic and musical they sound. And that bass!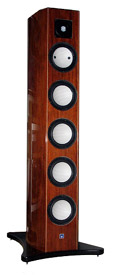 Consensus Audio Engineering Conspiracy Loudspeaker ($30k) Stephan Fekete's innovative Airflow cabinet design (ala Lumen White) is entwined with Franck Tchang's (Acoustic Systems Resonators) internal tuning techniques here in this most auspiciously designed transducer. Employing custom made Accuton drivers, this sophisticated 3-way, (5-Ohm 92 dB!) has the ability to reproduce and articulate low-end information unlike I've heard from a floor stander with such a narrow footprint. Sonically, the Conspiracy possesses a purity and harmonic rightness that makes it very musically satisfying (Key Kim/Clement Perry).

Acoustic Zen Adagio Loudspeaker ($4300/pr). Legendary cable designer Mr. Robert Lee of Acoustic Zen has developed a truly remarkable loudspeaker. The Adagio's are a two way transmission line design with an inch and a half ribbon tweeter. The internal wiring is of course AZ and the presentation is symbolic of his excellent sounding cables; extremely transparent, musical, fast tight accurate bass, detailed high frequency extension and a sound stage that is deep, wide, and airy. The standard finish of high gloss Ferrari red is absolutely gorgeous and priced at just $4300 for the pair, the entire package sonically and aesthetically fits within Mr. Lee's design parameters of providing a great sounding product at an affordable price. I can say that he's really outdone himself on this project! [Craig Fitzpatrick]
Mobile Fidelity OML-1 ($999 - $1499 depending on finish).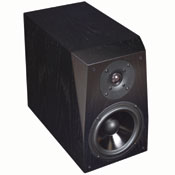 Following in the steps of its larger sibling that received the editor's choice award last year by Dave Thomas the smaller OML-1's are just as accomplished. Although they were initially designed for MOFI's own recording studio they also exhibit the essential qualities that will also appeal to the audiophile looking for a great transducer in a small package. These monitors excel in the areas of midrange purity, accurate reproduction of high frequency information, and tonality. They present a huge soundstage and are very good at providing the listener with a revealing and musically engaging performance. Fit and finish is first rate especially in the high gloss walnut and at less than $1500 this is a special loudspeaker. [Craig Fitzpatrick]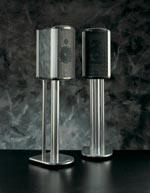 ATC SCM10A-2 Active Loudspeaker ($3900.00/PR). The SCM10A-2 is a, high quality, high performance, active loudspeaker that can hold its own against the best of them (within its frequency range, of course). Even though physically small it produces big sound with very low distortion. If you are looking for a compact reference speaker for stereo or multi-channel applications the SCM10A-2 is the ticket.[H. Courtenay Osborne]

Hyperion Sound Design HWS-586 ($760/pair).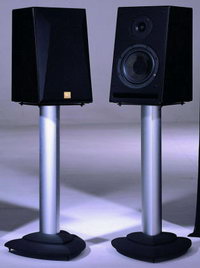 "The HPS-938 is the best speaker… blah… blah… blah." So much cyber ink has been spilled on the virtues of this company's now ex-flagship speaker the 938, that Albert Wu of Hyperion must have nearly had a coronary when I asked him to review another speaker from his line. Hell—most people probably don't even know Hyperion actually offers any other speakers (reviewers sure don't seem to). But I did my research and I'm here to tell you they most certainly do. What's more, we the masses who are both spatially and monetarily challenged are the better for it. Albert told me I might be 'surprised' upon receipt of these baby Hyperions, and he was correct in more ways than one. Sporting a gorgeous lacquer over a subtle, dark wood grain (I'm scared to touch them), they employ basically the same S.V.D.F. midrange unit and soft-dome tweeter as the anointed 938's, but make due with a smaller monkey-coffin in which to house them. Their sound is quite large and present, with sweet, extended highs and a seductive midrange. Only a pair of way-too-big-for-my-room planar speakers interrupted my small speaker/big sound rapture (and destroyed my décor and shocked my girlfriend in the process), but you can read my soon-to-be-posted Hyperion review for that story. Check out the HWS-586. You too might be 'surprised.' Good one Albert! [David Abramson]