Loudspeakers

Editor's Choice! The Duevel Jupiter Loudspeaker [$26,700 photo left Duevel Importer Ted Lindblad of High End Audio, LLC]: I have only recently taken possession of the Duevel Jupiter loudspeaker, but it didn't take long for me too know that it was something special. The Jupiter is the bumblebee of high-end loud speakers. By its looks, there is no way it can work! But work it does. Capable of truly full-range transparency, the Duevel's horn-loaded omni-directional implementation of its drivers and multi-corner ported enclosure presents the music with extremely pure, uncolored delicacy and true harmonic color. Dynamics are very satisfying from low-level right up through the bombastic. This is one of those rare speakers that bridge the gap between detail and musicality. Despite my enormous room being not quite the best match for the Jupiter (as there are no side-walls to provide re-enforcement), it impressed me non-the less. Seek them out and real music could be yours [Greg Petan].
__________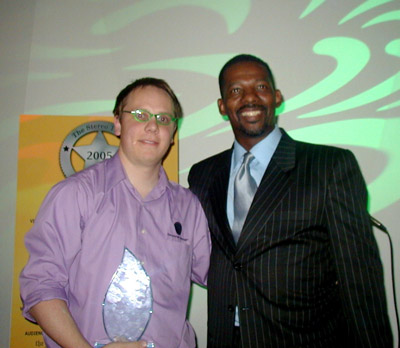 Editor's Choice! Escalante Design Pinyon Loudspeaker/Uinta Subwoofer [$6,450/$3,490 photo above, Escalante's Matt Waldron]: These Tierry Budge designs are wonderful performers individually, but together, are absolutely stunning. The Pinyon sets a new standard in musicality while the Uinta fills a room with a lifelike presence [Dave Thomas].
____________

Publisher's Choice! Hyperion Sound Design HPS-938 loudspeaker ($4,500) A loudspeaker that costs less than $5k and literally looks as well as sounds like you've arrived in the big leagues! The other interesting thing about Hyperion's design team is they aimed these uniquely built (using handmade spider-less drivers) two-box system directly at the status-quo. After listening to the HPS-938 for the past month I would have to say they knew exactly what they were doing. The Hyperion Design HPS-938 loudspeaker possesses a level of clarity, followed by a very fast but melodic bass, with an ultra relaxed midrange that caught my attention almost immediately. Astonishing sound and build quality for the asking price.
____________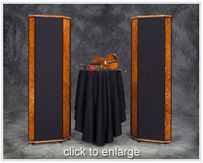 ESP CONCERT GRAND SI LOUDSPEAKERS:
($40,000) The newly reconfigured and reconstituted flagship Concert Grand loudspeakers from ESP are something to behold. They are big, bold and beautiful not only to look at but to listen to as well. These loudspeakers essentially speak truthfully and present recorded music in such a wonderfully natural manner that you will literally feel as though you are listening to live music. Weighing in at approximately 350 pounds each and standing over 5 feet tall, the immediate reaction is that you will need a very large space to house these for maximum effect. While larger rooms can help, these wonderful speakers can also be used in somewhat smaller rooms and with extremely good results.
____________

Harbeth Super HL 5 Loudspeaker: Designed around Harbeth's state-of-the-art Radial ™ cone bass/midrange driver, the 3-way HL5 offers effortless musical communication, neutral tonality, and fine detail allows the deepest penetration into music's aesthetic worth of any cone driver speaker on the market. Reasonably priced at $3995/pair, the Harbeth has the near-magical capability to extract the best from partnering gear, allowing a wide range of component choices, including very inexpensive gear. The apotheosis of the grand BBC design tradition? Yes. The ultimate music lover's speaker? Oh yes. A masterpiece? Uh-huh. Synergistic match with Stillpoints placed between speaker and stand [Paul Szabady].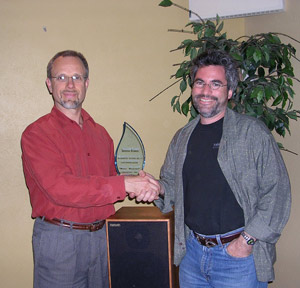 [Photo right: Walter Swanbon, importer and Nelson Brill]. Paul Szabady beat me to this one in his illuminating review of the HL5 this past October, but this did not stop me from purchasing a pair and loving every moment with this "great musical performer" (Szabady). I have cherished the HL5's purity of tone and timbre, its unflinching realism to string and horn and making recorded music so accurate and real. I have utilized this pair in a small office space, giving them as much room to breathe from the walls as possible and partnering them with solid state amps with 100 watts or more to get the fullest benefit of the HL5's dynamic character. Vocals are superbly rendered with Knopfler's husk intact, and Krauss's feathery highs captured without edge or false highlights. They breathe, they convey the inner workings of any given recording and they are a joy to listen to at low volume. In their price range, I have heard none better [Nelson Brill].
____________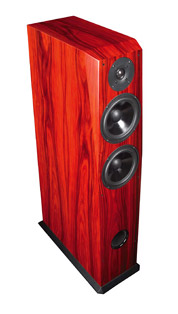 Editor's Choice! Mobile Fidelity OML-2 Loudspeaker ($2,000): Not only do these folks have a great ear for bringing new life to classic recordings, but they know how to voice a loudspeaker too. Shocking-good bass performance allows this speaker to be at home in a two-channel music system as well as a home theater system. The OML-2 (as well as its smaller sibling, the OML-1) has a high Wife Acceptance Factor (WAF) as it comes in a variety of gorgeous veneers and comes in an attractive and reasonably sized cabinet.