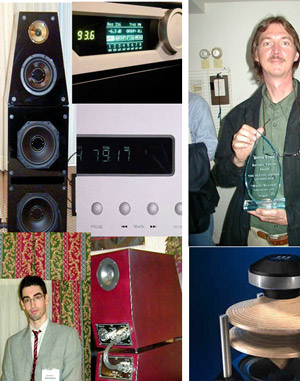 The Stereo Times' annual "Most Wanted Components" awards party, was held on May 1st at the Camel Club in Manhattan, during to the HE2005 show weekend. It proved to be another great opportunity to meet, greet, wine and dine with this years group of very talented designers. With many industry icons gracing the festivities, the mood was a festive and fun-filled one. Despite HE2005's overall lack in attendance, there was still a very strong sense of excitement in the eyes of the many who attended.

High-end audio is a long way from being dead and there were many in attendance who felt that enthusiasts such as you and publications such as ours are helping to keep the interest and the passion for music and our hobby going strong.

The very essence of this event was to announce the outstanding products for 2005 and, in doing so, we the staff would like to extend a Thank You of our own.

Thank you for your limitless craftsmanship. Thank you for continuing the advancement of this sacred art. Thank you for allowing our cherished music to live through your celebrated efforts.

The Stereo Times Staff

Digital
Publisher's Choice! April Music's Stello DP-200 and CDT-200 DAC-Pre
[$1,995 DP-200, $1,495 CDT-200] Digital audio has come a long way and April Music has made this painfully obvious to a lot of high-priced competitors out there. I can't stress enough the ingenuity that went into the creation of this affordable line. And yes, the real importance lies in the Stello's affordability. Anyone with the money can invest in very expensive gear and (probably) get good sound. Good sound is what those two words "high-end" is supposed to be about. Well, it looks to me like a couple of new words redefine affordability. And those two words are April Music.
___________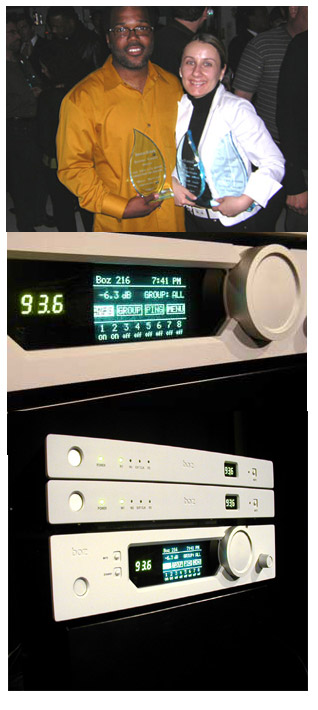 Publisher's Choice! Boz Audio 216/220 Digital Amplifier [$9,000 photo from left to right is Tact Technician Tommy Moore and Sales manager, Agnes Kosakowska]
Rodamir Bozovich's new league of digital amplification has finally arrived! Bearing his name BOZ, Bozovich took no prisoners in this separate power supply, dual-chassis digital design. Capable of up handling to 16-channels of sophisticated digital amplification using a single Controller, this 200-watts per channel marvel sports the latest floating point DSPs from Texas Instruments. Boasting frequency resolution at the equivalent of 1 Hz, I took this baby to task against my dual (and modified) Tact 2150s. It really was no contest. Technology constantly moves onward and waits for no one. Hence, the sound of the Boz amplifiers are more relaxed, expansive and dare I say present nary a hint of digitatitis. There's also a higher degree of ebb and flow to the music with greater traction, for lack of a better word. The Boz Audio 216/220 literally keeps the music flowing in a way I've not heard previously. Stay tuned for review
___________
Combak's Reimyo CDP-777 CD Transport/Player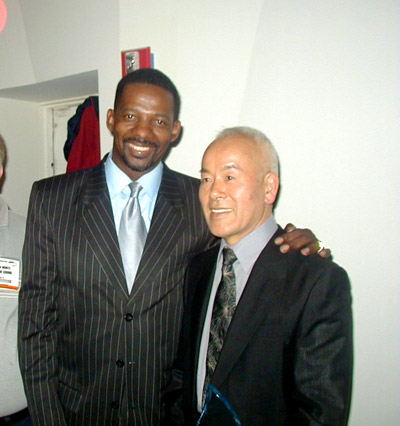 [$15,495 Photo left of Reimyo designer K.Kiuchi]: The Reimyo CDP-777 is a true reference product. It defines the state-of-the-art in digital playback. It employs the latest version of the XRCD2 K2 processor and its 176.4kHz/24-bit 4x oversampling delivers a stunning, 705.6kHz! You won't believe your ears! This unit is exactly what its name means in Japanese, miracle. I am absolutely in love with the performance and the built quality of this super player. Stay tuned for review [Key Kim].
_____________

Editor's Choice! The Dodson 218 24/192 Digital Converter ($7900): When Ralph Dodson made the claim that his 218's indistinguishable from analog, I just had to give it a try. After a nice long warm up and proper placement, the 218 prove to be the single most musically satisfying piece of digital gear I have ever heard. Power full yet refined. Detailed and liquid as well as richly colored yet supremely transparent. The 218 could live long and happy in my system, and thanks to Ralph's willingness to build one that will pass a digital signal to my TacT, I'm saving my lunch money to make it happen. Is the 218 worth the added expense in light of the excellent DAC card found in the TacT? My accountant and I are afraid so [Greg Petan].
___________
TacT Audio, Millennium MK III Digital Amplifier

[$10,999] The TacT Millennium MK I, was released in 1998 as the first "truly" digital amplifier. In its third generation, this single chassis "power DAC" is packed with capabilities offered by no other preamplifer/amplifier/DAC. These capabilities include built-in digital audio signal processors for equalizers, crossovers, and time-delay adjustment, an improved clock system that provides a 6dB improvement in signal to noise and jitter reduction, a digital transceiver supporting 192kHz/24bits, a new asynchronous sample rate converter, and a DA converter with balanced output to allow the connection of subwoofers. In comparison to the Millennium MK II, the MK III is much more relaxed, dynamic, and has better front-to-back soundstage, layering, space between instruments, focus and bass solidity. Established as the baseline for realism, intimacy and transparency, the MK III upgrade removes another veil to better communicate the emotion in the music. Stay tuned for review [Mike Girardi].
___________

Editor's Choice! The Tact 2.2x Room Correction DAC/Preamp ($5600): This year rings in a new chapter in my audiophile career. After four years of breaking down all the pre-conceived biases, prejudices and flat out belligerence towards the TacT digital room correction preamp and DAC that occupies Clement Perry's system, I finally broke down and gave the unit a try. What ensued was nothing short of an out of body experience. As I looked down on myself sitting on the couch, I saw an audiophile recalibrate on a molecular level. The distortion previously digested was now banished. All the mid-bass hump? Gone. Midrange suck-out? Gone. Depth of image and soundstage? Vivid and clear. There is no other way to achieve these results in my room. I have not even used the unit with subwoofers yet and have only scratched the surface of what can be achieved. Oh, by the way, the $500 DAC card of the 2.2x is one of the best DAC's I have ever heard [Greg Petan].