My, how time flies. It seems like only yesterday when The Stereo Times first appeared on the World Wide Web on April 14, 1999. But supported by dedication to a strong vision and a wonderful stable of seasoned writers, we now find ourselves skyrocketing towards our fifth, and biggest year. Perseverance, strength and belief in each other, were the initial ingredients needed to make ST work. Countless hours of everyone pulling their weight is what keeps us alive and flourishing. This year was our most successful, and as a result, our annual "Most Wanted Component" awards presentation was something special. For the first time, the awards were passed out in a ceremony right here in beautiful Rockleigh, New Jersey.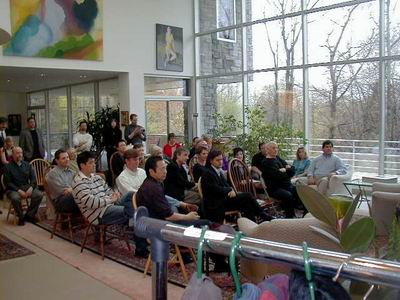 Serving as our host was Ralph Glasgal, founder of Ambiophonics. The event took place at his immense estate and Ambiophonics headquarters. The awards ceremony, attracted manufacturers, audiophiles and well-wishers from far and wide, and proved to be a rousing success. Armed with a cache of information, both manufacturers and audiophiles alike wasted little time dining and talking about, what else? Audio!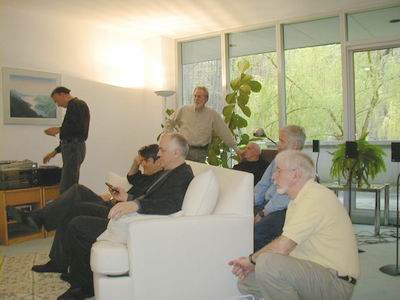 It wouldn't have been a party if Ralph didn't have a chance at some fun. Ralph's definition of fun, of course, is to get as many people as he can into his modest demo room. Tact Audio's Radimor Bozovic and our own Greg Petan (seated) got caught on camera as Ralph hits the demo switch, while others look on.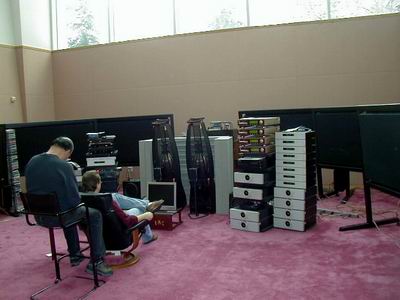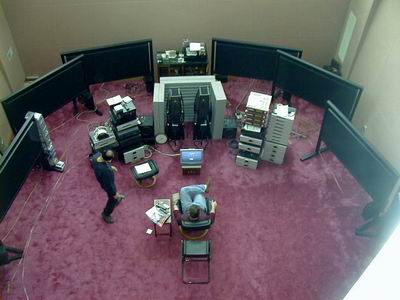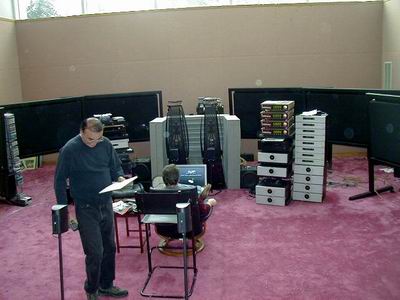 This gigantic room sports some of the most elaborate surround gear these eyes (and ears) have witnessed. This is Ambiophonics, Price No Object! Take for example, enough Tact electronics to drive a pair of MBLs and 24 Sound Lab loudspeakers used only for surround! The dimensions of this listening lab are outlandish too. 30' by 45' with a 40' ceiling that supports a three story spiral staircase! How does it sound? Barry Merer (seated in the Way Back Machine) loved it. Personally, I like the idea; the real-life quotient and the effect. However, I did have problems with the bass sounding a bit too anemic for my ears.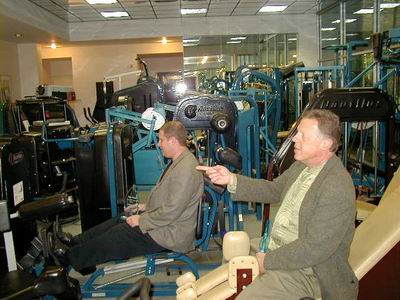 After the Awards Ceremony, both Alan Warshaw and Mark Markel got their blood flowing, in what can only be described literally as a formal workout! Still in their evening jackets, both decided to work out in Glasgal's gym, located opposite his ambiophonic's room. Here, Alan points out that there's a little too much weight, and requests a change to an lighter load.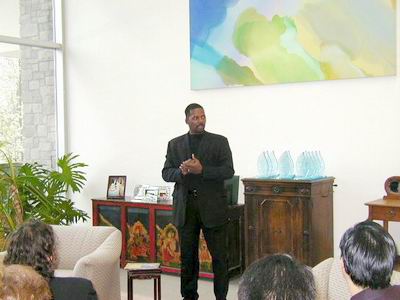 Okay, and now to present the 2003 Stereo Times Most Wanted Component Award Winners……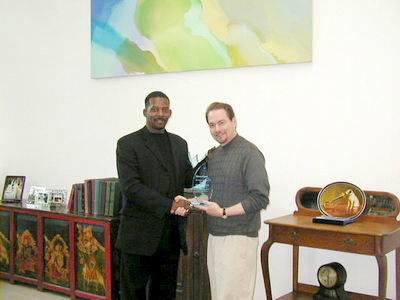 "Mr. HTML" in the flesh, Barry Merer. Stereo Times' man behind the scenes was presented with an award for all his hard work and diligence. Always cool, calm and collected Barry was not expecting this award; as a result, he had to really work hard to keep his emotions in check. Barry later confided in me that he was actually crying on the inside … well, maybe not crying, but you get the idea.
Clement Perry – Publisher's Choice Award!
Loudspeakers: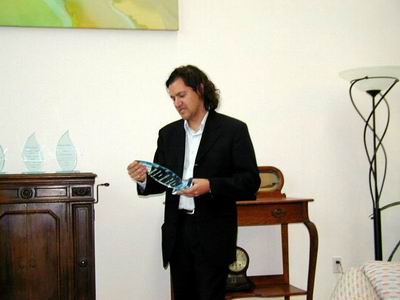 Ascendo System Z ($25,500)
Jurgen Scheuring flew in all the way from Frankfurt, Germany to personally receive his MWC Award. At over $25k, you get a lot of loudspeaker to like in this nicely dressed 3-piece German transducer. If you like your music natural, unpretentious and truly musical, then you've come to the right place. Without question, a music lover's delight that has set a new benchmark for this reviewer and the many who've heard it.

The DALI MS5 Loudspeaker ($12,500)
Once again, this is a lot of loudspeaker for the money. It's a beautifully sculptured 5-way that can play very loud while keeping the delicacy of a Stradivarius intact. Must be considered one of the best bargains in audio. I simply loved this loudspeaker despite some less than easy setup requirements (which were frustrating at times). Once dialed in though, you'll be glad you put in the time. The sound is wonderfully open and powerful. This is a Danish transducer that speaks the music of the heart.

The Ayon Signature Loudspeaker ($10,900)
& the Master Sound 845 mono amplifiers combo: ($10,500)
A marriage made in Heaven. Make that, Tube Heaven. This combo totally transformed the sound of Marshal Nack's system, in my humblest opinion. When the Ayon was strapped to the Master Sound 845's, magic happened. This combo produced a sound that swooned me in my chair unlike many combo's ever have except for the KR 800/Von Schweikert VR6 combo from back in the day. Luxuriously sweet, yet detailed to the nth degree and very musical with a bouncy, rhythmic quality from top to bottom. Their combined sound is clear, exciting, and serves as a refreshing departure from the everyday sound found in tubes when matched with dynamic drivers. These babies sing.
Jean Marie Reynaud Trente Loudspeaker: ($2,595)
(Victor Goldstein of Fanfare International Inc., smiles besides his award). This modestly sized two way, employing both a 1st and 2nd order crossover (6 and 12 dB/ per octave) to ensure a near perfect transition between each driver, makes this an excellent choice for any apartment dweller seeking big sound. Sporting a transmission-line design with a slim vent on its front that sets new standards in soundstage, bass definition and dynamics. At $2,595, the Trente represents one of high-end audio's diminishing true bargains.
Amplifiers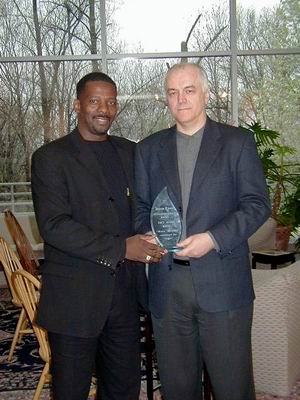 Tact M2150 ($5,400)
(Tact Audio's designer Radomir Bozovic smiles proudly besides his trophy). The Rodney Dangerfield of amplifiers. Gets little respect or serious attention from the audio press "in crowd" but this is perhaps the most perfectly synergistic amplifier to have graced my listening room! I fought hard, subconsciously that is, not to listen to this "power dac" after owning their preamp/room correction device for well over five years now. I had many preconceived notions on what a "pure" digital amplifier would sound like so I avoided ever trying one. When Radomir Bozovic, Tact's resident guru and prez, literally pleaded with me to hear it, only then did I finally submit. I pray everyday that I will never be as pig-headed again. The sound of the Tact amplifiers literally floored me. Six months later, I am still amazed by what the M2150 can do. Simply the most effortless, life-like amplifier I've had the pleasure to listen. All those rave reviews you might have read on the pricier Millennium amplifier are true! The 2150 side by side, when compared next to the Millennium—betters it, at half the price! Tact's purity of signal quotient is the highest I've auditioned with a noise floor that appears to have no rival. It may get no respect outside these walls, but to everyone that has heard it consider it among the elite designs in amplification. My new reference.
Digital to Analogue Converter
Zanden Model 5000 Mk III ($10,000)
The Zanden Model 5000 Mk III is such an excellent sounding D/A converter that it actually reduced my reference CD player, the Electrocompaniet EMC-1 into a mere transport (albeit an excellent one). I don't know if mere words can explain my gratitude to Mr. Yamada for making electronics in the manner in which he does. I've waited for this product a long time and finally I hear what everyone whose heard these tube dacs are talking about. In terms of analogue sounding digital, this is as close as I've heard.
Cables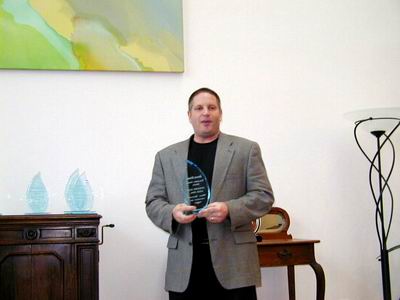 Analysis Plus Gold Speaker cables ($6,320 per eight foot) and Interconnects ($2,000 per meter)
(Mark Markel, another proud recipient, takes time out for our cameraman). I nominated the AP Gold Interconnects last year. After auditioning their super expensive speaker cables, I am now convinced that their cables are actually better than their interconnects. That's saying an awful lot! Combined performance? They are simply the best and most natural sounding cables to grace my system to date. And though they may be extremely expensive, their price is justified by their performance.

Silversmith Silver Speaker Cables ($2,950 per eight foot) and Silver Interconnects ($1,400 per meter)
One of the most three-dimensional and natural sounding cables I've had the pleasure of auditioning. Incredible bass with a full mid-band to be so thin and delicately designed. Using the plastic "Bullet Plug" makes these Interconnects super revealing and thus one of those rare cables that does exactly what the manufacturer suggests, thus earning this honor.

Shunyata Powersnakes Lyra speaker cables ($1,250 eight foot pair) and Aries Interconnects ($650 meter)
Shunyata's Hydra has long been my, and Editor Greg Petan's first choice in AC conditioners, but now they've jumped into the cable wire fray and almost single-handedly delivered a knockout performer in their modestly priced Lyra and Aries cables. These are richly detailed cables that boast fast and dynamic transients. A killer cable that may be the only cable you'll ever need.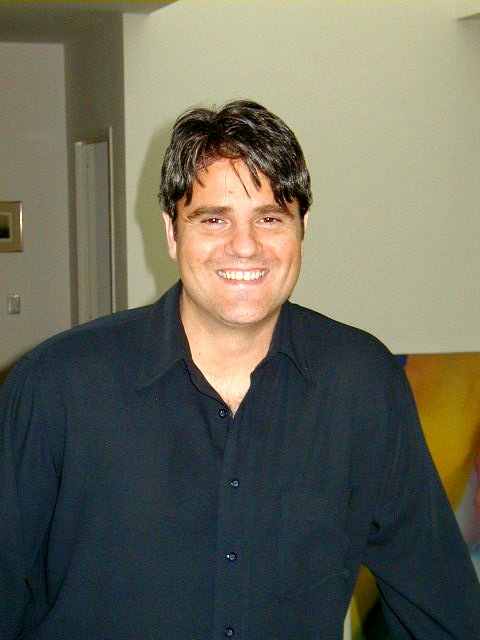 Greg Petan
Krell FPB 700cx Stereo Amplifier ($14,000)
Continuing its long tradition of mega-powerful amplifiers is Krell's FPB700cx. This "brawny" beauty combines awe-inspiring power with a wonderful level of transparency and detail. It's warm in timbre, with a huge soundstage and image size that makes other amplifiers sound a bit "puny" and is effortlessly musical and engagingly entertaining. The Krell FPB700cx should be an amplifier for the long haul and just might get you off the upgrade merry-go-round once and for all.

The Shunyata Research Aries Interconnect ($650/1.5 meter)
At $650 per 1.5 meter, the Aries interconnect is part of the Constellation series, the first line level products to join the accomplished line of power products from Shunyata Research. The Aries interconnect may well be the best interconnect I have ever heard regardless of price. Essentially without character, the Aries paints a complex billowing construct of the music strapped to an explosive dynamic platform. If your components are up to it, the Aries interconnects may complete your system in ways you may have only dreamed of.

Solid-Tech Amplifier and component stands ($1,599 - $1,899)
The good people from Solid-Tech of Sweden have delivered a post modern marvel of extruded aluminum and cherry wood that is by far the most stunning isolation platform I have ever seen. Components receive a combination of spring, ball bearing and industrial rubber-band isolation in fully customizable combinations. I was shocked at the level of improvement my system received when I loaded my Rowland 302 stereo amp on the Amplifier stand. This is the Rack I have been waiting a very long time for. Full review to come.

Hall of Fame: the Linn Sondek CD12 CD player ($20,000)
Introduced nearly six years ago, the red book standard CD12 set the digital world on its ear and sent digital detractors deep underground to lick their wounds. Review after review confirmed that the design team at Linn had created not just a masterpiece, but also a monster that continues to devour the competition—even the high-rez new kids on the block. Capable of such resolution and truth, the CD12 is the component I could not live without.
Marshall Nack
Manley Steelhead Phono Preamp ($7,300)
I was fortunate to have gone fishing in the Manley pond last year and come up with the Steelhead Phono Preamp. Fortunate in that its reputation had preceded it, and so I had a good inkling of what was to come. The Steelhead is capable of creating the perception that you have a listening room larger than its actual dimensions. With a good source, it can densely populate the stage with realistically sized images. In that capacity, it brought me closer to re-creating a full orchestra in all its hugeness within the confines of my listening room. No doubt its oversized external power supply accounts for a good portion of that effect. No doubt the effect is also attributable to the engineering and circuit innovations contained inside.
The Steelhead's sound texture is rich and warm, as befits an all-tube component. It emphasizes the harmonic envelope around each instrument, with the result that acoustic instruments sounded more acoustic. A slight treble emphasis on transients accentuated image definition. Soundstaging, dynamics and harmonic fullness are its strengths. It takes up a lot of shelf space and likes after-market power cords and coupling footers. The built-in volume control is OK, but if you have a really good line preamp, continue to use it. Lest I forget, the multitude of front panel controls makes it super-convenient to setup and optimize (or tweak).

But I'm beating around the bush: in truth, the Steelhead dismissed all issues as far as analog amplification was concerned. While there are some heavy contenders at this price point, I don't think any are superior to it. I found my AHT/ Walker Audio phono stage to be about its equal, although quite different. To do better than the Manley Steelhead you'd have to spend considerably more.
Master Sound 845 Mono Amps ($10,500) and Ayon Signature Speakers ($10,900)
(Bruce Featherling, of Acoustic Dreams Importers, is all smiles while receiving his MWC Award). There is a singular quality to the sound of a single-ended triode (SET) amplification device. It is most evident in music featuring vocals and acoustic wind instruments: things that live in the mid-range. Actually, all amplification devices have a signature sound, whether you're talking about transistors, MOSFETs or any other gain device. And even within the SET tube category there are characteristic traits that distinguish the 300B from the 845 tube, for example. My previous encounters with SET tube amps left an impression of remarkable presence and intimacy coupled with some severe performance limitations at the frequency extremes and in macro-dynamics.

The Master Sound 845 monoblocks and Ayon Signature speakers were designed to complement each other. When they arrived, I was eager to see if the combo did in fact exemplify the characteristic glories and pitfalls of other SET based systems. The answer is a definitive yes! … And no.

First, all the SET magic is present. Just put on any vocal recording and watch what happens. Listeners practically melt in their chairs. Second, this combo will not disappoint in its performance at the frequency extremes. The same holds true for how it re-creates big dynamics. And finally, this is the first SET combo I've encountered that is not only extended, but is also accurate to boot. You will not hear any frequency dips, swells or crossover anomalies.

I have rarely encountered this level of performance. While not cheap (the amps and the speakers, have a list price of around $10,000), what the Master Sound 845/Ayon Signature speaker combo brings to the table is so musically compelling that you might find yourself agreeing with Clement Perry: "The game is over, pal. That's my sound." See full review.
Constantine Soo
I reviewed 8 pieces of equipment in 2003; among them a power cord, a most affordable SET amplifier in separate reviews of its stereo and mono applications, a solid-state integrated amplifier, a bookshelf and a full-range transducer, a transport/converter digital front end, and finally, an integrated CD player. It is a shame that I couldn't finish the Audio Note AN-E SEC Silver Loudspeaker ($19,500) review in 2002, because it would've taken the No.1 spot of my nominations.

But, as the AN speaker review was published in February 2003, it will face certain competition this year from pending reviews on top products from manufacturers such as Linn and others, not to mention pressure from AN's own $33,000 DAC 5 Special D/A converter that I am using, and a scheduled $28,000 M8 preamplifier review as well. Retrospectively, there is my singular 2002 MWC, the Audio Note M3 Preamp ($6,000) that I've been using since 2001, that continues to beseech benchmark performances in my system.

Among the 2002 equipment I reviewed, I nominate the ($3,595) Linn Ikemi Integrated CD Player for the No. 1 spot for its very competitive, high-end performance among digital front ends from other makes commanding twice as much in MSRPs. Unless you intend to dispense with $8,100 for the 47 Laboratory 4713 Flatfish CD Transport ($3,600), 4799 Power Dumpty Power Supply ($1,800) and 4705 Progression DAC ($2,700) digital system for higher tonal purity and more vivid dynamic contrasts and awkward idiosyncrasies, the Linn Ikemi can save you $4,505 for a highly comparable musical experience. In this regard, the 47 Lab digital front-end becomes my No. 2 Most Wanted Component.

The No. 3 accolade goes to another product with a MSRP similar to the Linn, and it is the ($3,698) ELAC 518 3-way, bass reflex full-range loudspeaker. Among speakers in my possession, such as the $9,500 Genesis VI, $5,700 Klipschorn, $4,000 Apogee Duetta Signature and the $3,000 Celestion SL700, the ELAC is the only speaker capable of being superbly dynamic with extended top and bottom ends, requiring a little more than a square feet for placement and retails for less than 4k. Its cherry veneer also adds pleasant décor to a living room.

The Linn Ikemi and ELAC 518 are spellbinding performers that look as good as they sound in whatever economic conditions the world is in. The only missing link is a comparably priced integrated amplifier that is able to bring together the distinguished Linn and ELAC.
Paul Szabady
Stillpoints Universal Resonance Dampers w/Stillpoints Risers ($275/set of 3)
I'm overjoyed and overwhelmed at the stunning rate of evolution in isolation devices over the last few years. The Stillpoints are the new sheriff in town and reside at the top of the hill. A new paradigm has emerged that has me grouping components into two categories: those heard un-isolated and those heard with isolation. And never the two shall meet.

The optional new Stillpoint Risers ($130/per set of 3) simply screw into the bottom of the Stillpoints. They offer height adjustability to clear the existing feet of your components, allow for easy leveling, and offer a larger footprint for placement under unwieldy components like speakers. What this amounts to is an inexpensive upgrade in isolation of the already superb original Stillpoints. That makes this tweak twice as good.

Origin Live Rega Tone Arm Modifications ($330)
THE best bargain in analogue today. A modified RB250 (Origin Live will sell you a new RB250 arm if you don't already own one) combines superb musical communication with fine bass swagger and sass, along with a sweet top end. The sound is endlessly beguiling and tuneful. The modified RB300 is not quite as refined and has less stimulating hip-shake, but still excellent.
Price of all this? You don't even have to ask. You CAN afford it.

Sound Lab Dynast Loudspeakers ($4,770/pair)
Efficient and easy to drive, the dynamic 10.5-inch woofer crosses over to the 6 ft. high electrostatic panel at 250 Hz giving you, what else, electrostatic levels of clarity and resolution, along with deep and dynamic low bass without the need for a Godzilla-sized amplifier. Low-key marketing makes this a sleeper, but a close listen will wake you up. Especially when you hear the price: $4770 a pair. This is a gem from Dr Roger West.

Rega Ela Loudspeakers ($1,395/pair)
Classic slim floorstander with transmission line woofer produces superbly engaging musical communication in smaller rooms if matched with equally cogent music-making components. No over-priced, overblown high-end gear necessary to get them to dance; good amps from Rega (of course), Naim, Arcam, Creek or Rotel will do fine. This is real music in real-sized rooms at real prices. Oh, and real bass too.

The Disc Doctor Record Cleaning System ($71) and Stylus Cleaner ($25)
This is simply the state-of-the-art in record and stylus cleaning. Makes unclean LPs, (or those cleaned by other record cleaners) sound broken. It's a labor of love from Dr. Duane Goldman and an absolute necessity for every vinyl enthusiast.
Dave Thomas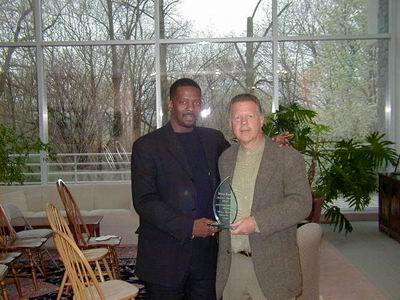 Electrocompaniet AW220 Stereo/Mono Amplifier. ($2,495)
(Alan Warshaw, of Jason Scott Distributors). At just under $2500 per amp, these babies represent one of the best bargains in high-end audio. Wonderfully built, fabulously flexible, and supremely musical sounding, the AW220 continues the EC tradition of elegantly styled and powerful amplification. It even rivaled its big brother the $15,000 a pair Nemo, on some live recordings.

Based on the classic AW60 stereo amp, the '220 can be used as either a very nice sounding 75-watt stereo amp, or add a second unit and (via a few simple idiot-proof rear panel adjustments) you can have a pair of 220-watt mono amps!

Sonically, there isn't much these amps don't do well. I had a wonderful time pulling out music I hadn't heard in a decade just so that I could hear the life that the AW220s were capable of breathing into them. A wide, deep, and well-articulated soundstage made live jazz recordings come through with a three-dimensional quality that makes you look at the spaces where instruments and vocals are placed. Electrocompaniet has another winner.

Talon Audio Peregrine X. ($9,500 / with stands: $11,500)
Beauty, power, finesse, and an uncanny ability to satisfy those who are accustomed to only the finer things in life. It's eerie that I have so much in common with this speaker.

The Talon Audio Peregrine X is one of the high end's truly unique designs. It's basically a two-way, stand-mounted box speaker but boy, is that where the simplicity ends. The pair I listened to came in a piano-black finish with chrome trim and massive, resonance-free stands that look as though they belong in a contemporary art museum.

Sonically, a crossover upgrade called a Common Mode Rejection Circuit (CMRC), has these bad boys covering the musical spectrum like few other speakers I've heard. Live vocals in particular are stunningly realistic and man, can these things rock. Bass performance more than satisfied my hip-hop and R&B loving friends. And thank God, because I was tired of trying to explain to them why there wasn't a bass control on the pre-amp.

You'd better move fast if you want to hear this splendid transducer, because with the addition of three new models to the Talon line, the Peregrine X may soon be going away.

Dynamic Design Power Cords ($1,200/6ft)
During my evaluation of the EC amps, I wondered aloud how much better the EC gear might sound with better power cords. Enter the splendid power cords from Dynamic Design. The Platinum power cord is a stiffly made and priced ($1200/6ft) power cord that is a bear to work with but a joy to listen to. They transformed the EC AW220s from merely pleasant sounding to downright slammin'.

Along with the Platinum power cord I also enlisted the services of Dynamic Design's Challenger "digital" power cord. That's right, this power cord is specially designed to be used with digital components. It too is a very stiff cable both literally and figuratively (as in $1200), but it helped the Electrocompaniet ECD-1 to cleanly read every single "0" and "1" from my software.

Dynamic Design also offers a wide range of speaker cables and interconnects. They are handmade by an enigmatic electrical engineer here in Chicago with painstaking detail and extremely solid build quality. A review of more from this up-and-coming company's product line will be forthcoming.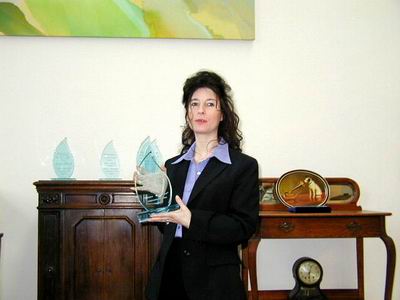 Chesky Audio C-1 Loudspeakers ($3,995/pair)
(Lisa Hershfield, Chesky's marketing rep poses for the Stereo Times camera). Though I've only spent a couple of weeks with this speaker it didn't take long for them to distinguish themselves as a transducer on a mission. While other speaker designs try to be all things to all audiophiles, the C-1 focuses on pleasing music lovers who appreciate where the bulk of the emotion in musicianship comes from: the mid-range. These speakers do not sacrifice the inner beauty of real music by trying to fake deep bass or add any unneeded brightness to the treble.

It's a gorgeous-looking, slender tower that will not take up a lot of space physically, but will fill a small to moderately sized room with music—wonderfully realistic music. Full review to come.

Golden Sound Accessories (DH Cones: Super $100.00, Large $50.00, DH Squares: $10.00 per square, Golden Sound Pad: $150.00, Acoustic Discs: $120.00)
The Golden Sound products that I used, namely the DH Cones, DH Squares, and Acoustic Discs, offer splendid and affordable ways of tweaking a system and room to optimize the performance of your audio/video system. The DH Squares and Cones are resonance-controlling devices that can be used individually for small improvements but work better together to bring much better focus and imaging to your soundstage.

The Acoustic Discs help to control surface reflections, particularly in room corners. They also reduce resonance in cabling and power cords and I even experienced some sonic improvements by placing them on the transformers inside my components. But they really shine on video equipment. I used them inside my DVD player and they popped some of my favorite older DVDs into tighter focus; especially Mel Brooks' classic, Blazing Saddles. To use the words of Lilly Von Schtoop, "Oh, it's twue, it's twue, it's twue!"
Dan Dzuban
Bel Canto DAC2 ($1,300)
The '2 gives you a good taste of the Bel Canto house sound for barely over a grand: strong dynamics and bass, natural but not overwhelming detail, and a sense of palpability through the midrange. Its slightly warm harmonic presentation was welcome in my neutral-neutral-neutral reference system.

In all of the craziness of the SACD/DVD-A format war, the '2 is an unequivocally sane buy. It is a great way to leverage your resources while hedging on formats. Invest in this DAC for your CD collection and pair it with an entry-level SACD or DVD-A player until a real contender comes along. While there will be SACD or DVD-A players that may sound better with their native high-rez format, I find it hard to believe that they will give you the CD performance the Bel Canto DAC2 will.
Joe Lamano
Pass Laboratories X150 Stereo Amplifier ($4,000)
The X150 is a balanced stereo amplifier delivering 150 wpc into 8 ohms. Like the other X series amplifiers, this product utilizes the patented Pass Labs Super-Symmetric topology to help lower distortion and noise. Although this is a balanced amplifier, the Super-Symmetric circuit allows single-ended connections to be used by converting them to a balanced input. This amplifier may not have the same flashy aesthetics as some of the larger X series units, or boast the same super high power ratings, but this amplifier certainly offers a wonderfully detailed sound with great speaker control. The X150 is a very detailed amplifier with strong dynamic range and an inviting sound that you can listen to for hours. It is not warm, certainly not metallic-sounding; instead, it is very musical and natural. Besides the stunning clarity and detail, I believe the ability to drive deep and accurate bass is a strong characteristic of the X150. The detailed low frequency capability is a result of the amplifiers dampening the slew capabilities, and not a result of coloration by the equipment. Treble and midrange reproduction is very natural sounding, with accurate tonal balance and transparency. Details are reproduced in a well-defined soundstage with clear ambient details, and even when pushed hard, the sound quality remains consistent, while the amplifier appears to respond effortlessly. At $4000 retail, this is not an inexpensive amplifier, but if it falls within your budget I certainly suggest listening. And for those looking for a more stylish package, the X150.5 provides the same internal technology and the addition of the power meter on the front plate.

Talon Raven Loudspeaker ($6,500-$7,500)
With the Ravens, Talon Audio has developed a speaker that is musically accurate, uncolored, very inviting and easy to listen to. Unlike some other large floor-standing loudspeakers, the Ravens are unencumbered by multi-driver arrays with complex crossover designs, trying to artificially recreate the music with a warm or forward sound. The 2-way, 2-driver design is easy to drive and delivers a wide and liquid soundstage with excellent imaging and transparency. Talon has paid attention to every detail on these speakers, from the cabinet, to the drivers, and everything in between. The untraditional obelisk shape of the Raven disguises the inner simplicity of the loudspeaker's basic design and the engineering complexities that bring it all together. A single 30mm Accuton ceramic tweeter provides excellent treble and midrange presence that is relaxed and smooth but not too soft. The slightest details are revealed with clarity. Vocals and acoustic instruments are wonderfully lifelike and natural as they float across the soundstage. The Talon 10" woofer provides some of the finest bass response, which is delivered deep, fast, and accurate—similar to that of its larger brethren, the Khorus X. The unique and exclusive cabinet design that is neither ported nor sealed, helps to ensure that at any power level, the bass remains controlled without mechanical noises or distortion. When it comes to overall low frequency performance, the Ravens go head-to-head with speakers in my price class. The proprietary balanced crossover design reproduces music with great coordination and an ultra-quiet backdrop. This speaker is a must have for those who truly enjoy to listen.

Harmonic Technology Pro-Silway MKIII ($479/meter)
If I had to summarize the Pro-Silway MKIII in one adjective, without hesitation, it would be "three-dimensional". Although the Pro-Silway MKIII is built upon the same design geometry of the Pro-Silway MKII, Harmonic Technology has made a couple of changes. The most significant change is that the MKIII interconnect uses more Single Crystal Silver and Copper than the previous version and incorporates a new Twin-Shield design that claims to improve 3-D imaging. Also, single-ended versions of this cable are terminated with the new and exclusive Furutech Single-Ended Copper RCA connector. Although I cannot technically validate Harmonic Technology's claims about performance, I can say from my listening impressions that the Pro-Silway MKIII is an extremely detailed and three-dimensional interconnect. Low-level information is delivered with speed and clarity. I have compared this $479 cable to other interconnects costing twice the price and I prefer it hands down to the others. Music is presented with a lifelike presence and a clear sense of space both front-to-back and side-to-side. Instruments live in their own well-defined space that is easily identifiable within the greater soundstage. Treble is smooth and crisp, and not bright or grainy. Midrange reproduction is extremely natural and tonally balanced. Low frequency response is transmitted without coloration or exaggeration. With the MKIII, Harmonic Technology has taken the Pro-Silway to the next level of openness and low-level detail at a reasonable price.
Gene Towne
Sonogy Black Knight MKII ($2,250)
(Sonogy rep, Izzy Morone, smiles while accepting his MWC Award). Manufactured in small numbers in New Jersey since 1996, the Sonogy Black Knight amplifier has been something of a "cult" power amp available directly from the small group of enthusiasts who designed and continue to produce this excellent solid-state component.

The Black Knight MKII is a 175wpc, very high bias A/AB design with a pure class A gain stage. Containing no negative feedback, the output stage is choke-regulated, a design feature that contributes greatly to the tube-like presentation.

Dead quiet, the amp is hugely dynamic with deep articulate bass and extended, grainless treble. Transients are excellent. The MKII is timbrally accurate, transparent, and without congestion, projecting a most impressive soundstage with instruments and vocals appearing life-size.

Sonogy provides a 30-day return policy on the Black Knight, which is more than ample time to break-in a new MKII and sample its delicious sound. For $2250, plus tax and freight, you may steal this amplifier directly from the manufacturer. Few freight bills have been two-way.

Eichmann eXpress 6 Interconnects ($200/1m, $250/1.5m, $300/2m)
From Australia, the Land Down Under, come koalas, didgeridoos, excellent wines and an interconnect that is unique in design and termination - the Eichmann eXpress 6 with Silver Bullet Plugs - designed by the Wizard of Oz, Keith Eichmann.

The eXpress 6 was conceived around the patented Eichmann Ratio; a precise difference in diameter between signal and return conductors that, according to the designer, " … provides a reactive balance between the two for better sound quality." The remaining two pairs of conductors act as passive buffers to minimize electromagnetic distortion - the heart of Eichmann's EMF Control System.

Whatever magic the Wizard has worked, the eXpress 6 delivers a musical outpouring that is at once precise, extended, transparent, and open, with excellent bass and treble response, and an alluring sense of musicality. Tonally honest with a full-bodied midrange that is never edgy, grainy or bright, the eXpress 6 equally defines instruments and voices set in a believable soundstage. The eXpress 6 also benefits from its terminations: the Silver Bullet Plug, an RCA connector of cast polymer containing silver pins instead of the standard tellurium copper pins. Balanced connectors are also available. A must audition for those seeking excellence in interconnects at $250 for a 1-meter pair.
Bill Wells
Bel Canto eVo2 Monoblock Amps ($5,800/pair)
Overall, these amps are tonally neutral and dynamic sounding. They possess a stunning bass power that is tight and articulate. The midrange is wonderfully natural, accurate, smooth and musically authentic. Highs are extended, very clean, open, and unrestricted. The eVo2 monoblock amplifiers are shockingly good and represent a very high value by combining super power, finesse, delicacy and genuine musicality at a reasonable price. More importantly, these amps provide a glimpse into the emerging and wonderful world of digital amplification, with none of the negatives the listener might associate with this technology. In a nutshell, these amps are killers and render a sound so musically true that tube lovers may find themselves scratching their heads.

Balanced Audio Technologies 300xse Integrated Amplifier ($5,995)
A true gift from chief designer Victor Khomenko by combining the companies' wondrous ways with tubes, especially those special 6H30s in the linestage section, along with the benefits of a solid state amplifier section. Combined with the right speakers, this unit produces sound that is powerful, dynamic, punchy, transparent, detailed and musically accurate without sounding lean or lush. Also available with a very competent solid-state phono stage as well as the company's superb remote control capability. Tonally, this unit sounds quite neutral and will reward the listener with an outstanding musical presentation.

Balanced Audio Technologies D5 SE CD player ($5,500)
The latest version of the already highly musical BAT one-box CD player, is now equipped with the special 6H30 tubes, improved 24-bit chip, latest Philips transport, upgraded power supply and particularly when the unit is run in balanced mode, will produce a wonderfully musical, full sound with potent bass, superb articulation throughout the frequency spectrum, luscious midrange, extended highs with lots of detail and openness. This player basically conveys the soul of music and gets the music right with a sound and feel that is dynamic and emotional. The sound resembles really good analog more than a purely detailed and flushed out digital portrayal of the music. Generally speaking, I simply love how standard CDs sound through this player.
Ian Weber
Audio Aero Capitole MK II ($8,700)
Once in a blue moon a component is created that makes one reconsider the world of audio. One might begin to doubt if there really is a law of diminishing returns, and wonder just how good equipment can become. This new component, the Audio Aero Capitole MK II, has shaken my audio world. It has convinced me that the more you spend, the more sound quality increases. At $8,700, the cost of this CD player is undoubtedly high, no matter what your budget is. But the way it can transform a system is astounding.

To start, it ends (no pun intended) the notion that there is a trade off between smoothness and clarity. All I can say is that this CD player is vastly clearer and more detailed than any of my previous (and very costly) references while remaining significantly smooth and lively. I have found that I can even listen to and enjoy poorly recorded software on my high-resolution system. Often, a revealing system makes poorly recorded material sound displeasing and fatiguing—but not anymore. This player has greatly increased the size of my collection of "playable" CDs. So not only is the Capitole the most musically enjoyable player I have ever heard, it is also the most dynamic, quiet, transparent and best imaging as well, and by no small margin I might add.

Now for the kicker, not only is the Capitole MK II, such a devastatingly good front end, but it is also an awesome pre-amp. The Capitole includes a tubed variable volume control that can push as much as five volts! Although I myself have never compared it to a pre-amp, one of my fellow contributors here at Stereo Times has. Afterwards, he sold his $13,000 LAMM L2 reference pre-amp because he preferred the sound of the Capitole running directly into his amplifiers. So not only do you acquire a high quality CD player for $8,700, you also receive what is easily one of today's best preamps. Please note that the Capitole does not have any other line-level inputs so it's not a full functioning preamp.

But wait, there's more. While the original Capitole lacked a digital out, this new version includes one. Why is this important? After all, who would spend $8,700 on a transport when there are obviously other good ones for less? The answer is digital room correction, silly goose. This new feature allows the user to buy a Tact or other digital room correction device and run the digital out to the device and back into one of the Capitole's slew of digital inputs. This feature does away with the necessity to re-digitize analog information when using digital room correction. This versatile machine is easily a "best buy" when used without a preamp and receives my highest recommendation and nomination as a 2003 Stereo Times Most Wanted Component.