A TRIBUTE TO LEONARD HOCHMAN AND HIS RECORDINGS
Jazzman Extraordinaire
September, 2006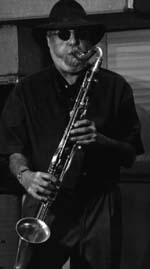 Here in the Northeast, as summer waxes and wanes towards fall, Mother Nature presents a paradoxical face: one that is long, pensive and languid in summer's final days and yet also, frenetic, with brilliant change as the momentum towards fall proceeds. At this equinox, one spies a long, lingering sunset over darkening pines, with a slight chill in the air. Yet, if one is also lucky, one is taken by surprise by a school of young bluefish boldly crashing a Cape Cod beach at dusk, moving so swiftly and ferociously that the school of sand eels they are chasing literally throw themselves on the sand ahead of the eager jaws of the bluefish. Whatever you wish to call this yin and yang time of year, it is filled with Nature's dynamic improvisation between lingering summer light and the quickening pace towards fall.

It is within this changing season that I have relished the music of an unsung jazz legend, the late Leonard Hochman, an extraordinary musical talent. Hochman, who passed away in 2000 at age 66, was the quintessential late summer bloomer. He was a veteran of the performance jazz scene in the fifties in New York, New Orleans and Boston, spending the later part of that decade at Ace Studios in Boston doing covers of Broadway and movie scores. Doing salutes to Glenn Miller in one gig and covers of show tunes in another, Hochman honed his skills on the tenor sax and began experimenting with the bass clarinet as a solo instrument. In the early 60's, he joined with Phil Wilson on Wilson's celebrated Prodigal Son album, in which his bass clarinet talent emerged. In describing his approach he once said: "different from that of most players, who come out of the Eric Dolphy influence. I just feel the bass clarinet like a tenor… I don't want to play a million notes. I want to sing through the horn." After his stints with Wilson, Hochman left the performance arena entirely for more than 30 years to raise his family and run an instrument rental company – all the while keeping in touch with the jazz movements of the times. It was not until the early 1990's that Hochman performed live again, re-emerging in his late summer glow to produce two recording gems: Until Morning [Brownstone Recordings 951] and Manhattan Morning [Jazzheads 9495]. Both of these discs are magnificent audiophile quality recordings that capture Hochman's unique ability to be not only a late summer bloomer, but a reveler as well: pensive, languid and supple on his inventive bass clarinet. Full of surprising flashes and spontaneous spirit on his demonstrative tenor solos. His bandmates on these two recordings follow his lead like moonbeams shining on water, so keen, natural and spontaneously inventive on their instruments. With the likes of the late, great (and also sorely missed) Alan Dawson on percussion, the effervescent Kenny Baron on piano and other wonderful personnel, these two discs are a glimpse into a prodigious musical talent and ensemble leader who left us too soon.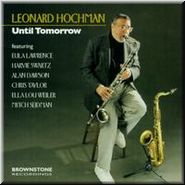 From the opening skip and frolic from Dawson on percussion to the playful, sinuous melody cast by Hochman's bass clarinet on its opening cut "The Dragon," Until Morning is an adventurous mixture of ballads, sambas and straight ahead bop that highlights Hochman's fluid way with vocalists as well as different ensemble combinations. The album highlights the Hochman ingenuity with lacing pensive, languid ballads with propulsive surprises at every turn. For instance, on "The Dragon," we are introduced right away to Hochman's bluesy way with the bass clarinet, all deep breathe, layered with wonderful stability of tone color from very low to high registers. Hochman is a master of fluidity and expressiveness on this unique solo instrument. If your system is up to it, you should be able to access Hochman's sliding up and down his reed, making for a further embellishment of his melodic lines, carved deep and pensive. The Dragon's "puffs" and slow gait are images that comically come to mind on this short and brilliant piece, combining comedy with uptempo blues mirrored in Chris Taylor's piano solo. On Hochman's interpretation of Hammerstein's "All The Things That You Are," Hochman moves totally differently on tenor: nimble and tender while Dawson lays down a fast paced pattern underneath him. Further on we encounter Mitch Seidman's scintillating guitar solo mixing and falling forward into Harvie Swartz's foundational bass solo, slow and steady. Concluding this great twist and turn on a classic is Hochman returning to take a satisfying repetition of the main theme while climbing up and down his tenor in easy strides.

Until Tomorrow also highlights the gorgeous work that Hochman creates with vocalists, here, the expressive Eula Lawrence. "Don't Misunderstand" is a slow barn-burner with Lawrence building her deep vocals into the thick fabric of Hochman's tenor takes, as he fluidly matches her delivery with breathy bravado and confidence. These two work together on this disc like partners who have been dancing for a very long time together – their synergy is uncanny and delicious. Speaking of swinging, "Our Day Will Come" finds the whole ensemble swinging away behind Lawrence's breezy vocals, with great swatches of color from Hochman's tenor always on target with Lawrence's cadences. The band picks up on this energy and sways with great soloing from Taylor on piano and Swartz. Around every corner there is a sonic treat, a surprise in tempo, melody or structure that always keeps one entranced. The recording quality of Until Tomorrow is a stunner, with the ensemble up and personal with the listener. The soundstage is natural and deep, with Dawson's kit particularly sparkling and highlighted on the right, to the joy of all who appreciate his subtle gifts. Hochman's bass clarinet and tenor are full and out front while Lawrence stands off left with a recorded naturalness and relaxed quality that is true in height and image. The natural ambience of this relaxed recorded session is enticing and a joy to behold and explore.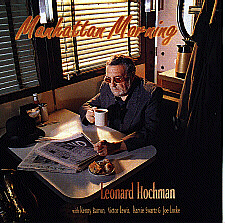 Hochman's later recording in 1996, Manhattan Morning, is a consistently brilliant piece of work, showcasing the full range of Hochman's talent as a musician, arranger and band leader. Again, the pensive and at times, comical, glow of Hochman's bass clarinet sits side by side with propulsive, energetic bop, paradox in action. The band assembled here is a jazz hipster's dream, including most of the band from the earlier Until Tomorrow, with Kenney Barron now on piano, Victor Lewis on drums and the dynamic Joe Locke on vibes sitting in on a few numbers. When I first heard "Tynan Time," I almost lost my way in the wind of Locke's flying vibe colors, Barron's piano maneuvers up and down and the ferocious, deep attack of Hochman's bass clarinet. The spiritual romp of this number comes to a complete halt with a great drum solo from Lewis, all space and depth at the same time. All join in on a quick pulsing refrain, thus masterfully winding up at home after this whirlwind of creativity. Hochman moves from the frenetic pace of this number to the quiet, pensive ballad, "I Apologize," testing all of the creative juices he can muster to linger amongst bluesy trills, turns, pauses and just plain brilliant playing on his bass clarinet. I could listen to him forever climb up and down on this instrument. The ballad ends with the lowest, breathy delivery you can imagine. On "DaLarna," the beauty of the ballad is plumbed by Hochman on his tenor, with masterful results. Barron takes over on an extended solo, softly and deftly probing the outer reaches of the simple theme. The synergy between Hochman, Barron and Swartz is a long, lingering delight, much like the lengthening shadows of late summer. Hochman and Swartz continue their beautiful partnership on "Beautiful Friendship," with Swartz beginning the phrasing and theme (with bits and pieces from "Somewhere Over The Rainbow") and Hochman building upon it with ingenious feel up and down his bass clarinet. Where these two can go together is beyond simple explanation, so intricate is their duet here.

Manhattan Morning concludes with "Dream Sequence," an airy proclamation to our end of the summer theme: of things yet to come. Locke's vibes form the centerpiece here, with loads of resonance and feeling. From Locke's extended solo of flowing colors, Hochman pushes forth at his dreamy best on bass clarinet- all breath, depth and emphasis. Deep down we go, to the bottom of his register with Hochman as the sure master blower of his instruments.


We welcome any suggestions for audiophile recording gems. Please write to nelsonbrill@stereotimes.com