Kinda Blu's Jazz Report -- Part 2
Anthony Callender
20 June 1999
Re-Issues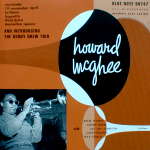 Blue Note was also busy in my absence as it released several old 10" LPs on disc. "Howard McGhee", the immortal bop trumpeter is joined by J.J. Johnson (tb), Brew Moore (ts), Kenny Drew (p), Curly Russel (b), and Max Roach (ds). "Introducing the Kenny Drew Trio" is on the same and Curly Russell (b) and Art Blakey (ds) fill out the trio.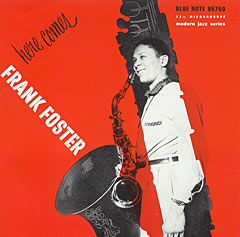 Also "Here Comes Frank Foster" (Blue Note 95750) featuring the great Count Basie soloist with Benny Powell (tb), Gildo Mahones (p), Percy Heath (b) and Kenny Clarke (ds). George Wallington's "Showcase" is on the same disc and features Dave Burns an unheralded but awesome trumpeter with Frank Foster, and Jimmy Cleveland (tb) Danny Bank (bs), Oscar Pettiford (b), and Kenny Clarke (ds). Julius Watkins Vol. 1 & Vol.2 (Blue Note 95749) are also swinging dates with Watkins do wonders on the French horn - a rarity among jazz soloists.
Interesting Notes
I've been spending a lot of time and money in a used CD store on 18th Street between 5th and 6th Avenues in Manhattan. It is called Academy, and Sometimes, I promised myself that I would pick up a particular disc at a later date, and then the record company pulled it before I could. Sometimes a particular artist wouldn't blow me away, so I wouldn't purchase his subsequent discs. For example, I missed Antonio Hart's first two CDs on the Novus label. I picked them both up within a week of each other at Academy. Both are good records. They are "For The First Time" (Novus 3120-2-N), and "Don't You Know I Care" (Novus 63142-2). Marlon Jordan's first album didn't too much for me, so I skipped the next two; "Learson's Return" (Columbia CK 46930), and "The Undaunted" (Columbia 52409). They provided me with the opportunity to appreciate him better and to hear some great early Tim Warfield. Speaking of Warfield, I heard him as part of the Christian McBride Quartet in December 1998 at Flushing Town Hall and he was terrific.
The Chicago Scene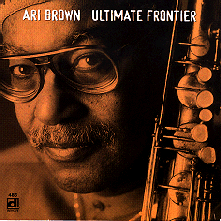 I was in Chi-town in September, and I really messed up bigtime! While there I checked out NO, I repeat NO , music. Do you believe that. Soon after my return to the Big Apple I started looking for some different sounds, and a friend hipped me to the Delmark label. I had a few Delmark discs; you know some old stuff by Donald, Byrd, Johnny Griffin, and Sonny Stitt. However, I had none of the real recent sides. Ari Brown's first Delmark release "Ultimate Frontier" (Delmark DE-486) is definitely worth picking up, as is his more recent CD, "Venus" (DELMARK DE-000). Excuse ignorant me but there are really some very talented but not well known musicians in Chicago. And, Ari is one of them. On "Ultimate Frontier" he is joined by his brother Kirk Brown (p), Yosef Ben Israel (b), Avreeyal Ra (ds), and Dr. Cuz & Enoch (perc). Ari can also be heard on Kahil El Zabar's Ritual Trio's "Big Cliff" (Delmark DE 477).
Percussionist and leader El Zabar put together this fine live date at the Underground Fest in 1994. Joining him and Ari Brown are Malachi Favors (b) and the incomparable Billy Bang on violin. Listen especially to "For The Love Of My Father" a tribute to El Zabar's dad - Ari plays piano on this cut. It is a touching and beautiful piece of music.
Another recommended Delmark releases are Malachi Thompson's "47th Street" (Delmark DE-497) with Billy Harper (ts), Steve Berry (tb), Kirk Brown (p) and a host of others), and Roy Campbell's "La Tierra del Fuego" (Delmark DE-469)
We Make Requests
This year Blue Note Records will celebrate its sixtieth anniversary. I hope The Note decides to put out some of its missing-in-action titles. Hello, Mr. Cuscuna - personally I am looking for Bobby Hutcherson's, "A View From the Inside" with much too seldom heard reedman Manny Boyd playing his you know what off. Please, please Mr. Cuscuna reissue that one. Also there is an unnamed fall 1969 date (probably "The Stroker") Lee Morgan with George Coleman (ts), Julian Priester (tb), Harold Mabern (p), Walter Booker (b), and Mickey Roker (ds). It was once part of the LP twofer entitled "The Procrastinator". It includes the following tunes, "Free Flow," a terrific rendition of "Stormy Weather," "Mr. Johnson", "The Stroker," etc. There's an Andrew Hill entitled "Grass Roots" (Blue Note 4303) with Booker Ervin and Lee Morgan that has got to be fantastic. Can you imagine those two soloists together on the same record? I drool at the thought! And speaking of Booker Ervin, don't forget to bring back his Pacific Jazz recording "Structurally Sound." I hope the people at The Note take this hint and get these recordings out soon!
Must Getz
Dave Brubeck's "Jazz at Oberlin College" (Fantasy F-3245, OJCCD-046-2 is a must getz. Dave and his partner in time Paul Desmond (as) turn this one out. The group is rounded out with Ron Crotty (b), and Lloyd Davis (ds). Check out Desmond's solo on "How High The Moon."
You must getz Ahmad Jamal's "Live At The Pershing." This live date features Jamal at his best. His music is crystalline and swinging. Pay close attention to him on "But Not For Me" and "Poinciana." Get it, you'll hear what I mean - this is a classic!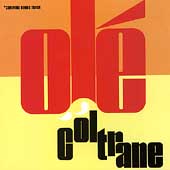 A definite must getz is John Coltrane's May 25, 1961 record date, "Ole" (Atlantic 1373-2). It is clearly one of the master's best - no lie! Freddie Hubbard on trumpet and Eric Dolphy on flute and alto sax compliment forward moving Coltrane. The title cut is monstrous, but the entire album is great music. McCoy Tyner (p), Art Davis and Reggie Workman (b), and Elvin Jones (ds) complete the band.

Another must getz is Dexter Gordon's "One Flight Up" (Blue Note BST 4176). Dex and Donald Byrd introduce us to sweet "Tanya" and then they follow up with "Coppin' The Haven" which sounds like a different take on Tanya, but an appreciably different one. Dex's and Donald Byrd's solos are great. Kenny Drew (p), Niels-Henning Orsted (b), and Art Taylor (ds) ably assist them.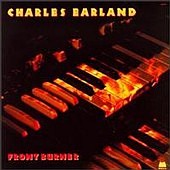 he final must getz for this outing is Charles Earland's "Front Burner" (Milestone - MCD9165-2), but be careful not to burn yourself. Mr. Earland swings - the track entitled "Mom and Dad" is a smoker or as they used to say in Ohio - a barn burner. Charles' crew consists of Virgil Jones (tp), Bill Easley (ts), Bobby Broom (g), Buddy Williams (ds), and Frank Colon (conga).
End Notes
There's a lot of music out there and if you have noticed I have not given any recordings a bad review. Some will assume that either I like everything I listen to or that I have not heard what I have not commented on. About a year ago a guy came up to me in J&R Music World Records department and said something like, "you're always telling me 'this is good and this is good', I've never heard you say that a recording is fair or bad". I explained to him that bank tellers are trained to spot counterfeit money. By studying and appreciating legitimate bills they come to recognize them. Conversely, when they see a phony it is so obvious. Similarly, I try to point out what I believe to be of quality. And no, I haven't heard everything.
See you next time.