Kinda Blu's Jazz Report -- Part 1
Anthony Callender
19 June 1999
As you can see we switched labels, I mean websites. Since last time I've received some interesting e-mail regarding my column. One writer wants to me review music from the avant-garde in jazz. Back in the late fifties and early sixties it was clear what that meant - Ornette Coleman, Cecil Taylor, Albert Ayler to name a few. Nowadays, I can't tell you what is avant-garde in the jazz realm. I believe that the free jazz that developed and evolved during that time period has become relatively mainstream. Its followers may still be small in number (?), but it does not evoke the same sense of adventurousness or newness that say, an Ornette displayed. However, I am not into free jazz recordings per se. O.K. some will say hey Blue get outside the box. Now don't get me wrong I can listen an appreciate some "out" stuff, but don't ask me to digest in one sitting what sounds like someone torturing a cat!
John Coltrane and Eric Dolphy grabbed me spiritually and musically. But, to be honest, Coltrane, in his later recordings, left me far behind.
Whats New?
There is a lot of wonderful new music hitting the scene and unfortunately I can only scratch the surface regarding what I believe is good.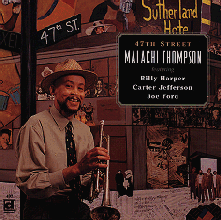 I recommend Malachi Thompson's "Freebop Now!" (Delmark DE-506) featuring Billy Harper (ts), Oliver Lake (as), Amiri Baraka (recitation), the late, Carter Jefferson (ts) and Joe Ford (ss) among others. The music, from two different dates, was recorded in 1993 and 1998. Thompson, and most of the Chicago crowd have a way of making the bop style sound so fresh. Their music is a blend of so many influences, blues, African, free jazz - you name it. Thompson and his crew put it together magically.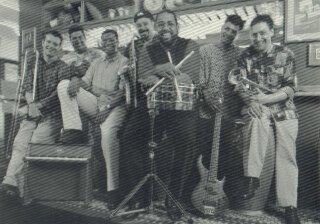 "Ralph Irizzary & Timbalaye" (Shanachie 66010) is the title of a solid latin-jazz session. Ralph and his band take this genre to another level.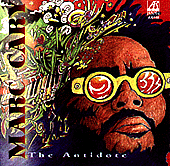 You definitely need "The Antidote" (Arabesque Jazz - AJ0140) provided by pianist Marc Cary. No matter what ails you Cary has the cure in this exceptional release. Listen to Ron Blake who is overdue for his own recording as a leader.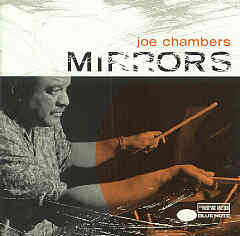 Joe Chambers' "Mirrors" (Blue Note) is an excellent album made so by the drummer's writing and playing as well as the participation of Eddie Henderson and Vincent Herring on this date. Joe plays vibraphone in addition to the drums.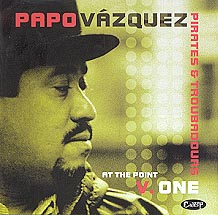 Papo Vasquez' long awaited second album, entitled "At The Point, Volume 1" (CUBOP CBC015) was released a few weeks ago. Papo hasn't been heard as a leader since his debut album "Breakout" (Timeless) was released in 1992. His new CD, recorded live at The Point in the Bronx, New York, includes Willie Williams (ts), Arturo O'Farrill (p), Andy Gonzalez (b), and Tony Batista (b), Phoenix Rivera (ds) and Horacio "El Negro" Hernandez (ds) and special guest Randy Brecker on "Coqui". We look forward to Volume 2 - I believe it will be released in the summer of 1999.
Who is Chris Cheek and why are they saying great things about him? "A Girl Named Joe" (Fresh Sound New Talent - FSNT 032 CD) answers the questions.
This young tenor saxophonist has impressed me after one hearing. The musicianship and writing are high quality. Chris shares tenor space with another reed sensation Mark Turner. The rest of the band consists of Jordi Rossi (ds), Dan Reiser (ds), Ben Monder (g), and Marc Johnson (b).
Steve Turre has done it again. He's a masterful trombonist, shellist leader and writer. His music is a joy - always. "Lotus Flower" (Verve 314559787-2) is his latest release. Ably assisted by Regina Carter, her violin literally sings, Akua Dixon (cello, c), the indomitable Mulgrew Miller, Buster Williams (b), Lewis Nash (ds), Kimati Dinizulu (perc), and Don Conreaux (gong). They do more than justice to Rashan Roland Kirk's "Inflated Tear". Steve's trombone is bright and brassy and we couldn't ask for anything more.
I have been a fan of trumpeter and orchestra leader Gerald Wilson for years, and although he is getting up there in age, his music remains as fresh as ever. His recent release "Theme for Monterey" was commissioned by the MAMA foundation to salute the Monterey Jazz Festival on its 40th anniversary. Mr. Wilson's music always swings, and this session is no exception. Great solo work is provided by Scott Mayo (ss), Anthony Wilson (g), Oscar Brashear (tp), George Bohanon (tb). I don't know if this is his Orchestra of the Millenium, but if it isn't I don't know if I could take what comes next. The band is killing!
"Requiem" (Columbia CK 69655) is Branford Marsalis' first quartet album since "Crazy People Music" and it is great. He is in top form his horn. We get to hear Kenny Kirkland's piano one more time. He died late last year. Eric Revis (b) and Jeff "Tain" Waits (ds) fill out the quartet.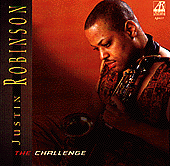 Last, but clearly not the least, alto saxophonist Justin Robinson has a new CD out and its good to hear him as a leader again. Its called "The Challenge" (Arabesque Jazz - AJ0137) and brings him together with Ron Blake (ts), Stephen Scott (p), Dwayne Burno (b), and Dion Parson (ds). Check this one out. You can also catch Justin on some old Cecil Brooks (Muse label) and Harper Brothers (Verve label) CDs. Several years ago I caught the Roy Hargrove Quintet live at the South Street Seaport and the gig was o.k. until a late arriving Justin horned in and blew us all away. Go, Justin!