'Nuff Said - Recording live session 1968 Apr. 7, Westbury NY, Westbury Music Fair
Originally released on RCA Victor LPS 4065 (US, stereo)
February 2005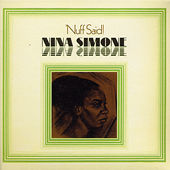 My heart did some serious skipping last week while watching a PBS documentary featuring the life and times of Martin Luther King. First off, the documentary wasn't your usual Black History Month spin-off or repeat I had seen in previous years. This episode was new, and quite refreshing as a result. Family and aids closest to King, his wife Coretta Scott and Andrew Young just to name two, reminisced on King's courageousness during some of his (as well as this country's) most trying moments during the intense and tumultuous sixties. Nearing the end of the program recollections began about where Young and other staff members were at the moment when the fatal shot was fired in Memphis, in the spring of 1968.
It was during this portion of the broadcast while Young was speaking that Nina Simone's voice sprang forth, from the background, ultra-low, but clearly distinguishable, singing "Why? (The King of Love is Dead)." The song, rather the phrasings, sung in the imitable style only Simone could, was hauntingly beautiful. I don't think I ever heard the song before. Further, I knew from Simone's voice something else was going on with this tragic and bittersweet song. It just didn't sound like a song that would accompany a documentary and be relegated only to background music. After some research, I learned the song was recorded live at the Westbury Music Fair on April 7, 1968, just three days after King's assassination. Simone's voice and emotion seemed so real and so heart-felt that though intended for background music, I never heard what Andrew Young said.
This song is available on various compilation discs but I actually found an original cloth-covered import CD of this performance at a local haunt in NY (to purchase an import go to http://www.tesco.com/entertainment/product.aspx?R=564235) Needless to say, I strongly recommend this CD which captures Simone at her creative peak. The title song, Why? (The King of Love is Dead) alone exemplifies why Simone was aptly known as "The High Priestess of Soul".

Clement Perry