Opera Audio Consonance Reference SACD 2.0
Something To Sing About
Dave Thomas
July 2004
"People's reactions to opera are very dramatic. Either they love it or they hate it. If they love it, they will always love it. If they don't, they may learn to appreciate it but it will never be a part of their soul." – Richard Gere from "Pretty Woman"

Overture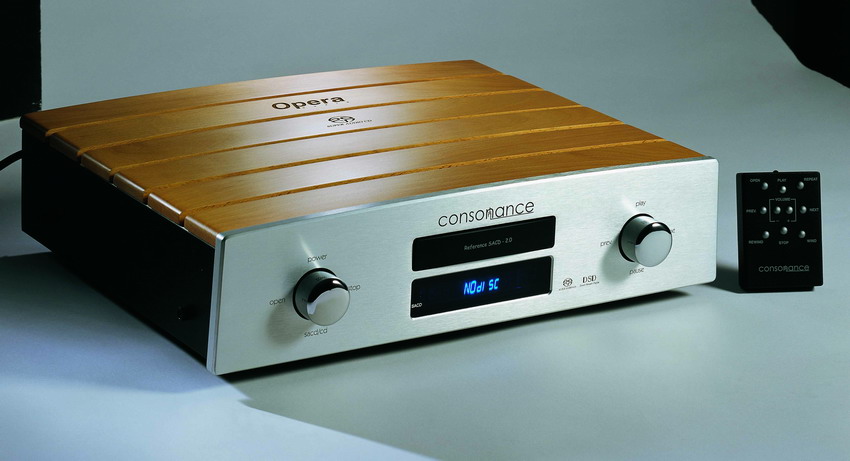 Stan Tracht (the US importer for Usher Audio) and I were having a lengthy discussion one day about all of the wonderful and affordable products being imported into the US from China and Taiwan. Companies such as Shanling, Xindak, and of course Usher, have enjoyed a fair amount of success in the US high-end audio market and it would appear that there is plenty more on the horizon.

One such company is Opera Audio and in particular, their Consonance line of products, which includes every thing from digital source components to tube headphone amplifiers and an LP playback system. It's the former that is the subject of this review: The Consonance Reference SACD 2.0, a vacuum tube stereo SACD/CD player.

Stan was good enough to direct me to Stephen Monte of NAT Distribution (the US importer for Opera Audio). I got a chance to talk to Stephen at CES and he gave me a choice of products to review from the extensive Opera Audio line. It just so happened that I had collected a healthy stack of SACD discs so I asked that he send me a review sample of the SACD 2.0. A few weeks later, the player arrived and has been pulling double duty as a SACD and CD player in my reference system ever since, save for a few weeks when my schedule had me continuously on the road and I lent the unit to Mike Wright to get his opinion. I was so impressed with how well it handled "red book" CDs that I had actually sent my reference Electrocompaniet EMC-1 out to MW as well. I didn't miss it.

Act One

The Consonance is a very distinctively styled product. The first thing you'll notice is six rather attractive, 1 7/8" x 17" cherry wood slats mounted atop a black anodized chassis. Each neatly rounded slat is about ½" thick and spaced about ¼" apart. The "Opera" and the "SUPER AUDIO CD" logo are engraved on top. A silver anodized faceplate features two large, polished-silver, unipivoting knobs that you use like joysticks to operate the unit's functions. The right knob selects power, stop, SACD/CD, and open functions and the left knob selects play, pause, previous and next track functions. All functions can also be controlled via a palm-sized infra-red remote. In the center of the faceplate is a black aluminum disc tray face and below it an led display window. The rear panel is the picture of simplicity: Coaxial and optical digital outputs, balanced and unbalanced analog outputs, and a power cord receptacle. A quick look under the hood reveals meticulously laid out PCBs and high-quality parts from WIMA, AEON, Auricap, and SyncMOS. The Consonance offers distinctive looks and a simple, elegant design. These things, alone would justify the price tag. But wait, there's more. The unit also has a built-in volume control, which allows you to connect the unit directly into your amplifier, bypassing the need of a preamp. But here's one more feature that is bound to make some audiophiles feel warm all over: A Sovtek 6H30 output tube.

Act Two

The hopes of many tube-based digital designs are to give a well-balanced presentation: sweet, warm, and lush treble and a well-focused lower midrange and deep powerful bass. So with that in mind, I gathered a selection of music that would benefit from this type of design.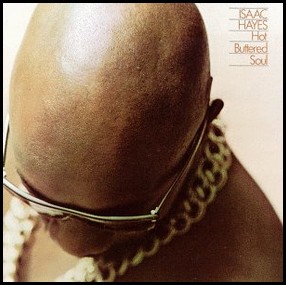 The first disc up to bat was the SACD version of Isaac Hayes' urban-soul classic, "Hot Buttered Soul" [MFSL UDSACD 2005]. The track that challenges my system's ability to reproduce deep synthesized bass is the ridiculously titled HYPERBOLICSYLLABICSESQUEDALYMYSTIC. This song wonderfully blends Hayes' powerful baritone balladeer-like vocal stylings with a classic R&B rhythm section. A pure solid-state design would have made some of the synthesized crescendos sound bright and aggressive, but the tube output of the Consonance made it completely palpable and life-like … well, as life-like as a synthesizer can sound.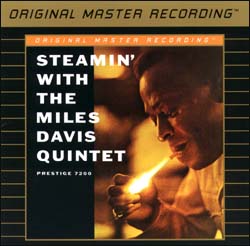 The next disc was the Miles Davis Quintet's "Steamin" [MFSL UDSACD 2019]. This is the first SACD disc I heard that was a noticeable improvement over the red book version. Track 6, When I Fall In Love features a really sweet performance by Davis and unmistakable support of John Coltrane and pianist Red Garland. Two other tracks, Salt Peanuts and Diane are rendered with great detail and excellent instrument placement. The SACD 2.0's tube quality shines on music like this though fans of hard popping dynamics may still prefer the ultimate snap of a pure solid-state design.

Where the Consonance SACD 2.0 really showed its moxy was in how it reproduced female vocals. Barbara Morrison's splendid disc, "I Know How To Do It" [Chartmaker Records CMR 14460] is flat out wonderful from start to finish. The first track is a snappy rendition of Aretha Franklin's Don't Let Me Lose This Dream. It's the kind song that sounds as though it were written with the jubilant Morrison in mind. Through this player it is quick, light and detailed. Every lick of her lips glides through the speakers. Track 13, Don't Go To Strangers, is the epitome of warmth and romance. It's the kind of song that benefits greatly from even a hint of tube warmth.


Act Three

The debate over the presumed sonic virtues of SACD vs. CD has long been lost on me. This is probably because the advances in redbook CD playback have almost nullified the benefits of SACD and DVD-A. The granddaddy of all SACD players, the legendary Sony SCD-1, certainly appeared to be a marked improvement over standard "red book" CDs, but then again, back then, SACD players had relatively mediocre CD playback capabilities because most of the technology was going into the SACD processor.

But now the marketplace is loaded with players that reproduce both formats splendidly. The Consonance is one of those players. Ordinarily when a player in this price range offers nice aesthetics and a bevy of neat features it usually comes at the expense of some sonics. But the Consonance reproduces recordings with a naturalness that you'd expect in far more expensive units. A generous soundstage, excellent image detail and very good dynamic rhythm and stability are hallmarks of this player, both in red book and SACD formats. Don't get me wrong, I don't mean to diminish the performance of the Consonance as an SACD player; it is definitely a more than worthy contender in that regard. But this player's performance with standard red book recordings will make it something to digital lovers.

Epilogue

The bottom line dear friends is that this is a lot of player for the money. You get a visually appealing, tremendously flexible, well-built piece of bona fide high-end digital playback for a frighteningly good price. I mean look at all these goodies: Tube sound, a full function remote, volume output control, excellent SACD and CD playback, balanced (XLR) unbalanced (RCA) tube outputs, and optical digital outputs which means the Consonance can also be used as a transport to mate with some of the many wonderful DACs that are available these days.

In the Consonance Reference SACD 2.0 Opera Audio has given the fiscally responsible, music-loving audiophile something to sing about. I hope to eventually report on more of their impressive product line. Until then, you'd do well to seek this fantastic player and company out. You will definitely appreciate it and it may even become a part of your musical soul.


Mike Wright Chimes In

Okay, I'll have to be honest and say that for me, the aesthetics of the player were not my cup of tea. Though tastefully done, the front panel display is barely readable from more than a few feet away. The movement of the front panel "toggle knobs" is something else that the user will have to get used to. The text on the front panel is not very legible unless you're standing directly in front of the unit.

Despite these subjective shortcomings the Consonance player is very musical. Its sonic character may be slightly on the warm side of neutral and it's not quite as detailed or has the same type of rhythmic drive and dynamics that the Electrocompaniet CD player has but it is actually more musical than the Electro. The high end is not quite as extended as the Electro player. It does not have quite the articulation on brass instruments or massed strings. However, this player seemed much smoother and much more natural in the midrange than the Electro player. Vocals, especially female, solo guitar and woodwind instruments have a more natural feel to them. The Consonance player has good bass but does seem to have a little midbass prominence. The bass is extended but I would like it to be a little tighter. The Electro's bass is as extended but tighter and tuneful.

A lot of what I heard from the Consonance was cable dependent. Cables with a warmer sonic signature, such as the Virtual Dynamics Nite Series II and the Sound String cables added to the already warm sounding nuances of this player. Switching over to the Dynamic Design Platinum cables gave the Consonance a much faster, detailed, and dynamic sound that bought it closer to those virtues that I gave the Electro player the nod on and tightened up the bass without sacrificing it's musicality. With tube electronics, such as the very nice Antique Sound Labs Hurricane amplifiers, the presentation was musical but didn't give me the kind of transient response and drive I have come to appreciate with the Electro. Switching to the Soaring Audio SLC-A300 bought things more in line with my ideal with the detail, transient response and bass impact making for a more musically satisfying experience.


Manufacturer's Response

Thank you for a review that reveals the very essence of the product: high quality with big bang for the buck. For a relatively new company in the U.S., Opera Audio is Proud to be recognized as manufacturing high-quality products at reasonable prices.

We do all the design and assembly in-house instead of outsourcing it. We build key components such as transformers in our own factory. The latter is something we are particularly proud of, as it's the symbol of our design and manufacturing capability.

Such is the essence of our SACD player reviewed in the article. Because of this philosophy, we strive to make the best product possible. We do plan to make a series of cost-no-objective products including a new SACD player slated to come out at the end of the year. Stay tuned!

Opera's Consonance line has been rapidly expanding in recent years. We are building every link in the Hi-fi system: from cables, amps, and speakers to source components and equipment racks. In the beginning stages we were concentrating on kit form products. But now, with the success of our full product line, we no longer provide kit components, including transformers (a secret of why our kits have been raved on by enjoythemusic.com and other sources) to DIY Hifi Supply. Instead, we are focusing on new product design and manufacturing. We have been enjoying a steady and warm partnership with Stephen Monte at NAT Distribution and we stand behind products sold through NAT and its authorized dealer networks.

This is the first review of our products by Stereo Times. We are looking forward to future articles on our product.

Ma Wei and Liu Zhaohui
Opera Consonance Audio – Beijing, China



Specifications:
D/A Switchover: T1 DSD1702
0dBFS signal output: 2.3V RMS
Output Terminals: Gold plated Tube RCA unbalanced and gold plated XLR balanced
Frequency response: Less than +/- 0.1 dB deviation 10Hz-35kHz
Signal-to-noise ratio: More than 100dB (Vacuum tube XLR output)
Signal-to-noise ratio: More than 100dB (Vacuum tube RCA output)
Crosstalk: Less than -100dB
Distortion (XLR): Less than 0.03%
Distortion (RCA): Less than 0.03%
Intermodulation: Less than 0.03% (19kHz + 20kHz)
Vacuum tube: Sovtek 6H30 x1
Dimensions / Weight: 21cm x 43cm x 33cm (HxWxD) / 16kg(wood top panel)
Dimensions / Weight: 21cm x 43cm x 33cm (HxWxD) / 18kg(Metal top panel)
Price: $2,500.00

Address:
Opera Audio Co., Ltd.
C-1501, Building No.9 Kingdom Garden, Xiaoxitian
Haidian District, Beijing, China
Phone: 86 10 62220935
Fax: 86 10 62220935
Email: klep@public.bta.net.cn
Website: www.opereaudio.com

Nat Distribution (US Importer/Distributor)
650 Cedarbrook Road
Southampton, PA 18966
Phone: 215-953-9099
Email: info@natdistribution.com
Website: www.natdistribution.com