Luminous Audio Technology Synchestra Reference
What's In A Name?
Gene Towne
21 November 2002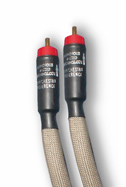 Specifications
21 AWG twisted twin conductor
Continuous-cast 6-nines OFHC copper
Fine-mesh fiberglass 3/8" diameter jacket, air-core insulation
Eichmann Bullet Plug® RCAs, Neutrix XLRs $80 additional
Unshielded. Shielded available
Inductance: 1.95 mH/m
Capacitance: 92 pF/m
Resistance: .035 ohm/m
Price: $519/1 meter pair

Address:
Luminous Audio Technology
8705 West Broad Street
Richmond, VA 23294
Telephone: 804-741-5826
Fax: 804-346-0876
Email: luminous@cavtel.net
Website: www.luminousaudio.com

Luminous Audio Technology Synchestra Signature interconnects have brought us closer to audio Nirvana over the past few months, an accomplishment of some note since no home equity loan was required to obtain superior cable performance.

After a thorough scouring of our CD library and many extended listening sessions, I was satisfied that the top-shelf Luminous cables had, indeed, earned their place as a reference. Attention then turned to an assortment of components making their way into our abode for audition and possible review. One of the more notable was the Electrocompaniet EMC1 24/192 CD player reviewed here last July by Clement Perry, the latest version of which upsamples. Owners of the older 24/96 model may upgrade to the 24/192 for $1000, and to a second "Signature Edition" modification for an additional $800. The EMC1 24/192 is now $5500 MSRP, the latest increase of $500 reflecting analog and DAC board modifications - among other goodies - and a robust Norwegian krone. Stunning in its portrayal of Red Book CDs, this player is in select company at any price. Performance suggests that the original SONY/Philips CD format is very much alive, despite format wars.

But I digress. Listening through a variety of components, the References continued to fill our listening environment with sound that was balanced, neutral and tonally honest. Layered images of substance on a wide and deep stage took form with detail in abundance. Exceptional transparency, excellent resolution of detail and a sense of ease created a synergy that begged extended, fatigue-free listening. Simply put, the wire got the hell out of the way and let the music come through; midnights became notable.
Something Old, Something New
As late spring turned droughtish and summer's dog days came early, Luminous Audio Technology's Tim Stinson informed me that his new Reference, gestating for months, was now in production and hot as Colorado, and asked if I would like a set for audition. Absolutely.

The latest edition of the 21-gauge, continuous-cast, 6-nines OFHC copper conductors in the Luminous twisted configuration end with a more surprising twist - Eichmann Bullets, RCA caliber, from the Land of Oz.

In addition to changing from the Signature's Cardas Silver RCAs to Keith Eichmann's polymer plugs that are, yes, Virginia, silver-soldered to the copper conductors, the Ref departs from standard Luminous practice in its final dress - a fine-mesh fiberglass jacket covering nothing but air and the wire; no silicone, no polyurethane. Like its sibling, the Reference is unshielded for maximum performance, with a shielded version available that its designer admits is "not as good, sonically."

Handsome grayish-tan runs ending in shrink-wrapped black over the red barrels of the Bullet Plugs, the Reference arrives in a metallized plastic bag, as does all wire from the Richmond, VA, manufacturer. The bags are the company's containers of choice for two reasons; first, to protect their contents from X-ray and EMI screening processes used by shippers and second, Luminous says its resources are "dedicated to cable technology. We do not believe that you should have to pay for exotic wood, velvet-lined, or other 'designer' containers that add to cable cost." Commendable.

Three sets of References, fresh from their bags and female RCAs on components still squeaky, I set about cleaning the tellurium copper contacts of the Bullet Plugs with Caig Pro Gold. A few laps around the center pin, a solid wipe on the return contact ball and voila! No compromised sonics here.

There has been some chat about "fragility" of the Bullets. While a few ham-fisted DIYers have reduced these polymer terminations to unidentifiable red blobs with their soldering techniques, you should have no difficulty with the terminations or the wire, assuming you don't use the References to tie packages. The only caveat: the twisted 21-gauge conductors are much smaller in diameter than a pencil lead and covered with nothing but air surrounded by woven fiberglass mesh. This makes them more susceptible to damage through careless handling than wire clad in silicone or polyurethane.

In and out of components many times, I have had no problems with the Bullets, which maintain their firm grip on female connectors regardless of size variations. Normal care in handling is well rewarded by the performance of these terminals, which are essentially impedance neutral, a factor in the greater overall performance of the Reference compared to the Signature.

The Usual Suspects were lined up for an extended listen - Jesse Cook's Gravity [Narada Equinox ND-63037], Compact Jazz Getz [Verve 831 368-2], Here's To Life [Verve 314 511879-2] with Shirley Horn, Vivaldi's Four Seasons [Chesky CD-33], Waltz For Debby [Analogue Productions CAPG-009] and Introducing...Reuben Gonzalez [Word Circuit/ Nonesuch 79477-2]. A number of other discs also showed off the Refs' capabilities, among them Suba's Sao Paulo Confessions [Six Degrees 657036 1019-2], Nocturne by Charlie Haden [Verve 440 013 611-2], Trittico [Reference Recording RR-52CD] with the Dallas Wind Symphony, and a classical piano favorite that first appeared on vinyl in 1956, Introuzables d'Aldo Ciccolini [EMI 7243 5 73595 2 8]. All provide an excellent workout for any system and quickly display the capabilities and shortcomings of cabling, assuming the sources are adequate to the challenge.
Hear, Hear
The opening cut from Jesse Cook's Gravity [Narada Equinox ND-63037], "Mario Takes A Walk," sets the pace for the rest of the CD, with Cook's picked guitar strings establishing the 16-note theme which instantly repeats and moves into a glissando introduced by the thundering timbales of Blake Manning. Add to this the sounds of percussion esoterica, including surdos, repiques, shakers and both the pandeiro and quika - ask for these in your local Target - courtesy of Mario Melo. Tony Levin's bass line pulls this musical mélange together. Spatial relationships among the group, and layering and separation of musicians, are more clearly defined through the Reference, each instrument tightly focused with a greater exactness of image. The soundstage grows in depth and width, with a perceived increase in volume of the venue adding to the illusion of "being there." Background percussion detail abounds.

In the quintessential Here's To Life [Verve 314 511879-2], Shirley Horn's pensive, foggy vocals are charged with emotion, from the title opener to the final cut "Summer (Esparte)." This eclectic collection of ballads features the lush string arrangements of Johnny Mandel, with Shirley accompanying herself on piano. Horn's voice is captured completely by the Reference, from the nuanced articulation of each word, to the fragile exhalation of the last syllable. The vocalist is palpable; she's in the room. The recording gains in intimacy through the latest Luminous Synchestra Reference, which draws the performance more tightly around the listener. Coincidently, the orchestra is more expansive through the Reference, the massed instruments weaving themselves with greater individuality into a larger musical fabric.

Piano is reproduced as recorded through the References, which established the baseline neutrality as well as its tonal and timbral correctness. In the recordings above, music runs the gamut from lounge accompaniment, jazz improvisation and Cuban rhythms to classical and Latin of a different character. In each, the tonal qualities, timbre and decay of individual piano notes have a bit more life when heard through the Reference; in particular, the timbre of a dying note lingers longer as it disappears into nothingness. Transients leave nothing to choose between the two cables; both are very quick in their attack with no discernible overhang.

Vivaldi's Four Seasons [Chesky CD-33], features period instruments that, through both cables, provide a feast for the ears. A trio of violins, viola, cello and bass put forth their voices clearly, vividly and with great "woodiness" either when played ensemble or individually. Strings are silken, extended at the top and absolutely without a hint of grain. Transparency and openness, the hallmarks of these interconnects, are taken to another level through the Reference, with the sound of the strings in the higher registers reaching beyond the Signatures. The other acoustic instruments in this recording, such as the baroque guitar, archlute or theorbo, whether plucked or strummed, similarly display an immediacy and purity of tone that is most arresting. Add in the harpsichord virtuosity of the late Igor Kipnis for good measure and the potpourri of strings envelope the listener in its naturalness.

Charlie Haden's Nocturne [Verve 440 013 611-2], a collection of boleros by noted Mexican and Cuban composers, includes three contributions by bassist Haden and contemporary Cuban pianist Gonzalo Rubalcala. Among the jazz personalities assembled by Haden for this label-defying session are Joe Lovano and David Sanchez on tenor sax, Pat Metheny on acoustic guitar, Frederico Britos Ruiz on violin and Ignacio Berroa on drums, bongos and maracas. In constant rotation in our system, this highly recommended CD highlights every area in which the Signatures and Reference excel, the latter to a greater degree. Resolution is an exceptionally strong attribute in the Reference. In closing "Moonlight (Claro de Luna)," the thrum of Haden's last bass note fades to near silence and as he audibly releases the string, a light buzz introduces the final piano note from Rubalcaba. The highest C establishes itself, fades quickly and evaporates. What a mesmerizing moment. Micro-detail through the Reference reminds one of the highly understated Rolls-Royce horsepower ratings: "adequate." I would add, more adequate than the Signatures.

As for brass, the horns of Lovano and Sanchez in Nocturne are liquid, golden and full, with a softness reflecting their material and accompaniment. Then, there's the tenor of Stan Getz fronting nine of Antonio Carlos Jobim's Brazilian bossa nova standards and three American evergreens in Compact Jazz Getz [Verve 831 368-2], featuring a host of the genre's greats. Getz' horn is displayed to its fullest, from "Desafinado" and "The Girl From Ipanema" featuring the crystalline vocals of Joao and Astrud Gilberto in a group setting, to "Moonlight In Vermont" with orchestra conducted by Claus Ogerman. From the Latin phrasings of Jobim's gems to "Summertime," every note that Getz forms stands out with brassiness both burrish and burnished. Key clicks, phrase-ending vibratos and reed sounds define the neutrality, openness and transparency of the Reference. This is club-close sax most definitive. Once again, the Reference betters its sibling.

The Reference also reaches more deeply into the bass regions. Charlie Haden's work in Nocturne displays well the ability of the wire to present bass lines naturally with no apparent colorations, bloat or muddiness. Clarity and vividness of individual notes, chords, transitions, and the complex sounds associated with finger and string movement are notable attributes of the Signature and the Reference, the latter interpreting the lower registers to a greater degree. I put on Nocturne (twice) for a friend who has played jazz bass for years. After listening through two glasses of '97 La Castellina Chianti, Dean affirmed, "That's about as real as it gets." He's bought his own copy.
The Holy Grail?
To say that the Reference is the ultimate, the "best," the End of The Search, would be absurd. I would, however, say that the addition of the Reference to our music system brought further refinements in the areas in which their predecessor, the Signature, excelled. The two cables are familial in overall presentation, but the Reference bests its older brother. While the edge is not of the "Wow!" variety, the differences are apparent and move the newest Luminous interconnect wire into strata more rarified.

From affordable to hideously expensive, there is wire out there to suit every budget and taste. Within these parameters lie the Luminous Audio Technology Synchestra References, superbly musical and an exceptional value. To not audition them in your system is to miss the mark by an order of magnitude.