Sablon Audio Grand Corona AC cords and Panatela Interconnects
Getting closer to the Truth
July, 2012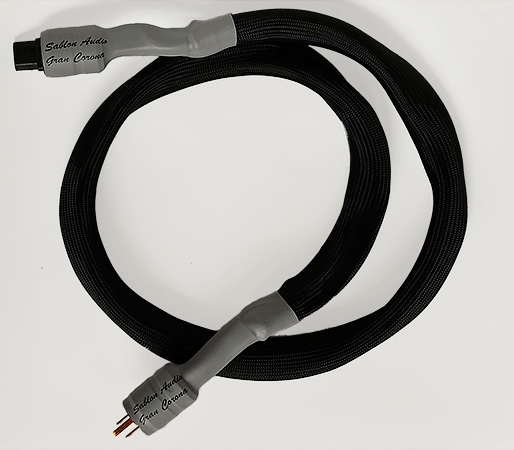 In April 2011, I reviewed the Robusto from newcomer Sablon Audio. This was their first AC power cord and I felt its performance, especially for the money ($675) was very impressive. The Robuto drew its name from its rich and robust sonic characteristics - I discovered quite surprisingly while reviewing them back in the spring of '11 (review here). I was so pleased by the Robusto in fact, I still enjoy and reference it when comparing other AC cords. The Robusto, for my tastes, removed some of the ever-so-slight hardness I encountered with other far more expensive AC cords. Sablon Audio's designer Mark Coles officially introduced a newer series of cables into his line. These include the Grand Corona AC cord named the "Grand Corona" and Panatela interconnects which retail for $850.00 and are the subject of this review.

When Coles asked if I would like to hear these latest products, of course, I jumped at the chance. Having experienced the Robusto's rich and high resolute qualities, I had to ask Coles what prompted him to produce another AC cord so fast, given the success of the Robusto? Coles responded "It was the feedback of both customers and reviewers that promoted the development of Gran Corona in order to provide a more neutral and higher performing power alternative to Robusto. Moreover, I already had an early prototype in my own system before I released the Robusto for review and worked iteratively upon this with all the tweaks I could muster to improve its resolution and linearity whilst maintaining musicality. The reduction of AC borne noise was a key developmental aim since this provides for greater transparency and dynamic range."

The next question was: what's the physical difference between the two? Coles response "The key differences over Robusto which delivered these improvements were a larger wire gauge to better dissipate noise, arranged in a low capacitance geometry, with all conductive components now being cryogenically treated to clean up the crystalline structure. Past experience with products from Shunyata and Alan Maher had shown just how effective crystals can be at mopping up noise and I experimented with different combinations of crystals in the plugs to determine the most synergistic combination. The finishing touch was to control resonance in critical areas with Anti-Vibration Magic paint, before choosing a name from the lexicon of cigars."


Physically, the Grand Corona and Robusto AC cables look strikingly similar given their cut from the same cloth. However, picking up the Grand Corona (GC) in your hand creates a sound letting you know something's inside this AC cord. Yes, passive conditioning says Coles. Crystals of varying types Coles discovered helps dampen and even remove unwanted noises ala the old Shunyata cords. However, the crystals are only used at the IEC and AC plug.

The Panatela silver RCA interconnects are nicely insulated in a cloth-type dielectric which I found attractive. Coles says this wasn't about looks as much as it is performance. That this natural fiber is much better than the usual Teflon housings. Xhadow plugs were the chosen connector on the Panatela as these are said to be among the best available.


First impressions.

I installed the first Grand Corona (GC) AC cords and Panatela interconnects to the Beyond Frontiers Tulip integrated amplifier. I also connected a second GC into the Laufer Teknik (formally Nova Physics) Memory Player. All were plugged directly into a PS Audio Power Plant Premier. The original Robusto AC cord was then used from the PS Audio to the wall. The GC is an imposing AC cord. Though substantial in girth, it proved an easy swap due to its flexible design.

Out of the box, the GC/Panatela combo possessed a neutral characteristic that at first blush was initially underwhelming. My expectation given the information provided sounded as though I missed something. In a word: unexciting. I was expecting, at the very least, the same impression that the Robusto gave me out of the box (Coles, informed me that these cables had zero burn-in. Therefore, I gave them the customary 100 hrs. before I listened again).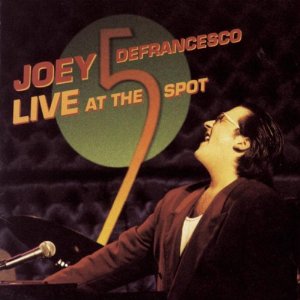 For burn-in, I chose a live '93 recording called Joey DeFrancesco Live at the Five Spot. This disc, which features Joey and Jack McDuff on the Hammond B3 organ, has everything in frequency the extremes one can ask for especially to burn-in some cables with. This disc also features jazz greats like Houston Person, Kirk Whalum, Illinois Jacquet and the late Grover Washington on saxophones. It also is, for me, far more reliable than just your ordinary and boring pink noise burn-in disc. I hit the repeat button and let Joey do his thing for about a week non-stop. I prefer this technique because of the naturalness of recordings and the way I listen to music.

The 100-hour burn-in did the trick.


Sonically speaking.

The first thing the GC/Panatela served up was the funky bass notes that flooded my listening floor from this remarkable disc. The bass notes that emanated into my room by both Joey and Jack McDuff had my couch literally shaking via a modest pair of Sunny Horn loudspeaker. Though, this time around, the bass was more defined and cleaner than the Robusto - while maintaining texture and definition. The overall clarity of the GC/Panatela combo allowed me to hear trumpeter Jim Henry's outstanding solo meld with the B3 organ duo, yet and at the same time, remain separate and apart.

The GC/Panatela combo also unleashed a very clear but richer dosage of harmonic colors and hues into the midband frequencies. This, in my opinion, give instruments, especially the human voice its very life. High frequencies were relieved of any exaggerations that might call attention to themselves (especially on less than stellar recordings). This not only makes the GC/Panatela sound balanced, but also gives it a very natural and organic feel. I so admired the extra body heard on saxophones. More brassier and fuller and more dynamics which brings about greater rhythmic subtleties. Perfect example, "Work Song" has to be the funkiest jam session on this CD. The song itself is just short of 10-minutes in length and. All those pros jammed on one stage showing off their skills was truly a mesmerizing performance. Joey Defrancesco introduces Grover Washington Jr. and immediately the fun begins, the GC picks up the applause from this intimate gathering of jazz lovers and provides a sense of the small accommodations within the Five Spot. The applause was also in rhythmic syncopation with Wookies drum kit. The GC gave me a chance to listen and highlight and pinpoint when and where Wookie would splash the cymbals, kick the bass drum or tap the snare drum with clarity and tone.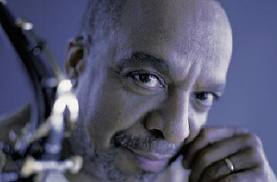 Grover Washington Junior's fast pace and saxophone play makes Joey scream out his satisfaction to the audience, from backstage. Next to take the lead comes Paul Bollenback on guitar amid more furious applause and syncopated hand claps. Now Joeys turn, riffing vocally alongside his B-3's notes and singing along as well. The GC/Panatela let Joey's taunts and adlibs through in an organic fashion that proved a sonic treat. I could not contain my toe tapping and hand clapping, so I momentarily forgot about taking notes and joined in with the group, to its full tilt ending. Wow.

There were several benefits I believe the Sablon Audio Grand Corona and Panatela interconnects bring to the listening experience over much more expensive cables. First and foremost is the wonderful transparency usually limited to the much more brands. This lends to more intimacy between you and the music, not to mention the musicians themselves. What I mean by that is, via this affordable dynamic duo, I am able hear more into the interplay between the musicians than ever before. Second, there is an added rhythmic foundation and pace that never feels rushed or out of sorts. It's a sound with a flow that doesn't let up or ever become boring or causes early listening fatigue. This is no cheap trick design either because, if it were, I would have discovered it a long time ago via the Robusto - and these newer products by Coles are clearly and obviously better sounding.
Lastly, the Grand Corona AC cords and Panatela interconnects perform way beyond their price point and as a result will make it very hard for more expensive offerings to justify their (usually) twice as expensive asking price.
I've thoroughly enjoyed my time with the Grand Corona and Panatela cables from Sablon Audio. I honestly believe the best thing about these cables is their price to performance ratio. Hey, I am not saying that spending $1700.00 isn't a lot of money these days - especially on products that hardly anyone has heard of. I'll be the first to admit, I've spent lots more on well-known products that produced far less. I honestly believe it's the no-name guys like Mark Coles who have something to prove and are finding better and more affordable ways to get you closer to the music. For the price of the Sablon Audio Grand Coronal and Panatela cables, I think I made the right choice. Highly recommended and my choice for Most Wanted Components in 2012!


Company Information: Grand Corona AC cord and Panatela Interconnects.
Price: $850.00 each
Distributor Direct
Website: http://sablonaudio.com/
contact@sablonaudio.com