Luminous Audio Technologies Synchestra Signature Cable
Gene Towne
3 February 2002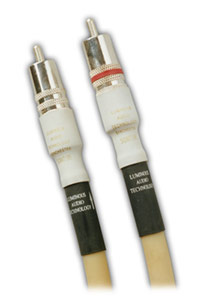 Specifications
Twin axial construction
Two 21-gauge continuous cast, 6-nines OFHC copper conductors
Military grade enamel coating
Polyurethane dielectric and silicone jacket
Terminations: Cardas silver RCAs using SILTECH silver solder
Inductance: 2.1 mH/m
Capacitance: 112 pF/m
Resistance: .026 ohms/m.
Price: .5m/pr $399, 1m/pr $469, 1.5m/pr $569, 2m/pr $669
$100 per additional meter/custom lengths available
Neutrik XLRs $80
Address:
Luminous Audio Technology
8705 West Broad Street
Richmond, VA 23294
(804) 741-5826
Website: http://luminousaudio.com
E-mail: luminous@cavtel.net
Let There Be Light
Wire.
What is arguably the most controversial of all high-end subjects was under discussion recently at one of the more reasoned audio websites, to which component manufacturers and dealers post as the topic may occasion. A respected member of the industry and maker of cable was commenting warmly on wire products from a competitor -- Luminous Audio Technologies of Richmond, Virginia.
Interest piqued, I checked the Luminous website. Refreshing. My sensibilities weren't insulted by hype and pricing didn't run counter to Towne's First Rule of Component Connection: Cable for a quality high-end system should not require a home equity loan. Long since having deemed the Wire-of-the-Month-Club of no interest, my quest admittedly continues sporadically to improve upon my NBS Monitor IV reference interconnects which, while excellent sound conductors, continue to bother me; more on that later.
LAT -- no connection to LAT International -- has been in the wire game for a decade and markets its line through 26 dealers. Products include the Monarch II and Synchestra interconnects, the Allegro digital cable, and the Prestige, Renaissance and Synchestra speaker cables. Signature versions of interconnect and digital cable is the company's crème de la crème.
A couple of emails to Tim Stinson at Luminous resulted in two pair of new, unburned Synchestra Signatures interconnects, LATwire's best. One meter of beige silicone, ending in black collars tipped with white, terminated by silver Cardas RCAs. Very nice. With the wire came a brief caveat from Stinson, "Give them a week." Instructions packed with the interconnects suggest 24 hours of break-in, but one week of constant play has long been my baseline to allow new wire, already burned-in or not, to settle before listening seriously. While not mentioned in the owner notes accompanying the interconnects, Luminous ICs are marked with arrows near the connectors indicating signal direction. Maintain direction after break-in.
The Luminous goal is "to provide audiophiles with an affordable alternative to high-end hype." Stinson and Co have succeeded in that endeavor, as their top-shelf product so well displayed upon audition. Their catchphrase, "Music so clear...you can see it," is a bit extravagant, but I'll give LAT that one; every product has a signature and I was in receipt of theirs. As to transparency, we would see.
To DBT or Not To DBT
On my knees paying homage to the audio gods, I performed the obligatory cleaning drill and plugged in the Signatures, a 1m run between the Accuphase DP-55 CD player (I have opted out of vinyl) and my Mullard-tubed conrad-johnson 14LS, and a second 1m pair between the c-j and my venerable, modded Classé Ten amp. I then headed for the couch and The Remotes; wearing out the carpet changing levels I no longer consider an audiophile must.
Hands full of buttons, I poked two. "Mario Takes A Walk," from Jesse Cook's Gravity [Narada Equinox ND-63037], a favored reference, hit me between the Avalons with the group signature. Appropriate, I thought. Cook's opening notes cleanly established the pace--transients quick and sharp, fading without overhang and repeating. Blake Manning's drums intoned with authority mid-stage, staccato strikes on drumheads tightly melding with Mario Melo's sharp, insistent percussion behind the bass of Andres Morales. Each of the instruments was clearly focused without edges, was well textured, and their placement obvious in the acoustic. Dimensionality was apparent from the opening notes. On the down side, the stage seemed a bit narrower and slightly truncated compared to the NBS Monitor IVs, but more of everything was expected with continued break-in. I was not to be disappointed.
The Signatures grabbed my wife's attention "...out of the box," she would later point out. Possessed of a singing voice of some note, Jo is a high-end devotee and a serious listener when called to account and an excellent component critic in her own right. The Avalons had been her purchase after lengthy comparisons with other regarded speakers. On the notepad in front of me, the words "complete," "no edge" and "close" formed as I listened again to Mario walking. Gravity played through once more and Jo enthused, "That's music. It sounds more...together." Well put.
A week of music played through the Signatures and it was time for serious listening. Compact Jazz Getz [Verve 831 368-2], features The Man, Jobim, Bonfa, Gilberto and others who have made the Brazilian beat a part of the jazz repertoire. "How Insensitive" is a musical kaleidoscope comprising sax, guitar, bass, piano, drums, percussion, and a lovely vocal by Maria Toledo. Getz' tenor opens, arresting in its correctness, and is joined by Luis Bonfa's warm guitar, with percussionist Paulo Ferreira on the wood block providing immediate depth left and to the rear of Getz. George Duvivier's bass intones with suitable body behind Getz mid-stage, while Jobim's piano enters the right foreground. Drummer Jose Carlos adds additional percussion notes behind and slightly right of Jobim as Toledo's voice floats in over all. Overall spaciousness of presentation had now assumed that of the reference NBS. Transparency of the performance was superior.
As I listened into the music, the intimacy of a club setting closed around me; imaging was exceptional, the space between, in front of and behind the performers well delineated. The cool edge that had been a part of this disc with the NBS had disappeared. Out with the Signatures, in with the Monitor IVs. The slight chill and dryness returned. Perhaps acceptable in a nice Brut, but out of place here. Returning to LATwire, the system once again became tighter musically, more "together," more enjoyable.
For voice, another excellent reference from the Verve catalog is the title track from Shirley Horn's Here's To Life [Verve 314 51 1879-2]. This is an exceptional recording of what the aging jazz diva considers her finest collection of ballads -- melancholy, plaintive, bittersweet, but mostly lush -- with strings throughout arranged by the legendary Johnny Mandel, who wrote two of the selections included therein. With the Signatures, Shirley was in the room, her voice poignant, breaking slightly at the end of a phrase on the title tune, plumbing the depths of her considerable interpretive abilities on all. Each selection is delicious in its presentation, the strings lushly highlighting the orchestral arrangements in this "must have" musical reverie for lovers of the female jazz vocals. The Luminous Synchestra Signatures had the touch needed to best display this excellent production.
Vivaldi's Four Seasons, [Chesky CD-33], featuring instruments of the period played by the Connecticut Early Music Festival Ensemble, added to the Signatures' luster. The three violins were each heard individually and clearly when playing together, strings sweet and free of digititis. The viola, cello and bass were also quickly identifiable, their sonorous presence and the sound of bows drawn across strings sublime. Plucked and strummed instruments include the theorbo, a single-strung double-bass lute, and the archlute, a similar instrument of thinner, brighter tone, and a baroque guitar. I again noted a touch of warmth missing from this disc when played through the Monitor IV. The "Flute Concerto in D", "Il Gardellino" and The "Harpsichord Concerto in A Major" feature solos that, for me, define this work and revealed the Signatures' ability to deftly handle micro-dynamics and inner detail, even at low listening levels. Of the many times I have enjoyed this disc, never has it been so rich, so complete.
Another example of the whole being greater than the sum of its parts, of which the Signatures are capable, is the Bill Evans Trio masterpiece, Waltz For Debby [Analogue Productions CAPG-009], the legendary 1961 Village Vanguard sessions originally available on Riverside vinyl. In this excellent Chad Kassem reissue, Scott LaFaro (tragically killed in a car accident weeks after the Vanguard date) and Paul Motian join with Evans on "My Foolish Heart." The piano pulls you into the piece and all three musicians work their considerable magic as Evans' most innovative trio reaches into the music and beyond. Underpinning the intimate keyboard play are LaFaro's subtle bass notes and the delicate brush work of Motian, all of which is finely detailed and well-defined above the murmur of voices, clink of glasses, and the myriad of other incidental club sounds. Absolutely captivating!
My wife put on a personal favorite, the dynamically explosive Introducing...Reuben Gonzalez [Word Circuit/Nonesuch 79477-2], a Latin tour-de-force by the 81-year-old Cuban piano player who ages like a fine cigar. The great guaracha "Cumbachero" opens with Gonzalez attacking the keys, hammers pounding with passion, the body of the instrument resounding in full song at the old RCA studio in Havana. You've just gotta get up and boogie! Add bass, congos, congas, timbales, guiro, maracas and trumpet in appropriate measure, toss with musicians' voices making appropriate Spanish sounds, and mix all with an adrenalin-pumping sound level. This quintessential Latin disc will hyperventilate your sound system; all handled with aplomb by the Signatures.
The music played on. Classical, jazz, Latin, world, techno, pop, soul, blues; we have just about drained the library over the last month, something that hasn't occurred since the 14LS went Mullard. These premium LAT interconnects are most engaging. They invite you in and you want to stay.
Where Do We Go From Hear?
Luminous Audio Technologies has a winner in the Synchestra Signature. The LATwire is more liquid, more of a component in the system. The astringency and slight chill of Walter Fields' wire, while minor, must give way to the Signatures' virtues.
With the LATwire, performing venues are wide and deep. Instruments and performers are dimensional, layered, clearly focused and imaged without edges and the sense of space pervasive. The accuracy of the Synchestras is ear opening; bass is fast and tight with no bloat, the midrange is "right," full without sounding plump or heavy. Highs are natural in their airiness and extension with no glare, harshness, edge, or dynamic attenuation. The sound is "musical." Which, you say, means what?
Merriam Webster's Collegiate Dictionary defines musicality as "a sweet or agreeable succession or arrangement of sounds." Through the Synchestra Signatures, the sound of every CD we listened to was more engaging, sweeter and more agreeable than with the NBS Monitor IVs. As my wife exclaimed when she first heard the LATwire, "That's music!"
I heartily suggest you give this new reference a serious listen.