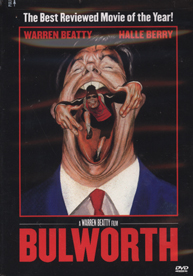 This picture is...it's hilarious, scandalous and fun. I tore my sides watching this flick. Both, in terms of it's content, which seemed unimaginable, and the amount of times it seems to put it's star, Senator Jay Bulworth (Warren Beatty) off balance and out of place.
After believing his career is over, Sen. Bulworth hires a hit team to take his own life. After taking $6 million in an insurance premium for his family and filled with the desire to tell the truth, he surprises everyone in earshot with racial slurs and rapping at political dinners. Co-starring Halle Berry as Nina, a hired hit-women, this film is, well different and side splitting funny. Bulworth is a beautiful (1:85:1 aspect ratio) Widescreen transfer with excellent color fidelity that is very natural looking.
Vivid colors, deep blacks and accurate fleshtones are apparent in the opening scene. This Dolby digital soundtrack is also full bodied, enveloping the movie. Spatial integration of dialogue and sound is superb.

| | |
| --- | --- |
| Special Features | Theatrical trailer. |
| Studio | 20th Century Fox |
| Release Date | 3/16/99 |
| Year | 1998 |
| Retail Price | 34.98 |
| Rating | R |
| Starring | Warren Beatty, Halle Berry, Don Cheadle, Oliver Platt, Paul Sorvino |
| Director | Warren Beatty |
| Sound | DD5.1 |
| Category | Political Comedy |
| Running Time | 108 Minutes |
| Color/BW | Color |
| Widescreen Format | Yes |
| Standard Format | No |
| Aspect Ratio | 1.85:1 |
| Regionally Coded | Yes |
| Closed Caption | English |
| Languages | English/Spanish |
| Sub-Titles | No |
| THX Certified | No |
| Multi-Audio | Yes |
| Interactive Menus | Yes |
| Scene Access | No |
| Production Notes | No |
| 16:9 Enhanced | Yes |
| Movie on one side | Yes |
| Title Released | Yes |