Silent Running Audio's VR Series Acoustic Isolation Platforms
Second Report
Mike Silverton
1 May 2002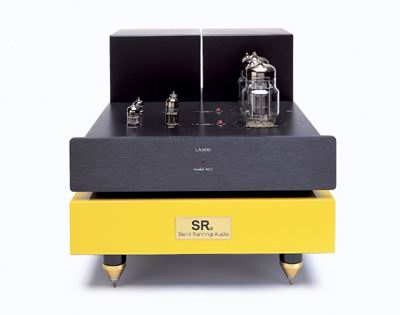 Specifications
Component specific. SRA isolation platforms conform to the width, depth and weight, and where necessary, the irregular contours of the hardware they support. The platforms here reviewed retail for $685 each.
Company address:
Silent Running Audio
325 Hubbs Avenue, Happauge, NY 11788.
Telephone/Fax 631.342.0556.
Web: www.silentrunningaudio.com
A ROSE BY ANY OTHER NAME….
Since I've already recommended with maximum enthusiasm the Silent Running Audio VR Series platform under my Mark Levinson No.39 CD player, I'll try to be brief. Silent Running Audio acoustic isolation and resonance control devices uniquely conform to the size and weight of the component they support. While this bespoke congruity is pleasing to the eye, good looks aren't the main point: the closer the platform's horizontal dimensions to the component it supports, the less opportunity for resonance transmission. Coatings also count. These VR Series pieces are finished in a composite that includes rubber and glass, its first purpose resonance and EMF cancellation. Form follows function, and the form is most attractive.
SRA's Kevin Tellekamp brings a background in stealth and resonance-control technology, military and civil, to his isoBASE™ lines. He calculated and constructed the two VR Series platforms he recently delivered for my Mark Levinson amps to support 200 pounds each. Because a component's weight is critical to its SRA platform's effectiveness, the compound-filled balloons within the upper part of each duplex unit differ in number and size from those within the CD player's platform. When Kevin set the first of the two amp platforms in place, he stood on the thing and did the twist. He wasn't showboating - merely checking. When I jostle one of my massive, SRA mounted 33H's, it moves just enough to show that it "floats." I'm reminded of the old Neolite shoe-repair slogan "Strong but oh so gentle!" (If you can recall the picture that went with the quote, you're probably using a walker.)
Few audiophiles disagree that acoustic isolation and resonance control are sonically significant. Even fewer disagree that the plenitude of problem-solving approaches is confusing. I won't pretend I've taken in the scene. Still, I'm pretty sure that, designwise, nobody goes about his business as Tellekamp does. And then there's his curriculum vitae: the man mastered his resonance-control disciplines in the most demanding of arenas before he even thought of applying them to audio. All right, let's say for argument's sake that my good opinion of these SRA pieces does an injustice of omission to other resonance-control systems. With respect to the manufacturer-designers I slight, and I've no doubt I do, I can only say that Tellekamp's high-tech, component-specific approach, its price point and eye-appeal sum to a delight. (Who would argue that $685 for a complex, custom-made component is a steal? We spend more than this on our interconnects!) Tellekamp and associates had no pieces lying about awaiting insertion under Mark Levinson mono amps. To maintain a component-specific inventory for even the most popular audio gear would be absurdly difficult for a outfit many times SRA's size. Before anything got cut, the man needed to know the dimensions of the 33H's footprint and its weight. (SRA has most of this information on hand. Sometimes Kevin needs to ask. A new, economy SRA line, Tremor-Less, offers generic platforms the end-user adjusts for weight.)
In forming an opinion of these SRA VR Series platforms for my 33H's, I spent more than the usual amount of time listening to imperfect recordings. As a reviewing tool, there's something be said for this approach. I determined I was hearing shortcomings with greater clarity. But that's my obsession: proximity to the recording, steller, middling, and godawful bad. (Audiophiles! Wake up and smell the ozone! We've nothing to lose but our illusions! We do not get "closer to the music," however endearing our sound systems. There is nearfield listening, of course, but that's another story.) I've drawn my conclusions from first-rate recordings too, of course, and the striking thing here is differentiation. An unusually resonant and somewhat misty Marc Aubort-Joanna Nickrenz production of Brahms' two piano trios could not be farther in character from a promotional set I recently received, recorded live (with applause) by Mark Willsher at Skywalker Ranch, Marin County, CA. Super sound, fine playing, and an interesting program: Mozart's K.464 Quartet in A major, Beethoven's Op. 18, No. 5 in A major, and a new work, Don Coleman's Quartetto ricecare. CD ROM enhancement to boot! Worth looking into. www.cypressquartet.com.
The 5¼-inch-tall platform under my CD player appears more or less to be one piece, its inner section protruding but slightly below its outer shell. The amps' VR Series platforms stand 5¾ inches high. The section that does the floating sits, its five spikes (four at each corner, one at the center) coupling with their steel cups fixed to a two-ply slab that in turn spike-couples to the floor or other surface, for the protection of which, SRA provides five more steel cups to be used at the consumer's discretion. The agent bonding the bottom section's two ¾-inch-thick plies looked special enough to prompt an enquiry. Tellekamp describes the lower of the platform's two parts as consisting of twin slabs bonded under high-pressure with a proprietary damping material - the interesting-looking stuff - which he also sells to high-end component manufacturers. Urethane foam surrounds the spikes. According to its designer, the bottom section addresses low-frequency floor and airborne vibration, "as most amps are set up close to the speakers."
While I've no precise understanding of those SRA ingredients hidden from view, I can say with certainty that baloney isn't one of them. This is the real deal.