The Perpetual Technology ModWright "Signature" P-3A
Musical Meddling
Greg Weaver
2 April 2001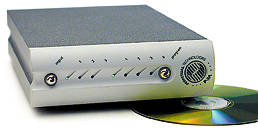 Specifications
Perpetual Technology ModWright Signature P-3A
$1099 delivered anywhere in the continental United States
or $300 plus shipping with your stock P-3A
4702 SW Scholls Ferry Rd. PMB 258
Portland, OR 97225-1667
503.287.9083

Add One More to the Short List Ö
Every once in a while, a product comes along that forces you to rethink something youíve held to be unshakably true. Over my past three decades in this hobby/sport/disease, an extremely short list of products come to mind that, by virtue of their absolute performance or an extremely high ratio of performance to cost, simply compel the music lover/audiophile to develop a new set of standards. Turntables such as the Transcriptors Saturn with its fragile looking Vestigial tone arm or the Linn LP 12 come to mind. Who could overlook the Dahlquist DQ 10, the Acoustat 2+2 or the Von Schweikert VR-4 loudspeakers? Amplifiers like the Phase Linear 700 (B) and the Threshold S-500 forever changed the watt-wars, while diminutive over achievers like the Pass Labs Aleph 3 or the Bel Canto Evo 200.2 redefined performance per dollar. The dCS Elgar and original Audio Alchemy DDE v1.0 brought previously unheard of (and affordable) levels of life to those shinny little compact discs. Well, get ready to add the next component to this short, prestigious list: the Perpetual Technologies ModWright Signature P-3A. Oh wait, Iíve gotten ahead of myself.
If you havenít heard, or at least heard the praises of, the Perpetual Technologies P-3A DAC ($799) and P-1A Upsampler ($1099), I suspect youíve been living in a cave. When one introduces the Monolithic Sound Perpetual Power Plant (or P3 for short) into the equation, youíve got a recipe that not only competes with the best digital audio has to offer today, but it begins to mount an effective challenge to really good analog reproduction.
Iíve been living with, and reveling in the sheer musical exhilaration of, my P-T combo since late last summer. Curious to see just how good the P-T combo really was, I took advantage of a once in a lifetime opportunity. I spent a week at CES familiarizing myself with a system incorporating a digital front end that many would agree represents the upper limits of digital playback today, the dCS Elgar DAC ($12,000) and the dCS Purcell Upsampler ($5,000). Discs were spun by the C.E.C. TL 0 Mk 2 transport and the digits were fed the dCS Purcell/Elgar combo. They handed off directly to a pair of Jeff Rowland Model 12 Mono amps that in turn fed a well run in pair of Talon Audio Khorus. On the last day of our stay when our entire group had gotten used to being seduced by the ease and, for lack of a better way to describe it, analog sounding presentation of the dCS digital components, I swapped out the kilo-buck dCS products for the Perpetual Technologies dynamic duo. Now, given the full order of magnitude in the disparity of their price ($1,700 at the time for the P-T gear, $17,000 for the dCS products), youíd have expected a hands down, no questions, humbling defeat, right?
Not so! While every one attending this apparently lopsided A/B comparison could differentiate between the two systems, no one was prepared for the alarming level of similarity. Jaws dropped. The crowd, myself included, was just not ready for such a close heat. One listener in attendance asked me to verify that they ONLY cost $1,700. I had to admit to him they were about to increase on March 15th, but I smiled Ė from ear to ear!
Keep in mind two things. These were the stock P-T units, well run in but using only the included wall warts (not the P3) and sampling at 96 KHz, while the dCS gear was running at its optimum 192 KHz. Then recall that the dCS gear sells for ten times as much as the P-T gear! While no one questioned that the dCS gear was slightly more refined overall, the stock P-T gear was running a photo finish second. One dealer in attendance asked how he could pick up the line. I had to tell him that they were only sold factory direct.
Enter Dan Wright.
Who Is Dan Wright, And Why Does That DAC Sound So Good?
Dan Wright loves to tweak, and he was kind enough to look me up at this years CES. As much as I hate being predictable, everyone knows my penchant to tweak and modify. After introducing himself, we spent a good deal of time talking, in particular about his passion for tweaking and upgrading already great sounding components. By day, Dan works in the HVAC (Heating, Ventilation and Air Conditioning) field. He picked up a basic electronics and electrical engineering background while in college. Involved with audio for the last 7 years, his urge to tweak first reared its pointed little head when he began to futz with his own Jolida 302b integrated tube amplifier. This enlightening exercise fueled Danís further exploration of digital electronics: an education that came through concerted research, the sharing of information with other audiophiles on-line and hands-on experimentation with his own equipment.
Danís first commercial modifications were done on the Pioneer family of DVD players, most specifically the DV-525. He next started offering modifications for the very popular Link DAC and eventually took on the Perpetual Technology P-3A. Dan now finds himself quite busy. Already looking to the future, he expressed an interest in developing modifications for the less expensive Sony SACD players.
Dan first met Mark Schifter and Walter Liederman on line. Walter had responded to some information Dan had posted on a bulletin board about the P-3A, which he passed on to Mark. From there, Dan says that a wonderfully open exchange of ideas between the two commenced.
Invited to attend CES and visit with Perpetual Technologies, conversations there with Walter indicated that Perpetual Technologies just might be interested in endorsing Danís modifications. After P-T engineer Peter Madnick had a chance to inspect Danís work, they all sat down and agreed to give Dan their full blessing for this project. Perpetual Technology endorses and stands behind Danís work with their full three-year manufacturerís warranty. Mark Schifterís comments to this effect can be seen in the light green box near the bottom of the P-3A page at the P-T website. That folks, I can assure you, is no small feat.
Under the Hood
By the time CES 2001 had rolled around, most tweakers out there had heard about substituting Burr-Brown OPA627AP opamps for the P-3Aís four stock Burr-Brown OPA134PAís. When I initially brought this up to Dan, he said that of course his mod included that change. Then he really surprised me, informing me that some folks are using the OPA627BP's, which are supposed to be marginally better, but sell for $22 each (ouch)! No, he said that the APís represented a much better value and that given the results heís had, he was sticking with them. Beyond replacing the original opamps with ones that offer a bit more sweetness and liquidity and that are a tad less forward, he really goes for the gold.
The original coupling capacitors are replaced with some seriously sweet sounding units from Black Gates. The rectifiers are upgraded to his long time favorites and much faster reacting Harris FREDís. Replacement of these components has a considerable influence on the final products low and mid bass performance. Next, the regular digital input resistor is replaced with a 75-ohm unit from Caddock, as are fully a dozen other resistors in the analog signal path, resulting in a higher degree of smoothness and detail for the upgraded unit. Finally, several key analog filter capacitors are replaced with high performance film caps from Wima for enhanced detail and transparency. All said and done, we are talking $300 for the overhaul.
Sonic Seasonings
What does all this add up to? Some seriously seductive digital sound. To accurately assess just how much of a difference Danís Signature modifications actually made, I arranged to have a stock P-3A on hand for head to head evaluations, thanks to the kindnesses of long time audio bud HAL. I kept both units powered up at all times, only unplugging them for the actual 30 to 45 seconds it took to physically swap them out in my system.
Through pages of notes taken during a period of a little over four weeks, the same comments and conclusions appear over and over again, whether I listened to the P-3Aís alone or fed them a 24-bit signal from the P-1A.
Bass and midbass performance improvements were immediately apparent. The deepest bass was better extended than the stock unit. It was also substantially faster sounding as well, offering better control and allowing for better pitch definition in that region. Attack seemed much sharper with the Signature unit.
Midbass had become flatter, offering less bloat than the stock P-3A. This was a surprising change, as the slight flaw had not been readily apparent before the substitution of the Signature unit. Midbass was also, as with the deepest bass octaves, better defined, allowing for superior definition and more visceral, credible impact.
Midrange took on a bit more warmth and focus, most notable with female vocals, piano or string solos. There was a very welcomed fleshed out, believable quality I had previously only been able to attain from vinyl. This was getting very good.
This next transformation may at first sound contradictory. The slight upper midrange through treble glare that, to my mind, is the only real foible of the stock P-3A and most digital audio in general, was greatly reduced. Yet, there was every bit as much detail and even more air! In addition, likely due to the increased extension and control in the lower octaves and the superb degree of refinement brought about in the uppermost octaves, staging was more open and extended. Overall, the soundstage was much more clearly illuminated sonically, offering a more intelligible and realistic interpretation of the space in and around the instruments. This affords a more discernable view of things such as the acoustic space of the recording and the venue itself.
To a surprising degree, transparency was heightened. If youíve heard the P-1A/P-3A, youíre aware that this is one of the comboís natural strengths. While overall resolution improved, there was a significant reduction of that digital "granular" quality that has kept so many of us listening to vinyl. I found this to be most alluring.
Dynamic contrasts were slightly improved, with the micro variety experiencing a slightly larger improvement than that of the macro variety. I am wondering if this isnít an attribute of the lowered noise floor served up by the coupling caps and fast recovery rectifiers. I canít say for sure, but it is a noticeable step up from the stock unit.
In every category, the Signature P-3A is much more refined than the stock unit. I am simply astounded by the degree of change wrought by this treatment. The Signature sounds so wonderfully "un-digital" that I am finally forced to concede that my Linn LP12 may have met its match and in some cases, which are recording dependant, has been bested. If you know me or have followed my writing, you know how significant a statement this is. "Tin Ear" Bob nearly had a coronary when I admitted this to him.
Am I saying that the ModWright Signature upgrade makes a silk purse of a sowís ear? Of course not! The stock P-3A is without question the best buy in digital audio today. Numerous others have likened it, when used in conjunction with the Monolithic P3 power supply, to the $6000 Mark Levinson No. 39 player and/or the $7000 Mark Levinson No. 360S processor! That is some pretty heady competition! The ModWright Signature unit takes it to an entirely new level, one you wonít get anywhere near unless you are prepared to spend easily ten times as much.
I recently saw someone slamming Dan on one of the bulletin boards, claiming that he was getting rich from charging "so much" for a "simple" parts swap. First of all, knowing which parts to replace requires a serious understanding of the circuit in question. Once you decide what to replace, choosing a substitute can drive a tweaker insane. Iíve done way too much of this over the years and have been known to try as many as 8 different brands of capacitors in a crossover when doing my own upgrades. They all sound different. It is no easy matter settling on which one is optimum. Then there is the matter of having the skill to actually perform the required delicate surgery, and in such a manner as to have Perpetual Technologies stand behind the work with their warranty. Just in case you werenít aware of it, even if you knew which parts to replace, and with what, youíd void the warranty as soon as you popped the top! In my opinion, such superb sonic performance and all that piece of mind for three hundred clams make it a downright steal.
As of right now, there are two ways to get the ModWright/P-T P-3A. You can do as I did and send off your own P-3A, along with $300 plus shipping and handling, to Dan at the address above. Or, if you havenít already gotten your own P-3A, you can order a factory new, fully modified unit directly from Dan for $1099, which includes shipping to anywhere in the lower 48. Why pay shipping twice, eh?
In case you couldnít tell, I can confidently give this modification my highest recommendation. The ModWright Signature P-3A buys you a pennant contender in the Major Leagues at farm club prices. My "Death before Digital" war cry, first sent up in 1982, has finally been quelled. Oh, did I mention that I sold the Linn and have an Oracle on the way? I at least have to keep up appearances.