Perpetual Technologies P-1A Digital Correction Engine & P-3A D/A Converter with Monolithic Sound P3 Power Supply
Frank Alles
16 January 2001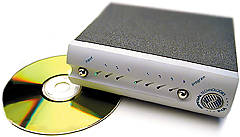 P-1A
Input Impedance: 75 Ohms
Output Impedance: 75 Ohms
Output Voltage: 0.5 Volt
Input Bit Resolution: 16-24 Bit
Input Sample Rate: 8kHz-108kHz
Power Requirements: 12 VDC @ 650 mA
Dimensions: 5.5" × 8.25" × 1.75"
Weight: 4 lbs
Price: $950
Warranty: 3 Years, requires registration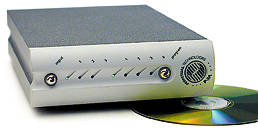 P-3A
Input Impedance: 75 Ohms
Output Impedance: 100 Ohms
Output Voltage: 2.5 Volts
Input Bit Resolution: 16-24 Bit
Input Sample Rate: 8kHz-108kHz
Power Requirements: 9 VAC @ 1.8 A
Dimensions: 5.5" × 8.25" × 1.75"
Weight: 4 lbs
Price: $699
Warranty: 3 Years, requires registration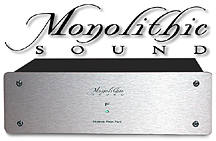 Monolithic Sound P3
Dimensions: 8.5"W × 6"D × 2.5"H
Warranty: 1 Year, Parts & Labor
Price: $349
Manufacturer
Perpetual Technologies, LLC
368 South McCaslin Blvd., Suite 189
Louisville, CO 80027
Down Wit' Dat(a)!
Perpetual Technologies (PT) is a relatively new company, headed by Mark Schifter, former president of Audio Alchemy. Schifter made his mark at Audio Alchemy, teaming up with designer Peter Madnick to develop affordable digital products that performed to a surprisingly high standard. Schifter seems to have broader, more ambitious goals in mind for his new company with a stratagem in place to accomplish his lofty objectives.
In order to bypass the conventional cost markups incurred by using distribution networks and retail outlets, PT has elected to market its goods directly to the consumer. This means that the consumer can buy a more technologically advanced and higher performing product than would otherwise be possible at a given price point. As a result, cutting-edge technology will now be attainable for many more audiophiles. Good news!
Because Perpetual Technologies' products cannot be found or demonstrated in stores (with the notable exception of Lyric Hi Fi), the company offers an "iron-clad" 30-day return policy. Any purchaser who is not completely satisfied can simply return the product to PT within 30 days for a refund.
The P-3A is an upsampling digital to analog converter featuring the Crystal Semiconductors CS8420 input receiver (same as the P-1A) and CS4397 "Super DAC" chipset. The unit will accept all datastreams up to 24-bit/96kHz, and upsample all inputs to 96kHz. Should the DSD datastream ever be made available for an external DAC, an optional module can be installed by the factory to route 192kHz on the I2S input directly to the CS4397, making it compatible with Sony's SACD format. The P-3A uses a high-current, class-A output stage.
Four digital inputs are provided on the rear panel: Toslink optical, AES/EBU balanced, RCA-type coaxial, and I2S, along with a 9 VAC power input jack. The analogue output is via one pair of gold-plated RCA output jacks.
The front panel contains a row of LED indicators. Four of them indicate the choice of input, and the other 3 are used to program the input mode and indicate the outgoing data rate fed to the CS4397. A program button toggles between absolute and inverted polarity and can select the I2S direct input mode, eliminating redundant upsampling in the P-3A when the unit is already receiving a 96 kHz datastream. Another button selects one of the 4 inputs.
Enter the P-1A Digital Correction Engine. This unit is inserted between your transport and P-3A (or other) DAC. The real advantage to using this piece at the present time, is that it provides an excellent degree of jitter reduction, typically under 5 picoseconds, and offers "Resolution Enhancement," which uses a mathematical algorithm to better approximate a true analogue waveform—digitally, of course. To my ears, this feature alone is worth the price of admission, but more on that later.
Three inputs are provided on the rear panel, coaxial, AES/EBU, and I2S, along with 3 outputs of the same respective types. A USB interface for downloading programs and a 12 VDC input jack can be found there as well.
Like the P-3A, a row of 7 LEDs and 2 flanking pushbuttons for input and program selection are provided. A very short I2S cable is included with the P-1A and should be used to connect its digital output to the digital input of the P-3A. The other outputs can be used when connecting to a DAC lacking an I2S input.
The input and program buttons allow setting the P-1A's output data rate to the maximum input sampling rate and bit density that the associated DAC will accept. Presently, this is 24-bit/96kHz for the P-3A. The program button will also engage the speaker and room correction functions when the P-1A is so equipped.
Currently, software is just starting to ship that will provide phase and frequency response corrections for particular models of popular loudspeakers. Information on the availability of the software is posted at Perpetual's website, www.perpetualtechnologies.com. If the unit has not been preprogrammed for your speakers at the factory, the Speaker-Only Correction Software (SOCS) can be enabled at a later date. The price of the speaker correction software is $399.
If, according to Perpetual's website, you find that your loudspeakers are not yet supported for SOCS they have a solution. The following description is posted at PT's website:
Owners of discontinued, modified, custom-made, or manufacturer-unsupported speaker models may still acquire Speaker-only Correction through an easy data-acquisition process. The Perpetual Technologies Mobile Measurement Kit (MMK) will use proprietary Maximum Length Sequence measurement (MLSSA) software running on a dedicated laptop computer, and will capture the impulse data needed by Perpetual's coefficient generator. The MMK includes use of a calibrated microphone and stand, and is supported by detailed instructions and technical support via a toll-free number. MMK may be rented by owners of speakers not otherwise supported by the original manufacturer and will rent for $250.
The Room Correction System, known as RCS, is also forthcoming. Owners will be able to measure and store their system's characteristics in their own listening environment by way of a specially equipped MMK, which is also rented from PT. The stored data can then be transmitted over the Internet (via the USB port) to PT, where a correction program will be designed for the owner's particular speakers AND room, which can be downloaded from the Internet directly to the P-1A's USB port.
Hold on to your hats laddies!
Perpetual Technologies also has big plans for a number of other products due to hit the market by mid-2001, (or whenever the political issues on digital copy protection are resolved) including a transport that will play CD, 24-bit/96kHz, and SACD formats. Plus, it will include the superior I2S digital interface.
Get Monolithic
The Monolithic Sound P3 Power Supply features separate high-current transformers to power both the P-1A and P-3A. It incorporates a discrete, ultra-fast diode bridge, 10,000 uF of filter capacitance, and a detachable IEC power cord filtered at the input to block EMI interference. PT's claims for the unit include superior bass reproduction, improved overall focus and solidity, and improved dynamics and imaging with a noticeable lowering of the overall noise floor.
Electing to eschew the standard (included) wall-wart power supplies from the get-go, I employed the optional heavy-duty Monolithic Sound power supply for all my listening tests. Throughout my many years as an audiophile experience has taught me that better power supplies are almost always audibly superior, and the fact that the MS P3 allowed me to try different AC power cords was a definite advantage.
I installed the units vertically, side by side on my Plateau equipment rack. Because the supplied feet for vertical installation are aluminum and didn't come with spikes, I inserted a mouse-pad, sticky-side-up, between the feet and the MDF rack shelf. I suppose I could have used the little stick-on nubs supplied for horizontal installation, but since there was no mention of this in the instructions, I didn't.
Spilling the Beans
I have recently reviewed the Bel Canto DAC-1 and was quite impressed with its sonic finesse in many areas, most notably its harmonically rich, essentially edgeless presentation and its general ease and lack of harshness. I also felt the BC DAC-1 was providing a good sense of ambience around various instruments and vocals and I wondered how the Perpetual Technologies duo would stack up.
Upon installing the diminutive, modern-looking pair (vertically, side-by-side) I dropped the first CD into my trusty Parasound belt-drive transport, John Mellencamp's John Mellencamp (Columbia CK 69602) and sat back to listen. The first thing that I noticed was how focused the Cougar's vocal appeared in the center of the soundstage. It was remarkably precise in its localization. The second thing I sensed was a mildly elevated upper midrange through high-frequency spectrum (in comparison to the Bel Canto). However, I recall that I had never heard the violin on track 5, "It All Comes True," sound so palpable and realistic.
These initial impressions were made literally within minutes of plugging in the Perpetual Technologies gear for the first time. After a few more days of listening and stabilization, it seemed to me that the slight forwardness that I originally detected in the upper midrange had calmed down and was now smoother and more similar to the Bel Canto's sonic profile in that area. The treble was smooth and VERY detailed, yet was non-fatiguing. I was quite literally amazed at tiny little percussive details that I began to notice on my recordings for the first time.
Maximize!
Through experimentation with different cables and modes of operation, I was able to fine-tune and maximize the PT duo's performance in my system. The particular AC power cords I tried (on the Monolithic P3) and the particular AC filters/outlets I chose had the greatest effect on performance. This is an area where performance gains can be realized. Of course swapping different combinations of digital cables was also influential, but in my opinion, not as dramatic as changes afforded by optimizing the AC line filtering and proper power cord mating.
I achieved very good results using an older prototype power cord from Clayton Audio (silver-coated solid-core copper), and an EFI Electronics power filter/surge protector (not the latest/greatest, but effective). My choice of digital cable (input to P-1A) was a Harmonic Technology silver-coated copper coaxial, and I settled on the short I2S cable, supplied by PT, to link the P-1A to the P-3A.
The bulk of my listening was done via the direct I2S route, bypassing upsampling in the P-1A; however, I did use the "Resolution Enhancement" feature, which yielded demonstrably better sound quality compared to the "bypass" mode.
A strong sense of dynamic contrasts combined with power and extension at both frequency extremes made the PT duo's presentation a bit more dramatic, and faster than the Bel Canto, which enhanced the rhythmic drive of my recordings. The bass was deep with greater power and weight, and the mid-bass area was more tightly controlled. Fast transients like plucked guitar strings seemed to start and stop very quickly, but I didn't feel that the trailing harmonics were unduly truncated.
The fact is that I was quite amazed at how incisively and distinctly the deft piano fingering of Andrew Litton was reproduced on Rhapsody in Blue, from Dayful of Song (Delos DE 3216). I could hear each individual note being struck as the keys were struck in rapid succession—and this, without any audible smearing, hardness, or glassy edge to mar the sonic splendor of the performance. And when Litton's foot lifted off the sustain pedal, the notes stopped immediately, just as they should, but now the effect was more dramatic.
Listening to "The Royal March" from Stravinsky's L' Histoire du Soldat (Everest EVC 9049), the drum rolls on the snare were quick, distinct, and LOUD. It seemed that I could distinctly hear each individual hit, instead of the slightly homogenous and smeared presentation that I've experienced with most digital gear. The speed and clarity of the PT gear is truly impressive!
As I mentioned previously, I did most of my listening with Resolution Enhancement engaged on the P-1A. Compared to the bypass mode, the sound was harmonically more pleasing combined with an augmented sense of soundstage depth. On various tracks from Fiona Apple's Tidal (WORK/Sony OK 67439), there was more air and space around her throaty vocals, and her performance was more palpable and riveting. Switching to bypass made the soundstage flatter and more forward sounding, and cymbals and percussive sounds in the lower treble were more in-my-face. The harmonic portrait was definitely a bit dryer. These same observations held true for other recordings in A/B listening tests.
That said, I have no complaints regarding the overall imaging performance. The soundstage was as wide and dimensional as any source I have heard in my system. Image specificity of instruments and vocals was very precise, and I could hear more detail within the stage than ever before. On many of my recordings, my rather large speakers totally vanished.
A Minor Flaw
During my evaluation I discovered a minor glitch in the P-1A's otherwise stellar performance that bears mentioning. It is something that occurs on only a small percentage of recordings, and sounds like a snapping or popping high-frequency transient noise (similar to arcing in electrostatic speakers). On some CDs, it can occur in sync with upper-frequency percussives, and sounds like an emphasized or double strike. Since the noise may, or may not beat to the music, it is easy to mistake as being part of the recording, but if you find that the effect disappears or diminishes significantly in the bypass mode, then you know you've found it.
The effect is caused by an overloading of the CS 8420 input receiver, which is driven in software mode in the P-1A (as opposed to the same hardware-driven chip in the P-3A).
The discs that are causing this have been recorded (actually mastered) so that they hit the maximum amplitude available on the 16-bit media, know as "digital 0," and there are a few discs which are even worse, containing some peaks that actually exceed 0 dB. Producers do this for a number of reasons, mostly so they will have a louder sound than competing recording companies.
The Perpetual Technologies' folks know about the problem and are presently implementing a fix that should appear in production models, beginning around April 1, 2001. Perpetual Technologies' Mark Schifter has personally assured me that owners of any and all units, who are bothered by this minor annoyance, can arrange to have their P-1As updated free of charge, when the fix is available. "Customer satisfaction is our number 1 priority," Schifter said. He also intimated to me that of the 2000+ units purchased at the time of this writing, less than 30 people worldwide have complained.
In a preliminary sampling of my CD collection I have discovered 4 CDs that exhibit the anomaly and they are as follows:
Fiona Apple – Tidal (WORK/Sony OK 67439) "Shadowboxer"
Grosse Point Blank – movie soundtrack (London 422-828 867-2) "Under Pressure"
Santana – Supernatural (Arista 07822-19080-2) "Put Your Lights On"
They Might Be Giants – Factory Showroom (Elektra 61862-2) "Till My Head Falls Off"
For example, listen to Fiona Apple's "Shadowboxer," or Santana's "Put Your Lights On". The effect can be heard at around 1:40 into "Shadowboxer," and from 0:55 to about 1:20 on "Put Your Lights On," where there are copious occurrences.
Let me reiterate that this benign (but annoying when it happens) anomaly affects only a scant few CDs, and obviously, many satisfied P-1A owners have not even noticed the flaw. I was only able to hear it in the Resolution Enhancement mode, although technical wizard Peter Madnick said that it also occurs in bypass, but agreed that it should be less apparent.
Conclusion
Overall, my impressions of the PT duo's sonic capabilities are extremely favorable. In virtually every performance parameter the P-1A and P-3A combination performed better, or at least as well, as any digital gear I have heard in my system at any time. Its ability to reproduce a great range of dynamic gradations, its power and control at the highest and lowest audible frequencies, and its notable lack of the usual digital pitfalls place it among the most elite performers at this point in time.
This digital system retrieves an amazing level of fine detail and does so with such precise focus, clarity, and transparency, that I was astonished. In terms of pure musicality and harmonic integrity, the PT gear rivals high-quality analogue systems—but I don't know that I've ever experienced this level of clarity, focus, and bombastic dynamic capability from even the best turntable systems. The PT gear can be played at very loud levels in long multiple-hour sessions without inducing listener fatigue, and this is surely a sign that digital sound is finally fulfilling its promise.
Certainly the potential of the P-1A to deliver advanced digital speaker and room correction, at a very reasonable price, will be a powerful enticement to prospective purchasers. This carrot, coupled with the excellent sonic performance of the Perpetual Technologies gear and their customer-friendly 30-day return policy, effectively renders the decision of whether to buy, a bona fide no-brainer.