Musical Surroundings Phonomena II Phono Preamp
Phonomenal Value!
January 2009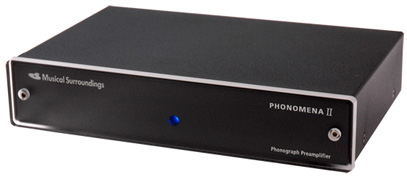 A year ago or so, I gave a very positive review of the Musical Surroundings Nova Phonomena phono stage. Prior to that, I owned the original MS Phonomena phono preamplifier, both of which, were given life by noted electronics designer, Michael Yee. Naturally, I was very curious to see how well the lower priced Phonomena II (P2) would compare to its senior sibling. To put it another way, I was eager to see if the Phonomena II's "Phonomena AC Interface" (12VAC wall-mount power supply) would allow the P2 to come close to the sound quality offered by the Nova Phonomena with its more expensive dual-mono NiMH battery power supply. The actual circuit topology of both units is extremely similar.

During my e-mail communication with Michael Yee, he intimated that part of the reason for the sonic improvements in the current generation of Musical Surroundings phono stages is an improved method of implementing the active RIAA phono equalization which effectively cancels the phase shifts that typically occur. Additionally, the Phonomena II, like its more expensive brethren, eschews the use of Op-amps in favor of carefully selected discrete circuit components.
Features and controls
The slim front panel of the P2 is tastefully accented by a thick frosted translucent Plexiglass plate containing the make and model and protecting the center-mounted blue LED that indicates the unit is powered On.

The rear panel contains a stereo array of DIP switches that allow for different gain and cartridge loading options. In fact, the 17 different resistive loading options and 13 gain settings (not to mention two capacitive loading options) allow the Phonomena II to be optimally adjusted for almost every MM or MC cartridge in existence. The loading options range from 30 Ohms to 100k-Ohms and gain settings encompass a range of 40dB to 60dB.

The rear-mounted RCA inputs and outputs are serious heavy-duty gold plated connectors (Praise the Lord!) not the typical inexpensive junk jacks usually found on many other modern components. The AC input jack is also mounted on the rear panel.

My one complaint is that the DIP switches are tiny, and Musical Surroundings instructs one to use a non-metallic tool to change the settings. The only type of tool I have that can get into a space that small is of course, a metallic jeweler's screwdriver, so I don't see why they don't simply include this small "non-metallic tool" if they are truly interested in my safety and the safety of their product…

Set Up
Installing the P2 in my system was easy. I simply swapped it out with the Nova Phonomena. My turntable is a self-modified, fixed suspension Michell Orbe with a Wilson Benesch Act 0.5 arm and Benz-Micro Ebony L low-output moving coil cartridge. I set the gain to 58.4 dB, and settled on a resistive load of 243 Ohms, which are the same settings I had found to work well with the Nova Phonomena.
Audiophiles should try a range of gain and loading settings with their cartridges to see what works best in their particular installations.

For my evaluation, I used the PrimaLuna Dialogue Two integrated tube amplifier with my Silverline Prelude speakers, which is a combination that provides a very detailed and musical performance.

Let the Music Play!
Right out of the box, stone-cold, the Phonomena II sounded respectable, though perhaps a bit thin somewhere in the lower midrange. The bass was taut and punchy and the highs were surprisingly focused and detailed.

After a few weeks of spinning records, I continued my evaluation. The lower midrange and mid-bass areas seemed a bit fuller, and I was quite impressed with the amount of air and detail in the P2's deep, wall-to-wall soundstage. I was especially taken by the quality of articulation at both frequency extremes—and was particularly impressed by the air, shimmer, and detail in the treble spectrum.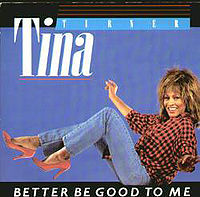 On Tina Turner's 12-inch of Better Be Good To Me (Capitol V-8609), there is an enormous sea of sound that stretches way behind the speakers with vocals, drums and other instrumentation. The P2 laid it all out with copious air, backing vocals that went way back, and immediate sounding drums that possessed tonal distinction.

It seemed that there was a small rise in the upper midrange or low treble that aided in lyric comprehension and accentuated the leading edges of fast transients. At times this was a welcome enhancement and at other times it lent a bit of sibilance to female vocals that was not unnatural but was slightly more pronounced than I remembered.

The overall balance across the audible bandwidth was fairly even, save for the mild lower-treble emphasis and a small suck out in the lower midrange area. On Danse Macabre from Witches Brew (RCA LSC-2225), this was evidenced by a lack of body to the bombastic brass during the final tumultuous crescendo. The perspective on the orchestra was just a tad distant and a touch thin/bright sounding when the horns chimed in. That said, the violins and strings sounded sweet and vibrant and the low-frequency rumble of the train(s) in the subway under London's Kingsway Hall was easily discernable during the piece's opening and after the aforementioned final crescendo.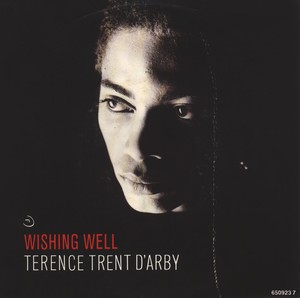 In my experience, the P2 served stringed instruments, woodwinds, and all manner of high frequency percussive instruments, like miscellaneous clickers and clackers, triangles, and cymbals particularly well. I could hear the envelope of shimmer and air around cymbals and triangles very easily. The focus and detail offered by the P2 in the high frequencies is excellent. It is generally quite smooth and natural, and better focused than many phono preamps I have heard. There is a high-frequency percussive instrument that makes a "tock" with a lot of high frequency echo deep in the right side of the soundstage on Terence Trent D'Arby's Wishing Well (Columbia 44 07543) and the P2 just nailed this effect. The back and forth whispering-vocal effect later in the cut is also well served.

Those who either own or have owned the original Phonomena phono stage will find that the P2 offers a similar overall tonal balance. However, the P2 is more natural and convincing in the treble band and not as bright or biting. This is probably due to the Phonomena II's improved circuitry. In addition, the P2, with its rear-panel gain and load switches, is certainly more user-friendly than the original version, which required its cover be removed to access the DIP-switch arrays.

Caveats
My main complaint about the sound of the Phonomena II was its reticence in the lower midrange, which took some of the fundamental body out of instruments like the grand piano, trombone, and bass saxophone and thinned the presentation somewhat. Its more expensive sibling, the Nova Phonomena, seems to flesh out the lower midrange a bit better with its battery power supply. This effect was not as easily perceived on recordings that did not include such instruments.

As with any component, synergy in system matching will be a factor. So while the Phonomena II sounded very respectable and well-balanced in my particular system, it may not fill your prescription for audio Nirvana. It will likely be much more detailed and focused than any tube phono stage in its price range, but it will not sound as warm or romantic. An in-home evaluation is always recommended when possible.

Finale
As good as my turntable, arm, and cartridge surely are, one would think that the inexpensive Phonomena II would be inadequate to the task. On many levels, one would be wrong. The P2's imagery was stable, layered, and expansive while its reproduction in the bass and treble was better than many more expensive units in my experience. It was sheer pleasure to hear many of my very dynamic 12-inch singles from the '80s played through the Phonomena II. It produced deep, articulate bass, and a wealth of high-frequency ambience and detail from my cherished recordings. All types of percussive instruments were deliciously rendered and precisely apportioned throughout the large 3-D sound field.

My most noteworthy complaint was a lack of meat-on-the-bones in the lower midrange area that robbed some instruments (noted mainly on brasses and piano) of their full tonal bloom. This phenomenon may be an artifact of my system/room interface to some degree.

In my opinion, the Musical Surroundings Phonomena II provides a level of performance and flexibility in its many adjustments that will be difficult to top in its price class. It will offer its many buyers a true taste of high-end sound at a fast-food price.




Manufacturer
Musical Surroundings
5662 Shattuck Ave.
Oakland, CA 94609
Phone: 510.547.5006
Fax: 510.547.5009
Web:http://www.musicalsurroundings.com/phonomii.html
Phonomena II
Price: $600.00