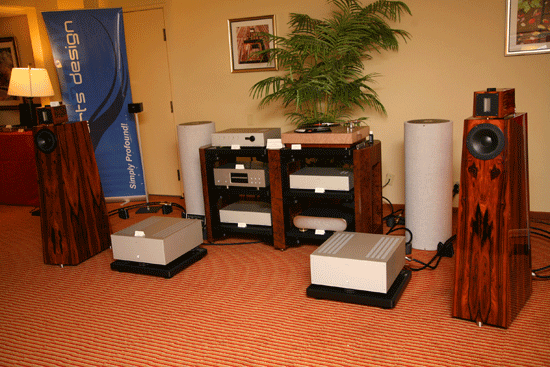 The other Kaiser Kawero setup was run by Hajime Sato, US importer behind the Japanese-made Concert Fidelity/Silicon Arts electronics. The 200-watt mono amps ($40k), and preamp combo ($20k), sang wonderfully by virtue of their partnership with the Kaweros. Always had a hint the Kaweros enjoyed tubes more than their solid-state counterparts and this room proved for an excellent example. The sound of this setup was more delicate and relaxed with greater ebb and flow to a variety of music I brought along. Kerem Kücükaslan's fabulous Echole series wires were evident throughout as well as his new Absolare AC conditioner (sporting Jack Bybee's latest laser-wielded AC devices).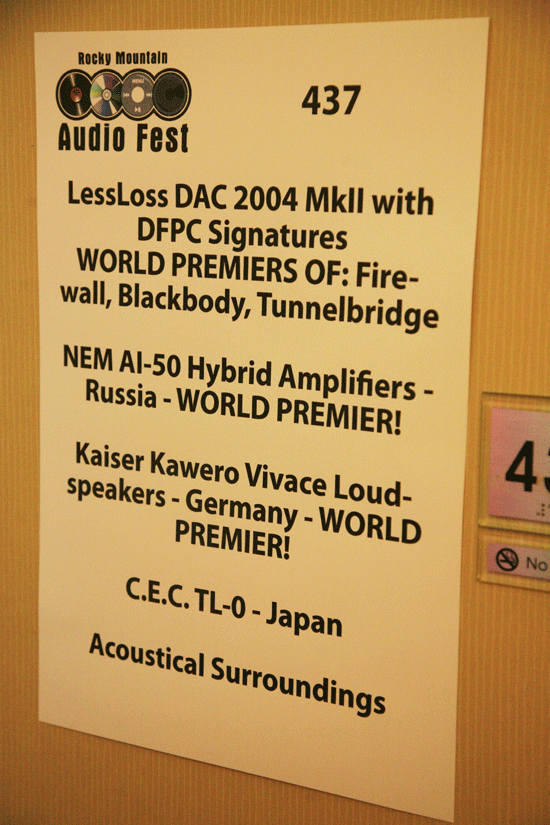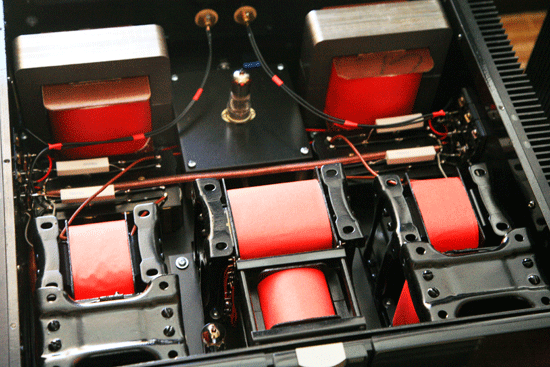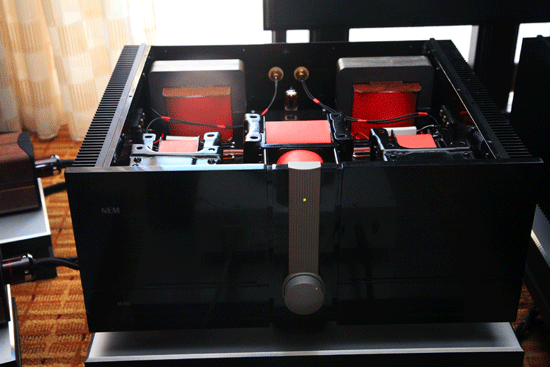 The new and beautifully finished Kaiser Kawero Vivace ($38k), upstaged its bigger and more expensive sibling in the LessLoss room. Why? The reasons may be as mysterious as they are numerous. For starters, Louis Motek has been a huge fan of the CEC-transport slaved to a specially-made LessLoss DAC. Next, the acoustic treatments shown there were obviously helping the room while other setups used nothing at all. Those Russian hand-built NEM amplifiers are something special and instantly reminded me of what I admired about their luscious midrange when I encountered them at the Munich High End Show back in May of '09 (see my report here). Here, the sound was a little heavy in the upper bass (small room issues for sure), but the overall lack of noise and utter sense of quiet, not to mention the most natural overtones, had me looking for the battery-supplies because the music was totally UN-electric in its delivery. All in all, besides the bigger more expensive setups (Magico/Spectral, GTT Audio's Soulution/YG Acoustics), this was room also earned my Best of Sound (least expensive) vote.
This just in from LessLoss about the NEM amplifiers: Above you see the NEM AI-50. What you see is 140 pounds of meticulously hand made and cryogenically treated transformers, each taking two days of labor to create.

- Left interstage transformer
- Right interstage transformer
- Left power choke
- Tube power transformer
- Right power choke
- Left power transformer
- Tube power choke
- Right power transformer
- Remote control power transformer (not visible)

We are happy to announce that LessLoss shall be distributing this fine unit in the United States and shall be educating the public about this uniquely engineered world-class performer via the LessLoss website. The NEM design team is from Russia. They have studied transformer technologies and cryogenics for many decades and have expertise in this field which brings forth a truly miraculous product. In an amplifier world of "me-toos", this solution stands out in its uniqueness and in its unbelievable transparency, because there is no "amp sound" there to put your finger on. Retail price: 19,500 USD. More information to come later.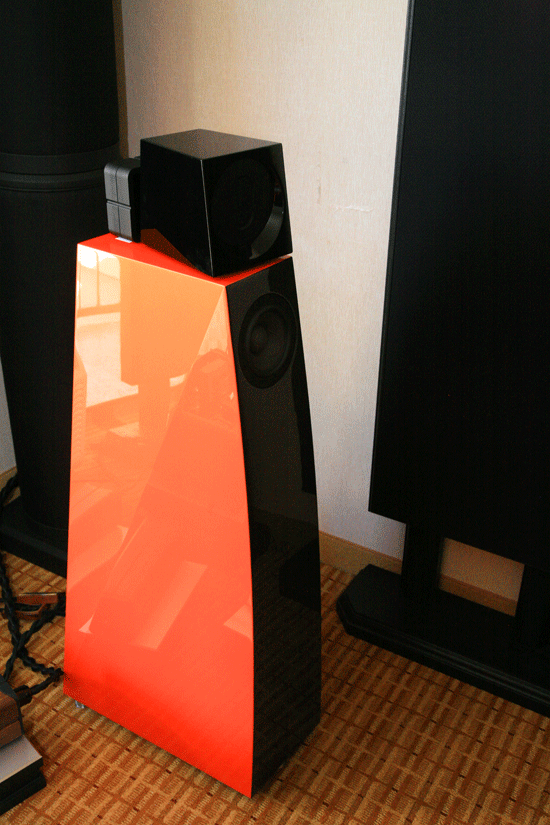 Those LessLoss Blackbodys work and I'm here to say YES, I hear their mysterious but obvious results right here in my own listening room. I've tried similar placement as Motek suggests, placing a Blackbody behind my speakers (above). And although, the results were impressive, I find their best suited IN MY SYSTEM, placed in and around my AC conditioner, preamp and Nova Physics Memory Player. That said, the results are a surprisingly lower noise floor. Increased resolution and three-dimensionality while overtones appear more authentic and natural. Yeah, I find it quite odd that something totally passive could change my sonic perceptions with such ease. Want to A/B? Simply take them out and listen again. I'm enthralled that these products work at ridding noises I personally never knew were there. Highly recommended.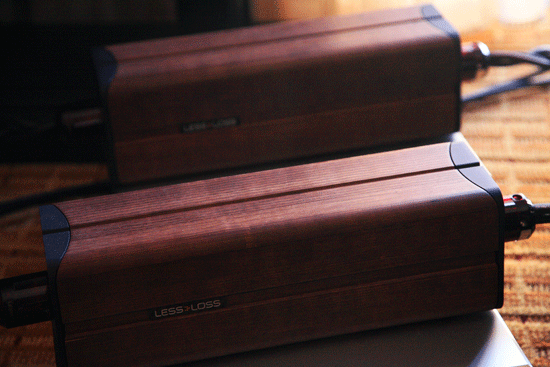 A newest version of the LessLoss Firewall were revealed for the first time at this year's RMAF. I like these much better than the original (which I once owned but wasn't too fond of). I think these are much better as they're further developed and Motek assured me these are something I will want to hear once again. Price is to be determined. There more info on this product here.