High End 2012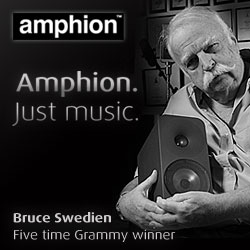 High End 2012 Sponsor


Jorn Janczak from Tidal debuted his gorgeously built Agoria loudspeakers (€65k) and electronics that included their new Impulse Reference dual mono amplifiers (€42k -190 watter), the Press-D Preamplifier (€21,500) with an MC-phono and the Presencio 3 stack balanced Reference preamplifier (€58k with a fully regulated power supply). In many ways, the Agoria looks like a smaller version of their statement Sunray loudspeakers. In terms of performance, I found them stunning. Particularly in their ability to provide a three dimensional soundstage here at a trade show no less. The stage was as wide as it was deep with wonderful contrasts of dynamics.
The Agoria is the first speaker to employ the TIRALIT multi chamber cabinet design, an all exclusive TIDAL cabinet material that combines the ultimate stiffness and resonance control. There are total of eight drivers; one diamond tweeter; two 7" BCC midrange drivers, two 11" woofers and three 11" passive sub-bass radiators employing BCC (Black Coated Ceramic) drivers instead of ones shown in Sunray loudspeaker.
Vinyl playback was compliments of the Hartvig TT Signature turntable (€21k above). An optional Hartvig battery power supply which retails for a cool €4k, helps create a velvety pitch-black background. The turntable was introduced by Soren Hartvig from Hartvig Audio in Denmark.
High End 2012 Sponsor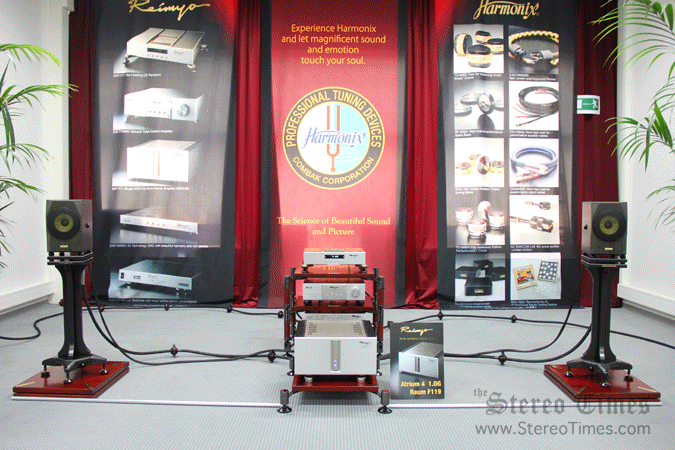 Year after year, Kiuchi-san, the designer behind all Reimyo products, always manages to put on a stellar sounding demonstration. The Reimyo sound is special to my ears. Their KAP-777 amplifier (€24,500) which I deeply admired in my review (here), drove the Reimyo Bravo loudspeakers (€7,500) beautifully. The sound boasts a purity, transparency and detail that's hard to ignore. Since returning the KAP-777 and the CAT-777 MK2 (€18,500), I admit I really miss them. All sources in this suite featured Reimyo products that included their CDT-777 CD transport (€11K) connected to the DAP-999EX DAC (€11K) and both were connected to the ALS-777 Power stabilizer (€6K). All cables were by Harmonix.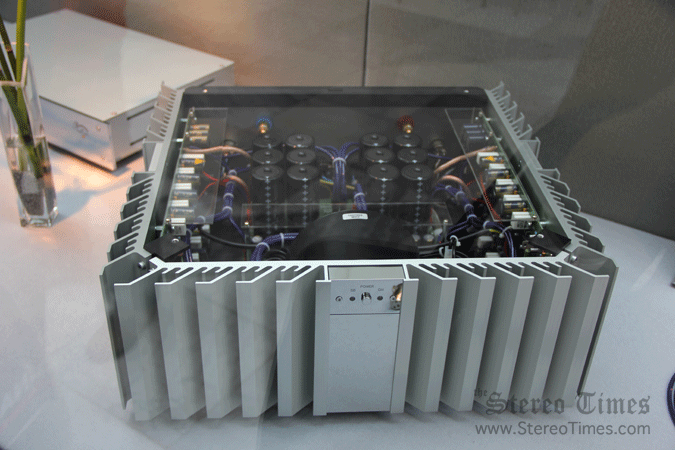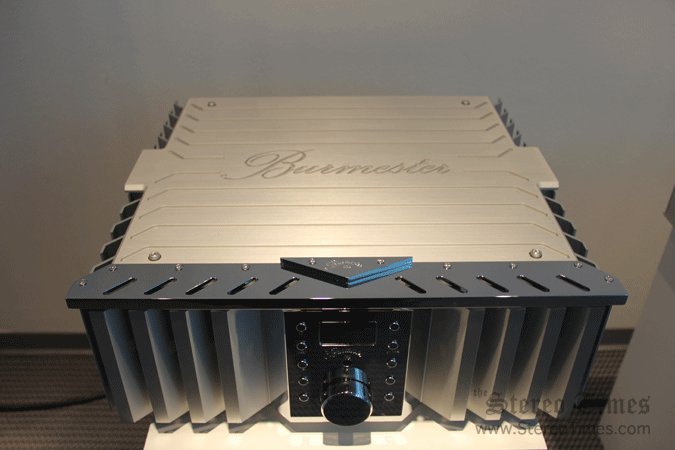 The Burmester room is always a treat on the eyes. And the sound wasn't bad either as it was dynamic and open with lots of depth and detail. The suite showcased plenty of Burmester products that included their 111 Music center (€36,900), 069 Belt-Drive CD Player (€29,000), 911 MK3 power amplifier (€16,400), 948 power conditioner (€5,700), 113 DAC (2,490) and B50 MK2 loudspeakers ($19,800). All components were placed on a elegantly crafted component Rack V3 (€2,990). Lastly all Silver Burmester cables were used.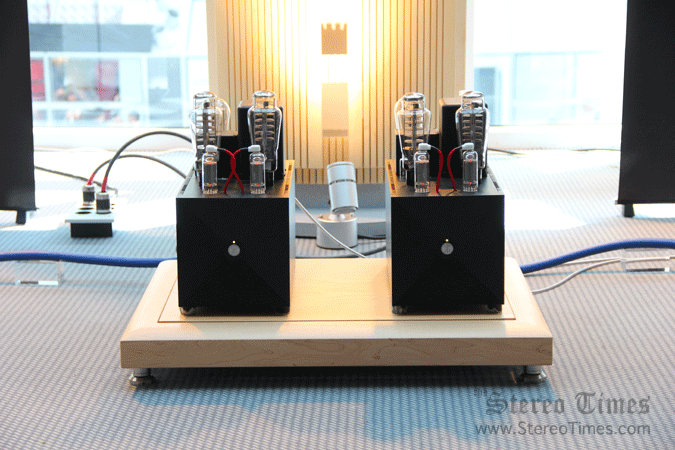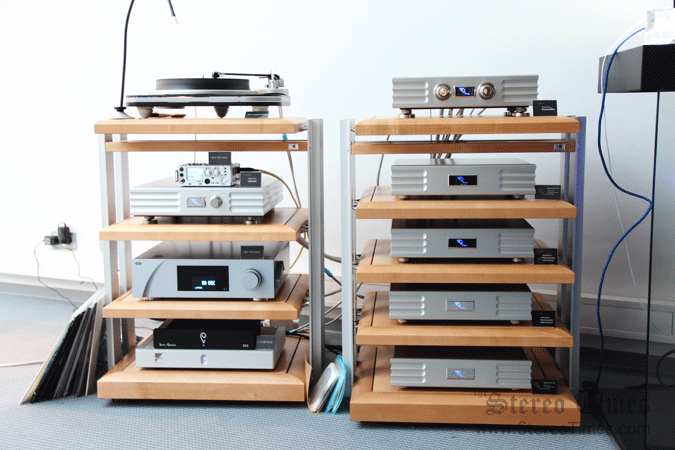 Qualia & Co, a relative newcomer to these events is an ultra high-end electronic firm from Japan. They showcased their wares alongside another newcomer called Thrax Audio of Burgaria. The system included the meticulously (hand built) INDIGO series of products from Qualia & Co. and the Thrax Audio Spartacus 70 watt Class-A mono power amplifier (€32k): a two stage shunt regulated directly heated triode amplifier. Qualia & Co. states that the INDIGO chassis are expensive and require high precision work during manufacturing. They are said to be the ideal design as the internally mounted circuit boards are less affected by external vibrations and noises. The Indigo Pre-Amplifier (€45k), the Indigo Phono Amplifier (€60k) and the USB DAC (€30k) made up the system that powered a pair of Magico Q3s. I would qualify the sound as inviting and musical with lots of detail and information.
High End 2012 Sponsor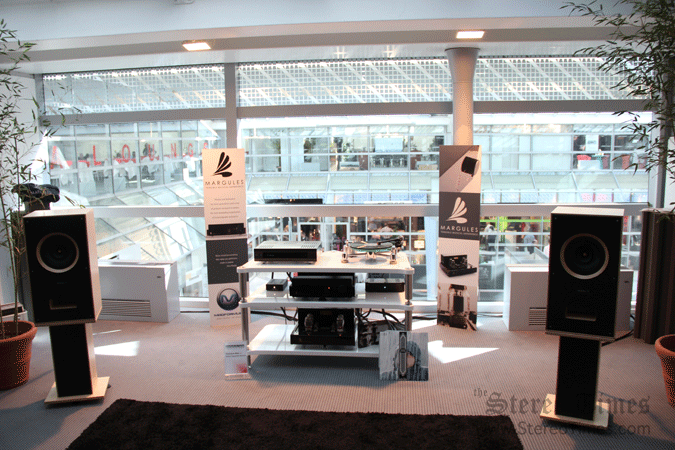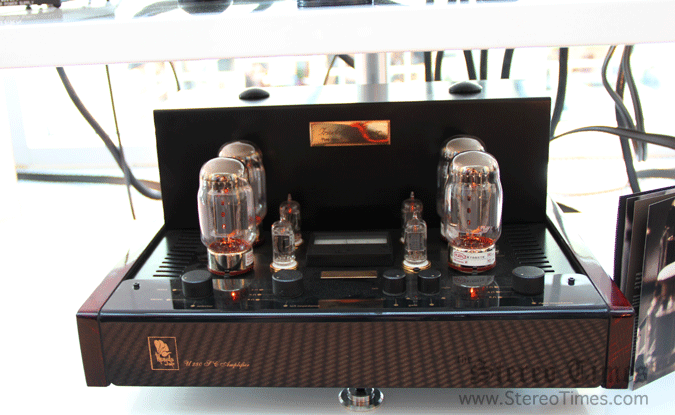 I heard a nice sound from the Margules Room that was available at a fraction of the cost of most of the other megabucks rooms I covered. The Mad for Music Model 9 (€7K) full range single driver loudspeakers from Italy, sounded very good driven by a 40-watt Margules U280SC amplifier (€3,850 with KT88 in triode mode) and a SF220R tube preamplifier (€2,900). The source was by a Luigi Dall'Antonia 95Tubes CD player (€2,790)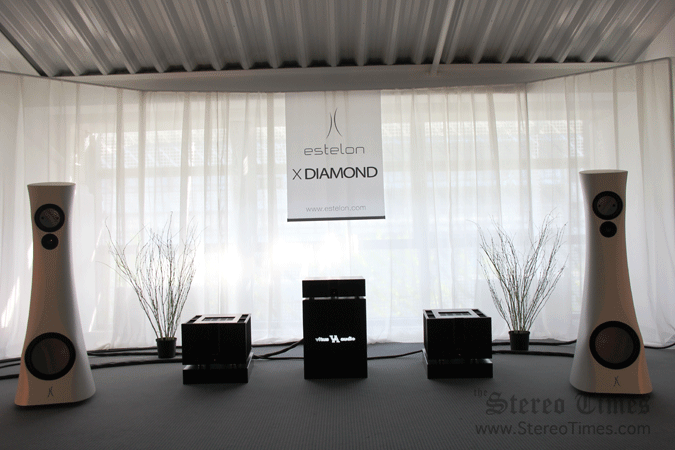 Estelon and Vitus Audio presented a stellar sounding room with the Loit's Passeri CD player from Singapore. Hans-Ole, the talented designer behind Vitus Audio's electronics, debuted his new Signature SM-102 (€50k) mono amplifiers. The SM-102 monos are a less expensive design based on technology employed in their statement products: the Masterpiece MP-M201s. The SM-102s produce 100 watts of pure Class-A power into an 8 ohm load by way of two massive 2.2kVA UI-core transformers. The spacecraft like Loit's Passeri CD player (€22k), employees world's first application of composite material carbon fibers. This material is well known for its superior industrial strength when compared to steel. It is lighter in weight and, while exhibiting unique qualities, is able to produce more desirable acoustics than plastic or steel.




I was very fortunate to be invited to a private listening session by Aldo Zaninello of Extreme Audio to hear the Leonardo speakers with CP at the Holiday Inn. The 10 minute taxi ride from M.O.C. was all it took to hear this newest type of ribbon loudspeaker. The Leonardo was driven by the Grandinote electronics and the source was a stunning looking and Italian-made Tourbillon turntable while Zaninello's own series of White Gold cables were used throughout. The Leonardo (€50K) full range 20Hz to 100Khz ribbon-planar technology loudspeakers use a proprietary and patent pending technology developed in over 25 years of research. In short, the sound was pretty incredible particularly in terms the dynamic liveliness. This was a direct result of the Leonardo's amazing bass output that literally had me looking for subwoofers hidden under perhaps a coffee table (there were none present). I never heard ribbon-planar provide a deep, tuneful and punchy low-end like the Leonardo. Easily the best ribbon loudspeaker I have heard.
High End 2012 Sponsor


Karem Kucukasan from Absolare debuted his masterfully crafted Passion Series of electronics at this year's show. His Passion 845 Single-Ended mono power amplifier (€29,900) produced a glorious 50 watts of pure Class-A, alongside its Passion Preamplifier (€22,900), that was sourced by either a MSB Universal Media Transport or Steve Dobbins' MagDrive turntable. This rig drove the Rockport Aquila (€50k) gracefully and effortlessly each and every time I visited. All signal and power cabling were the Echole Obsession Signature cables.




Isophon 's magnificent Berlina RC11 (€150k), four way loudspeakers, driven by Trigon electronics sounded powerful, smooth and linear. The Berlina RC11 loudspeaker boasts a new Rib Construction technology. The cabinet is made up of 39 ribs each separated by thin high damping ribs, and uses 2" diamond midrange and ¾" diamond tweeters, 7" ceramic midbass and four 9" woofers, all housed in three independent enclosures. The Berlina RC11s were bi-amped using the Trigon Monolog mono amplifiers (€10k), Dialog preamplifier (€5k) and Chronolog (€4,800) digital player.


The Swedish-made Marten Designs' affordable Dijango (€12k) loudspeakers were driven by Orpheus electronics of Switzerland and sounded absolutely superb. Transparent and natural were the things that kept coming to mind with an open and airy disposition. This system included the Orpheus Privilege (€40k) mono amplifiers are gorgeously built and carved out of 100kg aluminum blocks. Their Privilege Preamplifier (€19,400) and the Heritage D-A converter MP2 (€29,6000), the Vanguard Line DAD (€6,1500) Digital Audio Dock and the Khloe line cables were used throughout the system.






I was very impressed with the sound of Cessaro's room last year and this year proved even better. Cessaro showed its gigantic model Beethoven (€250k ouch!), spherical horn system with horn loaded bass, driven by a Tron Discovery GT (€45k) and the Syren II Preamplifier (40k) from England. The TW Acustic Raven black Night (€30k) turntable was used as analog set up. The Tron Discovery powered the Cessaro effortlessly with its magical 8-watts of pure unadulterated Class-A power. All cables were by hand built Tron cables. The sound was beautiful; it was very dynamic and had power and delicacy of detail when needed.




Sven Boenicke of Audiomanufacturer was commissioned by the Colotube to design statement loudspeakers that would match their 300B SE mono amplifiers (€20k/pair) to perfection. The W20 (€40k) floor stander loudspeakers have a distinctive shape with a 40 degree sloped baffle. At 95db sensitivity the W20s were driven beautifully with Colotube 300B SE; they sounded warm, very detailed and highly musical.


The sound of the YG Acoustic's Anat III Signature loudspeakers (€95k) was as impressive as I've heard. They produced a big and easy (but powerful), sound with superb soundstage. The system rendered the music naturally and seductively. Driven by ASR Emitter II battery-power amps of Germany and sourced by a beautifully made Scheu Das Laufwerk 1 turntable (€12k) resting on a Accurion active isolation platform. All electronics were by ASR.
Until next year.