If any two companies could be called "The Usual Suspects" it must be Behold and Ascendo. Both Ralf Ballmann and Jürgen Scheuring are fixtures on the Audio firmament as far as we are concerned. I suppose we are all running the risk of repeating ourselves but once more they produced some of the very best music at the show. It does not come as a surprise if you have followed them for some years. They are certainly knowledgeable and conscious of what counts when it comes to reproducing music in a convincing and impressive manner.
So it was indeed no surprise that the large system running the Behold CD drive and once in a while the Clearaudio turntable with the Behold Cartridge mounted A/D converter into an APU768 preamp, which by the way implement the x-over digitally with some room correction applied in order to really wrap up the sound, and finally transmitting digitally at 768kHz into the 3 BPA 768 power amps which were driving the Ascendo System M speakers, sounded absolutely wonderful.  Behold and Ascendo who work closely together have been polishing up the total performance of this system over the last few years and it really shows or should I say can be heard (in spades). In my opinion (humble or not) it represents some of the best sound money can buy. Now it must be said that 130K € and more is not peanuts (at least not in my book), nonetheless compared to many other systems where single components come in little under this, the system offers a level of quality what concerns both the sound and the actual build that makes it somewhat of a good deal.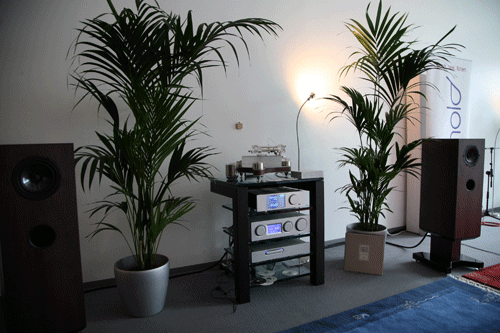 If you lust for the sound of the Behold/Ascendo system but can not in any way come up with the required finances, then the other and smaller system might just be up your street. It consisted of the now production ready Behold Gentle192 and the Ascendo C8 Renaissance. This last speaker contains a coaxial unit (from Seas), a rear firing planar tweeter and the usual (for Ascendo that is) internal bass unit which only play through the port opening on the front of the speaker. We heard it playing in its standard version in Ascendo's own room and it sounded great.  Together with the Behold Gentle192, an it sounded several levels better to these ears.
The reason for this is probably to be found in the correction made possible by the Gentle192 in terms adjustments of frequency and phase performance and some (gentle) room correction or adaptation if you want. Obviously it is too simplistic to call Gentle192 an amplifier since it really is a replay system containing amplifiers, general computer and a DSP engine which allow the aforementioned x-over and speaker/room correction as well as replay from hard disk and many other goodies.
And what do you know! It works and not just a little bit. I (and I think quite a few others) thought it sounded wonderful. You might be of the opinion that it lacks the utmost in deep bass and refinement compared to the big system. Be that as it might, it is also available for less than 15% of the big system which actually makes somewhat of a bargain in comparison. So while it might not quite be beer budget it definitely is Champagne taste.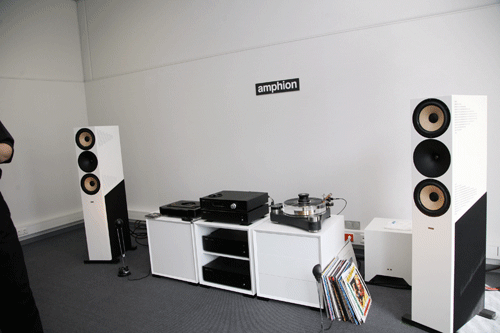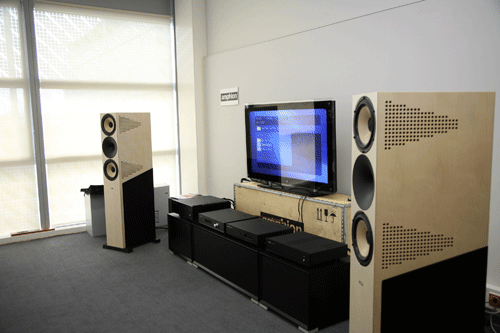 Another of the "Usual Suspects" is Anssi Hyvönen of Finnish Amphion. He has been around on High End for close to 10 years and over the years made a fine impression with his speakers.  Since last year he has bolstered his forces with another well known face namely Ole Lund Christensen whom most people know for his GamuT amplifiers which company he sold a few years back. I reviewed one of the amps a good while back and have kept some contact with him since then. So now he is working with Amphion and is in the process of revamping the entire line of speakers and much for the better is my impression.
Amphion was showing together with two electronics companies representing quite different and still very attractive views on amplification and sources. The first was Holfi, a Danish company run by Peter Holstein and Göran Bergh (I suppose that this actually makes Danish/Swedish) and the other is a French/Swiss company Mimetism which I haven't come across before but certainly was happy to have.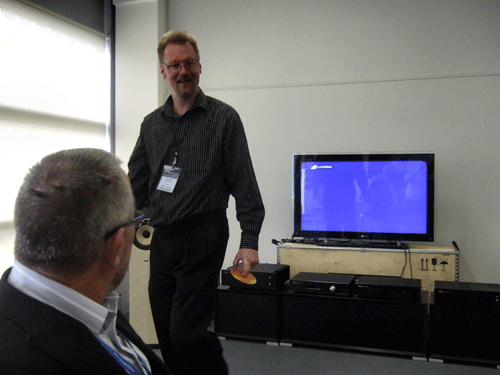 Holfi has always very much been implementing Peter Holstein's ideas (photo above) on how to do audio equipment. He started out quite a few years modifying equipment but quickly got into producing his own designs. He introduced grounding of speakers back even before Tannoy I think and one thing that has been a continued theme with his designs has been battery power for electronics, even his power amps.
As has been reported elsewhere the big Krypton speakers acquitted themselves very impressively in the room using the Holfi electronics. It was chosen to not treat the at all to emphasize the beneficial radiation pattern of the Krypton. In practice this meant that even with an untreated room the reproduction was much better that one would expect and this could possible, next to the  very clean design look of the Amphion speakers, make for a better WAF than normally possible. And a happy audiophile as well of course.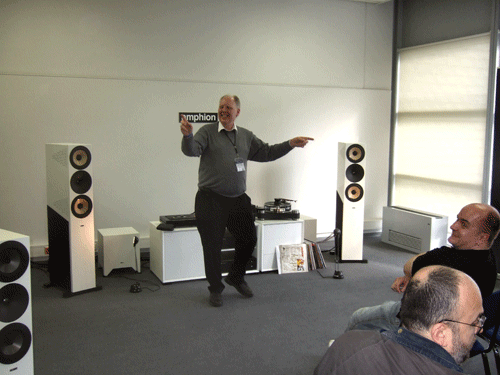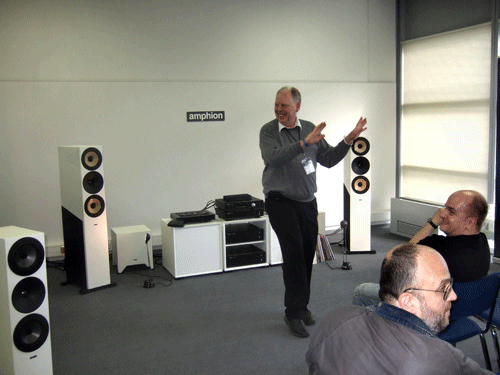 It was actually during one of Peter's demonstrations, which included 4 Amphion speakers, 2 of the big Krypton and 2 Prio as rear speakers, that something really grabbed my attention and resonated with what I have felt for quite a while. It was Peter Holstein's remark that in his opinion the most important aspect of SACD was the multi-channel option. I sat up and agreed.
In spite of what all the 2 channel fans claim I believe that a decent multi-channel system will emulate the actual experience in a space where is being played much more convincingly than a 2 channel system, no matter it's other qualities. We listened to a wonderful Philips demo SACD of Ole's (which unfortunately is not commercially available) and to a fantastic recording of Mahler's 2nd on Channel Classics. Switching off the rear channels simply makes the whole thing collapse to the front. To me personally most discussions of soundstage becomes nonsense in the face of such observations. There is NO doubt in my mind that decently recorded multichannel recordings are preferable to 2 channel.
As a side issue I really don't know why I keep on reading that SACD is dead and that nothing is published. Has anybody tried having a brows on Amazon lately?  Searching on amazon.co.uk gives me 3857 hits for SACD under Music and 2408 under Classical Music. I have not investigated how many doubles hide here but to state that no interesting music is available seems contrary to reality. I have personally just purchased all of Beethoven's Symphonies with Haitink and London Symphony Orchestra in multichannel and certainly look forward to listening.  More on this at another time.
Before leaving off the Amphion room I must make mention of another brand of electronics that sounded great and looked really great. This was the French/Swiss brand of Mimetism.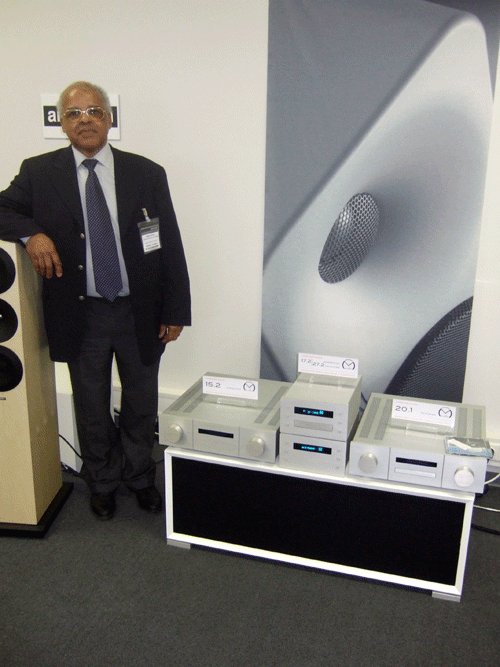 Mimetism was represented by William Andrea (photo above0 and if you don't know of him personally you will be certain to know of some the illustrious French products he has designed over the years including Supravox, YBA and Vecteur.
We had quite a conversation regarding the 20.1 CD player and the 15.2 integrated amplifier. A listen to the newly introduced smaller models the 27.2 CD and 17.2 amplifier was equally convincing.  These are really sophisticated products in the best French tradition and as the company advertises with Swiss precision it must be said that they they look absolutely stunning.  I truly hope to have a chance to listen closer.