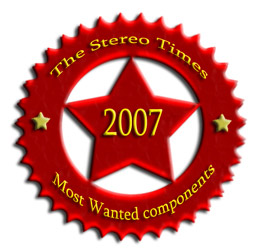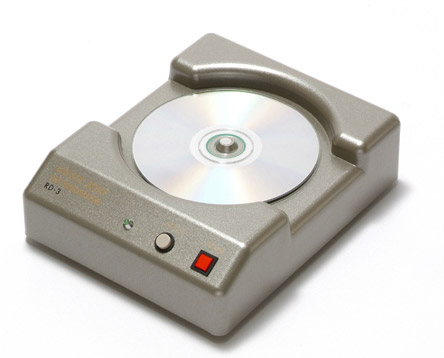 Acoustic Revive's RD-3 Disc Demagnetizer, the RIO-5 II Negative Ion Generator, and the RGC-24 Grounding Conditioner. See my Random Noise 3 column for a consistently bemused report on three items that do really nice things to my CDs. There as well as here I own up to ignorance and pig-in-poop contentment. (Go to www.LotusGroupUSA.com for more information as well as a link to Acoustic Revive.) [Mike Silverton]

Acoustic Zen Absolute Cables (Absolute interconnect $2488.00 per meter, Absolute loudspeaker cables $2488.00 for 8 foot pair, Absolute power cord $2488.00 for 6 feet). Robert Lee has raised the bar with his Absolute line of cables. Already known for providing a line of products that are very musically satisfying, he has significantly improved on his previous top of the line Silver Reference II interconnects, Hologram II speaker cables and Gargantua II power cords. The Absolute series has a quieter background that reveals more information from recordings than his previous reference and engulfs the listener with a beautiful array of sounds that brings the listener even closer to the main event. [Craig Fitzpatrick].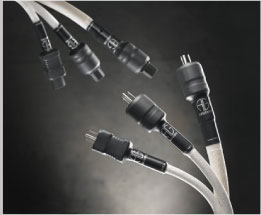 Argento Audio Flow AC Powercord ($ 2K/2 meter)
It was immediately obvious that the Flow cables were special. They had a natural, open, and transparent sound, allowing me to explore the inner details of recordings and also simply enjoying the music. These beautifully crafted Argento cables reminded me of something from Cartier. Review to come. [Key Kim]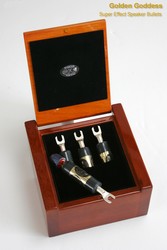 Bybee Super Effect Speaker Bullets: ($3400 per set) After living with and hearing this product in a variety of situations and setups Iím convinced itís the most significant product to have graced my system, and every other system Iíve heard it in with respect to noise and AC grunge removal. Here's the kicker, you don't know how much noise and grunge gets in the way of your system until you hear this product. Makes every AC conditioner I've owned sound inferior and in some cases broke. Don't let its exorbitant price scare you because once you hear it, you too might qualify this product more than a bargain.
Significant implies sonic impact. The Bybee Bullets; a secret mixture of 14-carat gold, quantum mechanics and newly adopted Nano-tube technology, have impacted on my systems sonics unlike anything I have heard - maybe - with the exception of the Nova Physics Memory Player and Behold electronics. And that said, both these products COULD NOT perform in the stellar ways they do if it were not for the Bybee Bullets adeptness at removing grain, grit and glare. This in no way, minimizes other noteworthy products like the Acoustic Resonators or the Shatki Hallographs but I would have to qualify these products in the category of acoustic enhancers (and very good ones at that). The Bybee Bullets isnít that at all. It serves more as a noise remover that allows all the music to come through in a naturally organic way Iíve not experienced before from any AC line conditioner. None. Easily, the very best noise removal product to come from Jack Bybee thus far or anyone else for that matter. [Clement Perry]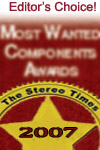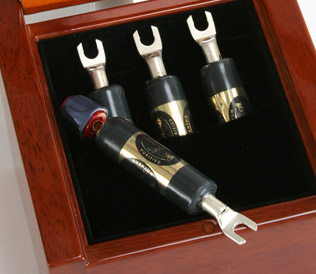 Bybee Super Effect Speaker Bullets ($3400 set)
My reaction to the first 10 second of a well burned in set of Bybee Speaker Bullets inserted between the Sunny 1000 speaker wire and the Dynaudio Evidence Masterís binding posts was ďWow!!Ē next words? ď These are stayingĒ.

The effect was impossible to ignore. Similar in effect to what a great line conditioner ought to yield, the bullets, however, operate on the signal rather than the current.
There is something very special at work here, more than simply a lowering of the noise floor, which indeed there is. The sound relaxes, warms, and comes to life in a way that was never quite accessible via the traditional tweaks employed to date. I am in no way diminishing the contributions of the power accessories and isolation devices such as the outstanding Silent running Audio Stands I recently included in my system. They simply address other problems, which however effective they may be at their given tasks, there will always lurk that elusive distortion that the Bybee Bullets seem to absolve.

At over $3k, these diminutive products may seemingly be, when judged at cost per pound, another over priced audiophile widget, nothing could be further from the truth. I consider the Bybee Bullets an invaluable component in my audio eco- system, not another tacked on tweak. I am looking forward to the audiophile community catching wind of these remarkable devices. Should make for some great buzz. [Greg Petan]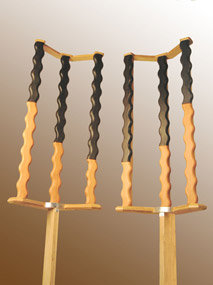 Hallograph Sound Field Optimizer ($1000.00)
Ben Piazza and David Kaplan Have introduced the ultimate device for the audiophile that has everything or the not so well-healed music lover who just wants to optimize the impact of their current audio system. The Hallograph Sound Field Optimizer resembles a pair African wood carvings on pedestals.

The Hallograph when optimally placed behind the speakers cancels the first order of room reflection to enable you to hear deeper into the sound stage.
Music takes on a more dimensional and realistic presentation. I canít quantify how they sound, but I can attest to what Iíve heard them do with recorded and live music. [Dennis Parham]
Intuitive Design Mosaic Chimera speaker cables ($2K/per 8 foot pair) Intuitive Design cables are designed by industry veteran Dale Pitcher. Mosaic Chimera speaker cables utilize nano-tube carbon elements in the modules at the speaker termination. The manufacturer does this to (among other things) provide for improved electron symmetry at the termination. The Mosaic Chimera cables had a natural, open, airy sound and an ability to draw you into the music. [Key Kim]

Monarchy Audio AC-Regenerator ($750)
This excellent AC power regenerator made a profound difference in the performance of my digital front-end gear. With the resulting isolated and purified AC my system sounds more pellucid, sweet, and coherent. The bass definition and articulation improved noticeably. Limited to 100 watts power draw (total) but can dramatically refine the sound of most systems. [Frank Alles]
NeoTech Cables (NES-1002 Speaker Cable$2,600.00 per pair, NEI-2001 interconnects $895.00 per pair and NEP-3002 power cord $360.00 ea)
The most impressive sonic aspect of the NeoTech cabling was their unique way of synergizing: there exists a musical coherency that provides greater insight to the performance and/or composition. NeoTech's strengths lie in its smooth and relaxed tonal presentation while detail and imaging don't hide. Dynamically, they rival cables many times their cost. NeoTech is more than deserving of a Most Wanted award merely because they make such good cables at down-to-earth prices. [Dennis Parham]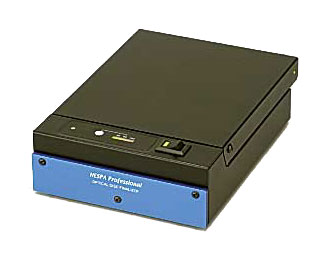 Nespa Pro CD enhancer ($800): A remarkable CD/SACD/DVD/BluRay/HD-DVD sonic enhancer thatís quite easy to hear and betters other tweaks Iíve compared it to. Itís also a cinch to operate; spinning discs at a high rate while simultaneously treating them to (variable 30, 60, 90) flashes of bright light that is said to burn off molecular impurities never removed from the original discs. Far more practical than my Audio Desk CD Shaver, this product not only offers great sonic benefits but in fact has demonstrably improved my BluRay, HD-DVD and DVD discs as well. If youíve the energy, using the Audio Desk after NESPA-tizing your discs improves sonics still further. [Clement Perry]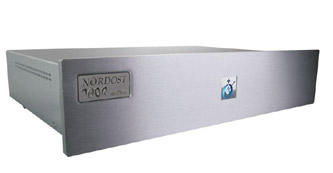 Nordost Thor Power Distribution Center ($3,300)
The introduction of the Thor into my system has brought an improvement to every aspect of my listening pleasure at home. Although the Thor is an expensive piece, it will reveal the true capacities of all of your existing components and bring them to a new level of performance. Complex orchestration is organized into coherent space and musical parts, while intimate ensembles have their players sitting in real space in relation to each other, with dynamics greatly improved and defined. In sum, more of the emotion of the music is what comes through when the Thor is channeling the AC mains supply to each of your components. [Nelson Brill]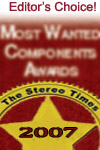 Sonic Impact ďVideo 55Ē Mobile iPod Video Player ($179) and Grado SR 60 Headphones ($69)
Not your average high-end set up, but for those of us who frequently travel and just canít stand those cheap headphones and audio hook ups on most airplanes, this may be an answer to your prayers. The SI features digital amplification and aluminum cone neodymium drive units. Paired with one of the best bargains around, the Grado SR 60 headphones, the SI allows you integrate music and movie enjoyment from your iPod into your work/life balance. [Dave Thomas]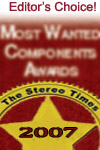 Stealth Audio Air King Interconnect (Price unknown)
The aptly named Air King is as highly resolved a cable as Iíve heard. Live music, particularly vocals, begs to be played through these cables. Capable of haunting image quality and instrument nuance realization. The Air King has returned a much missed sense of joy to my late night listening sessions. [Dave Thomas]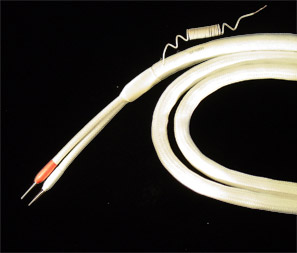 Sunny Cable Technology 600 Series Cables ($600-$1,800) Follow-up in progress
I reviewed Sunny Cable's original 600 Series cables and thought they were a revelation. When I was invited to give the latest 600 Series line a listen, I was not quite ready for the level of improvement these cables had gone through. The new 600 Series cables are quieter, more dynamic, faster, and more natural sounding than before. On top of that, the range between the upper bass and the lower midrange sounds more life-like and energetic, rendering popular music and movies even more enjoyable. [Michael Wright]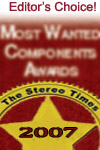 Sunny Cable Technology ďSupreme SeriesĒ and ď1000 SeriesĒ Cables (prices vary): My first picks for the 2007 most wanted components is a two-for from Sunny Cable. While I would love nothing more than to lash my gear together with the Supreme Series cable, the real value in the Sunny line up comes in the form of the 1000 series. At nearly one sixth the cost of the Supreme, the 1000 Series reveals harmonic structures merely hinted at by cables twice the price and beyond. When the electronics are capable, the 1000 Series will take your system farther down the road than you may have thought possible. Review to come. [Greg Petan]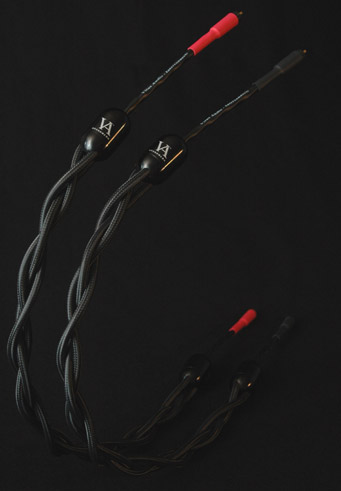 Vitus Audio Andromeda Cables (Andromeda interconnect $2200.00 per meter, Andromeda loudspeaker cables $5000.00 for 1.5 meter pair, Andromeda power cord $1300.00 for 1.5 meter). Vitus Audio is a Danish company that is slightly over ten years old but the name is somewhat new to North America. Yet in the past couple of years the Vitus Audio name has quickly developed into a pedigree brand and has gained a stellar reputation for producing extremely well built, attractive, and fantastic sounding solid state amplifiers and preamplifiers. The company also produces a supreme line of cables. The Andromeda series is the brainchild of Anders Grove who has been producing cables for over twenty years. The cables are constructed with carefully selected top grade copper wiring and produced some of the most musically satisfying performances that I have ever heard. Although Iím in walking distance of the Chicago Symphony Orchestra the Andromeda cables are so good at resolving inner details, creating a seductive, palpable soundstage, and an enchanting wave of music, I can sometimes experience the illustrious sounds of Mozart from my leather loveseat. [Craig Fitzpatrick].