NEW PIANO-BASED RECORDING GEMS: BECKONING TO EXPLORE BENEATH THE SURFACE
December, 2011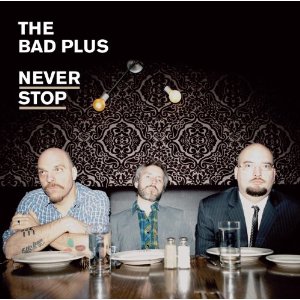 THE BAD PLUS: NEVER STOP [EONE MUSIC]
The capacity crowd at the Regattabar in Cambridge, Massachusetts, is buzzing with anticipation on this late October evening as the three intrepid members of the group The Bad Plus - Ethan Iverson on piano, Reid Anderson on bass and David King on drums- hit the stage with sly grins all around. Those wily grins portend a night of astonishing elliptical creativity as the band strides forth unfurling their rambunctious wall of sound, peppered with gorgeous melodies, chromatic curves and ebullient energy. This is a band that grabs you by the collar and never lets up, demanding your immediate and undivided attention. Indeed, their latest gem of a recording is entitled, appropriately, Never Stop [EONE Music]. This evening, the band jumps into a bunch of new tunes, (for a forthcoming album) with explosive virtuosity and abandon. A simple line traced by Iverson on his piano can turn into a churning furnace of harmonic play, cushioned in Anderson's flowing acoustic bass lines. Iverson effortlessly crunches major/minor chordal changes into blocks of bass color with his left hand. At the same time, he lets abrupt silences and pauses operate to create rhythmic surprise with whimsical glee in conjunction with his pinpoint treble reaches. Sitting near King's drum kit is like bearing witness to a torrid, creative hurricane. The indefatigable King unleashes bellows of huge bass drum energy with cataclysmic propulsion. In one moment, he pushes his ride cymbals with his fingertips creating a whoosh of gentle, tactile breezes through the musical landscape. In another instant, King takes a single drumstick and places its tip against the center of one cymbal. He then pressures that single drumstick into the suspended metal surface, creating an eerie, shimmering whisper that suffuses the Regattabar's intimate surroundings.

The Bad Plus creates music that moves beyond virtuosity and musical categories; they beckon us to explore beneath the surface. Although their recordings cannot fully capture their effusive live performances, Never Stop is a musical feast for the ears and the heart. For example, the recording contains a beautiful ballad, "People Like You," a ten-minute, slow-hewed object of beauty. Here, simplicity reigns in Iverson's momentous pauses and soft flowing melody, each note wrapped in bass and drum swirls of deep pungent color. This is positive, uplifting balladry with a complex language lying below its melodic surface. Here, Anderson's deepest bass plunges will test your system's ability to articulate acoustic bass tones down to the sepulchral depths while Iverson's light, feathery treble runs will test whether your system can capture each articulate, individual raindrop until Iverson's weavings explode in a downpour of runs and colors. In contrast, "Snowball" builds its slow, melodic momentum on an irregular, angular rhythmic pattern. This piece is based on a plethora of sounds, all fusing different textures and rhythmic qualities into a journey of surprise twists and turns. King brings splashes of bells and spindly cymbals to the mix, while Anderson adds a fulsome, cascading bass solo reflected against Iverson's knotty piano motifs. Likewise, "2 P.M." is a gnashing of chords brought to a slow brewing tempo that unleashes another fiery bass solo against King's percussive concussions. The melody bobs and weaves through a creative re-working until it arrives newly minted and recreated afresh.

The Bad Plus can also swing and rock with the best of them. The opening number, "The Radio Tower Has A Breathing Heart," is a protean display of colossal force generated by the propulsive Iverson leaning into every block of huge piano chords, melding into a lava flow of harmonic richness. King and Anderson follow Iverson's lead, burning up the wires with a pelt of percussive energy and prodigious bass that melts away into a repeating, circular melody (like airwaves bouncing off a planet's surface). The title track, as well as the numbers "You Are" and "Super America" propel and sway with the best of them. Even with these more structured melodic creations, the free-spirited writing just below the surface always beckons with exuberant bursts of virtuosity and the felicitous chemistry that marks The Bad Plus at their best. Catch them if you can!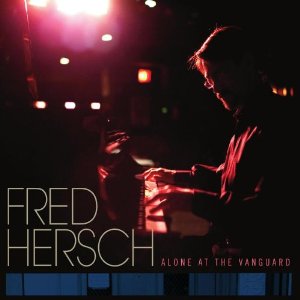 FRED HERSCH: ALONE AT THE VANGUARD [PALMETTO RECORDS]
A second highlight of the recent live performance calendar was heard this spring at the wondrous Jordan Hall at the New England Conservatory in Boston where two intrepid explorers of the keyboard, Jason Moran and Fred Hersch, performed together in a night of duets and solo improvisations before a capacity audience. In their tribute to Jacky Terrasson, Moran and Hersch traded muscular boogie-woogie swing back and forth across their adjoining pianos. Here, Moran was all short jabs and plucks at minor colors while Hersch concentrated on a softer touch; all luminescent rolls and sweeps. On Wayne Shorter's ballad, "Iris," the two pianists dipped and swayed on contrasting symbiotic journeys. Moran began by standing at his keyboard, overseeing (from a better vantage point) his construction of huge blocks of chordal colors below. Hersch constructed his own velvety runs around Moran's hefty foundation, cementing here and there with lofty highs, liquid runs and stabs of light bass staccato. Miraculously, the two players ended their improvisation on identical soft chords and platform notes; like mating dragonflies landing perfectly in mid air upon each other's backs.

One of the solo pieces that Hersch played at Jordan Hall this evening was "Pastorale", an original composition inspired by Robert Schumann. "Pastorale" is all winding, soft melodic passages, crystalline and soft at the same time. With a hushed audience leaning in to hear his every nuance, Hersch built a dense castle of romance and balladry, suffused with warmth from twisting triplet figures and intersecting bass lines. "Pastorale" also appears on Hersch's latest recording, Alone At The Vanguard [Palmetto 2147], a gem of a recording that captures the essence of Hersch's unique and probing solo artistry; one that invites the listener into his world of beautiful convolution. This recording places the listener in the first rows of the Village Vanguard during Hersch's full week of recent solo performances. "Pastorale" is here in all of its sweetness and depth, moving at a beautiful pace through its permutations of classical melody. Pocketed next to it is a contrasting, glorious take on the Brazilian composer Jacob Bandolim's classic tune, "Doce De Coco." Here, spices of Choro and deep coffee colors are brewed swiftly together under Hersch's guiding hand. Hersch beckons us below the surface of this frolicking melody to a world of chordal and rhythmic complexity, brilliantly conceived and delivered. Likewise, on Hersch's challenging workout on Monk's "Work," Hersch weaves a deep pounding blues bottom underneath a scintillating cornucopia of single notes, (some reaching to the very top of the keyboard's register), accompanied by spilling trills overflowing with liquid texture and bluesy breezes. Rollin's "Doxy" also gets a bluesy treatment, slow and steady in its complex unveiling. Hersch mines deep bass chords and colors, leading the listener through a thicket of metric changes along with light treble accents against a bluesy, night sky. That same night sky is rendered in diaphanous beauty in the opening tune, "In The Wee Small Hours of the Morning," where serene trills in the midrange are arched against a slow, penetrating melody. The recording is vivid and alive. It captures all of the intricate layers of Hersch's technique and emotional delivery at his piano as he leads us on this meandering night path lit by his delectable compositional ideas and luminescent runs.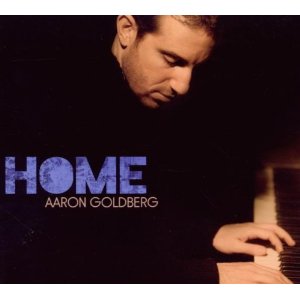 AARON GOLDBERG: HOME [Sunnyside Records]
Then there was the glorious concert presented last month by the 3 Cohens (Anat Cohen on clarinet and sax; Yuval Cohen on soprano sax; Avishai Cohen on trumpet; joined by Omer Avital on bass; Johnathan Blake on drums and Aaron Goldberg on piano) for one packed, rollicking night at Scullers Jazz Club in Cambridge, MA. This was a night to remember for jazz fans in Boston. The 3 Cohens gathered for an informal recital (with laughter, hugs and backslapping all around) to celebrate the release of their latest recording, appropriately entitled Family [Anzic Records]. The band was in top form with the Cohen front line blasting away on everything from Anat's opening tune from Family, "Shuffla De Shuffla" (a huge swing fest), to a strutting Duke's "The Mooch" (with everyone swinging for the fences). These brash numbers had the crowd in Swing Heaven. Anat wailed up high on her clarinet, (slurring up and down effortlessly in her best Benny Goodman incarnation), while Yuval and Avishai drenched the proceedings in redolent bursts of brass color and Tin-Pan Alley glee. The proceedings concluded with a stirring rendition of "Freedom", (taken from the Cohen's earlier recording, Braid) featuring a solemn trumpet introduction by Avishai, displaying his wonderful supple approach to dynamic nuance. The moving melody of this tune was then taken up by the entire front line in a cacophonous crescendo of sounds and colors, with Blake keeping it all grounded with his ebullient, prodigious beat. (Keep an eye out for this spirited young Lion!)

Like the cherry on top of a sundae, the presence of pianist Aaron Goldberg in the Cohen band added even more pleasure to this life-affirming live performance at Scullers. Goldberg is a soulful pianist and composer with a great ear for melodic persuasion, combined with a keen interest in chromatic and rhythmic surprises. His latest recording is Home [Sunnyside Records], a gem of a recording offering great image dimensionality and a vivid revealing of both Goldberg's (and his dynamite band's) artistry. The recording commences with Goldberg's "Cancion For La Unidad Latinoamericana" that swirls and floats with melodic serenity, buoyed by Mark Turner's tenor sax ruminations upon the trusty foundation of Reuben Rogers' acoustic bass and Eric Harland's percussion. This is music to celebrate Kindred Souls, a call for Unity. A different concept of "home" is found on another cut, "Homeland," which is propelled by spare percussive motifs (delivered by the always creative Harland) and the melodic queries posed by Goldberg (with added intrigue created from a pluck of piano inner strings). Goldberg's playing lingers to exude emotional heft, softly portrayed with languid notes that leave space open for a far- flung bass solo from Rodgers. "The Sound of Snow" is another gorgeous moment in time, with Goldberg cascading in beautiful pace and circular motion on his piano to the sway of light cymbal, hand shakers and bass plunges. His lithe treble notes are delivered with grace and with a marvelous feel for crisp textures. Another ballad of solidity and grace is "Luiza," a musical gift of keyboard juxtapositions. Goldberg shines in combining stark notes, brittle textures and golden liquid hues to create a stew of chromatic colors against the backdrop of soft percussion and bass accents. Halfway through we are ushered into completely different rhythmic territory as Rogers and Harland plunge us into a deep crevice where time seems to stop completely. Goldberg's compositional flare for harmonic juxtapositions and rhythmic exploration (that pulls the listener like an undertow below the surface of familiarity) is also highlighted in his version of Stevie Wonder's "Isn't She Lovely," (with its cacophony of blues and jazz riffs landing amongst ostinato bass lines) and Goldberg's "Aze's Blues". The latter composition fires off an off-kilter ramble between the unpredictable Turner (crafty, as always, in his tonal explorations on tenor sax) and Goldberg, whose own dialogue contains big, juicy chords augmented by bluesy runs and sprints of individual notes sparkling and flying forth in keyboard glory.



We welcome any suggestions for audiophile recording gems. Please write to nelsonbrill@stereotimes.com