Mark Sherman, "Family First" [City Hall Records]
Pair Up and Dance
October 2007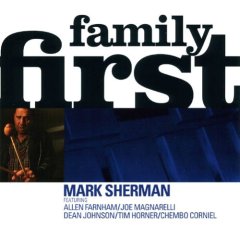 The world of jazz offers countless ways in which pairings of different voices and instruments intertwine to produce the newest of textures, the freshest of ideas. Recently, I had the great fortune of hearing vocalist Karrin Allyson perform at Scullers Jazz Club here in Cambridge, MA., accompanied by a stellar band which included the inventive Steve Nelson on vibraphone. At one point, Allyson and Nelson created a magical moment when they performed a stunning duet with Allyson lightly scatting over Nelson's soft echoing runs on his vibes.

Similarly, in another wonderful pairing of vibraphone with other voices, vibraphonist and composer Mark Sherman presents "Family First" on the independent City Hall Records label. Here we find Joe Magnarelli's beautiful flugelhorn and trumpet work playing the creative foil to Sherman's expressive vibes, with great supportive work from Allen Farnham on piano, Dean Johnson on bass and Tim Horner on drums. The first highlight of this ingenious stew of colors and textures is provided by Paquito D'Rivera's tune, "Wapango," kick started by the conga work of Chembo Corniel. What a glorious sound this conga solo provides, both reverberant and deep! Out of this auspicious start develops a fast paced Cuban rumba, with Sherman dancing on his vibe's trills and spills, alternating with Farnham's piano and Magnarelli's piercing, quick trumpet.
The piece is a fantastic global romp, with great sonic reproduction of the textures and colors of the various voices in play. Sherman follows "Wapango" with another highlight, the contrasting slow, smooth flowing lines of Farnum's "Lazy Afternoon." This slow number is a perfect vehicle for Sherman to bask in the wide harmonic textures and colors created in his ranging solo. Sherman's solo leads languidly into a nice interplay between vibe and flugelhorn, as Magnarelli showcases his talent in blowing curvaceous lines that meander and flow naturally. Johnson's bass lines form a warm, dynamic underpinning to this bluesy cut.

Melody is always front and center in Sherman's work, and each piece presented here offers beautiful simple melodies that are explored in complex and creative ways. "Family First" offers a free flowing melody that offers many nooks and crannies to be explored by Sherman and his bandmates. Don't miss out on how Horner's muscular drum work works around back, with his cymbals recorded very beautifully in shimmering sheets of true metallic tone and long natural decay. Another beautiful, swinging number is Sherman and Magnarelli getting intertwined on Joe Henderson's "Punjab." Magnarelli takes the first swing on his trumpet, diving and chasing with plenty of nice trills and dynamic staccatos, with Johnson plucking forcefully on his bass underneath. Sherman then launches in, bounding up and down his vibraphone, holding down fragments of the theme with his punctuated mallet work. Johnson gets a solo nod here and we are rewarded with hearing his melodic and muscular plucking and fingering on his acoustic bass, captured in all of its tactile feel on this excellent recording.
Sherman's "Symmetrical" brings around a light, sweet melody while "Explorations" offers more dense harmonic colors and weight to Sherman's vibraphone. The recording concludes with another highlight, the Jimmy Health tune, "A New Blue." Here, Sherman experiments by starting his bluesy solo on minor, off center chords and colors and then exchanges several rounds with Horner on drums, only giving way to Magnarelli to do the same on his blazing trumpet. Horner's drum work is crisp and bold and sinuously flows in and out of Sherman's bluesy, harmonic leads. The result is a wonderfully creative off-kilter romp, showcases once again the special musical camaraderie shared on this recording gem.


We welcome any suggestions for audiophile recording gems. Please write to nelsonbrill@stereotimes.com