One of the pleasures of the Fall season here in the Northeast is to venture forth to one of the innumerable craft and agricultural fairs that dot the landscape this time of year. Here you can stroll and poke around booths and tables, finding everything from that old farm widget to the best local grown honey or cabbage on the block. And, of course, the prize pumpkin beckons as it weighs in at several hundred rotund pounds. Guilders are alive and well at these fairs, showcasing their handmade "Americana" crafts and homemade jams and libations, produced from the Vermont soil or a Massachusetts kiln. In this same spirit of regional guild craftsmanship, here are two very different musical statements, both recorded beautifully on homegrown labels, which will entice and invite you in with their great musicianship and different landscapes of sights and sounds.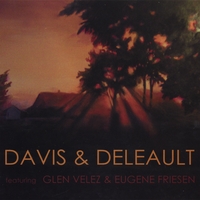 Maybe you have not heard of reedman Don Davis from the Northern climes of New Hampshire and Vermont, but if you love challenging and contemplative jazz with blues tinges, recorded with immediacy and vitality, look no further than his recording on Delvad Music. I once wrote in these pages an homage to the recordings of the late great reed master Leonard Hochman, and Davis' sound reminds me a lot of this clever innovator on both sax and bass clarinet. Here, Davis is joined by compatriots Joe Deleault on piano, Eugene Friesen on cello and Glen Velez on eclectic hand percussion, to produce a recording that bursts forth with colors and innovative passion. The recording commences with two stately ballads, June Theme and Naked As We Came, employing beautiful solos on alto sax and piano, all nestled in the palm of Velez's hand shakers and light percussive effects. On June Theme, Friesen enters with fragile plucks and moves into deeper territory on his cello, singing resonantly until he merges with Davis on the stately theme with a breathy, shimmering chorus. Soprano sax is a hard instrument to capture on recordings without it highest peaks being reduced in intensity and color, but on Naked As We Came Davis showcases a beautifully captured burnished glow to his soprano as it reaches up high. This is especially true on his extended solo here, which, at one point, is accompanied only by the ambience of the recording space and the barest hints of harmonic afterglow generated from the high notes of his soprano resonating against the inner strings of Deleault's piano.

Juxtaposed to the curvaceous Renoir-like contemplation of these ballads (as well as the closing beauty, "Coming Home,") are the Cubist-like angular workouts of The Four Winds and Having Said That, involving bursts of creative energy from Davis on soprano sax and inventive runs from Deleault. Deleault gets to spread out on Four Winds, in which he creates a sound like a swarm of Vermont bees by utilizing a quick repetition of minor notes while at the same time dancing with light chords and permutations up and down his piano register. His piano tone is clear and liquid on this beautiful recording. Velez is also brilliant here, punching out light, resonant taps on an assortment of hand drums, utilizing the inside skin and outside rims for different effects. Having Said That is a hot amalgam composed of Davis on soprano sax, followed by wood flute, breathing and cascading against the pitter-patter creativity of Velez's delicate rhythms. This inaugural flight ends with deep, stately long held notes from Davis' wood flute and Velez' very deep plunges on his hand drum, which will test the bottom end articulation of any system. Softly As A Morning Sunrise is a rollicking number as well, with a tin pan alley full of Davis' slurs and flights of fancy on his squawking soprano, with Deleault prancing alongside him with comic intent. Finally, these guys craft a Strawberry Fields Forever that is a wonderful twist, ignited by Friesen first stating the familiar theme on his cello and then sending both he and Davis into a blues tinged exploration of its structure, highlighted by Friesen's plucks and Davis' breathy alto meandering to and fro. In the end, everyone lands back into the territory of the familiar melody, with New Hampshire farmland and Strawberry Fields stretching out as far as the eye can see.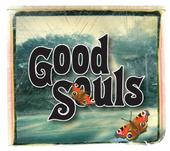 Now take a deep splash into some icy water and bob for apples at this other crafted beauty of a music statement, this time firmly planted in the regional rhythm and blues of the deep South, with flattop guitars and Tennessee warmth. Good Souls is a heart and soul quartet crafting their warm driving guitar sound from the caches of Creedence Clearwater and their brethren, with a big hearted soul singer, Briana Hardyman, channeling the energy skyward. Start off with Rag Doll, a slow burner that lifts off with Brook Sutton's deep, pungent electric bass rolling into the room. Sutton's bass throughout this disc is a mean spirited backbreaker, warmly lit and always rolling deep. Rag Doll is a smoldering rocker, with Hardyman hitting great harmonies with guitarist Dave Isaacs on this melodic head-turner. Isaacs has a great feel for staccato, string benders in his guitar work, creatively strutting into new colors and minor/major chord reversals that surprise and sting. A great example is Isaac's guitar work on the killer I Turn Cold, blasting his chords, sputters and twists of turns while Hardyman lays down the law with a searing vocal delivery. The excellent recording places you into this intimate soundstage with its creative musicianship and smoldering energy with nice warmth, surrounding air and vivid image dimensionality.

Hardyman has a beautiful deep, full of emotion delivery, and every tune that she leads is a spirited journey. Hardyman wears the emotional impact of each song on her sleeve, capturing the essence of each ballad or barnburner with a special ease and honesty. In Angel's Wings, she smoothly rides alongside Rob Crawford's deftly swinging snare and cymbal work that drives this lilting ballad. Hardyman communicates this 2 A.M. ballad with a natural and light delivery, with Isaac joining her for some uncanny vocal harmonies, as they dip and soar together over Isaac's delicate acoustic guitar ruminations. St. Claire of Cedar Rapids is another potent rocker, fueled by Isaacs hitting the vocal spotlight himself with nice fluid punches, with Hardyman sitting casually behind him intertwining harmonies. Get out the dancing shoes for this one, the best of Southern kitchen rhythm guitar swing.

But watch out when Good Souls rolls out the slow burning Blues, especially with Hardyman greasing the wheels. Into Blue is a serious plunge, with each vocalist taking a passionate turn while Sutton's deep bass rivets and Isaac pounds out some driving chords. Hardyman gives us a glimpse here of her honest Blues chops and she delivers magnificently on the brilliant catcher, Right To Be Wrong. She takes flight and never looks back with gorgeous, powerful sweeps of Blues vocal delivery, deep, gracious and wide. Her vocal honesty, from whispers to fervent pleas, absolutely nails this simple Blues statement about personal integrity and spiritual confidence, with the rest of the band pulsating along with her. Move over prize pumpkin, Good Souls positively soars-catch them if you can!


We welcome any suggestions for audiophile recording gems. Please write to nelsonbrill@stereotimes.com.