AS SPRINGSTEEN SINGS: "I WANT TO BE WHERE THE BANDS ARE!"
New Gem Releases from Swinging Bands
October, 2011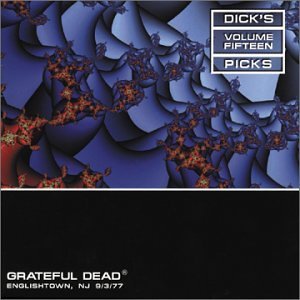 Back on September 3, 1977, the Grateful Dead took the outdoor stage at the Englishtown, New Jersey Speedway and were introduced by an animated Bill Graham, shouting out to the huge crowd: "Ladies and Gentlemen, the Finest Band in the Land, The Grateful Dead!" The Dead went on to play another legendary show, captured in all of its finery on Dick's Picks Volume Fifteen [Grateful Dead Records 1999). The band was on fire from the start, and for this reviewer, there has never been a more beautifully recorded "Eyes of The World" or "Mississippi Half-Step", (with Jerry Garcia bending and swaying to the most tender, fragile heights) nor a more combustible "Not Fade Away" leading into "Truckin'" and "Terrapin Station," with its huge tidal wave of guitar and bass. Years have passed and another autumn is upon us here in the East, but the music continues with a bunch of brilliant new bands to savor (many of whom would certainly get a serious listen from Garcia, wherever today he plucks forth). Here are some of my recent favorites, from bands known and less so, all with fascinating riffs and sterling recording attributes to include in our recording gems survey through the years here at The Stereo Times.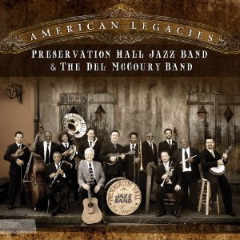 With Garcia's love for combining jazz and bluegrass motifs (for instance, in his joyful acoustic partnership with David Grisman on their superb recording, So What [Acoustic Disc, ACD-33]), Garcia would certainly have loved the rollicking, ingenious mix presented on the latest release from the venerable Preservation Hall Jazz Band joined at the hip with the Del McCoury Band, entitled American Legacies [McCoury and Preservation Hall Recordings]. From the opening cut, "The Band's In Town" ("sweep up the ashes, get out the way") the glory of these acoustic musicians gushes forth from a huge and layered soundstage with beautiful image dimensionality. McCoury's voice is delightfully high and dandy; Rob McCoury's banjo tinkles and shines; mandolin slides alongside fiddle and clarinet; and, of course, we have that huge Preservation brass and tuba section lighting the way into Preservation Heaven. These guys can play anything, from the burning acoustic blues of "Shoeshine Blues" to the blaring rush of "Jambalaya," built around an intricate New Orleans three-step cadence. The spiritual, "I'll Fly Away" soars on the deep vocals of sax player Clint Maedgen, fueled by glorious solos from brass, clarinet and banjo. The entire cast blares forth with such huge force in the final lap of this tune that your system will be tested to its limits for its dynamic composure and its ability to ferret out the finery of that wispy fiddle amongst the glorious cacophony. "Milenberg Joys" is another instrumental stand out, with blistering solos on this joyful romp. Watch out too, for "The Sugar Blues," a slow, tongue and cheek swagger of a tune, with marvelous turns of phrase from all of these amazing musicians as they seamlessly incorporate riffs from the worlds of bluegrass, blues and jazz; all capped off by sassy advice: "Baby cut your toenails, they're ripping the sheets."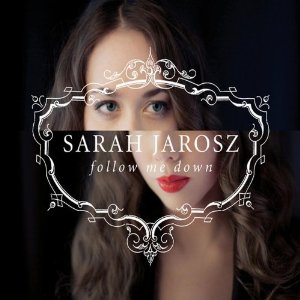 Looking for more acoustic marvels? Look no further than the discography from the young vocalist and instrumentalist Sarah Jarosz and her superb band. I have discussed Jarosz's debut recording, Song Up In Her Head [Sugarhill Records 2009] in these pages, heralding it as a gem of wanderlust into gorgeous folk, bluegrass and jazz territory. Now Jarosz has released, Follow Me Down [Sugar Hill Records], further mining her vocal prowess, compositional creativity and instrumental riches, inspired by her talented band mates. Jarosz and her band frolic effortlessly on the instrumental ledge of "Old Smitty", (all swing and furious string back beat), then leap into the soft, pristine pool of mandolin and cello dips that push the instrumental "Peace" gently to the surface, all quiet ripples of sound. Jarosz's vocals cast a large net that captures lots of different vocal nuances, from her wily, wispy treble on "Come Around", (contrasted with deep, pungent bass and surging strings) to her slow and ethereal pacing on the gorgeous ballad, "Ring Them Bells," (redolent with golden strokes from cello, banjo and fiddle). The recording captures all of this unfolding drama with a great combination of warmth and air surrounding crisply articulate images, including capturing Jarosz's highest reaches and whispers effortlessly, like gathering smoke in a jar.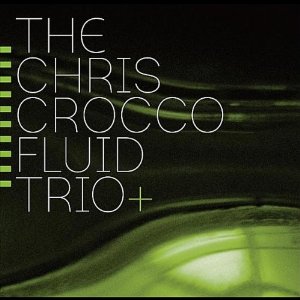 Garcia would have also loved to check out the latest jazz guitarists' explorations, and two such new recordings come to mind, particularly for their small ensemble inventions cast in superb recording efforts. One such new recording is from guitarist Chris Crocco, who shows he's got a knack for creative composition and a sense of adventure to create an engaging stew of ideas. On his recording, The Chris Crocco Fluid Trio+ [GPA Records], he is joined by the stellar cast of George Garzone on sax, Peter Slavov on bass and Francisco Mela on drums. The recording, made at Systems Two in Brooklyn and engineered by the meticulous Joe Marciano, has an intimate and loose feel that places the listener squarely in the drama, right next to Crocco's chromatic leanings and Mela's effortless swing. (A recent concert by Mela with his own group at the Regattabar here in Cambridge, MA. was a highlight of the last performance season, and it is urged that you try and catch this brilliant drummer on his current tour with his "Cuban Safari" band, that includes Slavov on bass with the superb Elio Villafranca on piano, among others.) Here, "Avenge" starts the proceedings off with crystalline flash, with Crocco head over heels with his fast dips and punctuated guitar notes, next to Garzone's big, pulsating sax and Melo's bright cymbal and snare work (trailing off like a comet at the end). In contrast, "Silvia" is a bountiful ballad, all soft, flowing air and tenderness from Garzone's sax and Cocco's languid notes. On "Trial of Time," Garzone's tone is all heft, (with a wonderful sense of shifting tone and swooping scales) next to Crocco's contrasting lightness of touch. "What It Is" takes a ferocious look at hard bop, in which Crocco and Mela take a duet into new territory occupied by sharp-shinned staccato peaks and valleys carved out by Crocco's animated, angular notes. Slavov takes a nice turn on his melodic bass on the slow brewing "Spice Mine", while "Metal" is a wild night ride lit up by Melo's fascinating use of flat cymbal surfaces to create a sheet of metallic sound; a perfect foil for Crocco's guitar leaps. In this duet between drums and electric guitar, Crocco's bridging of rock and jazz riffs is a delight, as is his talent for seeking out niches for tight pauses and creative syncopation with Mela as his creative compatriot.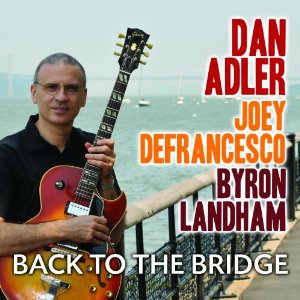 Another example of a beautiful and inventive partnership is guitarist Dan Adler's recording, Back To the Bridge [Emdan Music], where Adler teams up with the soulful and funky Joey DeFrancesco on organ, along with Byron Landham on drums. Here is a totally different sound: mining that rich terrain of classic swing and soul shared between a hollow-bodied jazz guitar and the pumping pizzazz of organ. Punch right into Adler's "Silver and Gold" and try to catch those articulate cascades from Adler's guitar, sliding bright and carefree alongside DeFrancesco's warm notes. When DeFrancesco takes the reins, you never know where he is going to travel: ferocious curves; slow-brewing holds; light touches on the slightest of trills- you name it, he's got it in his hefty organ travel bag. The swing continues in full force on "Oh, Look At Me Now," with Adler taking a long, leisurely stroll hitting bits and pieces of the melody while moving with pinpointed expression through a maze of creative improvisation. Here, DeFrancesco's solo combines a slow, step-by-step lesson in funk and finesse, with Landham getting a chance to roil and boil alongside on crisp snare and cymbal work. Adler's articulate, precise fingering and crisply defined notes flourish on "Good Old Days" and then pick up a golden, warm hue on "A Beautiful Friendship," using a circular rhythmic pattern over Landham's light cymbals and DeFrancesco's punctuated organ holds. DeFrancesco pulls out a brilliant solo here, combining spilling rushes down his registers with isolated minor/major chordal clashes to add to the feast of organ color. These guys can also play slow blues, and on "Yatsanu At (We Left Slowly)," the band slinks and sways amongst a landscape of huge cymbal wash and blues colors. The recording was produced at the Music Center in Exton, Pa. and is done with great care, particularly to capturing the myriad textures involved in this delicious foray into guitar and organ combinations. The recording offers a very natural and clear presentation, capturing Adler's precise articulation and DeFrancesco's contrasting funky heft and creative power.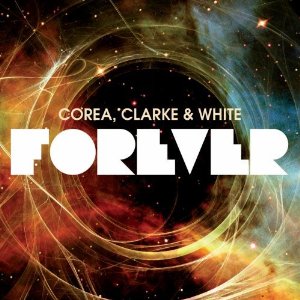 And if Funk, Spunk and Creative Power are what you yearn for, look no further than the new release from that churning band of energy, Return To Forever "RTF" (Chick Corea, Stanley Clarke and Lenny White) on their new release, Forever [Concord Records]. Disc One is a sampler from the all-acoustic RTF tour in 2009, while Disc Two is an in-studio jam session with guests, including Jean-Luc Ponty, Chaka Khan and original RTF guitarist, Bill Connors. The entire recording is a joyful ride through the RTF repertoire, with an ebullient feel. The musicianship is brilliant at every turn. For example, Disc One's opening number; "On Dolphin Street" is a beautiful twist on this classic romp. The band swirls and warms at its start and then breaks into a pensive and complex exploration, highlighted by Corea's deft piano and Clarke's melodic bass lines. The recording is so natural and flowing; it is superb in capturing every instrumental nuance, emphasis and texture. The ambient space of the venerable Yoshi's Club in Oakland, California. is also a perfect backdrop for all of this teeming action. The anticipation is palpable on the slow and steady start to "La Concion de Sofia," with Clarke's sonorous bowing and the ripples of Corea's piano touches. The piece is filled with beautiful, tender moments cast within an intricate bossa beat, leading to a magisterial Clarke solo, which winds its way through pungent depths with Clarke utilizing his arsenal of creative touches, holds and beguiling harmonic interplay. The RTF classic, "Senor Mouse" appears on both discs. The first version a blistering acoustic romp with a full head of steam generated by White's chugging stick and drum work, Clarke's full throttle bass and Corea's off-kilter chords and shimmering runs. The second version, on Disc Two, is an electronic version (with a faster tempo) generated from the heat of Corea's effervescent flights on electric keyboard and blistering riffs from Connor's electric guitar. Highlights from Disc Two include Chaka Khan's light, scat-shot, "High Wire - The Aerialist" in a trio setting. On "I Love You Porgy," Khan showing her expansive vocal range amongst the deep, plush tones of Clarke's walking bass and Ponty's lovely, swirling violin colors. Inn contrast, "Space Circus" is a funky strut that should move lots of limbs and air. It not only has a wall of bass power to equal the Dead's "Wall of Sound", but has the added treat of hearing Connor twist and turn in the highest creative reaches of his smoldering guitar.

Finally, while we are on the topic of "smoldering guitars," another trip back to the illustrious Yoshi's Club of Oakland, Ca. finds us listening to a second live recording done there that is generated from a very different instrumental tradition: "Choro" from Northeast Brazil; with its own brand of smoldering swing and musical delights. Introducing us to this luminescent music is the stunning young band, Grupo Falso Baiano, on their recording, Simplicidade: Live At Yoshi's [Massaroca Records]. The music of Choro combines an irresistible backbone of complex rhythms nestled in swaying melodies that speak of sunshine and lightness. Ami Molinelli's eclectic percussion on this recording is a rare treat. Here is a chance to hear some very unusual percussive instruments with all their piquant qualities. Here is the Pandeiro, (resembling a tambourine but differing in that it can be tuned and also has cupped metal jangles), and the Zabumba, a Brazilian bass drum. Molineeli's stunning opening solo on "Deixa O Breque" will bring this challenge of skins and bells to your system in all of their grandeur and finery. The recording quality here beautifully reveals the twinkles and sparkles, (as well as the deep contoured sounds), of these unusual percussive sources. Accompanying Molinelli's circus of flying percussion are the other great musicians of this band, who offer a dazzling display of the myriad colors and moods of Choro, dipped in jazz influences. Zack Pitt-Smith careens on his flute in beautiful dialogue with Jovino Santos Neto's accordion on the buoyant "Ferro Na Penha", (with triangle sparkling amongst the drama). These two musicians also intertwine on the boisterous "Kenny E Voce", with big, meaty solos from Neto on piano and Pitt-Smith pushing huge air on his flute to create intricate sounds and tongued colors. "Feira Livre" is another joyous adventure, punctuated by Jesse Appelman's crisply contoured mandolin solo and Pitt-Smith's celebratory soprano sax. In this way, the music of Choro, brought to joyous light by Grupo Falso Baiano on this recording gem, is the perfect way to send one dancing, (on the coattails of all of these fabulous bands), into the autumnal season once again.



We welcome any suggestions for audiophile recording gems. Please write to nelsonbrill@stereotimes.com