Paquito Hechavarria, "Frankly"
[Calle54 Records]
July 2010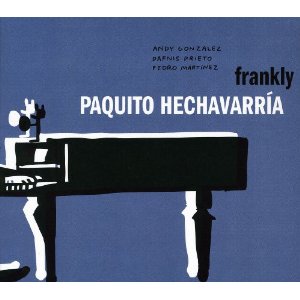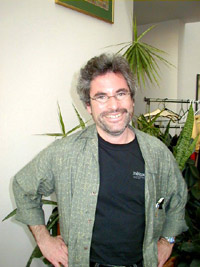 As early summer wafts towards us, best to get to a local farmer's market and sink your teeth into the first juicy tomato of the new season. Let the juice run down your chin and you will get in touch with the same sensual sensation that comes from listening to the great swaying beat of Tumbao, the rhythmic backbone of Afro-Cuban music. And there is no better way to enjoy the sweet and acid flavors of this music than taking a journey with the incomparable Cuban pianist, Paquito Hechavarria and his swinging combo on their peach of a recording, Frankly. Francisco "Paquito" Hechavarria grew up in Cuba listening to the piano greats of the Cuban music scene in the 1940's and 50's. He arrived as a teenager in Miami, and for the next fifty years, occupied the piano bench for many a great Cuban band, sitting in with the likes of Mongo Santamaria, "Cachao" Lopez, Louis Bellson and others. After so many years of swashbuckling with Tumbao greats, Hechavarria now fronts his own band on Frankly, and the results are as dazzling and drizzled with sensual pleasures as only a ripe farm stand tomato could offer.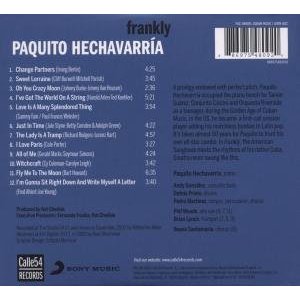 Frankly is an exploration of American standards done up in Cuban style: all glitter, sway and ingenious compositional frolics. Irving Berlin's classic "Change Partners" ignites the proceedings, with an opening cascade of colors from Hechavarria's keyboard. This classic is then transported into a sinuous rumba powered by the fleet cymbal and snare work provided by drummer Dafnis Prieto. Sitting alongside Prieto is the young Tumbadoras star, Pedro Martinez. Martinez, (although not a slinger like another Pedro we know) can throw with the best conga players around, plying curves, sliders and wicked accelerations on his skins. The trio format on "Change Partners" and the breezy "Oh You Crazy Moon" creates a wonderful medium for Hechavarria's flights of fancy on his piano solos, which are always rich in compositional complexity. Hechavarria's solos take off on their own journey, using an unpredictable style in which he first climbs the ladder of the main melody and then, without warning, throws in an unexpected note that he pounces upon, changing the course of his eclectic journey completely. Somehow, by solo's end, Hechavarria always manages to ingeniously return to the first rungs of the melody's ladder without skipping a (rumba) beat. Along the way, he constructs his piano solos from stacks taken from every corner of the Afro-Cuban shed of musical influences. He fluidly incorporates Blues and Jazz rifts into this glorious construct, bridging continents effortlessly with his vital Swing.
And speaking of Swing, who better to tangle with Hechavarria than Phil Woods and the blistering trumpet of Brian Lynch? Woods ignites Arlen and Koehler's classic, "I've Got The World On A String" with a slow brewing introduction, as Hechavarria twists and turns behind him on lilting chords. They both then fall into the swinging breeze of the melody, with Woods holding steady on a few limbs of sustained notes while Hechavarria ingeniously caresses underneath with successive chords. Woods is also showcased on Howard's "Fly Me To The Moon," recreated here as a swaying Samba, all frills and twirls. Woods is in his element here with huge, fast runs into the stratosphere and fantastic trills and whirls of fancy from his fat, juicy alto. Hechavarria follows with a blistering solo of his own, curling around bluesy chords, Latin dance steps and swirling colors. Woods and Hechavarria end by sashaying together in this Latin frolic, with Martinez chiming in on his congas and Prieto's wood blocks and cowbell leading the procession out the door.
But don't go yet; hold on to your hats because this brilliant recording also showcases the talents of Brian Lynch, the vivacious trumpeter who shines in the company of Hechavarria and his combo. Take a listen to "Just In Time," and listen as Lynch tangos with Hechavarria in a light, rumba mood. First, Hechavarria lays down the gauntlet with some fierce piano tricks of his trade, effortlessly moving from a scampering collection of staccato notes to fast trills and a few wispy notes of the melody. Enter Lynch with a wondrous cacophony of blaring, metallic calls, riding high and spirited and ending with a boisterous sustain on his same tip-top note. The party concludes with Hechavarria and Lynch bantering while the rhythm section gets a chance to strut its stuff. Can't go back to the farm stand without lastly mentioning the fabulous Lynch on "All of Me." Here, Lynch blares and dances creatively alongside the gentle wave provided by Andy Gonzales' acoustic bass, Martinez's conga beat and the natural meter provided by the scrappy guiro. This number highlights the beautiful quality of this recording by Katherine Miller with mastering performed by Alan Silverman. Every element of this Afro-Cuban celebration is naturally illuminated on a wide and enveloping soundstage. Lynch's trumpet is gorgeously rendered in its natural blare and metallic shine; Wood's alto is full of juice and heft and Hechavarria's piano is revealed in all of its precision and glorious substance, with lots of natural sustain and piano decay. Hechavarria's genius is allowed to shine forth, flowing as it does from the deep well of his own musical heritage, filled with Tumbao's summery, compositional juices. I encourage you to sink your teeth in.

We welcome any suggestions for audiophile recording gems. Please write to nelsonbrill@stereotimes.com.