Meg Hutchinson, "Come Up Full" [Red House Records]
"Watch The World Turn, Watch the Heart Find"
July 2009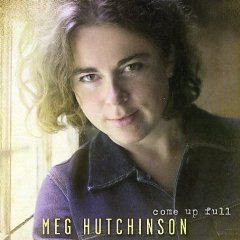 Its early summer and one simple pleasure is to observe all of Nature's newest arrivals. For instance, catching that glint of yellow from a young magnolia warbler swooping on its first flight from the elm tree or spotting that newborn painted turtle out for his first swim just below the pond's green surface. Into this early summer warmth enters the music of Meg Hutchinson, a master storyteller of simple truths and observations. Hers is a diary of beautiful melodies and insights into everyday circumstances and sightings along the way. On Come Up Full she is joined by the wise company of Richard Gates on bass, Jeff Berlin on drums, Brad Hatfield on keyboards and the enveloping guitars of Crit Harmen, who also produced and engineered this disc. The recording itself is excellent, with a nice capturing of Hutchinson's lithe and innocent vocal delivery, including how she moves back and forth from her microphone to deliver different shades of vocal emphasis. There is also a beautiful rich ambiance with crisp immediacy in voices and acoustic instruments.

Hutchinson is a troubadour of simple stories, her lyrics gorgeously pinpointing everyday circumstances and simple moments. For example, the recording begins with the defiant optimism of "Ready," in which Hutchinson captures a few simple images of the changing seasons and then connects them to larger themes involving love and renewal:

"I can hear the ice cream truck one street over
June weeds lunge up past the railing
All my socks have worn holes
From this long winter and this longer spring
But I don't have to wear them anymore. Maybe I'm ready, for love for love for love."

In the following track, "Home," Hutchinson offers another lyric gem, linking a return home (and a new beginning) to the simple idea of "sleeping in my own bed again" and the beautiful image of "dreaming in full color" again. Here, Hutchinson's voice is woven beautifully with Berlin's swirling brushes on his cymbals, Gates' pulsating warm bass and a crescendo of electric and acoustic guitars that grow in intensity as the song blooms forth. "Whole Bird" continues Hutchinson's striking way with images of everyday observation as the simple image of a feather received in the mail turns into a poetic meditation on love, self worth and human connection:

"Like a person with amnesia I've been gathering up the clues
What is my work in this life and who do I love
Seems we come in constellations, oh from life to life
There's a sharing of the heat and of the wisdom over time."

Hutchinson's gorgeous ballads, "Seeing Stars" and "Climbing Mountains," (two of my favorites on this recording) are also grounded in Hutchinson's wonderful way with taking a simple moment in Nature ("bugs out on the water, make it look like rain") and connecting that image to the exploration of larger themes. "Seeing Stars" finds Hutchinson strumming on her crisp acoustic guitar with simple accompaniment from Gates on his warm and full bass. This quiet gem is perfect, from its beautiful poetry and lyrical insights to its simple message of human hope, optimism and potential. "Climbing Mountains" is, in contrast, a boisterous and free flowing anthem, where melodic guitar chords chime alongside Hutchinson's soaring vocals. Hutchinson delights in dreaming of climbing mountains "way behind the earth's strange pull" and connects this otherworldly yearning to the creases and angles of human love and the will for emotional survival, especially in light of society's "inventing so many new ways to avoid what we feel."

Hutchinson's lyrical brilliance also takes on pointed political directions, as in the songs "America (Enough)", "Song for Jeffrey Lucey" and "Somewhere." "America" is composed around a military style rhythm accentuated by crisp acoustic guitar and Berlin's pinpoints of light on his snare and cymbals. This song is a fierce yet gentle admonishment, where Hutchinson ingeniously juxtaposes images from Nature, (such as the cracking of ice on a wintry pond at night) to contemplating environmental degradation, and the human waste from war and unchecked material consumption. "Somewhere" also takes an ingenious turn, beginning as it does with lyrics from Harold Arlen's "Over The Rainbow" but then veering rapidly into a plunging pool where Gates' deep bass accentuates Hutchinson's lyrics contrasting street poverty and human neglect with the wistful images of Arlen's sweet vision.

When we finally arrive at the title track, the luminescent beauty of Hutchinson's lyrics hit home in her capturing of the simple sensuous pleasures of a holiday spent at a New England shore:

"Rose hips starfish periwinkles and stones
Clear evenings and stars and stars and stars…
At night, the fire replaces the sun
Just as one good dream's replaced by another one."

Here we are treated to the beautiful connection between the image of fishermen bringing in their catch in their nets ("Come up full") to a fulfillment of love and companionship. Hutchinson's striking images are themselves netted in the warm tones and textures of surrounding bass, piano and guitar chords, which ebb and flow around her. This little gift of a recording leaves us on the beach, with Hutchinson's exceptional musical vision of Nature and Nurture still singing in our heads.


We welcome any suggestions for audiophile recording gems. Please write to nelsonbrill@stereotimes.com.