Brotherly Spirit


Following in the footsteps of last month's recording gem from young tenor saxophonist Noah Preminger, there is more rejoicing to be had in hearing the release from Philadelphia's own tenor master, Odean Pope, on his sprawling creation, Odean's List. If you are a fan of big band fireworks, prepare to be amazed and swept away by the artistry and superb sound on this recording. Pope is joined by a group of stalwarts playing their hearts out in the confines of one of the Lincoln Center's modern studios. The sound engineering is first class, capturing the spaciousness and vivacious quality of the recording venue, along with delivering every nook and cranny of the astonishing artistry on display. Image dimensionality and soundstage layering and depth are at their captivating best on this gem of an outing.

This is an eclectic recording in which one is immediately struck by the sheer energy of Pope and his bandmates. They combine their brilliant styles into the service of affirming that optimistic theme of Pope's Philadelphia, commonly known as "the City of Brotherly Love." The entire recording could be summarized as one big musical celebration and affirmation of Brotherly Spirit, with original compositions by Pope effervescently spreading Big Band optimism, openness, soul and jubilant swing to the outer edges of your system's soundstage capabilities. The opening track, "Minor Infractions," is a quick, brassy punch of soul, introducing huge squalls of brass and bass, gleefully roiling next to one another with Pope's trills up top cementing the momentum. The glee and euphoria continue into the straight-no-chaser frolic of "To The Roach," dedicated to the great drummer in whose band Pope starred. The brass section is kicked into high gear by the pocket rhythm section of Lee Smith on bass and Jeff "Tain" Watts on drums and soar in unison until Walter Blanding, (another tenor master with a prodigious sense of swing and verve) takes center stage. Blanding's solo is a blast of triplet and trill bliss, rising and falling on the prongs of George Burton's sharp shinned chords and Watts' furious, shining cymbal work. Burton takes a bluesy solo turn off right, and then Watts is given the spotlight to maximize the shared optimism with his brilliant stick work; all smooth ferocious energy from tom to snare without blinking an eye.

From the bee bop heaven of "Roach" we move into another eclectic and brilliant affirmation of brotherly love drawn from a Spanish melody: "Phrygian Love Theme." This piece is stunning from beginning to end. The composition begins with such pungent acoustic bass from Smith that your system will be tested to its abyss in trying to convey Smith's careening solo from deep staccato plucks to long held harmonics. From here, we are transported to a matador's arena, with pulsating brass in red-velvet glow swirling into James Carter's blistering baritone solo. Carter (like a bull in the ring), bellows and lunges up and down his instrument with furious delight and abandon. The horn chorus rings out until Terrell Stafford takes the reins on his clarion trumpet. Stafford has a wonderful way of finding a high note, then using it as an anchor to find triplet themes up and down from it, building a beautiful melodic structure. The piece ends in a cacophony of huge sounds, all jubilantly proclaiming life and love in a Spanish musical idiom, but universally understood.

Pope moves from the capacious sound on "Phrygian" to the complex, interior world of his own solo work on the gorgeous, "Say It Over And Over Again," a duet with his compatriot, Lee Smith, on acoustic bass. This is Pope at his most mesmeric, as we listen intently to every nuance of his brilliant technique. His voluminous sound fills the soundstage; he loves to simply affirm and declare, with huge swaths of melody and breathy glow. Pope also loves to create the equivalent of "double entendres" in his phrasing, by holding one note to create several different shades of tones and colors in the same delivery. Pope's grasp of melody and his spontaneous devising of new ruminations from the whole cloth of the simple, (optimistic) theme is brilliant. Smith is also a brotherly partner, letting Pope explore the landscape and keeping patient pace with him, until Smith's own punctuated, pungent solo is traversed and intertwined with Pope's own voice. "Blues For Eight" also presents a smaller, trio configuration and allows for even more spaciousness, with a relaxed quality to the experimentation. Pope strides away beautifully, sliding up and down his tenor with off-kilter bravado. He projects huge affirmations of swagger and sound, honking and blasting away in gleeful counterpoint to Smith's walking bass and Watts' eight-to-the-bar conversation on cymbal and snare. Pope's final, voluminous exclamation here is all affirmation and triumph.

Track seven, "Collections" returns us to the vortex of the volcanic eruption that propels this marvelous big band of love. The composition is built upon a shining, furiously optimistic run, cascading through Watts' initial percussive attack and the brass section's scats. Here, James Carter solos with so much passion and energy that it is a miracle that he does not swallow his baritone's mouthpiece as he reaches for the pinnacle in treble and bass ranges on his huge, shiny instrument. David Weiss' trumpet also reaches high and sparkling, leading naturally into Watts' cascading waterfall of cymbals and snare that embraces the source of the melody once again. The final compositions on this gem are left in Pope's capable hands, as he unleashes a barrage of spiritual affirmations on the title track (which finds him in melodic entwinement with Watts) and on the soft closer, "CIS", containing a nuzzle of brass with Pope embracing notes with big melodic feeling to spread the globe around.


AND FROM DIGGING DEEP IN THE RECORD BIN:
My modest vinyl rig is now in place and includes: the venerable VPI Scoutmaster Turntable from craftsman extraordinaire, Harry Weisfeld; VPI's JMW9 Memorial tone arm (Note: a percentage of proceeds from sales of this tone arm go to a fund in memory of his son the late Jonathan Weisfeld to further the Arts and Music. For more information, see www.vpiindustries.com); a Dynavector 20 X-H moving magnet design cartridge; and finally, the overachieving Rogue Stealth phono stage, reasonably priced and wonderfully articulate with these partners.

If you are looking for more tenor sax glory recorded on vinyl, dig deep into your local record store's bins and find a copy of Soul Battle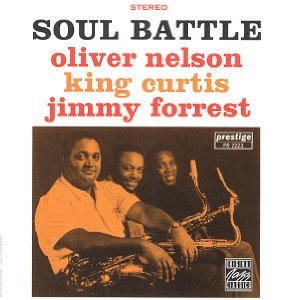 [Prestige PR7223; Remastered in 1988 by Phil De Lancie at Fantasy Studios (OJC-325)]. This Rudy Van Gelder recording is from a killer "blowing" session recorded in September, 1960 involving three tenor sax Masters: Oliver Nelson, King Curtis and Jimmy Forrest. The band also includes Gene Casey on piano, George Duvivier on bass and a young (now elder statesman) Roy Haynes on drums. The recording is raw, sassy and vivid. It perfectly captures the inventive style of each of these tenor geniuses as they strut their stuff on a wide and deep soundstage (with a natural, lend-me-your-ear feel that only vinyl can provide). Odean Pope may have found inspiration here, as in the blistering cut, "Anacruses," which finds Haynes sawing off some fast paced cymbal/snare combinations to ignite an intense run of tenor sax riffs with bold statements and deep, melodic grooves. King Curtis' soulful, huge R&B sound cements this brotherly "Soul Battle;" a precursor to Odean Pope's own glorious Affirmation.


We welcome any suggestions for audiophile recording gems. Please write to nelsonbrill@stereotimes.com.