Noah Preminger, "Before The Rain"
[Palmetto Records]
April 2011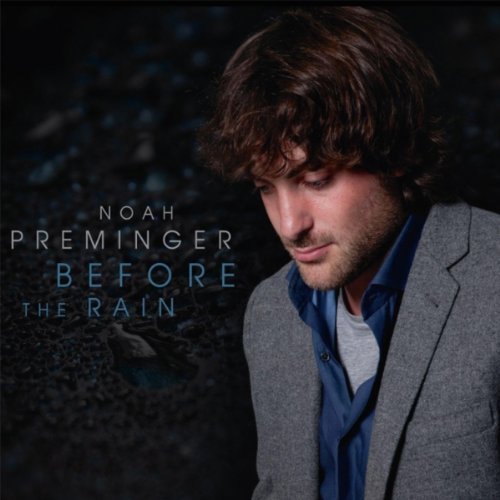 It is a late February evening and we are gathered in the warm confines of the intimate Scullers Jazz Club located in Cambridge, Massachusetts to garner some rhythmic heat and molten inspiration from a young tenor saxophonist who is on the lips of many keeping tabs on the ever evolving and propulsive New York City Jazz scene. Noah Preminger is a graduate of the New England Conservatory ("NEC") Jazz Program (which celebrated its 40th anniversary in 2010) and this listener recalls hearing him light it up at NEC's Jordan Hall as a student member of Ken Schaphorst's Jazz Orchestra and Big Band. Since graduating, Preminger has been working the jazz rooms of New York City and many other places. He arrived at Scullers this particular evening with a new recording in hand, Before The Rain. Joining him on this stellar recording are Frank Kimbrough on piano, John Hebert on bass and Matt Wilson on drums. Each of these musicians is a band leader in his own right and each brings eclectic, beguiling musical gifts to share. Collectively, this is a band intent on capturing one's immediate and full attention to their protean creations, built as they are upon layers of capacious tones, rhythms and colors.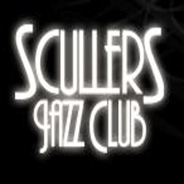 Preminger and his mates are expert archeologists at mining the sedimentary layers beneath the melodies of their original compositions as well as those of Hart and Rodgers, Monk and Coleman. At Scullers, the capacity audience leans in to hear every long, languid breathe from Preminger's tenor as he patiently layers his tone and textures one upon another; building sedimentary layers of sound as opposed to sudden, igneous eruptions of tenor firepower and dazzle. Preminger's molten heat evolves over time; his tenor sax is patient and skillful. In concert, Preminger emphasizes his concentration by physically leaning his shoulder towards the microphone as he punctuates brawny, purple tones outwards and upwards, creating a most unusual layering of harmonic references and sequence of notes. For instance, he can project deep, breathy bellows followed immediately by a squawk up high without a break in the rhythmic layering or melodic thread he weaves. Bop, blues and sway all come together in one evolving moment. Likewise, pianist Kimbrough (a masterful composer in his own right) builds his fantastic castles in the sand from layers of chords and intricate, precise notes, never losing track of the melodic line set before him. Likewise, the rhythm section of Hebert and Wilson also partner beautifully with this patient sedimentary layering of sounds and colors. Hebert's bass has an astonishing quality of softness to it, yet also a contrasting lapidary quality, even down to its deep, bowed layers. Wilson too is a master of fluidity and fecundity on drums, with multiple ideas layered through out his smooth, effortless flow. For instance, Wilson can make extraordinary things happen by simply working the inner and then outer parts of a lone cymbal, creating layers of different sounds and colors in a flash. It's at moments like these when the audience at Scullers smiles along with Wilson, who, with eyes closed, licks his lips in delight while firing away furiously on his snare, projecting shards of fantastically colored light into the room.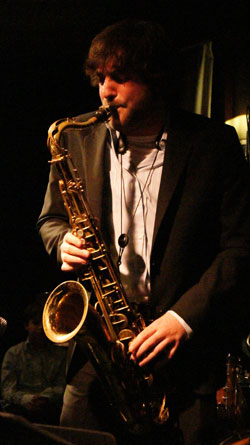 The performance at Scullers digs into the rich compositional loom of Before The Rain, a gem of a recording that brilliantly explores the Ballad as its primary inspiration. Ballads are the perfect foil for Preminger's own tenor style: patient, evolving and voluminously layered. The recording commences with a beautiful, fragile duet between Preminger and Kimbrough on Hart and Rodgers', "Where Or When," ushering the listener slowly into a vaporous garden of delights presented by Preminger's breathy tenor gestures and slow, yearning flights. Preminger is accompanied by Kimbrough's quiet piano notes bathed in the misty light of Wilson's shimmering cymbals and Hebert's deeply bowed bass. After this first short ballad, the band takes another path on Kimbrough's "Quickening," a contrasting composition based upon an amalgam of angular musical elements, molecular motion and complex tonal changes. Preminger's solo is layered on off-kilter rhythmic bellows, warm tones and quick high runs grounded in spontaneous snatches of the melody. Hebert and Wilson roil and boil next to Kimbrough's solo that touches just the edges of the melody and then heats up into a flowing, percolating cascade of dense chords and flowing notes leading to a synthesis of the melody under new tonal conditions. Hebert also adds to the mix, plucking and reverberating with his wonderful synthesis of softness and contrasting pungent precision of touch. Coleman's "Toy Dance" is another ingenious creation founded on Wilson's unbounded percussive energy, pitting Preminger's layering and meshing of his narrative against the metallic glee of Wilson's percussion and Herbert's softer pronouncements. Preminger's "Abreaction" continues the use of Wilson's furious snare and cymbal work as a Bunsen Burner generating the foundational heat driving the musical energy. Here, things start with a slow, layering boil of slow sax and bass pronouncements against the foil of Wilson's Burner, portending things to come. This parboil naturally leads into Preminger's solo, an ingenious concoction of periodic table musical elements, composed from quick runs, micro tonal changes and angular notes. Kimbrough adds to the swirling reaction with punctuated chords and effervescent bubbles of piano color, until Hebert's deep bowing lowers the temperature into a natural thickening of the melodic solution to a last, breathy residue remaining in Preminger's tenor beaker.

Preminger and Kimbrough's solos reveal their gifts for layering contrasting traces of melody astride one-another, twisting and compressing it into a sedimentary landscape utilizing, as in Preminger's case, creative pauses between widely spaced tonal figures and holds down low. The recording ends with two beautiful Ballads: "November" and "Jamie." Each presents whirling complexities below their placid surfaces and are built on a patient, slow evolution of musical species, like trilobite fossils formed over millions of years. Here, the band slowly erects a pungent, innate soulfulness from Preminger's warm tones and extended harmonies playing against Kimbrough's dense choral colors. "November" is all sheets of gray and amber color, with meandering lines through Hebert's undergrowth of soft bass protrusions. "Jamie" is one last slow meditation coalescing into a simple, beautiful upbeat melody that dissolves peacefully into Preminger's last breathy hold and the shimmer of Wilson's ephemeral cymbal.


We welcome any suggestions for audiophile recording gems. Please write to nelsonbrill@stereotimes.com.