Delfeayo Marsalis, "Minions Dominion" [Troubadour Jass Records 090306]
Spirits Unleashed
February, 2007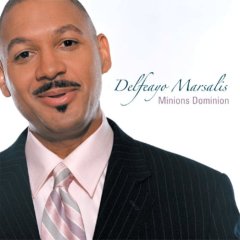 The amazing thing about this 2006 recording gem from trombonist extraordinaire Delfeayo Marsalis is that it not only breathes with the rhythms and traditions of jazz in all of its variegated glory, but stands as a beautiful testament to the late Master Elvin Jones, who performs here on one of his last (accompanied with horns) recordings. It is easy to just listen to Elvin's percussion driving each of these inventive compositions, reveling in his spirit unleashed in powerful cymbal crashes, sparks of snare lightness and deep bass drum sonority. Patrick Smith's precise recording here captures every touch of the Master, who carves out the direction for each song and rides it until the last resonant decay of his snare or fading cymbal. This beautiful recording shows us again why Elvin was one of the greatest: he can bring a shimmering caress of brushes to cradle Delfeayo's delicate, muted solo on the ballad "If You Only Knew" and then plunge into a mighty roar of blinding light on the driving "Minions Dominion." Wherever Elvin travels, this band of amazing musicians assembled here goes forth with relish.
And there are some wonderful sonic lands to explore on this journey with Elvin leading the way! We get started off with a romping warm bass line from Robert Hurst and burnished trombone solo from Delfeayo on "Brer Rabbit," a swinging comic starter. Donald Harrison on alto sax leads the swing to another level of creative energy as his solo spans up and down his blistering register. From there, we enter the serious, contemplative melody of "Lone Warrior," pensive yet poignant, like a drop of lemon on the tongue. There are some serious questions asked here, in Harrison's reaching alto solo and Mulgrew Miller's stately piano chords. Delfeayo joins the inquiry with a melodic search of his own, meandering from a repetition of chords and notes up top to clusters of golden tones below. He runs the gamut from New Orleans swing back to stately blues on this eclectic piece. Of course, there is Elvin on the left, working that magic with his powerful yet light touches on his cascading drums and cymbal flourishes. A masterpiece all around! Following this is the wonderful slow ballad "If You Only Knew" which is kneaded in the hands of Delfeayo's muted trombone in duet with his brother, Branford Marsalis, on warm tenor sax. This fine recording nails the great synergy between the brothers as they sway and breathe as one, with Elvin, Hurst and Miller providing the canvas for their intertwining melodic yearnings.
The contrasts in colors, rhythms and jazz traditions continue as we leave Delfeayo's slow, lingering last notes to "If You Only Knew" and immediately hear the engine of Elvin's raging cymbals to drive the blistering title track. Here, Delfeayo teaches us just how much he knows of tradition from blues to swing while brother Branford duels with breathy honks and raging melodic flow on his tenor. "Weaver of Dreams" gives a different perspective: here soloists Delfeayo and Harrison are pushed out front and personal, only backed by Elvin and bassist Eric Revis, creating more space and simplicity in approach. Elvin also takes a turn at a solo, running delicately over his kit like a person gliding on ice. The recording quality is so good that all flashes and brilliant glints off of Elvin's cymbal work are heard precisely. From this frolic, we head into the journey home with the final composition, "Lost In The Crescent." Traditions from Coltrane to New Orleans gospel are heard in this piece inspired by Delfeayo's fictitious story of two laborers during the Reconstruction Era and their escape from indentured servitude. The dialogue between these two characters, (played by Delfeayo and Branford on soprano sax), moves from Branford's comic spins of yarn to Delfeayo's spiritual, deep pauses on his trombone, ending with a low, long-held growl. Masterful as always, Elvin's touch of light cymbal accompanies this final long note, igniting his percussive glory into eternity.
We welcome any suggestions for audiophile recording gems. Please write to nelsonbrill@stereotimes.com
Nelson Brill