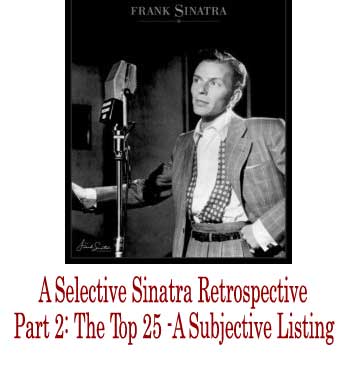 Page 3

(11) "The Street of Dreams" -
In 1980, Frank Sinatra undertook an imposing project called Trilogy. A three-LP-package, it was broken into "Past," "Present" and "Future" components, each contained on an LP. (The CD combines "Past and Present on a single disc, with "Future" comprising the second.) The version of this song, (first sung by FS during the Columbia years) recorded when Sinatra was 65, shows how well he continued to make a special impact on the musical scene at an age when other singers (if they're still performing) are content to do "memory lane" oldies shows. Indeed, the "Present" portion of "Trilogy" included "New York, New York" (a song originated by Liza Minelli), with which Sinatra listeners have since developed more than a passing familiarity. This is yet another example of Sinatra making another's song his own. "Street of Dreams," with words by the prolific songwriting team Sam Lewis27 and Joe Young, and music by Victor Young, was clearly a depression-era lyric meant to perk up the flagging spirits of an America where every fourth person was out of work. "Street" was, like "Pennies From Heaven," an escapist song, the kind you might hear in a Busby Berkeley musical. What makes this song special to me is not its decent, but formulaic, lyric, but the way Sinatra infuses the words with deep meaning. It was a song which doubtless gave hope to a lot of people who were down on their luck, and Sinatra delivers its timeless message, "poor, no one is poor, long as love is sure, on the street of dreams." Billy May's upbeat arrangement gives the old ballad a touch of modernity, which enables Sinatra to give it a crescendo-like ending. "The Street of Dreams" (where "kings don't mean a thing") sounds like a nice place to visit, even if it is but a dream.

(10) "More than you Know" - This beautiful song (with music by Vincent Youmans, and words by Billy Rose and Edward Eliscu) was written in 1919. As with "Street of Dreams," it appeared, appropriately enough, as part of the "Past" segment of Sinatra's 1980, Trilogy project, the segment arranged by Billy May. "More Than you know" is given the full treatment by FS, complete with a verse and release that would challenge many a singer's mastery of pitch. Youmans's melody is a complex one, and the song (originally a 1930 hit for chanteuse Ruth Ettings, immortalized in the bio-pic Love Me or Leave Me starring Doris Day and James Cagney) was given new life in this version by Sinatra, who more than does justice to a complex lyric. While the song does not contain any difficult highs or lows, it is, as suggested, a hard song to sing well. While the stanzas themselves (though melodic) are fairly straightforward, the modulation (key shift) between them and the release are managed effortlessly. Sinatra is in full-command of his lower register on this song when he sings, "Oh how I'd cry, oh how I'd cry, if you got tired and said good-bye." And when he closes with "more than I'd show, more than you'd ever know," we are hearing a confession from a strong-silent type guy, who is feeling more than he'd reveal to the woman were she to break his heart. Sinatra varies the original lyric (to fine effect) in the second stanza when he tells her "you need me so," adds the word "much" and than finishes, biting off the last five words "more than you'd ever know." In the original Rose/Eliscu lyric, the words are "I need you so." While I don't usually think Sinatra's songs benefit when he tampers with the lyric, here he turns the tables on his lover by reminding her that each of them needs the other in ways that they, themselves don't expect. As you may have gathered, this is one of my very favorite Sinatra songs, made more impressive given the stage of his career when he recorded it. While he was still to give us some fine music (She Shot me Down, L.A. is my Lady and Duets were yet to come), Trilogy served as a "September Song" for the Chairman, in which the aging Sinatra paid court to his ever-adoring fans. (Speaking of "September Song, read on).

(9) "September Song" -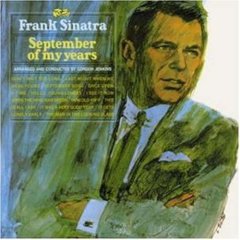 This song was from the late '30's, with words by Maxwell Anderson and Music by Kurt Weill (composer of, among others, "Mack the Knife," and "Speak Low,"). It debuted in the show Knickerbocker Holiday, and was originally sung by Walter Huston, father of the late director, John Huston. Huston, by the way, charted with the song, rising as high as number 12 in 1938. Sinatra's version eight years later (at the tender age of 31), got as high as number 8. Sinatra's 1946 performance is sweet to be sure, but this is a song best performed by an older man28, and I have selected his 1965 recording from September of my Years, for this list. While Sinatra did not always sing the verse on some of his best-known songs (e.g. "The Lady is a Tramp," "Wee Small Hours of the Morning" "Fly Me to the Moon," and—most of the time—when he sang "Night and Day"), he more than made up for it by combining the two separate verses into a long and poignant introduction on his rendition of the song" on the album, "September of my Years," to great and moving effect.

FS was 50 when he recorded "September of My Years," and the album coincided with his courting 20 year-old Mia Farrow, the star of "Rosemary's Baby," a woman he was soon to marry. Much as I believe Sinatra had lost love Ava Gardner on his mind when he sang "I'm a Fool to Want You" (see #23 above), so he must have been thinking of his upcoming nuptials with Ms. Farrow when he recorded this touching rendition of everyman's second chance. No longer the crooner who wowed the bobby-soxers, and disillusioned by the abandonment by, and subsequent assassination of, President Kennedy, even the days of the "Rat Pack" were beginning to slip away. Sinatra, at 50, was both taking stock and looking forward. Listen to his words at the end of the verse where he laments "the plentiful waste of time" inherent in the "waiting game," a prolonged courtship he can no longer afford. While some of the lyrics in the verse seem quite dated (when was the last time you heard the phrase "clover ring?"), the song remains deeply moving. When Sinatra sings the final line about the importance of "these few precious days, I'll spend with you," we know how fragile time is, a commodity far too valuable to waste.

(8) "I Get a Kick out of You" —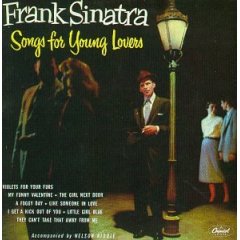 This staple of the Sinatra songbook has been so much a part of his concerts that we forget how new, original, and, yes, hip it was when it first came out. With words and music by the inimitable Cole Porter, and a pulsating arrangement by Nelson Riddle, the song first appeared on the 1953 10-inch LP, Songs for Young Lovers. The now-legendary collaboration with Riddle was then in its infancy, but the unique sound they produced was already evident. It was not a new song. Porter had written it for the 1934 Broadway show Anything Goes, where it was belted out by a young Ethel Merman, and its legendary triple internal rhyme ("flying so high with some guy in the sky") made it a natural for female vocalists.29 Undaunted, Sinatra changed "guy" to "gal," and made the song his own. In part because we are so familiar with the song, we forget (a) how great it is and (b) how original was its arrangement. Given its lineage, it was actually revived by Sinatra, having lain dormant for almost twenty years. While most vocalists (largely because of the three-minute limitation on singles) dropped the verse from the standard song of which it was an integral (and, I submit, valuable) part, the LP format enabled singers like FS to use restore the verse to its rightful place. Listen to how it sets up all that follows. "My story is much too sad to be told, 'cause practically everything leaves me totally cold. The only exception I know is the case, when I'm out on a quiet spree, fighting vainly that old ennui, then I turn and suddenly see your fabulous face." Sinatra treats the closing words of the verse ("your fabulous face") as if they comprised a separate sentence.

From beginning to the final "I get a kick out you," we hear Sinatra—after riding the notes up in a tempo Crosby would never have attempted—draw out in a croon the final "oo" in "you" in a way that would have made Crosby proud. One interesting sociological note is the alteration of that part of the original lyric referring to cocaine ("I'm sure that if I took even one whiff, it would bore me terrifically, too"). This original line was retained by Sinatra in 1953, only to be abandoned a decade later in favor of lame substitutes ("some like the bop-type refrain, I'm sure that if I heard even one riff it would bore me terrif…" or the forced rhyming of "perfume from Spain…if I had even one sniff") 30 Even Sinatra, when singing as the 1962 Paris concert, vocally winced on the "perfume from, Spain" line, quizzically repeating the word "Spain" in the homeland of fine perfume. "I get a Kick Out of You" (along with, of course, the other Cole Porter classic, "I've Got you Under my Skin" discussed in #13 above) firmly established a new sound, the up-tempo, swinging Sinatra who would stand side-by-side with the saloon singer and "concert hall" Sinatra ("Old Man River," "Soliloquy," "House I Live In," etc.), combining to give our nation its most accomplished interpretive singer.

(7) "Old Man River" There are several types of songs Sinatra would customarily include in his concerts, one of which would be what I describe as a "concert hall" or "big" song, usually serious and anthemic in nature. (Sometimes the self-referential and hagiographic "My Way" played this role.31) An equally worthy candidate would have been "Soliloquy," the marvelous Rogers & Hammerstein song from Carousel about a roustabout contemplating fatherhood. I have chosen "Old Man River," by Jerome Kern and Oscar Hammerstein. I recall having heard (noted Sinatraphile) Jonathan Schwartz relate a story about how, after completing the lyrics, Hammerstein immediately went to share the song with Edna Ferber, the author of the novel from which "Showboat" had been adapted. Clearly aware of how special a song he had written, he couldn't wait to show it to the author whose work had inspired it. Needless to say, she loved it. In my view, it is simply the best song ever written in the English language. I remember hearing it at about age seven, too young to understand the full impact of its words, but somehow intuiting the dilemma posed by the passage, "I'm tired of living, but scared of dying."

To anyone who has ever tried singing it (whether in the shower or concert hall), it presents a vocal challenge serious enough to dissuade all but the most able and ambitious. Prior to Sinatra's first attempting the song, it was most strongly identified with Paul Robeson, an actor with a powerful bass voice whose left-wing politics cost him dearly in the 1950's. The song requires not only a strong low register, but covers a full two octaves, all notes of which have to be powerfully sung. Not only that, but articulating the words is of special importance, for this is as much a life lesson as it is a song. FS first recorded the song in late 1944 (reprising it in a 1946 film somewhat based on the life of Jerome Kern, complete with white suit, chorus, and fake clouds). The version I am commending to the reader is from an excellent album called, appropriately, "The Concert Sinatra." Nelson Riddle served as arranger on the album, which was recorded in early 1963 on Reprise. The version of "Old Man River," is marvelous, with both low and high notes hit with authority. Later in the 60's, when Sinatra sang the song in concert, he wowed the audience by, after hitting the low note in jail ("You get a little drunk and you lands in jay---ayl"), dropping the note to a super-deep low g. As if that weren't enough, he held that note and—without taking a breath—went right into the next line "I get weary and sick of trying."32 Sinatra's superb breath control was usually exercised so deftly that no one (other than his fellow vocalists) would recognize the difficulty involved in something so apparently effortless. In Old Man River, however, the demonstration was there for all to hear and, I suspect, something of which he wanted us to be aware.33
No less a Sinatra authority than son, Frank, Jr., recalls how stunned the audience at the recording session was after Sinatra finished "Ol' Man River."34

(6) "You and Me" was written by two pop songwriters (Carol Bayer Sager & Peter Allen), and was included on the "Present" part of Sinatra's Trilogy, project, and arranged by Don Costa. Although not released until 1980, and recorded in the late '70's (July 17, 1978, to be precise), the song has always evoked an early-70's feel for me. Writer Tom Wolfe coined the phrase "the 'me' generation" to describe that special form of "enlightened self-interest" (i.e. "selfishness") which characterized those years. Society seemed to give license to people to "follow their bliss," even if it meant cheating on (or even abandoning) spouse and family. No longer could people comfortably wrap themselves in blankets of responsibility without somehow feeling they were missing out on the very things they had either indulged in, or previously missed out on, in the'60's. Whatever your recollection of the strain those years put on conventional behavior, for me, the lyrics of this admittedly pop collaboration captured this spirit perfectly. Sinatra (not exactly a slavish adherent to convention) took the part of one member of a once perfect couple, who sings about how this couple "wanted it all, passion without pain, sunshine without rainy days, we wanted it always." (What an interesting contrast with the sentiment expressed in Irving Berlin's tribute to his second wife in "Always.")35 He laments how "…we were once the best, back when we were dumb, how did we become so smart, and learn to break each other's heart?" One of the great qualities of Sinatra was his ability to make you believe the lyrics. You do so because he does. When he doesn't either believe or understand them (listen—if you must—to his version of Paul Simon's "Mrs. Robinson), the message is equally clear. Happily, FS went to great efforts to understand and believe in (most) everything he sang. His version makes this good song sound great. I remember reluctantly going to see him in concert at Carnegie Hall in 1980. I say "reluctantly" only because I didn't want to be disappointed hearing the then 65 year old FS (whom I hadn't seen "live" for ten years) be less than I was used to. Not only was it a great concert for a 65 year-old, it was great by any standard. When he performed the second release of "look at how our dreams came true, see how I've got me, baby, you've got you," we heard the end result of too much "enlightened self-interest."

(5) "The Gal that Got Away/It Never Entered my Mind" - She Shot me Down, was Sinatra's final "theme" album, in this case, a collection of "torch" songs. I don't know whose idea it was to combine the two songs, but they fit together seamlessly. "Gal," (Ira Gershwin/Harold Arlen)" was written for the (first) remake of A Star is Born, Judy Garland's great tour de force. It was originally recorded by Sinatra in 1954 as a single, and was on the compendium Capital LP, "This is Sinatra." It is a great recording, as is the version of "It Never Entered My Mind (Rogers & Hart) which appeared on Sinatra's first recording of torch songs, "The Wee Small Hours of the Morning," in 1955. Fitting that it should reappear on his last such album.36

His voice is older, too, on this album, but that only adds to the song's success. The variation on the old geometric theorem, the whole is greater than the sum of its parts, is fully realized in this mini-medley. Beginning with "The nights are bitter…" (from "Gal"), FS takes the song through the lines "and never a new love will ever be the same," and segues into the opening chorus of "Mind," ("Once I laughed when I heard you saying…") After taking us through the words in which the baffled, jilted lover wishes that, after waking with the sun and finding himself ordering "orange juice for one," you can almost see the singer shaking his head (as he did in live performances) and saying "it never entered my mind." He then resolves into the rueful "Good riddance, good-bye" (from "Gal"), which takes him down the lonesome road of regret and remorse, ending with "ever since the world began, there ain't nothing sadder than a long-lost loser, looking for his gal that got away." Sinatra adds a "please come back, won't you come back," then hums the descending notes to close the song. It is good to hear these two songs, so familiar to us from their mid-50's versions now being sung by the 66 year-old Sinatra. The line "the wind grows colder, and suddenly you're (FS adds the words "a lot") older," takes on an urgency far different than when sung by a man not quite forty. Implicit in this rendition is the strong possibility that there will be no replacement for the gal that got away. Anyone even moderately familiar with Sinatra's biography knows that this was a song whose lyrics had a special meaning for him.

(4) "Come Rain or Come Shine"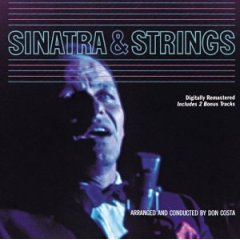 This song, composed by Harold Arlen, with words by Johnny Mercer, was part of the Sinatra & Strings LP, beautifully arranged by Don Costa in his debut association with Sinatra. The album drew its title from a popular segment on disc-jockey William B. Williams's radio program on WNEW (1130 on your AM dial). Just as some of Sinatra's songs lend themselves to brass ("Birth of the Blues"), a completely different mood can be evoked with strings. Albums like the underrated Great Songs from Great Britain come to mind. While brass and woodwinds are not excluded from this album, the string arrangements by Costa make it special. "Come Rain or come Shine" is a song in the "you can count on me" tradition. In my selection of "Birth of the Blues," I discussed how the young Sinatra learned from Tommy Dorsey to use his voice as an instrument. In "Come Rain or Come Shine," listen how Sinatra runs around the melody when he sings the final pass at "you're gonna love me like nobody's loved me," and takes off from there, building to the ending, "but I'm with you baby, I'm with you rain or shine," bending the notes on the final shine like a trumpet. The phrase "jazz singer," was often applied to Sinatra, something which was a high compliment. I believe one of the reasons Sinatra (like Ray Charles) wanted tightly constructed arrangements, was so he could work his way around the melody. Listen to "Come Rain or Come Shine," and you'll hear a jazz singer at the top of his game.

(3) "The Song is You"-In wanting to choose a song emblematic of the best of the young Sinatra, I was undecided between this and "Without a Song." After all, no selection of songs by Sinatra would be complete without a song about a song. Relatively late in his career, FS "covered" a Barry Manilow hit "I write the Songs," with "I Sing the Songs," but I think "The Song is You" is a fitting choice. Not only does it salute the title of Will Friedwald's masterful study of Sinatra, but it is the name of the five-CD box-set of recordings FS made with Tommy Dorsey (on which this version appears).

This beautiful song, a collaboration of Jerome Kern and Oscar Hammerstein (see "Ol' Man River," #7 above) harkens back to the simpler, more romantic years of the vocalist's career. To hear him do songs in this era is to listen to someone with no vocal limitations other than those attributable to youth and inexperience. There was no note too high or low, soft or loud, that he couldn't hit and hold for as long as he wanted. Apparently Sinatra swam laps to build up his lungs so he could sing long passages without taking a breath. These recordings were, of course, many cigarettes, and glasses of Jack Daniels ago. It was standard in the big-band era, for numbers to begin with an instrumental (since the bandleader and his instrument—here, Dorsey's trombone—were the perceived main attraction), followed by the featured vocalist. Listen, on the final chorus, how effortlessly he climbs the vocal ladder on the words, "how can I let you know the song my heart could sing," then softens for "a beautiful rhapsody of love and youth and spring" (a lovely image, to be sure). He closes the song with, "the music is sweet, the words are true, the song is you." But on the closing "you," he jumps an octave and hits a falsetto worthy (two generations later) of another Frankie (Vali, that is). There may have been other instances of Sinatra hitting a falsetto note, but this is the only one of which I am aware.

I think this song (which Sinatra continued to sing and record, albeit in a jazzy tempo) reflected the singer's life-long respect for his audience, who truly comprised his muse. To FS, the song was, of course, you, the reason why people like me (and, presumably, you) continue to pay attention to this singular entertainer.


(2) "Come Fly with Me" -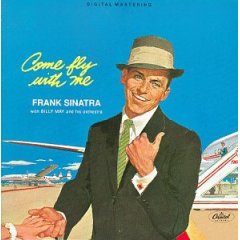 This was a title of a great, mid-50's album by Sinatra, conducted and arranged by Billy May, with words and music by Sammy Cahn & Jimmy Van Heusen. If there was a single album which epitomized the jet-setting swinger that Sinatra had become, this was it. The album cover was a painting of Sinatra standing on an airport tarmac, dressed impeccably in a light-weight suit, striped tie, topped off with a summer-weight hat with an extra-wide hat band. He's smiling broadly and holding his left thumb as if he's hitching a ride and wants you to join him. If you look carefully, his right hand is holding the braceleted hand of a woman, the rest of whom is outside the borders of the LP.

Sinatra took to the long-playing record as if it had been custom-made with him in mind. While still a "singles" artist, and subject to the unwritten law that no song could exceed three-minutes, the LP freed him to not only do longer songs, but to link them thematically (e.g. "Wee, Small Hours of the Morning," "Songs for Swinging Lovers," etc.). This album is jam-packed with songs whose arrangements became part of the Sinatra repertoire, and frequently utilized in subsequent concerts ("Let's Get Away From it All," "Autumn in New York," and "April in Paris"). The title song is an example of a song written for Sinatra by his "in-house" team of Cahn and Van Heusen.

As good friends of the vocalist, they came as close to being an extension of the artist as did any composer or lyricist.37 "Come Fly with Me," is an up-tempo number which swings from start to finish. Filled with internal rhymes ("…if you can use some exotic booze there's a bar in far Bombay") and hip (perhaps still "hep") references ("just say the words and we'll beat the birds down to Acapulco bay"), you can almost imagine Sinatra initiating someone into the "mile-high" club to the beat of this song.

(l) "Night and Day" - Last but not least, is a masterful song by Cole Porter. While noted for his wit, this is a beautiful, and serious, love song. With five studio versions dating from 1942 to a (not bad) disco treatment in 1977, there are many from which to choose.38 My selection is the 1961 version from Sinatra and Strings, (see #4 above), the only studio recording on which Sinatra sang the verse. The verse in performed in a heartbeat like monotone, which slowly ascends what sounds like a chromatic scale, ending with the final "you, you, you." Once again, Sinatra displays his still-legendary breath control by segueing in the opening "Night and Day, you are the one" without taking a breath. His sense of drama is never better demonstrated than when he sings "Night and day, under the hide of me, there's an oh such a hungry, yearning burning inside of me." Listen to how he lowers his voice on the "inside of me." This song tells the story of a man (or woman) possessed by the torment of love, a thirst that can only be quenched by a passionate life spent together. It may be difficult to sustain such a romance, but not hard to imagine (and yearn for) when you don't have it. Once again, no one could express (or, arguably, feel) the pain of unrequited love more deeply than Sinatra. I picked this song as number one not because it is necessarily the best, but one which provides the opportunity for the listener to hear it performed over a thirty-five year period, from crooner to swinger, to balladeer and, yes, disco man. As an interpretive master of the American songbook of standards, Sinatra was a man for all seasons, something never more clearly demonstrated than when he sang his various versions of "Night and Day." They're all great, but this one, to paraphrase Cole, is "the top." As, of course, is Sinatra.



_____________________


1 "Exhibit A—Graph of Sinatra Performances of 'Night and Day' from "Sinatra, the Song is You," by Will Friedwald, Da Capo Press, 1997.
2 "Frank Sinatra's Artistry and the Question of Phrasing," Sam's Home Page, "Sam the Fan," 6/18/07.
3 Columbia Records, 1992. This album, although a salute to the older man's artistry, was not an imitation of Sinatra songs. Rather, Bennett used different arrangements and interpretations. As such it stood on its own, and won a Tony for Traditional Pop Vocal in 1992.
4 "For my money, Tony Bennett is the best singer in the business." "Sinatra, The Life" (Anthony Summers and Robbyn Swan, 2005, Random House.)"
5 Sinatra recorded the song, (written in 1949 by Irving Taylor and Ken Lan) in 1964. When Dean Martin's version became an enormous success, Martin telegrammed his fellow "rat- packer" with the words "That's the way you do it." (Wikipedia: Everybody Loves Somebody.)
6 (Wikipedia, "Nelson Riddle.) "What's New," (1983), Lush Life (1984) and "For Sentimental Reasons," (1986), the first two of which resulted in Grammys for Riddle and nominations for Ronstadt.
7 "Nine Sinatra Songs," (Sinatra), Movin'Out" (Billy Joel) & "Times they are a-Changin'" (Bob Dylan)
8 Friedwald, ibid at 302.
9 "As I Remember It," Frank Sinatra Jr., (1996, Angel Records). Yes, I know that one could ask why bother with a Sinatra retrospective by his son when excellent recordings of the songs exist by his late father, a much better singer. I saw the live performance and own the CD, and found Frank, Jr. to be both a good vocalist, and a very knowledgeable musician. As conductor of his father's orchestra, he knew all the songs and their history, and relates it in an interesting manner, albeit with little humor and much gravitas. It is, however, worth your attention. For all the Sinatra imitators, Frank, Jr. is better than most at musically capturing the essence of his father's music. What he lacks, not surprisingly, is that ineffable something that enabled his father to rise above all his contemporaries, something Frank, Jr., alas, cannot do either.
10 "It Had to be You," (2002), "As Time Goes By" (2003),"Stardust" (2004) and "Thanks For the Memory" (2005). Rod's "Stardust," by the way, made it to #1 on the charts, something FS never achieved with his "own" songs.
11 The recent HBO special on the Brooklyn Dodgers's final years actually played the song (to great effect) in the background. (Friedwald, at 352, clearly believes Sinatra sang it with the Dodgers in mind.) "Ballpark" was included in Sinatra's "coming out of retirement" album "Ol' Blue Eyes is Back.," While it is difficult to footnote a negative, it was—to my recollection—the first time Sinatra (who undeniably had blue eyes) was referred to in that way. In an enormous tribute to a relatively unknown composer, it is but one of four songs on that album by Raposo, who died far too young at age 52. Although a number of song titles begin with connective conjunctions (e.g. "But Beautiful," "And I Love Her," etc.), "Ballpark" is the only one of which I'm aware in which the lyrics begin with one; i.e. "And there used to be a ballpark…"
12 For those Sinatra buffs who revel in trivia as much as I do (and our legions are many) Sinatra does sing in the movie, but only briefly. There is a scene where Sinatra (as Maggio) and Montgomery Clift (as Prewitt), are accompanied by a couple of his buddies singing a drunken version of "The Re-Enlistment blues," in which Sinatra slurs through a fragment of a line. The
song was written by author James Jones, and has been recorded by, among others, the late Merle Travis (of "Sixteen Tons" fame) and Jorma Kaukonnen of Hot Tuna.
13 Friedwald, ibid at 191-92.
14 While Sinatra reportedly left the recording studio in tears, producer Mitch Miller (later of "Sing along with Mitch" fame), claimed this was "bull shit," and that FS was drawing on the listener's emotion, not his. (ibid, Friedwald, also 191-92)
15 "The Man I Love," and no, music fans, the super-macho Sinatra never sang this song, but check out Judy Garland and Barbra Streisand, both of whom have recorded marvelous versions of this (George and Ira) Gershwin masterpiece.
16 Sinatra 101, Ed O'Brien with Edward Wilson, p. 92
17 While my generation was the first to disdain the value of "interpretive" singers in favor of "singer-songwriters," I think that misses the point. What a singer does with a lyric is a far more meaningful contribution than insisting on only the songwriter singing it. While I clearly recognize Bob Dylan's idiosyncratic vocal abilities (e.g. "Like a Rolling Stone," "Ballad of a Thin Man"), I believe the artistry of Peter, Paul & Mary is what made "Blowing in the Wind" the anthem it became, much as the Byrds later achievement with "Mr. Tambourine Man." The same could be said of the Kingston Trio's version of "Where Have All the Flowers Gone" as opposed to the very spare Pete Seeger original. To refer to those, or any of Sinatra's songs as "covers" seems absurd. Sometimes the "cover" version is the song.
18 To the best of my knowledge, the 1976 version of this song was first only available on the so-called "suitcase" or complete Reprise studio recordings which, while a great package, would set you back more than it would be worth for one song, I believe this later version can be found on the CD entitled " Sinatra Reprise-The Very Good Years."
19 There is, by the way, a lovely verse to the song, which Sinatra never recorded or, to my knowledge, performed. Barbra Streisand performs a lovely version of the song, with verse, on her album, "Color me Barbra,"( Columbia). See how nicely the verse sets up the familiar chorus. "Sometimes you think you've lived before all that you live today. Things you do come back to you as if they knew the way. Oh, the tricks your mind can play."
20 Sinatra did a very appealing rendition of this song on his second duets CD, digitally paired with Linda Ronstadt. While his breath control was not as it was in 1957 (whose is?), this was, after all, 1994, and Sinatra nearly 79!
21 The fourth, "Flowers Mean Forgiveness," was a ballad, and deserves mention as the only song written by a family friend, Eddie White, which was recorded by Sinatra. While a nice ballad, it would have been out of place on "A Swinging Affair." That said, it was part of a memorable session.
22 "Sinatra's coup de grace of up-tempo masterpieces," Friedwald, ibid at 233, and "The single greatest recording of Sinatra's career," Sinatra 101, by Ed O'Brien with Robert Wilson at 72-74
23 "Sinatra 101," ibid at 73.
24 Lose F.S.'s duet version of "House" with Neal Diamond on "Duet's II." Trust me.
25 Whatever the political sympathies of the writers behind the song and the film, there is nothing in "The House I Live In" which would have threatened any of our cherished institutions. It is far less a protest, than a celebration of what makes America special. "Popular Front" politics notwithstanding (whereby the Communist Party urged all sympathizers—communist or otherwise—to support the allies in the war against Fascism), this song stands the test of time as a salute to what is best about America. In a footnote to a footnote, the composer of this song, Lewis Allan, whose real name was Robert Meeropol—who also wrote the anti-lynching song "Strange Fruit"—adopted the children of Julius and Ethel Rosenberg, following the latters' execution as spies convicted of having stolen atomic secrets for the U.S.S.R.
27 Lewis, as indicated on www.info.net, was a lyricist who enjoyed enormous success during the first third of the 20th centuryand deservedly won election to the Songwriters Hall of Fame. Among his more familiar titles were Jolson's "Mammy," "Rockabye Your Baby with a Dixie Melody," "Five foot Two, Eyes of Blue," Sitting on top of the World," and "For All we Know," just to name a few.
28 (Wikipedia) The late Jimmy Durante, at the age of 70, charted with both a single of "September Song," and the album of the same name. As with Huston, Durante's raspy voice imparted a special tenderness to the lyric. While Sinatra had done a version of the song as a young man, his version as a middle-aged man had far more believability.
29 Wikipedia. The women who recorded it comprise a virtual Hall of Fame, and include Ella Fitzgerald, Dinah Washington, Billie Holiday, Rosemary Clooney and Dolly Parton.
30 I can do even worse in a nautical motif- "Some like the great bounding main, I'm sure that if I sailed even one skiff, it would bore me terrifff--ically too." That's enough to make Frank and Cole role over in their respective graves.
31 A tour de force, but I still winced every time I heard the line "...and let me state, not in a shy way." Sinatra introduced the song at "The Main Event" with the words "And now for the national anthem, but you needn't stand." Not shy, no, no, not him.
32 Ibid, "The Song is You," Friedwald, at 19 & 23
33 Look for the CD called "Sinatra and Sextet, Live in Paris (Reprise), complete with an introduction in French by Charles Aznavour. On it, Sinatra does a beautiful rendition of "Ol Man River," on which he reaches the aforementioned new low—in the positive sense. By the way, fully 7 of these" top 25" songs are performed on this "Live in Paris" CD—one definitely worth owning.
34 "As I Remember it," ibid. Frank, Jr. does a respectable version on the CD—low g and all.
35 ("The Song is You," Friedwald, ibid)"Always, by Irving Berlin (1925) "I'll be loving you always, with a love that's true, always…" "Always" was recorded by FS several times, both up-tempo and as a ballad. Sinatra pointed to this song as an example of Berlin's genius. The lyrics, though disarmingly simple, express the depth of love by demonstrating that "always" is not just an hour, a day, or a year.
36 Also see "Duets" (Capital, 1993), in which Sinatra and Carly Simon combine nicely on a medley of "Wee Small Hours," and "It Never Entered my Mind," done, in part, as countermelodies.
37 Examples of such personalized songs are, "My Kind of Town (Chicago is)," "I Like to Lead When I Dance," "The Tender Trap," "Come Blow your Horn," and, of course, "Ring-A-Ding-Ding." Not only does one think of Sinatra when hearing these titles, one thinks of no one but Sinatra.)
38 (Wikepedia, "Night and Day") Also available are recordings from 1942 and 1947 with Axel Stordahl, a 1956 Nelson Riddle arrangement from "A Swingin' Affair" and the Don Costa arrangement discussed above. The Wikepedia entry has an interesting discussion on the unusual length and harmonies used in the song. Also see Friedwald's graph of "Night and Day" performances on pp. 56 &57 of "The Song is You."