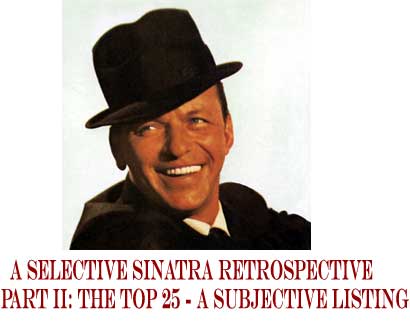 I recently received an e-mail from one of this magazine's readers, telling me how much he enjoyed my article on Sinatra (here). He correctly pointed out that it was subtitled A Selective Sinatra Retrospective: Part 1. Not unreasonably, given the passage of almost four years, he asked if I had written a part two (or three). Interestingly enough, I had noticed the "Part 1" just the week before, and realized that somebody, somewhere might have been either expecting (or dreading) the next installment. In any event, the confluence of these two events inspired me to put electronic pen to paper.

As a possible consequence of age, I have listened to Mr. Sinatra's music for many years, and have an ever-expanding list of favorite performances. One reason I can safely call it ever-expanding is due to not only the huge catalogue of Sinatra songs from which one can continue to discover "new" songs, but also from the apparently bottomless treasure-trove of unreleased recordings slowly being freed from their quarantine in the vaults. That said, I thought it might be fun—at the very least, for me—to compile a finite list of my personal "faves."

More than any artist of quality who comes to mind, Sinatra enjoyed revisiting songs that he had recorded earlier in his career. I am not talking about concert performances, which all great artists do, but in studio recordings. This was done, I believe, not only because he wanted the songs available as he changed labels (RCA Victor, Columbia, Capital, and Reprise), but because his approaches to the material changed over the years. There are, for example, no less than six studio recordings of Cole Porter's classic "Night and Day" (one unreleased) between 1942 and 1977—a span of fifty-five years. (This does not count the two concert recordings in which Sinatra performed the song.)1

For an examination of Sinatra's phrasing when viewed (or, more precisely, listened to) through the prism of his various renditions of this song, readers are referred to Samuel L. Schell's article.2 At the risk of tipping my hand, "Night and Day" will make the cut of my top twenty-five. To keep at least some modicum of suspense, you'll have to read on to see which version I choose. There have been a number of recordings by other artists celebrating the music of Sinatra (think "tribute" albums). My favorite is Tony Bennett's "Perfectly Frank," in which the ageless Bennett brings his own distinctive stylings to songs associated with Sinatra.3 (It was, by the way, somewhat of a mutual admiration society.)4 It is not widely known, but Sinatra recorded "I left My Heart in San Francisco" on a 45 single. Upon hearing Bennett's definitive version, Sinatra ordered his recording pulled after two weeks. For what it's worth, it's a decent enough rendition, but like Sinatra's version of "Everybody Loves Somebody," it's probably a wise decision not to compete with someone else's "signature song'—even if you're Sinatra.5

Keely Smith's "Keely Sings Sinatra" (Concord, 1995) was an 80th birthday present to her good friend and mentor. Linda Ronstadt's three-album collaboration with the late Nelson Riddle was an extended paean to the master,6 even going so far as to use the arranger most closely associated with some of the best (and most recognizable) of his work. Before her great success putting the songs of Billy Joel to both music and dance (and noticeably less so with the music of Bob Dylan), Twyla Tharp saluted Sinatra through dance, doubtlessly inspiring the collaborations which followed.7

A year or so before Sinatra's death, radio personality and Sinatra aficionado Jonathan Schwartz put together a salute to his music at Lincoln Center. At the event, both Rosemary Clooney and Linda Ronstadt were among the many marvelous performers appearing. Rosie performed a song which Sinatra started to record (for the "Only the Lonely" album), Billy Strayhorn's classic, "Lush Life." I say "started," because he gave up after completing its extended verse.8 At the risk of citing myself, I discuss its omission from that seminal album on my above-mentioned piece for this magazine on "Only the Lonely." Interestingly, although Ronstadt gave the song (admittedly a difficult one) an earnest try, the Clooney version performed live that night seemed to at least this listener to better capture the essence of this complex and multilayered song. Unfortunately, no recording was made of that special evening, although the lengthiest performance of the program, that of Frank Sinatra, Jr., was later made into a CD.9


Most recently, Rod Stewart re-charged his career with no fewer than four CDs of standards, recorded over a four-year period, a sizeable number of which had been made famous by Sinatra.10 Stewart's ambitious, though uneven, journey through the American Songbook was important for several reasons. In addition to attracting a new generation of listeners to some of the best music ever written, the subtext of his message was that Sinatra and the Sinatra "style" lives on into the 21st century, with no sign of fading.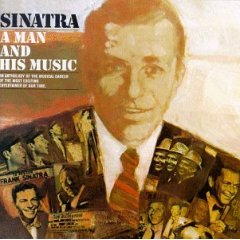 As mentioned above, Sinatra periodically chose to revisit songs which had a special meaning to him (e.g.1963's "Sinatra's Sinatra," 1965's A Man and His Music, and the "past" record of his ambitious three LP "past, present and future" Trilogy from 1979.) I suppose one could view these as "self-tribute" albums, but I suspect he wanted to record songs previously done on other labels (e.g. RCA Victor, Columbia and Capital) on his own label (Reprise), in hopes of capturing some listeners who otherwise would have been limited to the earlier recordings. In fairness to FS and his penchant for reprising some of his old chestnuts, he continued to explore new material up through his last studio album for Reprise, "L.A. is my Lady." (The two Duets CDs, recorded on Capital in the early 90's were, by design, tribute albums on which FS was "paired" with famous artists, old and new. I use the word "paired" advisedly, since the duets were recorded separately, then mixed together. What they lack in spontaneity, however, they occasionally made up for through good musicianship and clever editing.)

In compiling my own "top 25," the relation my selections bear to commercial successes is so coincidental as to be insignificant. Any choice of songs—unless based strictly on measurements such as number of weeks on charts, quantity of records sold, etc.—is, by definition, going to be subjective.

For all his vast commercial success, Sinatra's only album to "go platinum," was Strangers in The Night, none of whose songs number among my very favorites. (Yes, the title song is a good one, but—sorry—it doesn't make the "desert island," cut, "doobie, doobie, doo," notwithstanding.) Indeed, some of the songs were chosen because of what they meant to me at the time, which, I realize, makes them as much "my" songs as his. But that, of course, is why writing a piece like this is both personal and a lot of fun to do. Just as many of us remember the first time we heard "Sgt. Pepper's Lonely Hearts Club Band," which recently celebrated its (can it be true?) 40th anniversary, so I remember where I was and how I felt when I first heard "Learning the Blues."

Back in the mid-40's, my older sister was a (very young) "bobby-soxer," with a crush on that skinny guy with the pompadour and floppy bow-tie who happened also to possess the voice of an angel. As such, I knew enough of Sinatra by osmosis (in what is known as "The Columbia years"), for the music was frequently playing in the background when I would barge into her room and interrupt her and her friends from their pre-adolescent swooning. The songs I grew up surrounded by included, "The Things We did Last Summer," "I Don't Know Why (I Love you Like I do,") and "I Don't Stand a Ghost of a Chance," all from the Columbia Years. It wasn't until Sinatra made his fabled comeback in the early 50's, when he won the Academy Award for his role as Maggio in From Here to Eternity that I became (and stayed) current with his music. I remember "rooting" for "Young at Heart" to become the hit it did. For some reason, I always preferred Sinatra as the underdog—both as a performer and as a person. As a result, a large proportion of the songs chosen avoid the so-called "ring-a-ding-ding" phase, when Sinatra's voice occasionally took on a tough-guy glibness which was at odds with the sincerity that characterizes the best of (and most of) his music. Interestingly enough, the vulnerability I so liked in him as a young man crept back as he aged, as his legendary command of pitch, timing, breath control and timbre showed signs of wear and tear.

This doesn't mean that I don't like Sinatra's up-tempo work. "Lady is a Tramp," "South of the Border" "Let's Get Away from it All," and "From this Moment On," are but a few examples of great songs which deserve to be on such a list. Call it a surfeit of riches, but I just found myself running out of room, and excluded some of his more familiar numbers for no reason other than I know them too well. With one final disclaimer, I will begin my list. While many of you will agree that certain of my top 25 belong in yours as well, I expect your list to be different. What I do hope is that you give a listen to some of the songs which are not among your current favorites, and see what you think. More than that, I cannot ask. (Why does that sound like the title of a Sinatra song?) Oh yes, these songs are not in any particular order. I simply didn't have the courage. Enjoy.

25. "There Used to be a Ballpark." This beautiful song, (words and music by the late Joe Raposo) was either written with Brooklyn's Ebbets Field in mind, or should have been.11 Skillfully arranged by Don Costa, Sinatra applies just the right amount of wistfulness to a lyric about loss. While the song is meant to be taken literally, it is a metaphor as well, invoking memories of lost youth, enthusiasm, and the overall decline of quality. The poetry of its closing lines, "and the sky has got so cloudy when it used to be so clear, and the summer went so quickly this year. Yes, there used to be a ballpark right here." You don't have to be a baseball fan (although you'll doubtless be a better human being if you are) to get misty over those words.

24. "From Here to Eternity." While this was the title of the Academy Award winning movie of James Jones's best-selling novel, the song is never sung by Sinatra in the film. Although we do hear parts of the instrumental version played throughout the soundtrack, neither Sinatra nor anyone sings the lyrics.12 The song, written by Freddie Karger and Robert Wells is a simple one, but the production was lush. The song builds to a crescendo, well-suited to Sinatra's voice, which was then at its peak. As with "I'm a Fool to Want You," one senses that Sinatra is thinking about his then estranged wife, Ava Gardner. It is a short song, with only three stanzas, the second and third of which—though separated by an instrumental—are virtually the same. And yet, the song stays with me. I don't know if it's the connection to a marvelous film (featuring Sinatra's Oscar-winning performance as the wise-guy Maggio) or the arrangement with builds to a dramatic climax of its own, but the song has the kind of lasting power that has always kept it among my favorites. Listen to the masterfully controlled performance. The ache in the singer's voice is clear from the lyrics themselves, but the final stanza climbs a vocal ladder with words which everyone who has experienced the hurt of a lost love can identify. "Though you are gone, the love that you left with me, the endless desire - will live from here to eternity." The idea of love being "left" with the very person who has been left by another, suggests a play on words which, though never expressed, lingers with the listener.

23.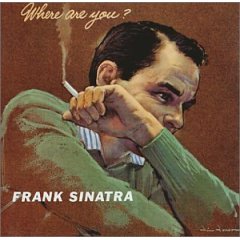 "I'm a Fool to Want you," on which Sinatra shares writing credits with Joel Herron and Jack Wolf, is a much more enduring song than "From Here to Eternity," but to me, they are companion pieces in a mourning over the same loss. There are two versions of "Fool" recorded by Sinatra six years apart (3/'51 and 5/'57). The first (arranged by Axel Stordhal) is a bit more overblown, replete with choir and a fulsome string section. I prefer the second version, part of the lovely Where are You album, arranged beautifully by Gordon Jenkins. When composer Herron first heard Sinatra's recording, he went in and told lyricist Wolf that Sinatra had modified the lyrics and deserved a writing credit.13 While I can't prove this, I believe Sinatra's contribution to the song was the passage, at the end "Take me back, I love you. Pity me, I need you." This, in my view, is no small contribution. I have heard the song performed without those words (listen to Rondstat's version) and it loses a lot. The song, sad to begin with, really only draws the listener in, when Sinatra begs her (Ava?) to take him back. There is an ongoing debate among musicians as to the best way in which to convey emotion through a song. While some contend that the singer should let his or her emotions run free in order to best convey the message, I think the better view is that a controlled rendition by the vocalist (as dramatic actor) lets the lyrics do the talking. Isn't this, after all, better than a singer breaking into tears mid-song?14

22. "One For My Baby," is one of the great saloon songs of all time, a staple of the genre. In my view, Sinatra's is not only the best version, but the arrangement is so beautiful, so spare, that once heard, the listener will be unable to hear other renditions without (unfavorably) comparing them to Sinatra's. Although Sinatra performed the song too many times to track, and always well, this is the signature version. For comparison purposes, you may want to listen to his earliest effort on Columbia (available on The Columbia Years Box Set), and on the second Duets CD, where he sings it alone, technologically backed by saxophonist Kenny G. "One for my Baby" was part of Only the Lonely (Arranged by Nelson Riddle, Capitol, 1958) the album that both Riddle and Sinatra regarded as his finest hour. "One for my Baby," is one of three songs from that ground-breaking LP making the top 25. Most of the song is accompanied only by long-time Sinatra pianist Bill Miller. This gives it the intimate and solitary sound of a man alone. Miller's piano playing is nothing short of superb. Great as Sinatra's vocal performance is, this is truly a duet with piano. The song invites the listener's sympathy, making us the silent, but knowing bartender to whom Sinatra addresses the lyric, written by the incomparable Johnny Mercer, with music by the equally renowned Harold Arlen. If you've not heard this marvelous rendition, prepare yourself for a treat. Sinatra sang this song for the remainder of his performing and recording life, and never changed the arrangement. As Ira Gershwin once asked in another song, "who would, would you?"15

21. "Blues in the Night,"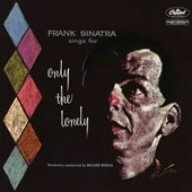 is another of the Only the Lonely selections, also an Arlen/Mercer collaboration. Like "One for my Baby," this song has been recorded many times by a great number of vocalists. While "One for my Baby" is usually done as a ballad, although sometimes with jazz inflections, it is almost always treated as the sad song it is. "Blues in the Night" is all over the place, often done at a honky-tonk pace, reminding one of the kind of bump and grind instrumental that might accompany a stripper in an old burlesque house. Not so here. By slowing the song down to a ballad, the lyrics take on a new form. Instead of the singer sounding like a braggart when he or she (the song has been performed as frequently by women as men) says "I've been in some big towns, and I've heard me some big talk," Sinatra is world-weary, not boastful. This is a far cry from the swagger affected by the self-confident swinger of later years. In this version, we are hearing a wounded man who has learned life's lessons the hard way, and ruefully recalls his mother's words at the song's end (his mother's advice is a bookend to the song's beginning and end, a masterful lyrical device by Mercer) by telling us "My mama was right, there's blues in the night." In so saying, Sinatra rides the notes down to their deep, dark ending. And, by the way, what a fine low register that final note demonstrates.