Anat Cohen, "Notes From The Village"
[Anzic Records 1302]
January 2009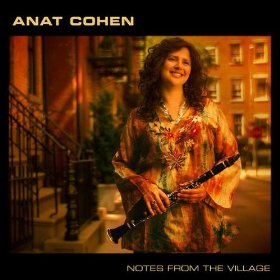 It's a chilly evening at the end of October and a boisterous, packed crowd has gathered in the comfortable confines of the Regattabar Jazz Club here in Cambridge, MA. to enjoy a performance by Anat Cohen and her band. The Regattabar is one of the best places to hear jazz in the Boston area, with its stage an extension of the audience seating area, making for a vital and energizing listening experience. Tonight is no exception as the capacity crowd leans in as close as possible to Cohen and her band as they come on stage. The audience for this performance is as diverse as Cohen's own myriad musical traditions. In one corner is a group of jazz fans sporting yarmulkes (Cohen and her musical family, including her brothers, saxophonist Yuval and bassist Avishai, all hail from Israel). Next to them are a group of Brazilian musicians in colorful attire, including the great local musicians Sergio and Fernando Brandao, who are good friends with Cohen. Also in the audience is the sixteen year-old saxophone/singer/composer Grace Kelly, who has just released her own excellent recording with Lee Konitz, entitled "Gracefullee." Surrounding all of us are dozens of Berklee School of Music students, many toting guitars, musical scores and a few dollars for a drink. In concert, Cohen and her band lead us all on a thrilling ride through the shifting landscapes of her latest recording, "Notes From The Village." Cohen is a beguiling presence throughout: one moment she is dancing with her clarinet as she blows it skyward, while the next she sways and dances to the Afro-Cuban rhythms emanating from the fantastic rhythm section behind her.
"Notes From The Village" is a dazzling gem containing melodies drawn from every corner of the globe. Epitomizing its far-flung musical range is the opening tune, "Washington Square Park." "At her concert at the Regattabar, Cohen spoke of her love for visiting Washington Square Park in New York's Greenwich Village where she draws inspiration from the countless musicians who gather there for jam sessions."
From Omer Avital's opening pulsating bass notes to Daniel Freedman's hand percussion and Jason Lindner's cascading piano notes, "Washington Square Park" swirls in the influences of many a street musician's creation. It draws influence from both the light Brazilian touches of Gilad Hekselman's guitar to Cohen's exclamations on her soprano sax, as she carves out themes from Rock, Blues and Afro-Cuban influences. Cohen's inspired lyricism also propels her version of Coltrane's After The Rain. Cohen's version here is steeped in the rich tonal palette of the bass clarinet. Her instrument is silhouetted against the delicacies of Lindner's twinkling piano runs and the deep plunges of Avital's acoustic bass; all creating a slow, unfolding drama. Until You're In Love Again is another tender ballad. It is founded on a beautiful flowing melody carried by Cohen on clarinet, accompanied by Hekselman's guitar and Freeman's light cymbal touches. The recording provides excellent image dimensionality as well great tactile feel, especially in regards to Cohen's breathtaking delivery on a variety of woodwind instruments, each with its own song to sing.
Cohen and her band also get lots of opportunities to strut their stuff on the eclectic number, Siboney. This Cuban gem opens with a slow brewing melody and then turns into a wild Afro- Cuban carnival. Cohen's clarinet guides us through this mélange of colors and rhythms, furiously scaling heights and valleys on her instrument. Her dexterity on clarinet is a marvel, as she first pushes the speed barrier on Cuban flights of fancy, then turns in a gentle solo full of pauses, lyric turns of phrase and a gradual return to the original theme of Siboney. Such a satisfying melding of both beauty and passion is also found on Lullaby for the Naïve Ones and Sam Cooke's song (and our new President's theme song), A Change Is Gonna Come. In "Lullaby" we start out on an African plain, drenched in soft rain as Lindner plucks the inner strings of his piano while Cohen takes up her tenor saxophone and beckons the gentle theme. In her solo here, she again reaches great intensity with crescendos of tenor sound and colors, as Freedman rides alongside her on a giant wave of cymbal energy. In contrast, Sam Cooke's "Change" opens with a solemn gospel feel as Avital's bass marches slow and steadily. From this foundation, Cohen takes off on her clarinet offering a gorgeous, lyrical exploration of this song's spiritual melody. "Notes" ends with the rollicking "Fats" Waller tune, Jitterbug Waltz. "Jitterbug" brings together melodies from East and West, rock and blues, bebop and R&B – all entangled in Cohen's expressive clarinet, Lindner's sweeping piano and Freedman's huge cymbal finale.
Back at the Regattabar, when Cohen and her band concluded their concert with "Jitterbug," the crowd was on their collective feet, clapping and refusing to let the musicians leave the stage. When you hear the last, fading cymbal crash of "Jitterbug" on Cohen's latest Notes From The Village, you too will be on your feet clapping for more!

We welcome any suggestions for audiophile recording gems. Please write to nelsonbrill@stereotimes.com.