CES and T.H.E. Show Report


Laufer Teknik (T.H.E. Show)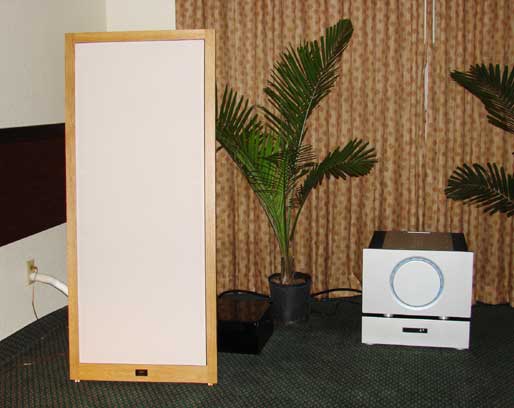 Laufer Teknik is the US distributor for several high-end brands including Ascendo, Behold, Halcyonics, and Podium. Laufer Teknik is also a dealer for other brands. Many of which were in service in their suite at The St. Tropez. Pictured here are the Podium Sound Model .5 and a Behold BPA768 amplifier sitting on a Halcyonics (The Silencer) active isolation platform. Prototype Bybee Wire speaker cables and power cords were used. Not pictured is a Behold APU768 preamplifier.

In appearance Podium Sound loudspeakers may resemble ribbon or electrostatic speakers. They are neither. Podium Sound loudspeakers use transverse waves induced by a tapered line-array to propagate sound through a floating panel. The revised Model .5 has 95dB efficiency and no crossover making it easy to drive with either tube or solid-state amplifiers.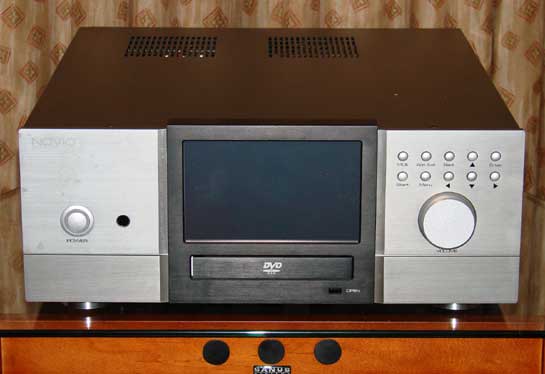 One of the sources for the Podium Sound room was the Nova Physics Memory Player sporting a new look and a new owner. Laufer Teknik recently purchased Nova Physics Group (now Nova Physics Corporation) and is rapidly expanding production to reduce the backlog of orders. The original partners remain with the corporation so we can expect the Memory Player to continue on the leading edge of performance. Clement's full review of the Nova Physics Memory Player can be read here while my follow-up commentary resides here.

Emerald Physics and Reference Audio Mods (T.H.E. Show)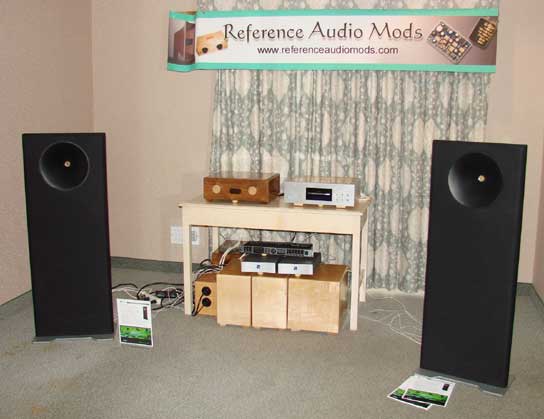 Emerald Physics CS2 loudspeakers ($2995 including crossover) are an open-baffle dipole design with a 100dB efficiency. The crossover is DSP based (Behringer Ultradrive Pro DCX 2496). The active digital crossover provides for some degree of room tuning but requires bi-amplification. This very musical and highly affordable loudspeaker is making big noise on some audio forums.

The Emerald Physics loudspeakers were also popular at CES and T.H.E. Show in 2008. I heard them in three rooms. My favorite was the Reference Audio Mods room. But then of course I would choose the most expensive system. Picture here is an Esoteric X-01 with the RAM "unlimited" full battery powered mod package ($12,000 mod only). The batteries are housed in attractive oak cabinets and the top of the X-01 is replaced with a matching wood panel. The preamplifier is an Audio Consulting Silver Rock TVC with a battery powered buffer stage. The amplifiers are modified PS Audio Trio A-100s ($1500 each-includes amplifier and mods). The Behringer Ultradrive Pro DCX 2496 digital crossover is also modified ($1000 mod only).


Analysis Audio and Technical Brain Company (T.H.E. Show)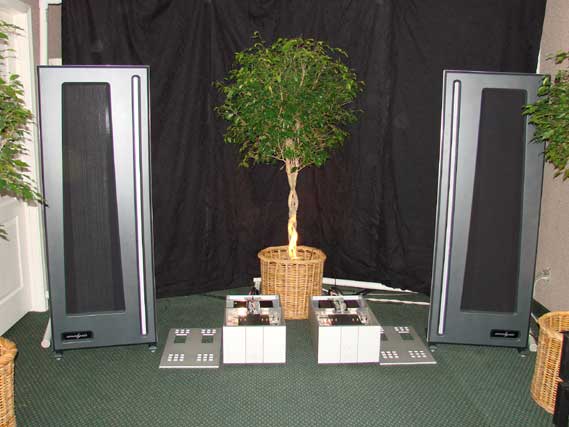 Analysis Audio reminds me so much of my beloved Apogees both visually and sonically. One of my favorite rooms was the 66" tall Analysis Audio Omega loudspeakers ($18,000) paired with Technical Brain Company TBP-Zero monaural amplifiers (400Wpc @ 4-ohms) and a TBC-Zero preamplifier. Analysis Audio speakers have a planar magnetic woofer and a direct-coupled midrange/tweeter ribbon. Their impedance is 5-ohms and the sensitivity is 86dB.

Technical Brain Company products must be particularly ribbon friendly. Last year one of my favorite rooms was the Technical Brain Company electronics paired with an Apogee Duetta (model not known). Technical Brain products are not currently available in the US but distribution plans are progressing.


Anthony Gallo Acoustics (CES)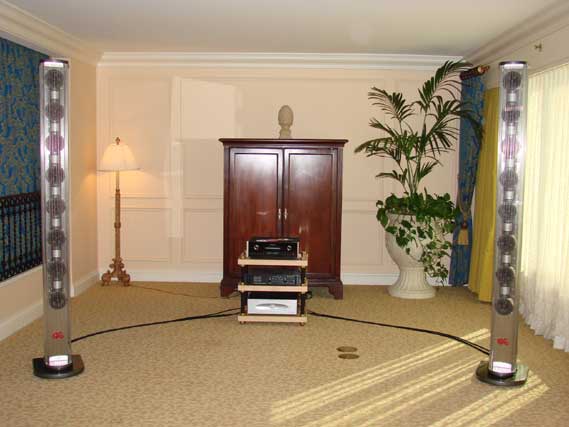 The Reference 5LS loudspeaker ($17,995) is a line array employing seven CDT II tweeters and eight 4-inch carbon fiber (5" spherical enclosures) midrange drivers both designed for broad off-axis response. The tweeters and midrange drivers are stacked in a vertical alternating sequence to minimize phase and dispersion issues that may occur with offset driver designs. Twelve 4-inch, rear-firing, aluminum subwoofer drivers are employed to provide bass response that is claimed to be faster and more transparent than possible with a single large driver.

The 5LS loudspeakers can be driven by one, two, or three amplifiers and can likewise be bi- or tri-wired. The only crossover in the speakers is for the woofers. That crossover can be bypassed to use the LFE output of a processor or the optional Anthony Gallo Reference 3 S.A. amplifier ($990) which offers volume, phase, and crossover adjustments.

The system at CES used the 5LS loudspeakers with a McIntosh MCD201 SACD/CD player, Reference 3 S.A. amplifier, and Spectron Musician III Signature Edition amplifier. A full review of the Spectron amplifier will appear in The Stereo Times soon.