CES and T.H.E. Show 2008 Show Report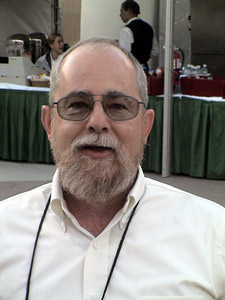 I noticed several trends at CES and T.H.E. Show this year. I keep hearing claims that high-end audio is dead. I submit that it is just changing faces. Several well-known companies with legacy digital transports and players are offering iPod-docking stations. Other companies (too numerous for me to report on) are offering creative ways (USB DACs etc.) to optimize the transfer of music from a computer to an audiophile system. This, in recognition of the power of the internet and digital storage. Increasing amounts of music in various resolutions are being made available on the internet. More and more music is being downloaded and many users are addicted to having large libraries of music available at their fingertips. Many audiophiles are "guilty" of owning an iPod (or similar device) for the convenience factor. Now they don't have to hide it when company comes.

I also keep reading that the younger generation is hopelessly lost in a swamp of heavily compressed music with loudness pushed too far toward the red line. I further submit for your consideration that just as I was saved from the transistor radio, so too will many of the younger generation find salvation. I choose to be optimistic and believe the "more generation" will, at some point, plug their iPods into one of the emerging crop of high-quality docking stations and want more. They will not abandon convenience but they will begin to embrace the visceral thrill of better listening just as many of us started down this slippery slope with our first Garrard or Dual and KLH or Advent. Yes, I started with a transistor radio but momma look at me now!

My final observation on why high-end audio is not dead comes in the form of a salute to the entrepreneurial and creative spirit I witnessed. Established companies that are evolving as well as new companies laying it all on the line for their passion give me faith that there are exciting things to come.

Confession, I am not a "techie". I do not own an iPod. I did however touch one at CES and that is the most contact I have had. I don't even own a cell phone. I am not a technology proponent. I am merely an observer. And I observe that the industry is always changing (sometimes faster than other times) and there are always critics of that change. The trick is to listen to the music, not the noise.

I now step down from my soapbox to present picture proof of my postulations along with some other goodies from CES and T.H.E. Show 2008.


Von Gaylord Audio (T.H.E. Show)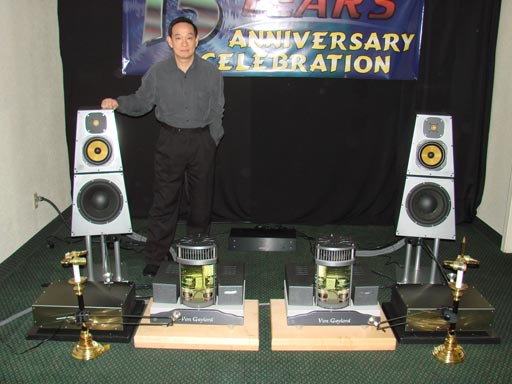 Ray Leung celebrates Von Gaylord Audio's (formerly Legend Audio Design) 15th anniversary as he stands by the vG One and vG One Plus speakers ($13,800/set) powered by Uni liquid cooled mono blocks with separate power supplies ($59,000/set). And celebrate he should. The Von Gaylord room is my choice for best room at either venue.

Von Gaylord Audio produces everything in the system (Uni preamplifier $12,500, Uni DAC $10,000, Chinchilla cables) except the CD transport. The synergies are obvious in a system that has exquisite detail throughout all octaves and is as musical as any I have ever heard. Vocals are spellbinding. Bass is powerful yet well defined and in correct proportion. Dynamics are fast and controlled. The Von Gaylord system is both seductive and has slam, like a geisha/samurai. I listened for almost an hour and could find no faults or imbalance. I would have loaded everything up and brought it home if I could. This is the first system that has actually made me seriously regret I could not afford it. The best I can do is to try some power cords and cables. Any system that sounds that engaging has to have comparable wire.

Wadia Digital, Inc. (CES)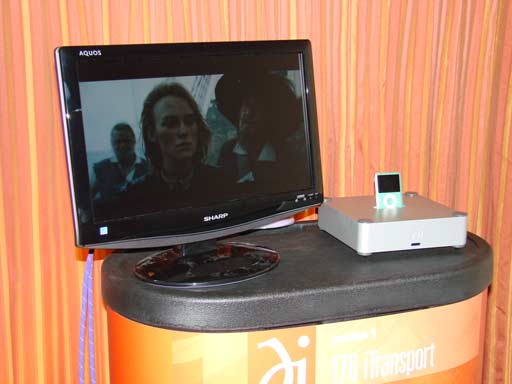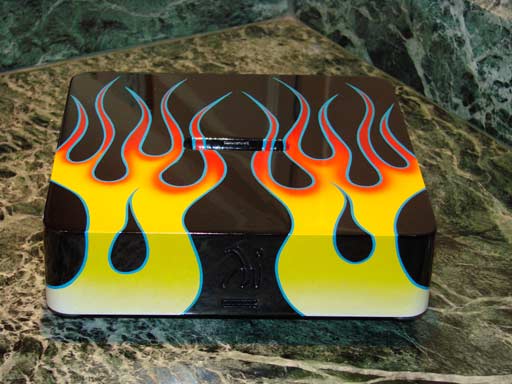 Wadia lets it hair down with the new iTransport ($349 available February 2008), the first digital player dock to retrieve a direct digital audio signal from an iPod. The certified "Made for iPod" iTransport is compatible with current production iPod players, iPhones and Ipod Touch models. Video is also available via component outputs. The iTransport charges docked players. Remote control is available via Apple's standard IR remote control (not included). Wadia is considering offering different color options (silver, black, white, and FLAME!). Now where do I get the rest of my system "flamed" to match?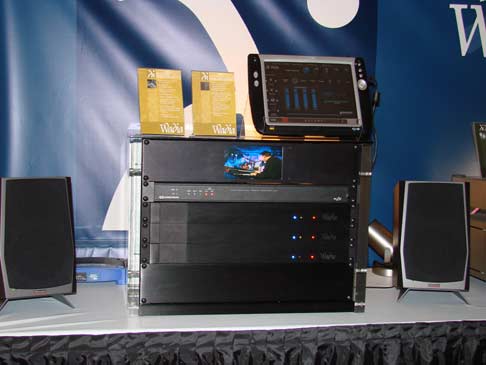 Coming soon to a home theater near you (anticipated in May 2008). Wadia enters the home theater market with the Wadia Theater Digital Controller designed to maximize audio and video performance. The design emphasis for audio is music, not sound tracks. Wadia's goal is to provide audiophile quality playback for both two-channel and multi-channel music.

The rack (1U) mounted controller has eight channels of analog output with high quality DACs (brand not specified) and is ready to play. For those wishing higher quality playback, Wadia will be releasing (anticipated in July 2008) matching (one rack unit) Wadia Multi-Channel Decoding Computers. The Decoding Computers are available in 2 or 4-channel models and they are scalable to the total number of channels needed up to 7.1. The connection between the Theater Digital Controller and the Multi-Channel Decoding Computers is a Multi-Channel RJ-45 AES Digital Bus Interface. For optimum 2-channel playback, the Theater Digital Controller can bypass all internal processing and route the digital signal from the source directly to the Multi-Channel Decoding Computer.


Bel Canto Design (CES)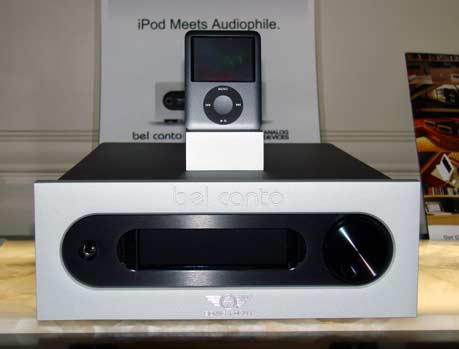 The Bel Canto ULTRA-DOCK focuses on improving the playback of compressed music files. Bel Canto utilizes technology from Sonic Focus, Incorporated to upscale and refine compressed music and soundtracks to 5.1 or 7.1 channels (24/96 quality). Analog Devices DSP cores, ADCs and DACs are used. Two balanced outputs are provided for the best two-channel playback. Delivery of the ULTRA-DOCK is anticipated for summer 2008 and specifications are subject to change.


Inex Innovation and Harmonic Technology (CES)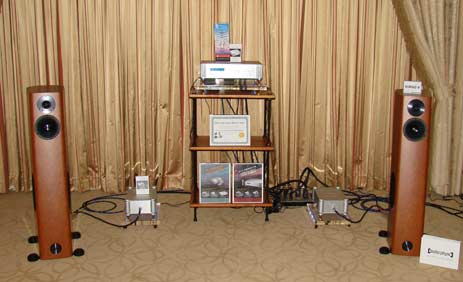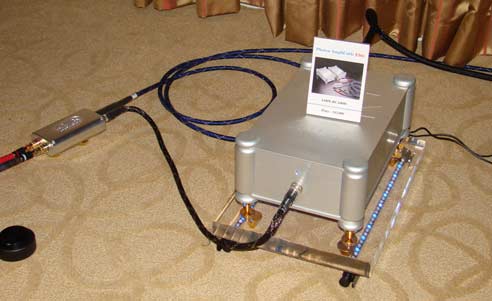 Let there be light. Inex Innovation and Harmonic Technology, pioneers in using photons instead of electrons, team up to make excellent sound with a pair of Audio Physics Virgo V loudspeakers. The Inex Pre-A202 photon preamplifier ($12,500) has conventional (electrical) inputs and outputs but all internal operations are done optically. The Photon AmpliCable Elite ($12,000) works the same way. The Amplicable Elite combines a photon interconnect, 25-Watt amplifier, and speaker cable all in one package. Other models are available. Picture note: The larger silver box is the power supply for the amplifier module that is the much smaller silver box on the left.

A Harmonic Technology CyberLight DataLight digital cable is used between an April Music Stello CDT 200 transport and a Stello DA220 DAC. Showing it can go the distance, a 10 meter Harmonic Technology CyberLight Wave Source cable is used between the Stello DAC and Inex preamplifier. All power cords were Harmonic Technology Fantasy AC-10.

While there is great synergy between the Inex, Photon AmpliCable, and CyberLight products, Jim Wang of Harmonic Technology emphasized that all the products can be used individually in conventional systems.


April Music (T.H.E. Show)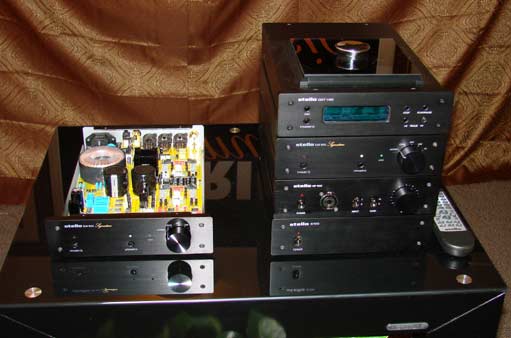 The Stello 100 series brings beautiful music to budget spaces at budget prices. Pictured are the Stello CDT 100 CD transport ($695), DA 100 Signature DAC ($895), HP 100 headphone amplifier/preamplifier ($595), and S100 50Wpc power amplifier ($745). Inputs on the HP 100 are limited to two pairs of RCA inputs however multiple digital sources can be connected via the DA 100 Signature DAC. The DA 100 Signature will accept signals up to 24/96 and has the bases covered with five inputs (RCA, AES/EBU, Toslink, USB, and I2S) and up-sampling up to 24/192. All Stello 100 series products share the same small footprint (approximately 8.4"W, 2.2"H, and 11.4"D).


Soundsmith (T.H.E. Show)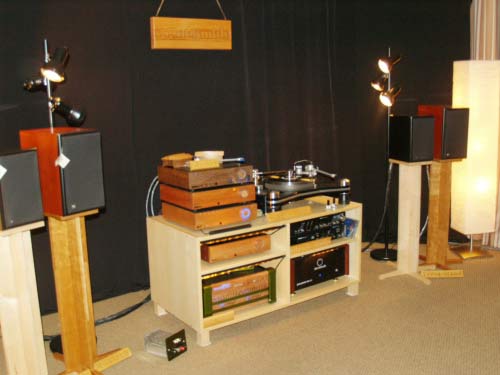 Vinyl goes hi-tech with Soundsmith. The Strain Gauge cartridge is sold as a system with a dedicated preamplifier. There are five models of preamplifier to choose from. Three models display force per groove wall, record eccentricity, and downward tracking forces. Each preamplifier is a complete cartridge preamplifier (no additional phono-preamplifier needed) as well as a standard input preamplifier. Other features include a user selectable automatic mute/unmute circuit to prevent loud transients during needle drops. This feature is especially useful in eliminating start-up pops when recording from vinyl. In most cartridges the stylus must move a mass to generate voltage. The Soundsmith uses two tiny silicon beams to sense the cantilever position and change electrical resistance. Removing the mass enables the stylus to stay in better contact with the record groove walls. The styli are user replaceable and come in several models.

The source for T.H.E. Show was the Strain Gauge model SG-810 preamplifier with the Optimized Contour Nude Contact Line/Ruby Cantilever stylus on a Schroeder Reference SQ Tone Arm and VPI HRX turntable. Pictured (top to bottom) are the Soundsmith SG-810 Strain Gauge Preamplifier, SG-400 Strain Gauge Preamplifier, HI-100 integrated 100Wpc MOSFET amplifier. HE-150 MOSFET 150Wpc amplifier, Soundsmith HE-2006 300Wpc MOSFET modular amplifier. Speakers are Soundsmith Monarch (larger) and Soundsmith Dragonfly (smaller).