CES 2008
Page 2


Reference Audio Mods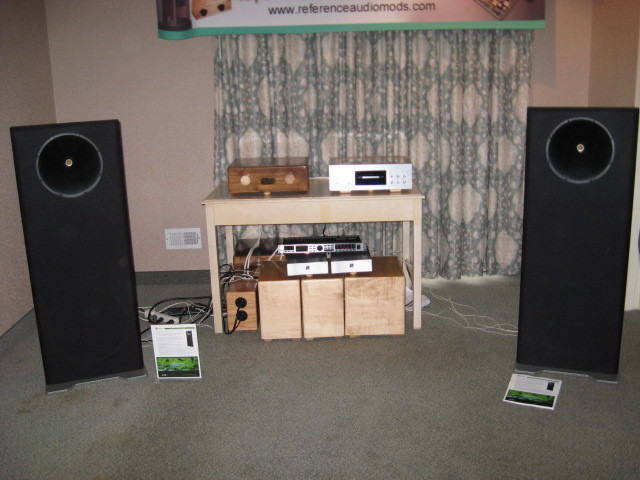 As you would expect from the title of the company, Kyle and Jesse are in the modification business. They are good at identifying some stellar products and with a few enhancements are able to extract more information from source components and overall raise each components performance levels. The crew displayed two pieces that were battery operated; the Esoteric XO-1 CD player ($12,000.00), and the Audio Consulting active preamp ($6500.00). Amplification was provided by the PS Audio Trio A-100 monoblocks ($3,000.00 modded), and speakers were from Emerald Physics ($4,000.00) with a modded Behringer crossover. The presentation was very relaxed and musical. I have heard some of the stock components before and I believe that judging from the sound that the modifications are a marked improvement.

Tyler Acoustics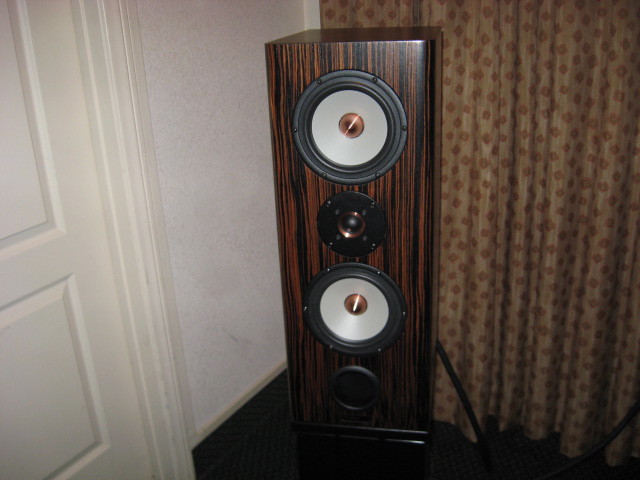 Tyler Acoustics displayed a front ported version of his Linbrook loudspeaker in Zebrawood ($3600.00) with an additional ($400.00) for his hand made stands. Driven by the Gill Audio Design Lissa integrated ($3600.00), with a Bluenote Koala CD player ($2000.00) as the source, and connections via Cardas Golden Reference cables, this was one of the hidden gems at the show! Literally! At the back end of the St. Tropez in a nondescript location, beautiful music was emanating from the suite at a very competitive price. Maybe it exists, but I didn't encounter a better sounding system at the T.H.E Show that produced a room filing, engaging presentation that could be purchased for less than ten thousand dollars!

Daedalus Audio/Shakti Innovations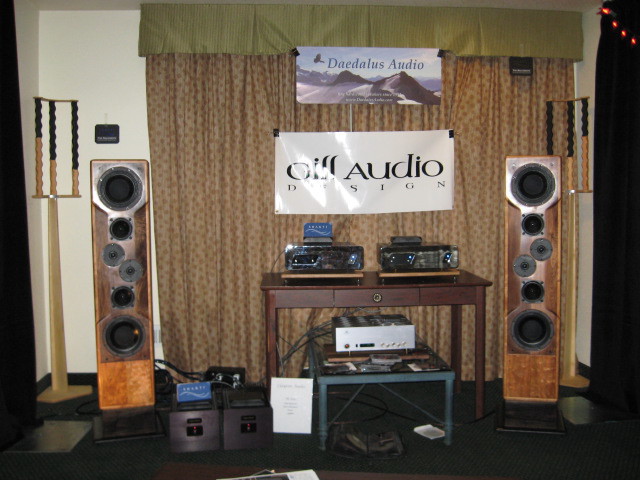 The timber man goes to Vegas. Lou Hinkley of Daedulus Audio is known for his high efficiency solid hard wood loudspeakers. He eschews derivatives such as MDF or composites and hand builds his cabinets from Walnut or other natural woods. Just introduced at RMAF 2007, the Ulysses loudspeaker (at $8,800.00) are a fantastic loudspeaker with impressive imaging, fine details, and a musical presentation that is just as beautiful as the cabinetry itself. Amplification was provided by the Clayton M-200 class A mono blocks ($9,500.00 per pair) connected to a Gill Audio Designs Alana preamp ($5,000.00). The Elise DAC ($6,000.00) and Ensemble transport were also used with cables by Empirical Design; interconnects $330.00 per meter pair, and loudspeaker cables $600.00 per eight foot pair. Shakti Innovations' stones helped to reduced EMI and a pair of Hallographs were deployed to optimize the sound. This was one of the more musical rooms that had a pair of loudspeakers that will compete with some of the higher priced products that are currently available on the market. The presentation was as natural as the walnut itself.

Audience/Navison Audio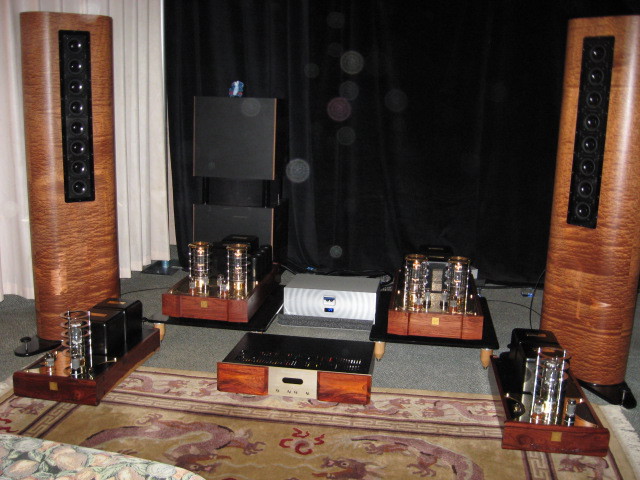 One of the more beautiful looking rooms as well as beautiful sounding rooms could be found in the Audience/ Navison suite. The Navison Audio electronics are simply stunning with real wood trim, gold plated accents and warm glowing power tubes. The ClairAudient loudspeaker Line Source Array 8 ($33,000.00) has 8 drivers and are also gorgeous. With an efficiency rating of 94db, and no crossovers it is the perfect loudspeaker for tube amplification. The LSA 8 is ruler flat from 70hz to 22khz and the bottom octaves are reproduced by the ClairAudient 12 subwoofer at $7,000.00.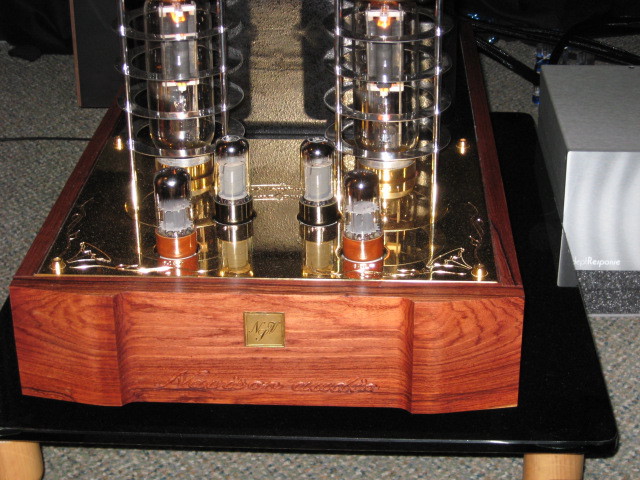 The LSA 8's were being driven by the NVS-211PSE. This is a parallel single ended triode monoblock that uses a pair of 211 power tube to produce 40 watts per channel in class A mode. The pair retails for $21, 800.00. The matching preamp, the SE-MKII ($4,900.00) is remote controlled and also very beautiful. I would be remiss if I didn't mention that the NVS-211 is a single ended triode 20 watt class A monoblock amplifier ($7,900.00 for the pair). Always looking for a good value I think the designer Ben Nguyen has created something special. The sound was also very special and I plan on getting in a demo pair in for review so stay tuned.

Red Rock Audio/ The Lotus Group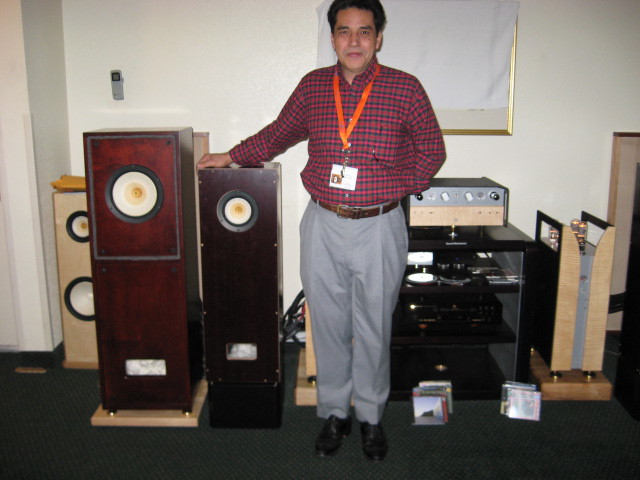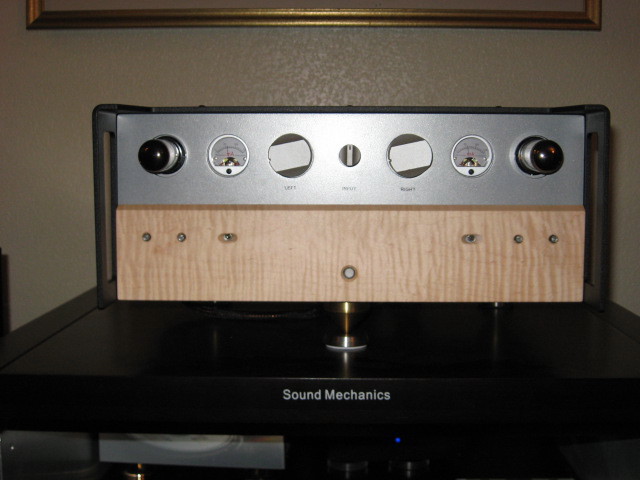 Smooth, magical and textured sounds could be heard in the Red Rock Audio room. Partnered with Joe Cohen of the Lotus Group this is one of the best sounding rooms at T.H.E. Show. The Renaissance triode monoblock amplifier ($39,750.00 per pair) uses the Svetlana 572-10 power tube and Al Stiefel also debuted his NOS 6bL7 dual triode balanced/ singled ended preamp (estimated cost around $12,000.00). Accessories included the Acoustic Revive RTP-4 ultimate line conditioner and Sound Mechanics PX1 Rack ($4,500.00). Feastrex D5 full range five inch drivers from Japan ($7,900.00) were singing some pretty songs inside inexpensive hand built cabinets. There is talk that a full production unit will be offered with choices of exotic woods. Cables were supplied by Prana wire. The Avatar reference interconnects retailed for ($7,950.00) and the speaker cables were not cheap either at $12,500.00 for a 1.5 meter pair. Collectively this lineup of all star equipment produced a sound that was so sweet and mesmerizing that I didn't want to leave…. but there was more show to cover!


Wavac Audio Lab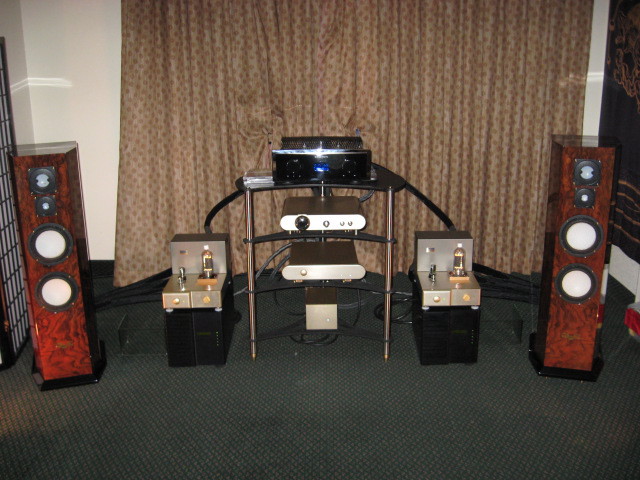 Another great sounding room that had tubes as the main source for amplification is the Wavac room. The Wavac MD-805 mkII monoblocks ($43,900.00) with separate power supply generate 60 wpc using the 805 power tube. The Wavac PR-t1 preamp ($28,000.00) was connected to the Einstein CD player ($7,790.00). Loudspeakers were the Venture Audio La Perfection ($28,000.00) with Prana Wire speaker (2 meter @ $6,650.00), Prana Wire interconnects (1 meter @ $3,995.00), and Satori power cords (1 meter @ $1,650.00). Clean power was provided by Isoclean isolation transformers ($10,800.00) and all of the equipment was sitting on a Star Sound Sistrum rack, approximately $2,000.00. This is one of those special rooms that did all the things that audiophiles crave. It was transparent, detailed, had pin point imaging, and most importantly it was very musical. High frequencies had great extension, the midrange was warm and inviting… and did I fail to mention that it was musical!

Sound Application/Silicon Arts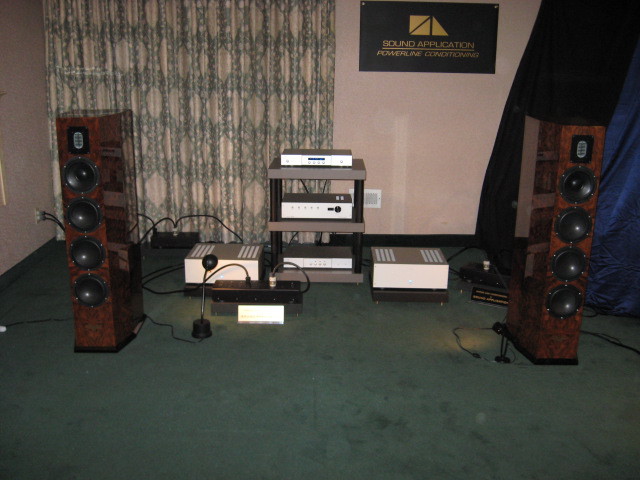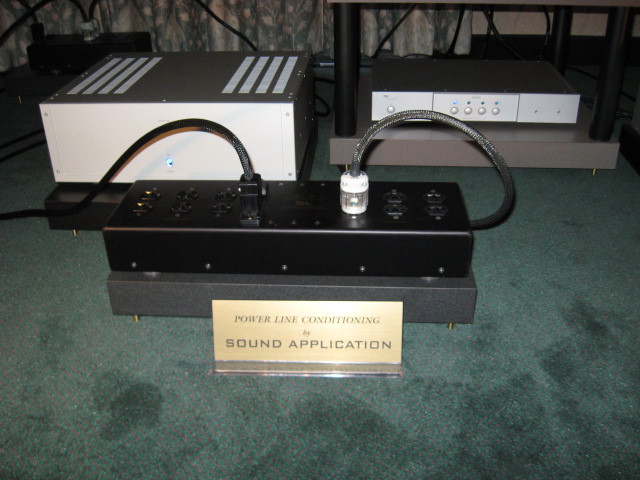 One of the best sounding rooms that featured solid state amplification, and also one of the most expensive, in my opinion was the Sound Application/ Silicon Arts suite. James Weil, the head designer at Sound Application has been producing power line conditioners for years and is known to have some of the industry's best products. The RLS-1 ($7,000.00) takes about 1 week to build and has a list of features that if I listed them all out I would run out of writing space. The Venture Excellence loudspeakers ($56,000.00) were being driven by Silicon Arts ZL-120 monoblocks ($23,000.00 per pair). The Concert Fidelity CF-080 Linestage ($18,000.00) is also designed by Masataka Tsuda but it is tube based. Top notch components were also used to compliment the electronics. The Weiss Jason transport ($16,000.00) and Medea DAC combo ($13,000.00) were playing wonderful sounds with the cabling by FMS and the power cords by Sound Application. All that I can say is that the music was so wonderful it was the equivalent of being in the hot, dry desert and finding a palm tree laced oasis with fresh running springs to quench my thirst. Oh that's right, I just described the conditions in Las Vegas!

Tweaks that work

Audience Auric Illuminator
Optical Disc playback Resolution Enhancement CD cleaner ($49.95). This a complete kit by the same makers of the Audience Adept Response power line conditioner and no holds barred Teflon capacitors. Each box contains one of the following: a permanent black felt tip marker, non abrasive polishing cloths, and a bottle of the Auric Illuminator gel. This is the new and improved formula that is opaque in color. With the new version you are able to treat significantly more discs over the previous edition because only one drop of the fluid is required as opposed to two drops in the past. I tried it and I was amazed at how the sound quality improved dramatically. I strongly recommend that you give this tweak a try if you want to enhance the sound quality of your discs.

Maxxhorn BlueMaxx CD cleaner
Optimizes Detail Retrieval from Digital Media; $35.00 per bottle, including
shipping; currently only available factory direct. I also discovered this CD enhancer in the Maxxhorn room. This also works to enhance CD's but does not have the marker or the cleaning cloths. This product comes in a larger bottle than the cleaner above but I was told that multiple treatments are preferred. Again I tried this enhancer on the spot and the sound quality improvements were very noticeable.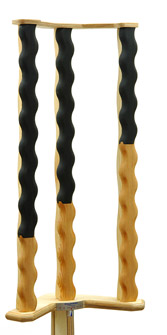 Shakti Innovations Hallograph Soundfield Optimizer ($999.00). This is one of the more interesting enhancements that I found at the show. Ben Piazza is well known for his Shakti stones and when his EMI devices first appeared on the scene, plenty of nay-sayers were eager to voice their opposition. More than a decade later his stones are still very popular and have been enthusiastically received within the audiophile community. However, I would imagine some of those earlier critics are now just as skeptical of the effectiveness of the Shakti Hallographs.

Not that I'm in that camp, but while I was out in Vegas I was fortunate enough to receive a personal demonstration and all it took was to lay down the Hallographs and play the same track again and quicker than you say, "four seconds" on 'Name That Tune' it is obvious that these devices not only work well, but are amazing. Without the Shaktis the sound stage was compressed, the music was not as lively and enjoyable, and low level details were not as easy to hear. Like most of the individuals that get a chance to hear them I too will be getting out the checkbook. As for the doubting Thomases hopefully it won't take them too long to realize that Mr. Piazza has another special product!