Las Vegas 2007: CES 40th Anniversary Impressions

Page 2
Acoustic Zen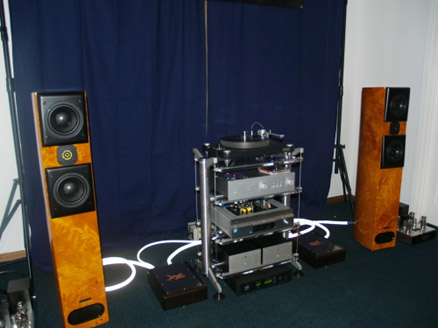 We were greeted by Mr. & Mrs. Lee at the entrance door to their room. There's a saying, "Behind every great man there's a great woman." Now we know where Robert gets his inspiration and it's evident by the continuing success of his new speaker line.

On display were the Adagio (ST – Most Wanted Product of the Year 2006), Adagio Jr. and the Adagio Subwoofer. Robert Lee commented that last years sales of the Adagio speakers were surprisingly good. You know that in this economy that's good news for the entire industry.

Shakti Room/Emerald Audio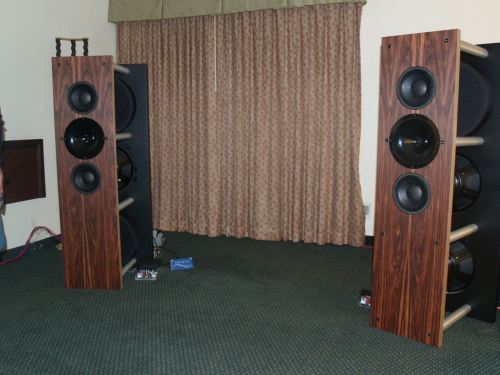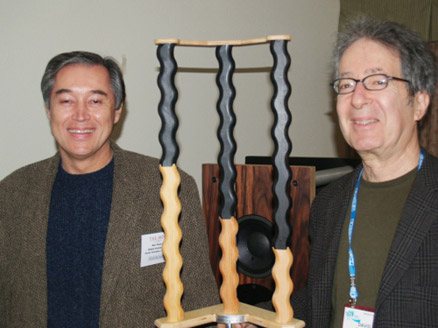 Co-designers Ben Piazza (photo left) & David Caplan were demonstrating their Hallograph Soundfield Optimizer. To quote Piazza, "The Hallograph's breakthrough technology is the result of over 10 years of research that studied the effects of the speaker/room interface. We learned how to reduce the audibility of the chaotic reflections from the walls of the listening room so they won't overpower and interfere with the direct sound from the speakers. The Hallograph contours the frequency, amplitude and time coefficients of the first reflections you hear, which produces a stunning increase in realism."

This quote was substantiated by employing the wonderful 100db- Emerald Physics DSP- based loudspeaker. The demonstration consisted of adding and removing Hallographs while music played.

The difference was as if someone was in the closet flipping a switch.

With the Hallographs out of the room the Emerald Physics had a nice presentation, open and soft. Adding the Hallographs increased the sound stage and provided a more three-dimensionally palpable realism. I believe that sometimes we change our electronics or speakers before we understand their total sonic capacity. The answer maybe to address our accessories.

Globe Audio Marketing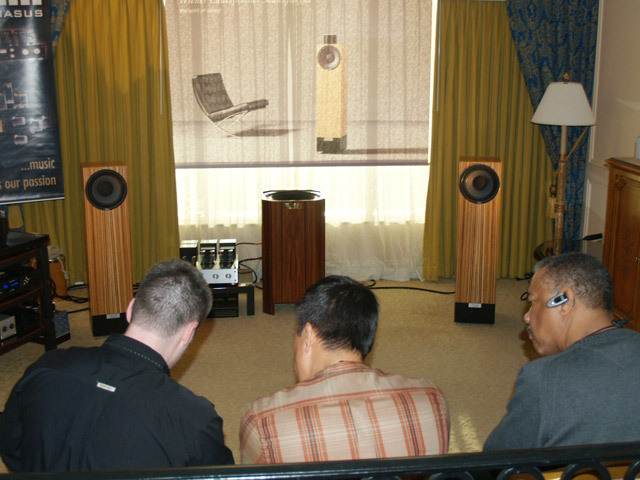 Globe Audio Marketing is a Canada based group that was demonstrating their Diva 97 dB efficient loudspeaker. It's a speaker that according to Globe Audio is designed to be "a universal speaker, ready for any type of application." To my ears this moderately priced speaker deserves a critical listen (Hey, there I am with Key Kim and WLM US importer).
Monster Event!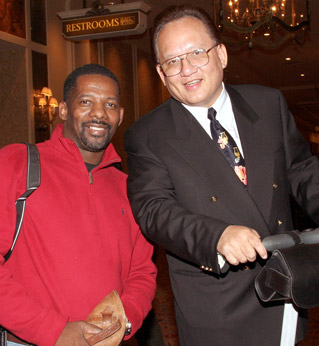 On Tuesday January 9th in the Venetian Ballroom, Monster Cable hosted their Annual Retailer Awards. Honoring the most "Monsterous Retailers of 2006". The Head Monster himself Noel Lee (above photo with CP) was the emcee. Congratulations to all the program participants.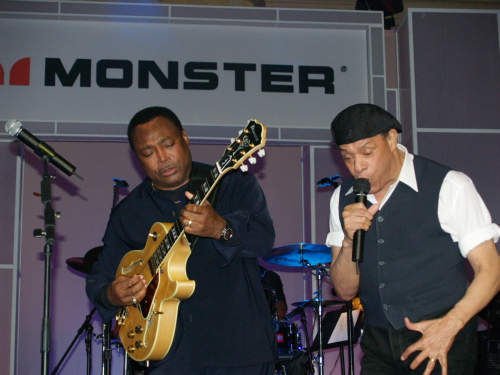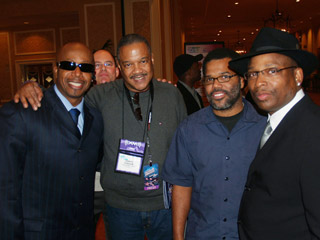 As a bonus program feature and live on stage with their band were George Benson & Al Jarreau performing songs from their latest CD GIVIN' IT UP.These guys had the joint rockin' from start to finish. They were joined on stage by the beautiful Miss Patti Austin, who added her magic to songs such as "Moody's Mood" and the grand finally "Every Time You Go Away" among others. They literally had people on their feet and dancing in the aisles. It was truly a monstrous show with an after party, live music and finger foods (Wow!). Lastly, I got the chance to meet the famous Terry Lewis (photo with hat) of the famous music writing duo of Jimmy Jam and Terry Lewis fame. Also it was a surprise to know MC Hammer (far left) was in the house and posed to take a photo here with buddy Tommy Moore (who's the guy in the back peeking over your shoulder? No, it can't be... is that... Forrest Gump? Hi Forrest).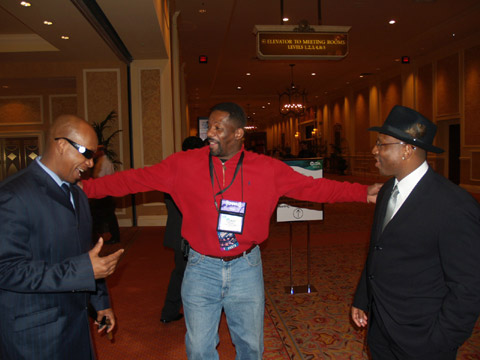 Pictures NEVER LIE: CP, our fearless leader challenged MC Hammer to a dance contest and of course won. Terry Lewis was the judge and awarded CP the first ever Don't Hurt'em Hammer Lifetime Dancer Award!


Now it's time to say good bye.
Like all good things in life, they must come to an end. As I walked the hallways of T.H.E. Show and the CES on the last day a certain void reflecting emptiness seemed apparent. I likened it to when a New Years Eve party is over but there's anticipation in the air of more to come, particularly in this industry.

Best wishes to all exhibitors and their associates for a job well done under extenuating circumstances. Some of the horror stories they spoke about nearly brought me to tears. Their stories varied from lost or broken equipment to blown up amps. Could you imagine spending your life savings and time to develop a product that you believe could be received by a community of your peers only to have it arrive damaged? Please keep the faith and maybe next year will be your year.

The thought of leaving Las Vegas was a downer but I was looking forward to seeing my family and sleeping in my bed.
Hey folks remember, "What Happens in Vegas Stays in Vegas"