Holfi Xandra MP Universal Player
April 2009






I first saw the Holfi series of electronics in a very nicely decorated room at the end of a very long and narrow hallway at Munich's High-End show last spring. Surprisingly, there was no glittering electronic eye-candy or outrageously big and gaudy loudspeakers, which was a welcome change since many rooms had these. I was vaguely aware of Amphion loudspeakers from previous High-End shows, but the name Holfi was totally unknown to me. (The name is derived from Peter Holstein, the designer, and Hi-Fi).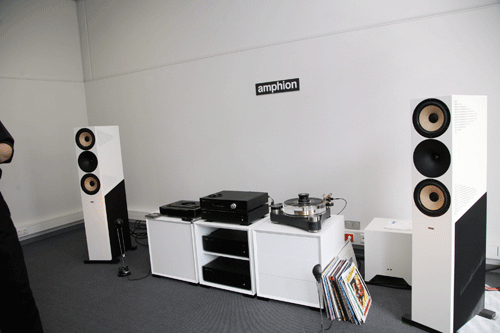 I met the Amphion rep and had a nice talk with Holfi director of sales, Goran Bergh, who walked me around showing his product line. Holfi hails from Scandinavia and has been making audio gear since 1989, at first producing loudspeakers. Finland-based Amphion was also making its first appearance, and was featuring their Krypton 2 loudspeaker. To be honest, I didn't intend to sit down and listen. I was being more courteous than interested. Time really was of the essence because I had plenty of rooms I wanted to catch, but something told me to give these guys a listen. I was asked if I had any music that I would like to hear (of course I had). Much to my surprise, here were two virtually unknown products that produced one of the most musical and natural presentations I heard during the entire weekend. (And, dammit, I ended up missing many of the rooms I had planned to visit that day).
The unfettered ease and natural tone that came from the Holfi setup seemed uncanny, though familiar (Jack Bybee's products have sonic similarities). Many super-expensive systems I heard in other rooms were totally devoid of these qualities. I would call these elusive sonic traits rare and special. Intrigued, I asked both designers to what they attributed the spectacularly natural and earthy feel of this setup. Of all the reasons being proffered, it was the mention of "battery power" that drove the nail home for me. Goran Bergh showed me a series Holfi products, including a phono stage and even power amplifiers, that were battery powered.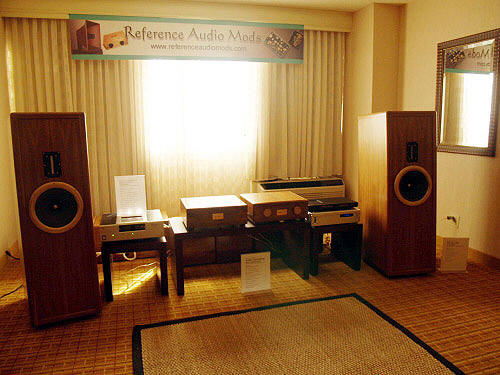 I was immediately reminded of a similar sonic experience I had at the Rocky Mountain Audio Fest in '07 in the Reference Audio Mods room (photo above). That system featured a fully modified and battery-powered Harmonix Reimyo CD player along with other batter-powered gear. In my show report I remarked that this room had perhaps the most natural sound at that RMAF.
I was unaware of the nature of the electronics, yet their sonic signature, or lack thereof, was joyfully obvious. The utter absence of grit, grain and glare gave the music a natural flow that is rarely achieved in the home, much less at a High-End show. The sound of the Holfi/Amphion room stayed with me for many days. It was among the first I remarked on when the subject of "Best Sound" came up. So much so, in fact, that I contacted the Goran Bergh and formally requested to review Holfi's battery-powered amplifier.
But when Holfi's battery-powered Xandra SACD/DVD/CD Multi-Player (MP) was mentioned, I got excited (remembering the battery-powered Reimyo) and requested to review it instead of the amplifier. I've plenty of hi-res discs lying about from my stints with players like the Sony SCD-1 and the Alex Paychev modified Philips SACD-1000 - which I still own. To have a battery powered CD player that could also handle SACD promised to be a treat, especially if this machine sounded anything like the Holfi products I'd already heard.
Further investigation into Holfi revealed that this company's approach to battery power is quite different than I expected. "Battery power" suggests luggage-sized external devices like the one I saw strapped to the Reimyo CD player. However, the Holfi Xandra MP (Multi-Player) doesn't run on 100 percent battery power and it doesn't have an external battery pack. Rather, it has a surprisingly small internal battery pack employing three 4Ah cells, in conjunction with a conventional linear power supply. Holstein's reasoning is straightforward: "The battery power supply offers not only ultimate low noise, it also offers very high power capability...a linear power supply means that it is classic power supply using a transformer and rectifier bridge. This classic or linear power supply produces considerable less noise than a modern switch mode power supply which is found in almost all multi format players today. Pros and cons: A switch mode power supply has the advantages of high efficiency and low built expenses, but also has a noise level which is typically 25-30 dB higher than a linear power supply."
Holstein went on the write in another email: "Even small batteries delivers peak currents in excess of 100 Amps and not just for 10 milliseconds like a normal power supply but more like 5 to 10 seconds. Most importantly the batteries manages with virtually no increase in noise level – very unlike any normal supply. The batteries we use (after careful trial and error process) is the very common lead-acid types which are also used in a number of other applications primarily as back-up supply – medical and burglar alarms. Only drawback is that they are costly and need to be changed every 5-7 years."
Of course I couldn't wait for the Xandra MP to arrive.
And some months later it was at my doorstep. When I removed it from the box, I noted the Xandra MP's 20+ lbs. gave it a substantial feel, despite its rather sleek appearance. The Xandra's green LED display scrolls information like Name, Title and Track number (if this is encoded on the media). The Xandra MP is capable of playing DVD video in addition to SACD Surround with multi-channel (5.1) analogue outputs. The unit does not support DVD-Audio since Holfi sees this format dying a slow death. At the heart of the Xandra MP lies a single chip, six-channel, 24-bit, 192kHz DAC. Holstein chose this particular chip for its low-noise specs and multi-channel capabilities.
The Xandra also sports a rather unique feature named Virtual Center Speaker (VCS), which provides full-surround ambiance without the need of a center channel loudspeaker. Holfi understands the headache of attempting to add a center channel loudspeaker (not to mention amplification, cabling and space) for two-channel lovers. This is the main reason they've equipped the Xandra with this feature (although, I wonder how many two-channel lovers out there are employing surround sound loudspeakers?).
The Xandra MP does not support Blu-ray but does provide both Component and HDMI video outputs in addition to a coax (RCA) digital output. The digital coax output is automatically defeated when playing either SACD or DVD-Video. A power toggle switch is located on the left rear above the IEC power socket.

The Xandra MP is rather pedestrian looking in its plain, matte black aluminum finish. I found their cherry-wood front far more attractive looking and thus a great selling point considering the Xandra MP's rather steep asking price of $8,500. Overall, I would say the Xandra MP is a well-built and well-thought-out device. Its solid aluminum remote control functioned flawlessly.
I used the Xandra MP mainly with the Behold Gentile integrated amplifier, but also with an all-tube setup that consisted of an Elliott Studio Arts 66-100 stereo amplifier and Zanden 3000 line stage preamplifier. Loudspeakers were the outstandingly musical (as well as attractive) Volent VL-3s. Other CD players included the Audio Mecca Mephisto and the Zero One computer-based hard-drive player I reviewed last year.
I own plenty SACDs due to my early admiration for the format, but of course I own far more Redbook CDs. Initially I bought the technical hype about how superior the SACD format was, and indeed SACDs sounded better. But adoration for SACD has waned since hearing the newer DACs. Some of these 192 kHz DACs outshine SACD players in side-by-side comparisons. I was convinced, however, that the problem was the hardware and not necessarily the format. The new SACD players, though ambitious in their attempt to win over our affections, simply haven't matured as products. It has now been ten years since the official launch of that format and the SCD1 arrived at my doorstep.
I've heard many iterations of the newer players out there, including dCS and EMM Labs. I've not taken a unit home to do side by side comparisons so I cannot report on how good any of these players sound. The Holfi Xandra MP, however, became an obsession because it represented for me certain possibilities that I had not seen from other manufacturers. A battery powered standard 16/44 player that could also play SACD/DVD-Video Surround seemed almost too good to be true.
The Holfi Xandra MP, right out of the box, sounded quieter and cleaner on Redbook CDs than my reference Audio Mecca Mephisto CD player (with external power supply). It sounded quieter and cleaner than Zero One's Mercury which sends jitter-free data right off the hard-disc. This is the same the Mephisto that once upon a time demolished my once mighty, and heavily modified, Electrocompaniet EMC1 player. This attractive and exotic French player had stood up favorably against the ultra-smooth Harmonix Reimyo player (losing out only to the velvety top-end of this Japanese player). The more time the Xandra MP had to burn-in however, the more relaxed sounding it became.
For the Holfi Xandra MP to present a quieter noise floor than the world-class Audio Mecca Mephisto says plenty. The quieter background allowed me to hear instruments in a more holographic and reverberant space. It gave a far more a realistic sense of being transported to the live event.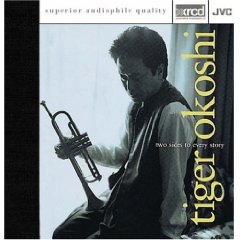 Jazz trumpeter Tiger Okoshi has an outstanding range and tonal presence. His "Two Sides to Every Story" CD has been among my favorite discs since it debuted in 1996 for two reasons. The accompanying musicians here, including Jack DeJohnette and Dave Holland, are considered by many as the best at their instrument. And the JVC/XRCD mastering techniques produces superb recordings. To have this level of excellence on both sides of the ledger is rare indeed, and it for these reasons this disc has doesn't fall far from my memory for more than twelve years.
Every song is worthy of mention but track five, Yuki No Furu Machi O, my favorite and is readily available on XRCD samplers. Okoshi employs a mute on this melancholy number, reminiscent of the late, great Miles Davis. Even though I've heard this cut on numerous systems over the years, I was deeply impressed with the ability the Xandra MP to reveal harmonic subtleties and retrieve low-level detail. Surprisingly, Okoshi's muted trumpet appeared further back, but not too far and more at ease. Dave Holland's upright bass sounded more rounded and more detailed, creating a greater sense of tonal accuracy and harmonic rightness. In short, the startling level of clarity the Xandra MP brings forth gives one the impression one is listening to a high-resolution format. This, dear reader, with 16/44 standard Redbook CDs!
High frequencies were a welcomed improvement via the Xandra MP player. They extended out further, sounded cleaner and clearer, and instruments seemed to have longer harmonic decay or 'hang-time'. DeJohnette's ability on the drums is renowned among jazz aficionados, his deft of touch on the cymbals is legendary. And these skills are on display throughout "Two Sides to Every Story." Now, whenever noise and grunge is removed by an AC conditioner or some tweak, it's the frequency extremes that seem to benefit the most. The Xandra MP's exceptionally clean and articulate bass performance should serve as yet another example of noise reduction done right.
Jazz legends Ron Carter, Dave Holland, Buster Williams, Gary Peacock, Marcus Miller and young lions like Peter Washington and John Patitucci are what I describe as musical-craftsmen, not simply bass players. They all play the same instrument and yet their styles are all distinctive. Another thing I admire so much about the Xandra MP is how it articulates their individual styles - from the lowest octaves on up.
I wonder how often a potential customer will hear the Xandra MP and mistake its clean, unmuddled bass for a lack of low-frequency weight! Audiophiles can get so used to a thick and overly saturated bass, that when they hear something this accurate and nimble, they actually question it.
Digging DSD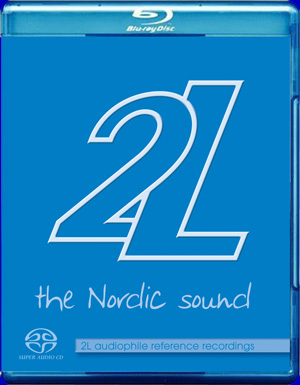 Switching over to SACD was a pleasant surprise.
2L Records is a Norwegian-based audiophile label that's making quite a name for itself with multiple hi-res formats on a single silver disc. They're the first label I'm aware of to release, in 2008, Divertimenti's TrondheimSolistene on Blu-ray and hybrid SACD (2-disc) in the following formats: DSD surround, DSD 2-channel, Blu-ray in Dolby Digital True HD, DTS HD (192 kHz) and Dolby Digital stereo (PCM 16/44). As good as standard 16/44 sounds on the Xandra MP, this hi-res disc playing DSD 2-channel sounded even more remarkable, in terms of space, instrumental color and resolution. (There's a lot more to the story behind 2L records and their DSD - Blu-ray process than I can explain. If you want to know more, please visit their website, www.2L.no).
I've always considered DSD a superior format; that was never an issue. The problems with DSD always involved content. The limited amount of quality jazz music found on SACD just couldn't whet my appetite. Because my system isn't setup for DSD-Surround, I did not listen in that mode. But I will say that DSD-2-channel is quite special playing 2L recordings. I also listened to SACD recordings from Chesky and Telarc and the Xandra MP allowed me to hear each recording in a way I had not experienced before – even with my Alex Paychev modified Philips SACD-1000 SACD player.
That the Holfi Xandra MP will play a multitude of formats makes it a no-brainer if you're considering purchasing a High-End conventional player. But I think the real story behind the Holfi Xandra MP isn't the fact it is a excellent SACD and DVD player. What most bewilders me about the Xandra MP is how it uplifts the quality of regular, everyday Redbook CDs. I think the Xandra MP's unique power-supply, equipped with a batter-powered buffer-stage, places it among the best one-box CD players I've had the pleasure of reviewing. The fact that it just so happens to support SACD comes almost as an afterthought. Highly recommended!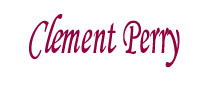 Xandra MP TECHNICAL DATA
Dimensions W x H x D : 45.5 x 8.0 x 33 cm
Weight : 8.0 kg
Power Consumption : 30W | 5W Standby | 230VAC
Outputs, audio : Stereo | 5.1 surround | coax digital
out
Outputs, video : HDMI/S-VHS/Video RCA
Frequency range | 1Hz – 50 KHz, +0 / - 0.2 dB
THD : < 0,008%
Signal/noise ratio : > 106 dB
Output level : 2 Vrms
Output impedance : 220 Ohms
Recommended load : 800 Ohms or higher for
optimum sound
Price: $8,500.00
Contact
Holstein & Bergh Aps, DK-3000 Helsingør, DENMARK. Phone : + 45 31 50 33 33 Fax : + 46 435 252 35
E-mail : gb@holfi.com
http://www.holfi-audio.de/impressum.aspx